World's Top Sustainable Solution: Pedal-Powered Recycling
Oct. 30, 2014 06:39PM EST
Business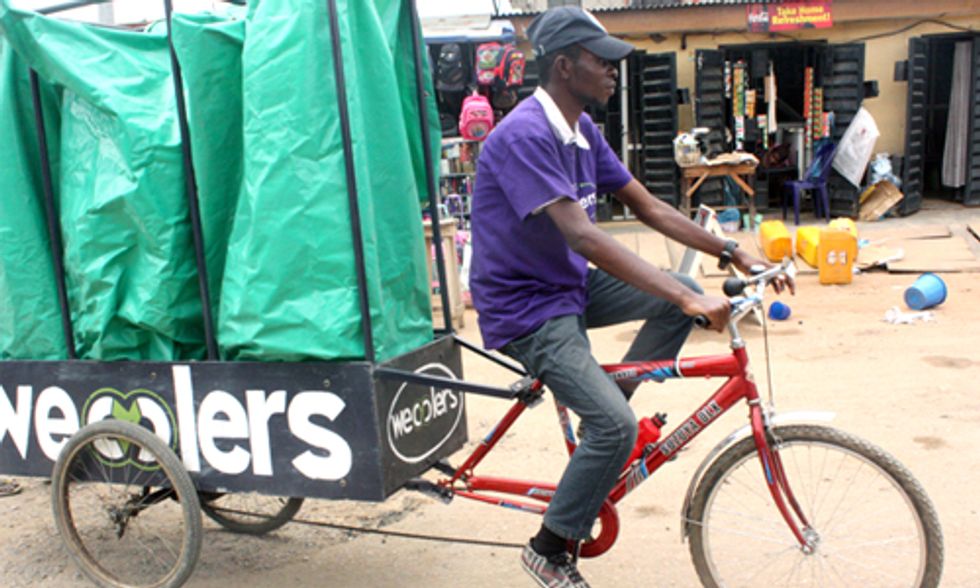 Tonight in Copenhagen, Denmark, Sustainia, a Scandinavian think tank working to scale the deployment of innovative solutions, announced the winner of its 2014 Sustainia Award to the Nigerian initiative Wecyclers.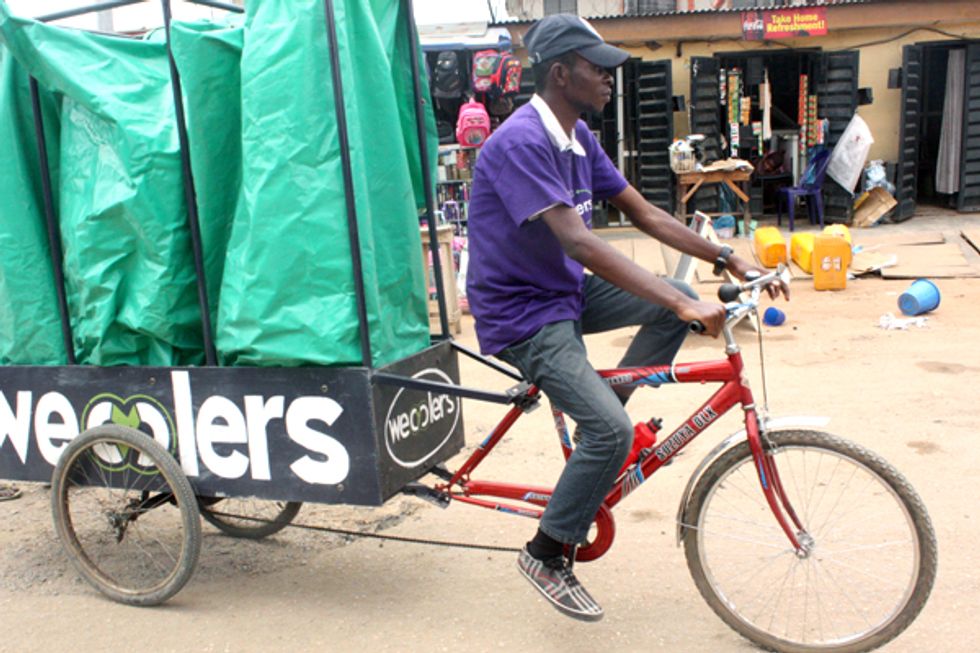 Wecyclers enables low-income communities to make money from waste piling up in their streets. By deploying a fleet of cargo bicycles to collect and recycle unmanaged waste in Nigeria's city of Lagos, Wecyclers lets families exchange garbage for consumer goods via an SMS-based point system.
"The threats from climate change are real and they are here. But so are the solutions. I am very inspired by this year's Sustainia Award winner, Wecyclers," said Arnold Schwarzenegger, former Governor of California and chair of Sustainia Award. "They show us that communities can create local solutions to waste and recycling issues, which are not only more sustainable but also improve public health and create new jobs and businesses. By coming together and acting in new ways, we can create positive and sustainable change in our communities and inspire cities around the world to do the same."
Wecyclers is a response to local waste issues since the Nigerian government only collects 40 percent of its cities garbage with only 13 percent of recyclable materials salvaged from landfills. Wecyclers is empowering the local community and already has more than 5,000 households signed up.
"We are so overwhelmed to win the Sustainia Award. I have always thought of our initiative as low-tech but high-impact," said Bilikiss Adebiyi-Abiola, CEO of Wecyclers. "We focused on building a technology that would solve the unique problems of the communities we operate in. Many other cities can help their communities in similar ways and provide healthier and cleaner surroundings for their citizens. This award gives us a great opportunity to share our work."
The Sustainia Award Ceremony showcased nine other leading innovations from seven countries as more than 1,000 climate scientists, business leaders and experts are gathered in the Copenhagen awaiting the concluding report from a seven-year study from the Intergovernmental Panel on Climate Change on the impacts and risks related to climate change, which will be presented on Nov. 2.
"Solutions to combat climate change are not only high-tech innovations focused on cutting emissions, creating infrastructure or efficiency," said Laura Storm, director of Sustainia. "To successfully solve the variety of challenges, we need variety in our solutions as well. Wecyclers is a leading example of a solution that empowers its community to lead healthier, wealthier and more sustainable lives. It offers very clear incentives for all players to get on board and that is exactly what can help this solution succeed."
YOU MIGHT ALSO LIKE
10 Inspiring Climate Films Win Action4Climate Documentary Competition
Top 10 Greenest Cities in the World
EcoWatch Daily Newsletter
Related Articles from EcoWatch