This website uses cookies to ensure you get the best experience while browsing it. By clicking 'Got It' you're accepting these terms.
World's Lightest and Most Compact Electric Bike Can Fold Into a Backpack
Aug. 03, 2015 01:08PM EST
Folding bikes are already incredibly convenient, but throw in a battery and an electric motor, and now it's a bike commuter's dream. At 26 pounds, the A-Bike Electric claims to be the lightest and most compact e-bike in world.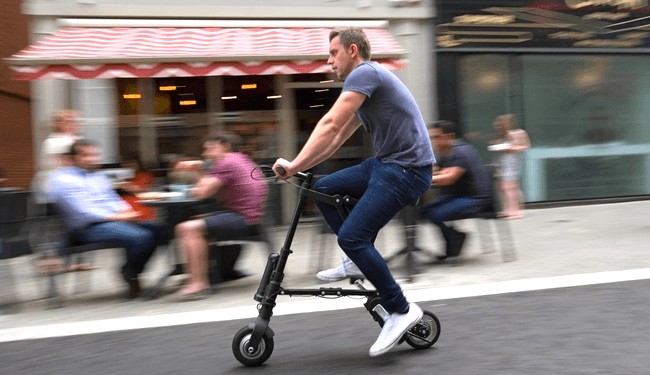 With its tiny wheels and a battery that's the size of a thermos, the ride is so small it can tuck inside a backpack or under a desk, making it a cinch to take onto a subway, train or car. Parking isn't even an issue when you can easily take it inside of a store or restaurant.
"It's the perfect ingredient for mixed-mode transportation," A-Bike Electric designer Alex Kalogroulis told Fast Company. "Bike-train-bike would be a typical new commuter scenario."
UK inventor Sir Clive Sinclair came up with the original concept of the lightweight, folding A-shaped bike back in 2006. Unlike typical bikes, the A-Bike has a fully enclosed chain system, which means that once it's folded the chain won't get caught onto anything, and your hands or clothes won't get dirty from grime.
"The idea is that if you have a bicycle which is seriously lighter and more compact than anything existing at the moment, it will change the way in which people see bikes," Sinclair said about his invention.
With lazy commuters in mind, this updated version simply adds a motor in the front wheel and a 24V battery. Although it's small and light, the e-bike is made with aircraft grade aluminum and high-strength glass-reinforced polymers. The designers also claim that the bike can fold in 10 seconds.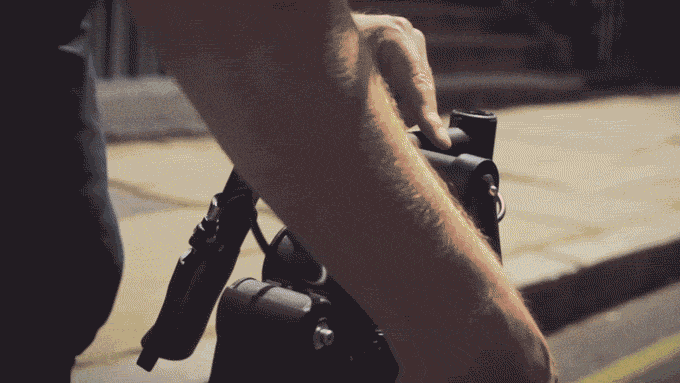 "Folding e-bikes typically weigh in excess of 40 pounds," Kalogroulis told Fast Company. "As the original A-Bike weighed less than 13 pounds, there was a strong reason to add a lightweight electric system and offer a unique combination of a lightweight electric and compact folding bike."
And if you're wondering about those dinky wheels, they seem to pack more power than one might think. "The dual chain drive has been optimized so that the rate of pedaling matches the rate the wheels turn, this makes riding A-Bike Electric feel like riding any other bike," the designers wrote on their successful Kickstarter page.
The bikes have a projected retail price of $1,089 once it hits stores or you can preorder it on Kickstarter. Check out their campaign video below to see the bike in action.
YOU MIGHT ALSO LIKE
5 Bike Sharing Trends to Watch This Summer
20 Most Bike-Friendly Cities in the World (Find Out Which U.S. City Made the Cut)
Plus, learn if there's one that's best for your health.
Catherine Falls Commercial / Moment / Getty Images
An invasive Amynthas worm, also known as a crazy snake worm, Asian jumping worm and Alabama jumper Tom Potterfield / Flickr
By Jason Bittel
My wife and I built a house two years ago on a few acres of woodland outside of Pittsburgh. The backyard is full of maples, poplars, briars and common spicebush. Two-lined salamanders and grumpy-looking crayfish wade among the rocks in the small stream that runs down the edge of the property. Deer, raccoon and opossum tracks appear regularly in the snow and mud. Sometimes, my trail-cam even catches a pair of gray foxes as they slink through the night.
AleksandarNakic / Getty Images
By Kate Murphy
No matter the time of year, there's always a point in each season when my skin decides to cause me issues. While these skin issues can vary, I find the most common issues to be dryness, acne and redness.

David Woodfall / The Image Bank / Getty Images
By Sam Nickerson
The U.S. Environmental Protection Agency (EPA) in April 2018 proposed relaxing standards related to how it assesses the effects of exposure to low levels of toxic chemicals on public health.
Now, correspondence obtained by the LA Times revealed just how deeply involved industry lobbyists and a controversial, industry-funded toxicologist were in drafting the federal agency's proposal to scrap its current, protective approach to regulating toxin exposure.
Steve Irwin poses with a three foot long alligator at the San Francisco Zoo on June 26, 2002. Justin Sullivan / Getty Images
February 22 is the birthday of conservationist and beloved TV personality "Crocodile Hunter" Steve Irwin, who would have been 57 years old today.
Irwin's life was tragically cut short when the barb from a stingray went through his chest while he was filming in 2006, but his legacy of loving and protecting wildlife lives on, most recently in a Google Doodle today honoring his birthday.