World's Largest Sovereign Wealth Fund to Invest in Clean Energy
How are investors, businesses and governments doing on the road to the Clean Trillion goal of $1 trillion per year invested in clean energy? Here are my thoughts on the progress and challenges we've seen recently.
Progress
Norway announced in March that it would require its $840 billion sovereign wealth fund (the largest in the world) to invest a portion of its assets in clean energy. This could lead to billions more per year in clean energy investment and is consistent with the recommendations in the Ceres report, Investing in the Clean Trillion, to "develop capacity to boost clean energy investments and consider setting a goal such as 5 percent portfolio-wide clean energy investments." Details are expected on Norway's plans in April.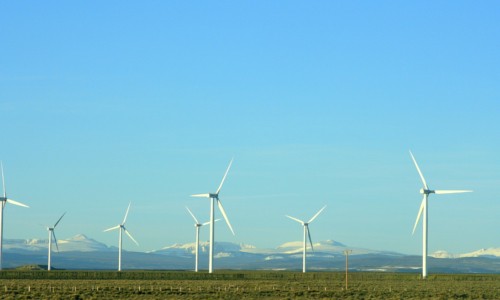 It's not just the largest investors in the world that are investing in clean energy—businesses are ramping up investments too. Bloomberg reported that Google has invested more than $1.4 billion in clean energy since 2010, including almost $400 million in 2013 alone. On March 19, in a sign of the rapidly growing green bond market, Unilever issued a $415 million bond earmarked for reducing waste, water use and greenhouse-gas emissions.
Utilities are acting, too. In Texas, Austin Energy signed a 25-year agreement for solar power at below five cents per kilowatt-hour, a new record low. These company commitments are important in setting precedents for other businesses and showing that investing in clean energy has moved from "niche" to "mainstream."
While the cost of solar is down, stocks are up: the 32 stocks in HSBC's global solar index gained 65 percent in value for calendar year 2013 and the index is up 23 percent in the first few months of 2014.
Governments took positive steps last month, too. The European Union and U.S. issued a joint statement on March 26 that reaffirmed strong determination to work towards the adoption in Paris in 2015 of a global agreement on climate change with the "goal of limiting the global temperature increase to below 2 degrees Celsius …" The EU and U.S. agreed to continue "phasing out fossil fuel subsidies … promoting sustainable energy, energy efficiency and renewable energy, fighting deforestation and mobilizing private and public finance" among other measures.
Challenges
March began with the fossil fuel industry and its allies in Congress continuing their campaign to stop the Environmental Protection Agency (EPA) from setting limits on carbon pollution from electric power plants. Given that climate change legislation is not likely to pass Congress in the next two years, EPA limits are critical in reducing U.S. greenhouse gas emissions and accelerating the transition to a clean energy economy. The U.S. House of Representatives voted on March 6 to block a proposed EPA rule limiting carbon emissions from future coal-fired electricity plants. The bill is not expected to pass the Senate, and President Obama has threatened to veto.
March also marked the anniversary of the 1989 Exxon Valdez oil spill. In reflecting on the past 25 years since the spill, what is most exasperating is that the world has made so little progress in reducing our reliance on oil and other fossil fuels.
Today's share of fossil fuels in the global energy mix, at 82 percent, is the same as it was 25 years ago, according to the International Energy Agency. We need "stronger steps toward a cleaner, fossil fuel free future," Ceres President Mindy Lubber wrote in a recent blog.
"We cannot afford another 25 years of incrementalism and dawdling."
Ceres Developments
Ceres supported the Clean Trillion movement by focusing investor and business leaders on the risks of fossil fuels and the opportunities of the clean energy future. A few highlights:
First, ExxonMobil has committed to disclose the risks to its business model of factors such as declining oil demand, the growth of renewables and future limits on carbon emissions. Coal giant Peabody Energy has also agreed to issue a similar report. These agreements are a direct result of the Carbon Asset Risk initiative, coordinated by Ceres and Carbon Tracker, mobilizing $3 trillion worth of investors to challenge 45 of the world's largest oil and gas companies to prepare for the low-carbon future.
Second, there's more shareholder activism on climate change and clean energy than ever before. Ceres announced that 35 institutional investors have filed 142 resolutions in a coordinated effort to spur action by 118 companies on climate change, clean energy and other issues.
Want to hear what investors, businesses, labor leaders and clean energy investment experts have to say about the Clean Trillion? Watch the brief video:
My Ceres colleagues and I welcome your thoughts and questions on Clean Trillion. Please feel free to connect with me at fox@ceres.org or on Twitter, @ChristopherNFox.
——–
YOU ALSO MIGHT LIKE
How Close is the World to $1 Trillion in Renewable Energy Investments?
6 Goals a Worldwide Climate Change Agreement Should Achieve
Google Invests $80 Million in 6 New Solar Projects
——–
Wikimedia Commons
By Stacy Malkan
Neil deGrasse Tyson has inspired millions of people to care about science and imagine themselves as participants in the scientific process. What a hopeful sign it is to see young girls wearing t-shirts emblazoned with the words, "Forget princess, I want to be an astrophysicist."
Keep reading...
Show less
www.youtube.com
By Andy Rowell
Any day now we will truly witness climate change in action. Within days at worst, maybe weeks at best, scientists predict that a huge section of the Larsen C ice shelf in Antarctica will break off into the ocean, in what is called a major "carving" event.
Keep reading...
Show less
www.youtube.com
President Trump visited Cedar Rapids, Iowa on June 21 to speak to a large crowd in the U.S. Cellular Center at a political rally organized by his campaign.
As Trevor Noah noted during The Daily Show episode last night (starts at 2:25), the real reason Trump has these rallies is to "get back in front of his loyal crowds and feed of their energy." Noah believes that "Trump supporters are so on board with their dude he can say anything and they'll come along for the ride."
Keep reading...
Show less
The Kamuthi solar plant in the southern Indian state of Tamil Nadu.
The rapid growth in renewable energy continues to put a dent in the demand for coal.
Coal India, the world's biggest coal mining company and producer of 82 percent of the country's coal, announced the closure of 37 mines that are financially "unviable."
Keep reading...
Show less
www.youtube.com
By Katie O'Reilly
Two years ago—long before coal became one of the most dominant and controversial symbols of the 2016 presidential election—Bloomberg Philanthropies approached production company RadicalMedia with the idea of creating a documentary exploring the U.S. coal mining industry. Last spring, they brought on Emmy-nominated director Michael Bonfiglio, tasked with forging a compelling story out of the multitudes of facts, statistics and narratives underlying the declining industry.
Keep reading...
Show less
Mayors for 100% Clean Energy
Keep reading...
Show less
www.youtube.com
Thanks to Newsy for their coverage on Thursday's news that the U.S. Fish and Wildlife Service removed grizzly bears in the Greater Yellowstone region from the Endangered Species List.
Watch above as Newsy explains that the decision comes despite serious concerns from the environmental and scientific community, and Tribal Nations about a declining, isolated grizzly bear population with diminishing food resources and record-high mortalities.
Keep reading...
Show less
www.facebook.com
By Francine Kershaw
Seismic airguns exploding in the ocean in search for oil and gas have devastating impacts on zooplankton, which are critical food sources for marine mammals, according to a new study in Nature. The blasting decimates one of the ocean's most vital groups of organisms over huge areas and may disrupt entire ecosystems.
And this devastating news comes on the heels of the National Marine Fisheries Service's proposal to authorize more than 90,000 miles of active seismic blasting. Based on the results of this study, the affected area would be approximately 135,000 square miles.
Keep reading...
Show less
By Jill Richardson
Is coconut oil:
good for you
bad for you
neither good nor bad
scientists don't know
The subject of this question is the source of a disagreement. Initially, the question was thought to be settled decades ago, when scientist Ancel Keys declared all saturated fats unhealthy. Coconut oil, which is solid at room temperature, is a saturated fat.
Keep reading...
Show less


Get EcoWatch in your inbox