World's Largest Solar Thermal Plant Opens For Business
Feb. 14, 2014 09:55AM EST
Business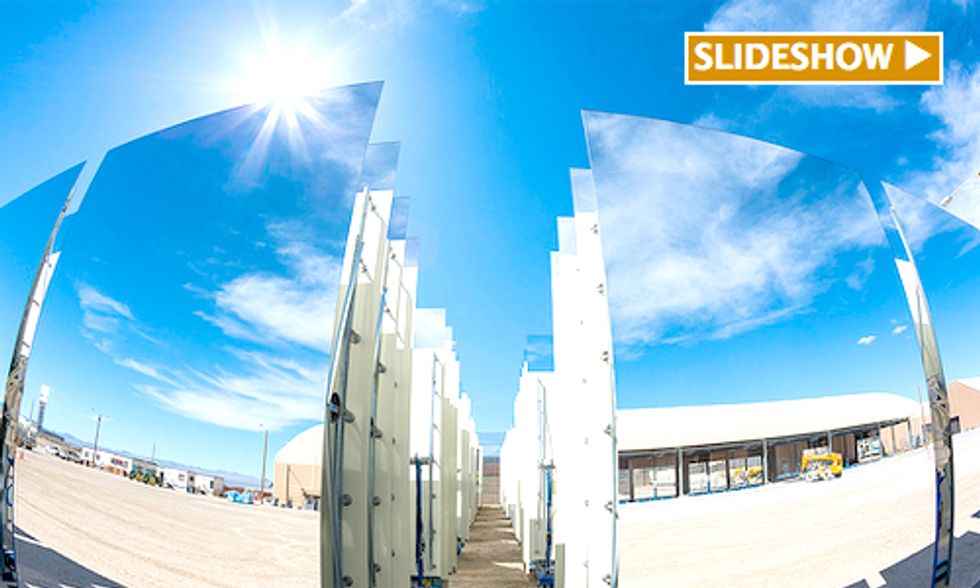 It's official—the world's largest solar thermal plant has opened for business.
Located in in the Mojave Desert, 40 miles southwest of Las Vegas, near the California-Nevada border, Ivanpah Solar Electric Generating System has begun generating power from three units, its proprietors announced Thursday. It will generate 392 megawatts for the California grid—enough to power 140,000 homes in the state.
[slideshow_deploy id='351617']
The project is a joint venture between NRG, Google and BrightSource Energy. The project received a $1.6 billion loan guarantee from the U.S. Department of Energy's Loan Programs Office.
"Cleantech innovations such as Ivanpah are critical to establishing America's leadership in large-scale, clean-energy technology that will keep our economy globally competitive over the next several decades," said Tom Doyle, president, NRG Solar. "We see Ivanpah changing the energy landscape by proving that utility-scale solar is not only possible, but incredibly beneficial to both the economy and in how we produce and consume energy."
The solar energy from two of Ivanpah's units is being sold to Pacific Gas & Electric under two long-term power purchase agreements, while the other unit sells power to Southern California Edison under a similar contract.
"The completion of this world-class project is a watershed moment for solar thermal energy," said David Ramm, chairman and CEO of BrightSource Energy. "With all three units now delivering power to our customers' specifications, BrightSource has demonstrated its solar power technology at scale."
A solar plant in India could claim the title for the largest solar array in the world some day, but the businesses behind its plan are depending on the World Bank for at least $500 million of its funding.
Visit EcoWatch's RENEWABLES page for more related news on this topic.

EcoWatch Daily Newsletter