World's Largest Solar Project and Floating Wind Turbine Signal Global Shift to Renewable Energy
Aug. 05, 2015 01:48PM EST
Business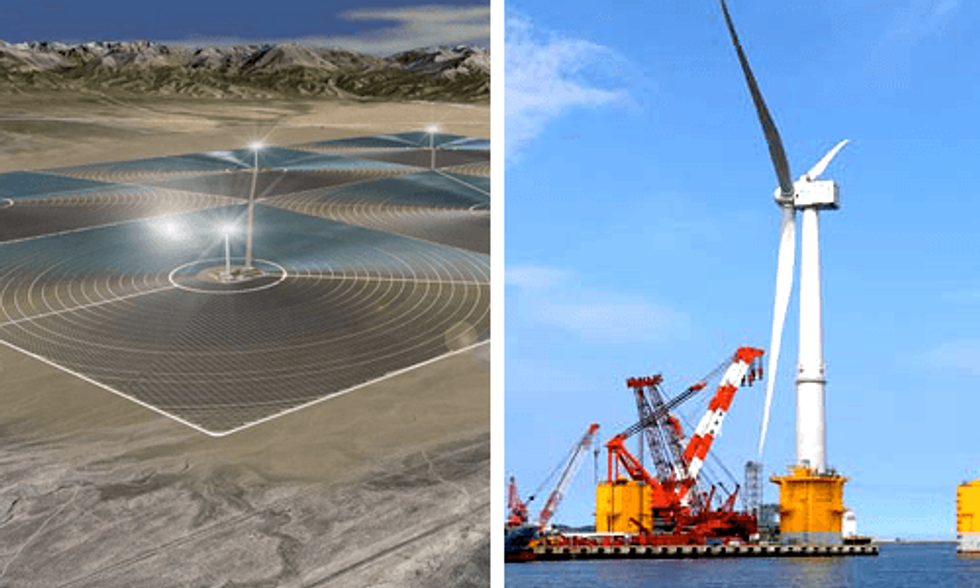 Two new eye-popping structures have joined the rapidly growing renewable energy sector. First, Japan has just finished installation of the world's largest floating wind turbine. Secondly, China has kicked off construction of the world's largest solar power plant. Efforts from the respective countries make it clear that the global shift from nuclear and fossil fuels is well under way.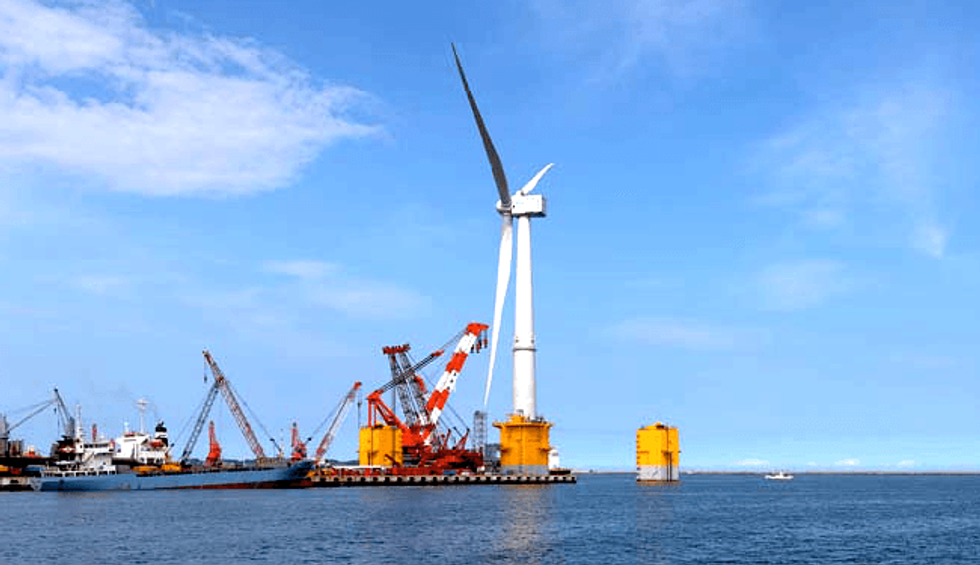 Photo credit: The Fukushima Wind Offshore Consortium
Japan's 7 megawatt Offshore Hydraulic Drive Turbine stands at 344 feet (about 40 feet taller than the Statue of Liberty) and features three 262 feet-long blades and a rotor diameter of 538 feet. Significantly, the structure is located about 12 miles off the coast of Fukushima, an area infamously wrecked in 2011 by a powerful earthquake and tsunami that caused a catastrophic meltdown at the Fukushima Daiichi nuclear plant.
The project is built and operated by the Fukushima Wind Offshore Consortium, which has already installed a 2 megawatt wind turbine in November 2013. The organization boasts that their structures can shoulder the brunt of extreme weather. (Inclement weather was certainly a problem during construction of the massive turbine, as engineers had to stall installation four times due to typhoons).
"These turbines and anchors are designed to withstand 65-foot waves," Katsunobu Shimizu, one of the chief engineers, told NBC News. "Also, here we can get 32-foot-tall tsunamis. That's why the chains are deliberately slackened," in reference to the loose chains that connect the structure to the seabed and fortify it against large waves. The turbine is also fastened to the seabed by four 20-ton anchors, UPI reported.
Japan builds the world's largest floating wind turbine off Fukushima coast http://t.co/dMPmSmutRa pic.twitter.com/cqFfiEOo5U

— NBC Nightly News (@NBCNightlyNews) August 3, 2015
As EcoWatch mentioned previously, there are plans to add a third floating turbine with a generating capacity of 5 megawatts later in the year, which will bring the total output capacity of the project to 14 megawatts. The $401 million project is led by Marubeni Co. and funded by the Japanese government with research and support from several public and private organizations.
Read page 1
The goal of these turbines is "to explore the commercial feasibility of wind power as an alternative to nuclear power, as well as to examine whether this could become a potential industry which Japan can export overseas," according to NBC News.
Japan is seeking alternative forms of energy in the wake of the 2011 disaster. NBC News noted that before the earthquake, nearly one-third of of the country's energy mix came from nuclear energy. The Fukushima plant, as well all 48 of Japan's nuclear reactors, have been taken offline since.
Meanwhile, China—the world's largest producer and consumer of coal—has taken a big renewable energy leap with the construction of its first commercial large scale solar power plant that will spread across 25 square kilometers in the Gobi desert in the Qinghai province.
Once complete, the 200 megawatt "Delingha"—developed by BrightSource Energy from California and the Shanghai Electric Group in China—will surpass California's Desert Sunlight Solar Farm as the world's largest and be able to meet the electricity needs of one million Chinese homes.
#China is planning to build a #solarthermal plant the size of Bath! http://t.co/G19eTkYhI7 pic.twitter.com/3zm25559Fl

— edie.net (@edie) August 5, 2015
According to E&T, "the plant will use concentrated solar power technology, relying on a set of six solar towers processing light reflected by an array of solar mirrors. The plant will also be equipped with heat storage technology capable of storing up to 15 hours worth of electricity."
Although consumption has lowered in recent years, coal still represents nearly two thirds of China's total energy consumption, which is why the country is amping its clean energy production.
Impressively, the new solar plant will be able "to offset the usage of coal by around 4.26 million tons per year and reduce CO2 and SO2 emissions by 896,000 tons and 8,080 tons respectively," Oil Price reported. Still, China burns more than 4 billion tons of coal each year, so the People's Republic will have to build a lot more solar power plants.
China, however, should be given more credit for its investment in clean electricity, as the head of the International Energy Agency pointed out to BBC News. Maria van der Hoeven said that China is spending as much as the U.S. and Europe put together on clean power.
"People think about China in a way more representative of previous decades," she said. "They are now the largest wind power market in the world. They have increased their power generation from renewables from really nothing 10 years ago—and now it's 25 percent. These are very important signals that China is moving into the right direction."
According to Edie.net, "between 2005 and 2014, China increased its solar capacity by 40,000 percent to 28 GW, and the country is expected to install 17.8 GW of solar PV capacity alone in 2015, accounting for almost 40 percent of global installations."
YOU MIGHT ALSO LIKE
The Price Is Right on Clean Energy
Solar Is Driving America Toward Its 'Clean Power Plan'
Clean Power Plan Paves Way Toward a Carbon-Free Economy
EcoWatch Daily Newsletter
Related Articles from EcoWatch