World's Largest Indoor Vertical Farm Breaks Ground in Newark, New Jersey
Newark, New Jersey will soon be home to the largest indoor vertical farm in the world. The city just broke ground on the massive, 69,000-square-foot AeroFarms headquarters that's capable of producing up to 2 million pounds of vegetables and herbs annually once it's in full operation.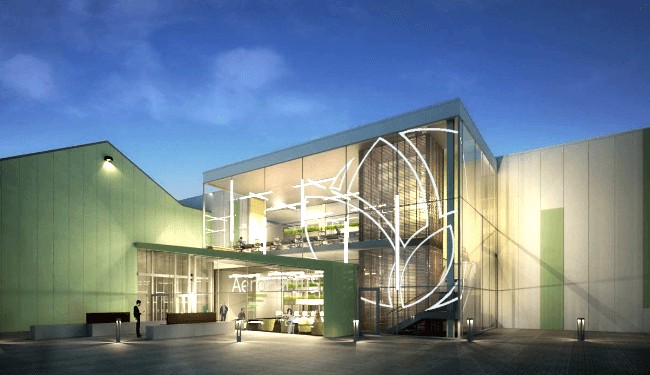 The new $30 million complex dwarfs Japan's (already impressive) 25,000-square-foot vertical indoor farm, which had been the world's largest until now.
Merging agriculture and the latest in technology, the AeroFarms system relies on LED lights, aeroponics (where plants basically grow in nutrient-rich mist) and climate control. Plants grow in stacked racks without sun, soil or pesticides.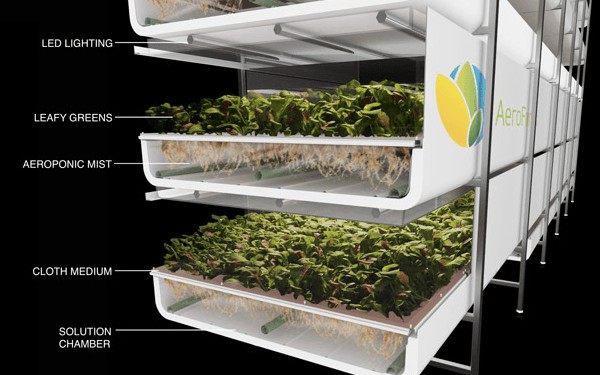 In the Bloomberg video below, AeroFarms CEO and co-founder David Rosenberg explains how conditions such as lighting, oxygen, carbon dioxide, temperature and pH balances can be optimized inside the farm to create the perfect growing environment.
"If we're talking about feeding a planet of 8 billion or 9 billion, we need a new paradigm of how we grow our food. This is it. This is the future," Rosenberg said about the project.
According to projections from the United Nations, the world's population will reach 9.6 billion people by 2050, 86 percent of whom will live in cities that might be far-removed from traditional farms. For people who live in major commercial cities such as Newark, these sky-high farms allow access to fresh, nutritious food year-round.
Vertical farms have been touted as the future of food and agriculture. As we have mentioned before, these farms are ideal because they grow produce where traditional agriculture would have been impossible. Since growing is done indoors, the plants are immune to inclement weather and natural disasters that can wreak agricultural havoc and cause food shortages. So while we might not think of Newark as an agricultural hub, a vertical farm actually makes a lot of sense for a city with long winters and memories of Hurricane Sandy still fresh.
Not only that, NBC News reported that the project will create nearly 80 local jobs, which is much-needed for a community with twice the unemployment rate of the national average. The farm will also supply fresh produce to local businesses and restaurants, cutting transportation costs and the many miles that food usually travels to get to plates, the news outlet reported.
The AeroFarms team behind the site for the largest vertical #farm in the world! #AeroFarmsGroundbreaking #GOteam pic.twitter.com/4ygDlakgNu

— AeroFarms (@AeroFarms) July 9, 2015
Newark Mayor Ras. J. Baraka also spoke about how the farm is an important educational tool for the community. "Any sort of urban farming will have a positive impact on the physical health of its citizens. There will be opportunities to educate our citizens about eating smart, even on a budget," Baraka told NBC News. "Many students who grow up in urban communities never experience rural living—they have never seen fruits or vegetables growing from their source. What an incredible science lesson it will be to bring classes to this urban farm."
Mayor @rasjbaraka will break ground on world's largest indoor vertical farm @AeroFarms #AeroFarmsGroundbreaking pic.twitter.com/ajdGx5Pc4N

— City of Newark (@CityofNewarkNJ) July 9, 2015
YOU MIGHT ALSO LIKE
Eat Well Guide Features 25,000+ Local and Sustainable Restaurants, Farms and Markets
Giant Solar Floating Farm Could Produce 8,000 Tons of Vegetables Annually
A coalition of conservation groups and others announced Thursday that a historic number of comments and petitions of support have been submitted to the U.S. Department of the Interior in support of Bears Ears National Monument. Despite the entirely inadequate 15-day comment period ending on May 26, more than 685,000 comments in support of Bears Ears National Monument have been collected.
Keep reading...
Show less
Rink Glacier in western Greenland, with a meltwater lake visible center. NASA/OIB
Scientists have had their eyes on Greenland as its iconic glaciers have begun disappearing due to a warming climate. But, what they didn't expect to see was a whole new type of melting.
Keep reading...
Show less
Mountain View Fire
By Lena Moffitt
An oil tanker in Mead, Colorado exploded, killing one and injuring three on Thursday. Authorities are continuing to investigate the cause of the explosion.
Keep reading...
Show less
Banner created by Alliance for Climate Education
Keep reading...
Show less
Twenty-two GOP senators sent a letter Thursday urging Donald Trump to pull out of the Paris agreement. They argued remaining in the deal could "upend" the administration's ability "to fulfill its goal of rescinding the Clean Power Plan."
Keep reading...
Show less
By Cheryl Johncox
The Federal Energy Regulatory Commission (FERC) rejected on Thursday Energy Transfer Partners' request to resume horizontal directional drilling at two sites for its Rover fracked gas pipeline. This rejection comes after numerous leaks into Ohio's wetlands, and Clean Air and Clean Water act violations. FERC has halted the process at only eight locations of the 32 where drilling is taking place under Ohio's wetlands and streams.
Keep reading...
Show less
By Nadia Prupis
A majority of people in eight countries say they are ready to change their lifestyles if it would prevent climate catastrophe, a survey on global threats released Wednesday found.
Keep reading...
Show less
May. 25, 2017 01:55PM EST
Bill Maher is sick of billionaires' obsession with Mars, more like "Mars-a-Lago," he said.
In a new animation produced by ATTN:, the popular talk show host of Real Time, discusses the perils of our planet, including how "climate change is killing us."
Keep reading...
Show less