This website uses cookies to ensure you get the best experience while browsing it. By clicking 'Got It' you're accepting these terms.
World's Largest Grid Operator Reveals Why Increased Wind Energy Means Increased Savings
Mar. 04, 2014 09:42AM EST
By Michael Goggin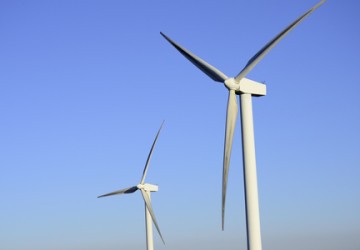 Photo courtesy of Shutterstock
In the fall, PJM, the largest grid operator in the world, serving 60 million customers across 13 Mid-Atlantic and Great Lakes states, issued the preliminary results of a major wind integration study. The final results of the study were released Monday and they are even better than the preliminary results.
Among the highlights:
Wind energy's economic savings are even larger than found in the fall's preliminary results.
Obtaining 20 percent of PJM's electricity from wind energy reduces the cost of producing electricity by about $10 billion annually (about 25 percent of total annual production costs of $40 billion), while 30 percent wind reduces production costs by about $15 billion (about 37.5 percent of total production costs) each year. These numbers are up from the fall's preliminary results of about $9 billion for the 20 percent wind case and $13 billion for the 30 percent case. Importantly, these benefits were just as large in sensitivity analyses that explored scenarios with lower natural gas prices and electricity demand, while a sensitivity case that added a $40 per ton ton carbon price increased wind's production savings by roughly 50 percent. Wholesale electricity prices are reduced by about $9 to $22 billion annually across the 20 percent and 30 percent scenarios, with the high offshore scenarios producing the largest wholesale price reductions of $22 billion. This occurs because offshore wind tends to produce more during times of peak electricity demand, offsetting more expensive gas generation.
PJM's study found that each Megawatt-hour (MWh) of wind energy provides between $57 and $74 of value to the power system, depending on the scenario. This is a very high value, higher than the $50 per MWh value found for most scenarios in the preliminary results. Transmission costs were also found to be a very low $3 per MWh in almost all cases, accounting for only about 5 percent of the value provided by wind energy. The transmission costs were significantly lower than in the study's preliminary results. Importantly, other studies by independent grid operators have confirmed that most transmission upgrades more than pay for themselves by providing other benefits, such as improved electric reliability, reduced electricity prices, more competitive electricity markets, and higher efficiency of electricity transmission relative to today's congested electric grid.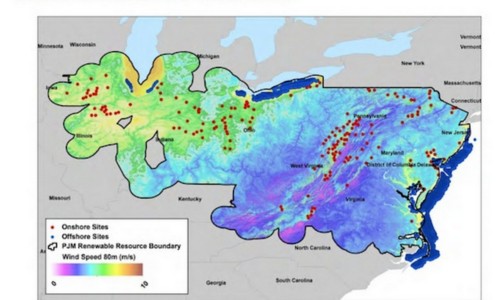 Wind power's pollution reductions are also very large.
Carbon dioxide emissions declined by 27 to 41 percent in the 30 percent renewable cases, and sulfur dioxide and nitric oxide emissions declined by 35 percent in the 30 percent wind case that deployed the best onshore wind resources. Depending on the scenario, the wind cases reduced total PJM coal generation by 22 to 66 percent, with total PJM gas generation declining by 26 to 57 percent. Imports from other regions, primarily coal generation from Midcontinent Independent System Operator (MISO), also declined by 20 to 30 percent in almost all cases.
The study finds there is no harm to electric reliability from increasing wind energy use by a factor of 10 to 20.
As before, the study notes that "all the simulations of challenging days revealed successful operation of the PJM real-time market." The final study also notes that the "PJM system, with adequate transmission and ancillary services in the form of Regulation, will not have any significant issue absorbing the higher levels of renewable energy penetration considered in the study." This confirms the results of dozens of other wind integration studies and independent grid operator analyses of real-world wind operations data. As PJM's Senior Vice President Andy Ott and other experts explain in this video, changes in wind energy output are reliably accommodated using the same tools grid operators have always used to accommodate fluctuations in electricity demand as well as abrupt failures at conventional power plants.
Building on NREL's comprehensive analysis from last fall, this study puts further nails in the coffin of the fossil fuel industry myth that wind energy's emissions savings are less than expected because it causes fossil-fired power plants to cycle more. A key reason is that wind energy's gradual changes in output are a small contributor to total power system variability, smaller than the variations in electricity demand and the abrupt failures of conventional power plants. For example, today's study found that increasing PJM wind energy use by seven times by adding 28,000 MW of wind would only increase the need for regulation reserves by 340 MW, or an extremely small increase of about 1.2 MW of reserves for every 100 MW of added wind capacity. For comparison, PJM currently holds 3,350 MW of expensive, fast-acting contingency reserves 24/7 to ensure that it can keep the lights on in case a large fossil or nuclear power plant unexpectedly breaks down. In other words, the total reserve need and integration cost for accommodating large fossil and nuclear power plants (3,350 MW) is about 10 times larger than the incremental reserve need associated with increasing PJM wind use by 7-fold (340 MW). As further testament to the fact that wind energy is a small contributor to total power system variability, PJM's study found that the total cost of cycling all power plants dropped from $870 million in the base scenario to $500 million in the scenario with 30 percent wind energy (page 33 in the executive summary).
The study found that cycling's impact on smog-forming SO2 and NOx emissions was in the single digit percents across all scenarios, i.e. wind produced more than 90 percent of the expected emissions reductions for these pollutants. As explained above, carbon dioxide emissions declined by 27-41 percent in the 30 percent renewable cases, consistent with NREL's finding that the impact of wind-related cycling on CO2 emissions is "negligible." Specifically, NREL's analysis found that cycling reduced wind's carbon dioxide savings by 2.4 pounds per MWh, or 0.2 percent out of wind's total emissions savings of 1190 pounds per MWh, so wind produced 99.8 percent of the expected carbon emissions reductions. It should also be noted that the PJM study likely greatly overstates the impact of cycling due to a peculiarity in its modeling approach. As the study notes, "For scenarios that experience increased cycling, the results are dominated by supercritical coal emissions." Experts at NREL and elsewhere have noted that the study likely erred in its assumption that supercritical coal plants would cycle this much, as in the real world it is likely that their output would remain constant while other generators would provide that flexibility. As a result, the already negligible impact on cycling emissions found in the study likely overstates the real-world impact.
PJM's study further reinforces other studies that have found wind energy is a win-win-win for consumers, the environment, and electric reliability.
For example, a May 2013 analysis by Synapse Energy Economics found that doubling the use of wind energy beyond existing standards in PJM would reduce carbon pollution by 50 million tons per year and maintain reliability while saving consumers $6.9 billion per year on net, after accounting for all wind and transmission costs. In numerous cold snaps over the last two months, including several in PJM, wind energy has proved its reliability and value by providing large amounts of valuable energy when grid operators needed it most, protecting consumers by keeping electricity and natural gas price spikes in check.
This study confirms that wind energy is providing that benefit every day by diversifying our energy mix and keeping consumers' energy costs low.
Visit EcoWatch's RENEWABLES page for more related news on this topic.

KarinaKnyspel / iStock / Getty Images
2018 saw a number of studies pointing to the outsized climate impact of meat consumption. Beef has long been singled out as particularly unsustainable: Cows both release the greenhouse gas methane into the atmosphere because of their digestive processes and require a lot of land area to raise. But for those unwilling to give up the taste and texture of a steak or burger, could lab-grown meat be a climate-friendly alternative? In a first-of-its-kind study, researchers from the Oxford Martin School set out to answer that question.
Three scissor-tailed flycatcher fledglings in a mesquite tree in Texas. Texas Eagle / CC BY-NC 2.0
By Gary Paul Nabhan
President Trump has declared a national emergency to fund a wall along our nation's southern border. The border wall issue has bitterly divided people across the U.S., becoming a vivid symbol of political deadlock.
PeopleImages / E+ / Getty Images
By Daniel Ross
Hurricane Florence, which battered the U.S. East Coast last September, left a trail of ruin and destruction estimated to cost between $17 billion and $22 billion. Some of the damage was all too visible—smashed homes and livelihoods. But other damage was less so, like the long-term environmental impacts in North Carolina from hog waste that spilled out over large open-air lagoons saturated in the rains.
Hog waste can contain potentially dangerous pathogens, pharmaceuticals and chemicals. According to the state's Department of Environmental Quality, as of early October nearly 100 such lagoons were damaged, breached or were very close to being so, the effluent from which can seep into waterways and drinking water supplies.
This picture taken on May 21, 2018 shows discarded climbing equipment and rubbish scattered around Camp 4 of Mount Everest. Decades of commercial mountaineering have turned Mount Everest into the world's highest rubbish dump as an increasing number of big-spending climbers pay little attention to the ugly footprint they leave behind. DOMA SHERPA / AFP / Getty Images
China has closed its Everest base camp to tourists because of a buildup of trash on the world's tallest mountain.