This website uses cookies to ensure you get the best experience while browsing it. By clicking 'Got It' you're accepting these terms.
World's Largest Green Roof to Sit on Top of Dying California Mall
Sep. 21, 2015 09:22AM EST
"It's not easy to be a shopping mall these days," Reed Moulds, managing director at Sand Hill, tells FastCo.Exist. "We've done some research and we haven't found a single shopping mall that's started construction since 2006. This is clearly a dying model. That's on display at Vallco."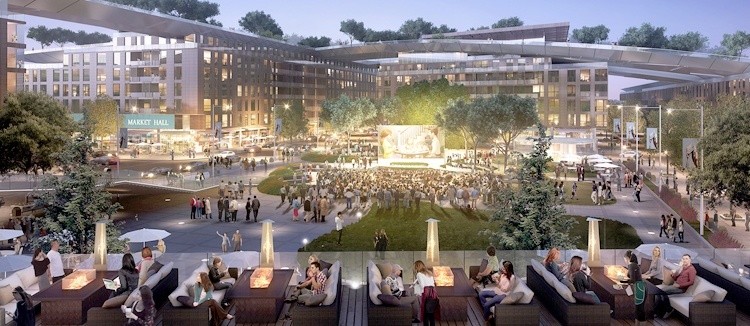 Vallco is a shopping mall in Cupertino, California—a stone's throw from Apple headquarters in the middle of suburban Silicon Valley. And apparently, it has seen better days. "Half the stores are empty, the food court is abandoned and people leave Yelp reviews talking about their fear of zombie ambushes in the eerie corridors," says FastCo.Exist.
That's where Moulds comes in. He's the developer behind a $3 million project to turn the derelict building around. The mall and adjacent parking are set to be transformed into "a vibrant, sustainable, walkable and safe new neighborhood with a mix of retail, dining, entertainment, recreation, offices, housing, open space and public amenities," according to the company's website. And the entire space would be topped with a 30-acre green roof—the largest in the world.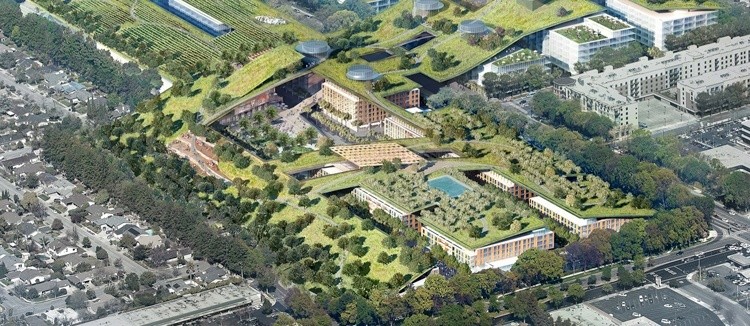 The proposed project is called The Hills at Vallco and if approved by the city of Cupertino in 2016, the new site would be truly remarkable. The whole site is designed to be walk- and bike-friendly with refreshing dense, mixed-use planning and town squares for farmers markets. Moulds plans to personally fund a shuttle service in the area since the rest of the city is so car-dependent. The green roof would include an impressive 3.8-mile trail network "for jogging and walking, vineyards, orchards and organic gardens, an amphitheater, children's play areas and a refuge for native species of plants and birds," say the developers.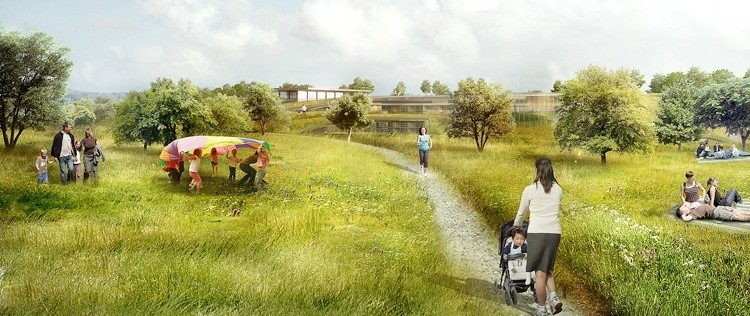 As if the project could get any cooler, it's also aiming to be as ecologically sound as possible. The project is aiming for LEED Platinum certification, the highest LEED rating. Developers also plan to use recycled water for irrigation, heating and cooling, and recapture rainwater to reduce water consumption.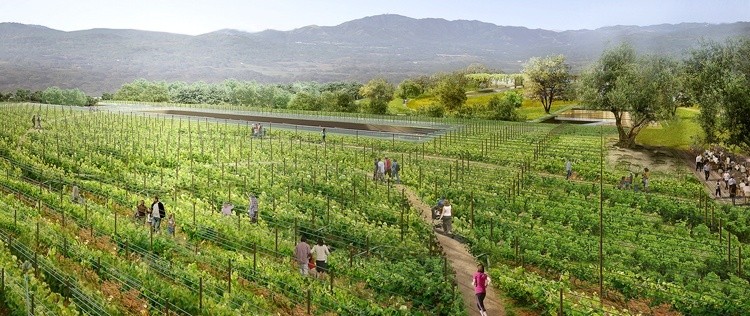 "The sustainable park will feature native, drought-tolerant and climate-responsive landscaping that thrives on little to no water," says Sand Hill. "The green roof, natural ventilation and smart technology will ensure energy efficiency—keeping buildings and surroundings cool in the summer and warm in the winter."

"I think there's going to be a lot of opportunities to be very creative about how we reinvent our malls that aren't used the way that they've been used in the past," Moulds told Fast Co.Exist. "This was an organic approach, driven by community engagement, that at the end of the day resulted in the largest green roof in the world."
YOU MIGHT ALSO LIKE
Take the 28-Day Plastic Purge Challenge
#BearSelfies Force Colorado Park to Close
IKEA is working on a specially-designed, air-purifying curtain called the GUNRID. IKEA
Air pollution within the home causes 3.8 million deaths a year, according to the World Health Organization. A recent University of Colorado in Boulder study reported by The Guardian found that cooking a full Thanksgiving meal could raise levels of particulate matter 2.5 in the house higher than the levels averaged in New Delhi, the world's sixth most polluted city.
But soon, you will be able to shop for a solution in the same place you buy your budget roasting pans. IKEA is working on a specially-designed, air-purifying curtain called the GUNRID.
The first member of the giant tortoise species Chelonoidis phantasticus to be seen in more than 100 years. RODRIGO BUENDIA / AFP / Getty Images
A rare species of giant tortoise, feared extinct for more than 100 years, was sighted on the Galápagos island of Fernandina Sunday, the Ecuadorian government announced.
Elena Pueyo / Moment / Getty Images
Opinions on coffee vary greatly—some consider it healthy and energizing, while others claim it's addictive and harmful.
Morning fog over a boreal forest in Alaska. Alan Majchrowicz / Stockbyte / Getty Images
By Jennifer Skene and Shelley Vinyard
For most people, toilet paper only becomes an issue when it unexpectedly runs out. Otherwise, it's cheap and it's convenient, something we don't need to think twice about. But toilet paper's ubiquity and low sticker price belie a much, much higher cost: it is taking a dramatic and irreversible toll on the Canadian boreal forest, and our global climate. As a new report from NRDC and Stand.earth outlines, when you flush that toilet paper, chances are you are flushing away part of a majestic, old-growth tree ripped from the ground, and destined for the drain. This is why NRDC is calling on Procter & Gamble, the manufacturer of Charmin, to end this wasteful and destructive practice by changing the way it makes its toilet paper through solutions that other companies have already embraced.
Cycling advocates set up "ghost bikes," like this one in Brooklyn, in memory of bikers killed in traffic.
Nick Gray
/
CC BY-SA
By John Rennie Short
As cities strive to improve the quality of life for their residents, many are working to promote walking and biking. Such policies make sense, since they can, in the long run, lead to less traffic, cleaner air and healthier people. But the results aren't all positive, especially in the short to medium term.