This website uses cookies to ensure you get the best experience while browsing it. By clicking 'Got It' you're accepting these terms.
World's Largest Food Distributor Commits to Source 100% Cage-Free Eggs
Jun. 21, 2016 12:18PM EST
Animals
Sysco Corp, the world's largest foodservice distributor, will be the first company of its kind to commit to sourcing 100 percent cage-free eggs in its entire supply chain in the U.S. by 2026.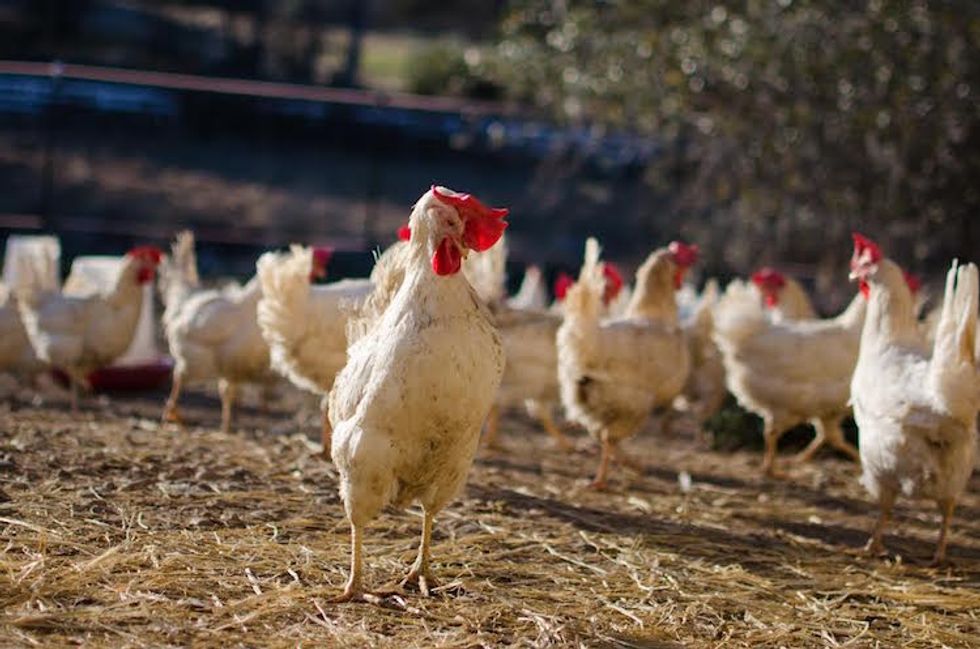 Food distributor Sysco Corp is the latest major company to switch to cage-free eggs. Photo credit: Stephanie Frankle at Animal Place
The company, which clocked $48.7 billion in sales last year—about $10 billion more than McDonald's—supplies food to restaurants, healthcare and educational facilities, hotels and inns and hospitality businesses nationwide, with approximately 425,000 customers to its name. It operates from 194 locations throughout the U.S., Bahamas, Canada, Ireland and Northern Ireland.
Sysco's commitment to cage-free eggs comes after strategic conversations with The Humane League, which approached the company about the policy. The international animal protection nonprofit pointed out that although Sysco previously has an animal welfare policy and a commitment to eliminate gestation crates for sows, the company had not yet addressed the cages used in its egg supply chain. Following conversations, The Humane League and Sysco negotiated a 10-year timeline that allows the company to accommodate their massive supply chain.
Sysco's clients go through innumerable amounts of eggs, making its latest commitment a huge blow to the inhumane practice of confining egg-laying hens in cages in the U.S.
"What this means is that distributors are going cage-fee," David Coman-Hidy, executive director for The Humane League, told EcoWatch. "It's going to impact the entire country."
Significantly, this also impacts Sysco's restaurants and other clients that have not made the decision to go cage-free, Coman-Hidy pointed out, making it "one more nail in the coffin for battery cages."
Although the label "cage-free" has its problems, the food industry's overall shift to cage-free eggs is a big step for animal welfare. The vast majority of eggs that we see in the U.S.—such as standard supermarket varieties and, yes, the ones that Sysco has been distributing—come from hens confined in battery cages. These hens cannot spread their wings, they cannot walk around or express other normal hen behaviors. They may never see the light of day.
So why pressure companies to switch to cage-free and not, say, "pasture-raised" or other more humane alternatives?
"We're focused on what could reduce the most suffering," Coman-Hidy said. For now, it appears that cage-free is the most feasible and realistic switch for giant multibillion dollar companies.
Sysco said that the transition to a 100 percent cage-free egg supply chain by 2026 will require significant collaboration amongst industry participants, including its suppliers, to specifically address food affordability and environmental concerns. The company said it is committed to working through the supply chain to achieve a sustainable solution for both egg producers and its customers.
The Humane League has previously influenced a number of major companies across several industries, including Walmart, The Walt Disney Company, Kroger, Target, Aldi, Denny's, Nestle, General Mills, Costco, PepsiCo, Grupo Bimbo, Unilever, Carnival Cruises and Starwood Hotels to convert exclusively to cage-free eggs.
Notably, the organization is also responsible for United Egg Producer's recent commitment of eliminating the practice of male chick culling in the U.S. The decision will prevent the suffering of 260 million chicks and 960,000 hens each year.
The Humane League is hoping to eliminate the use of battery cages around the world and is pressuring global companies to end the practice, Coman-Hidy said.
YOU MIGHT ALSO LIKE
Cub of Beloved Grizzly Killed by Car as FWS Plans to Delist Yellowstone Bear
Buzz Kill: How the Pesticide Industry Blocks Bee Protections Nationwide
6 Million Tropical Fish Imported Into U.S. Each Year Are Exposed to Cyanide Poisoning
EcoWatch Daily Newsletter
A new report spotlights a U.N. estimate that at least 275 million people rely on healthy coral reefs. A sea turtle near the Heron Island in the Great Barrier Reef is seen above. THE OCEAN AGENCY / XL CATLIN SEAVIEW SURVEY
In a new report about how the world's coral reefs face "the combined threats of climate change, pollution, and overfishing" — endangering the future of marine biodiversity — a London-based nonprofit calls for greater global efforts to end the climate crisis and ensure the survival of these vital underwater ecosystems.
Half of the extracted resources used were sand, clay, gravel and cement, seen above, for building, along with the other minerals that produce fertilizer. Cavan Images / Cavan / Getty Images
The world is using up more and more resources and global recycling is falling. That's the grim takeaway from a new report by the Circle Economy think tank, which found that the world used up more than 110 billion tons, or 100.6 billion metric tons, of natural resources, as Agence France-Presse (AFP) reported.
By Gero Rueter
Heating with coal, oil and natural gas accounts for around a quarter of global greenhouse gas emissions. But that's something we can change, says Wolfgang Feist, founder of the Passive House Institute in the western German city of Darmstadt.

By George Citroner
Recent research finds that official government figures may be underestimating drug deaths by half.
Researchers estimate that 142,000 people died due to drug use in 2016.
Drug use decreases life expectancy after age 15 by 1.4 years for men and by just under 1 year for women, on average.
Government records may be severely underreporting how many Americans die from drug use, according to a new study by researchers from the University of Pennsylvania and Georgetown University.
Water coolers in front of shut-off water fountains at Center School in Stow, MA on Sept. 4, 2019 after elevated levels of PFAS were found in the water. David L. Ryan / The Boston Globe via Getty Images
In a new nationwide assessment of drinking water systems, the Environmental Working Group found that toxic fluorinated chemicals known as PFAS are far more prevalent than previously thought.