This website uses cookies to ensure you get the best experience while browsing it. By clicking 'Got It' you're accepting these terms.
World's Largest Food Distributor Commits to Source 100% Cage-Free Eggs
Jun. 21, 2016 12:18PM EST
Business
Sysco Corp, the world's largest foodservice distributor, will be the first company of its kind to commit to sourcing 100 percent cage-free eggs in its entire supply chain in the U.S. by 2026.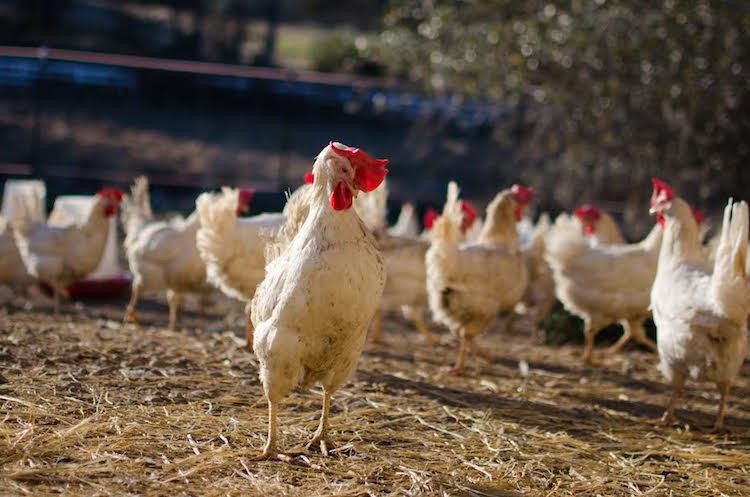 Food distributor Sysco Corp is the latest major company to switch to cage-free eggs. Photo credit: Stephanie Frankle at Animal Place
The company, which clocked $48.7 billion in sales last year—about $10 billion more than McDonald's—supplies food to restaurants, healthcare and educational facilities, hotels and inns and hospitality businesses nationwide, with approximately 425,000 customers to its name. It operates from 194 locations throughout the U.S., Bahamas, Canada, Ireland and Northern Ireland.
Sysco's commitment to cage-free eggs comes after strategic conversations with The Humane League, which approached the company about the policy. The international animal protection nonprofit pointed out that although Sysco previously has an animal welfare policy and a commitment to eliminate gestation crates for sows, the company had not yet addressed the cages used in its egg supply chain. Following conversations, The Humane League and Sysco negotiated a 10-year timeline that allows the company to accommodate their massive supply chain.
Sysco's clients go through innumerable amounts of eggs, making its latest commitment a huge blow to the inhumane practice of confining egg-laying hens in cages in the U.S.
"What this means is that distributors are going cage-fee," David Coman-Hidy, executive director for The Humane League, told EcoWatch. "It's going to impact the entire country."
Significantly, this also impacts Sysco's restaurants and other clients that have not made the decision to go cage-free, Coman-Hidy pointed out, making it "one more nail in the coffin for battery cages."
Although the label "cage-free" has its problems, the food industry's overall shift to cage-free eggs is a big step for animal welfare. The vast majority of eggs that we see in the U.S.—such as standard supermarket varieties and, yes, the ones that Sysco has been distributing—come from hens confined in battery cages. These hens cannot spread their wings, they cannot walk around or express other normal hen behaviors. They may never see the light of day.
So why pressure companies to switch to cage-free and not, say, "pasture-raised" or other more humane alternatives?
"We're focused on what could reduce the most suffering," Coman-Hidy said. For now, it appears that cage-free is the most feasible and realistic switch for giant multibillion dollar companies.
Sysco said that the transition to a 100 percent cage-free egg supply chain by 2026 will require significant collaboration amongst industry participants, including its suppliers, to specifically address food affordability and environmental concerns. The company said it is committed to working through the supply chain to achieve a sustainable solution for both egg producers and its customers.
The Humane League has previously influenced a number of major companies across several industries, including Walmart, The Walt Disney Company, Kroger, Target, Aldi, Denny's, Nestle, General Mills, Costco, PepsiCo, Grupo Bimbo, Unilever, Carnival Cruises and Starwood Hotels to convert exclusively to cage-free eggs.
Notably, the organization is also responsible for United Egg Producer's recent commitment of eliminating the practice of male chick culling in the U.S. The decision will prevent the suffering of 260 million chicks and 960,000 hens each year.
The Humane League is hoping to eliminate the use of battery cages around the world and is pressuring global companies to end the practice, Coman-Hidy said.
YOU MIGHT ALSO LIKE
Cub of Beloved Grizzly Killed by Car as FWS Plans to Delist Yellowstone Bear
Buzz Kill: How the Pesticide Industry Blocks Bee Protections Nationwide
6 Million Tropical Fish Imported Into U.S. Each Year Are Exposed to Cyanide Poisoning
EcoWatch Daily Newsletter
By Anita Desikan
The Trump administration is routinely undermining your ability — and mine, and everyone else's in this country — to exercise our democratic rights to provide input on the administration's proposed actions through the public comment process. Public comments are just what they sound like: an opportunity for anyone in the public, both individuals and organizations, to submit a comment on a proposed rule that federal agencies are required by law to read and take into account. Public comments can raise the profile of an issue, can help amplify the voices of affected communities, and can show policymakers whether a proposal has broad support or is wildly unpopular.
Alena Gamm / EyeEm / Getty Images
Picture this: a world where chocolate is as rare as gold. No more five-dollar bags of candy on Halloween. No more boxes of truffles on Valentine's day. No more roasting s'mores by the campfire. No more hot chocolate on a cold winter's day.
Who wants to live in a world like that?
Fabian Krause / EyeEm / Getty Images
Water protectors of all persuasions gathered in talking circles at Borderland Ranch in Pe'Sla, the heart of the sacred Black Hills, during the first Sovereign Sisters Gathering. At the center are Cheryl Angel in red and white and on her left, Lyla June. Tracy Barnett
By Tracy L. Barnett
Sources reviewed this article for accuracy.
For Sicangu Lakota water protector Cheryl Angel, Standing Rock helped her define what she stands against: an economy rooted in extraction of resources and exploitation of people and planet. It wasn't until she'd had some distance that the vision of what she stands for came into focus.
Hedges, 2019 © Hugh Hayden. All photos courtesy of Lisson Gallery
By Patrick Rogers
"I'm really into trees," said the sculptor Hugh Hayden. "I'm drawn to plants."
BruceBlock / iStock / Getty Images
Thanks to their high concentration of powerful plant compounds, foods with a natural purple hue offer a wide array of health benefits.