This website uses cookies to ensure you get the best experience while browsing it. By clicking 'Got It' you're accepting these terms.


The best of EcoWatch, right in your inbox. Sign up for our email newsletter!
World's Glaciers Melting at Record Rate
Aug. 05, 2015 09:03AM EST
Climate
The world's glaciers are melting fast—probably faster than at any time in recorded history, according to new research.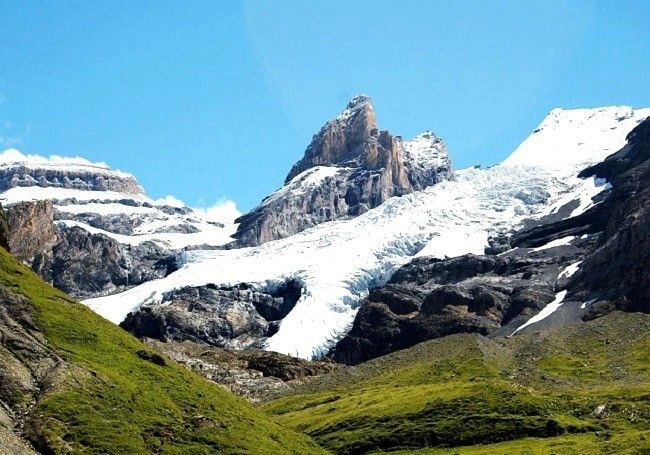 Many glaciers in the European Alps could lose about 50 percent of their present surface area. Photo credit: TonnyB / Wikimedia Commons
Measurements show several hundred glaciers are losing between half and one meter of thickness every year—at least twice the average loss for the 20th century—and remote monitoring shows this rate of melting is far more widespread.
The World Glacier Monitoring Service (WGMS), based at the University of Zurich, Switzerland, has compiled worldwide data on glacier changes for more than 120 years.
Drawing on reports from its observers in more than 30 countries, it has published in the Journal of Glaciology a comprehensive analysis of global glacier changes.
Pictorial Sources
The study compares observations of the first decade of this century with all available earlier data from field, airborne and satellite observations and with reconstructions from pictorial and written sources.
Dr. Michael Zemp, director of WGMS and lead author of the study, says the current annual loss of 0.5-1 meter of ice thickness observed on "a few hundred glaciers" through direct measurement is two to three times more than the average for the last century.

Evidence of how much the Rhone glacier in the Swiss Alps receded between 2007 (above) and 2014 (below). Photo credit: Simon Oberli

Photo credit: Simon Oberli
"However, these results are qualitatively confirmed from field and satellite-based observations for tens of thousands of glaciers around the world," he adds.
The WGMS compiles the results of worldwide glacier observations in annual calls-for-data. The current database contains more than 5,000 measurements of glacier volume and mass changes since 1850 and more than 42,000 front variations from observations and reconstructions stretching back to the 16th century.
Glaciers provide drinking water for millions of people, as well as irrigating crops and providing hydropower. When they melt, they also make a measurable contribution to sea level rise.
The researchers say the current rate of glacier melt is without precedent at the global scale—at least for the time period observed and probably also for recorded history, as reconstructions from written and illustrated documents attest.
Long-term Retreat
The study also shows that the long-term retreat of glacier tongues is a global phenomenon. Intermittent re-advance periods at regional and decadal scales are normally restricted to a smaller sample of glaciers and have not come close to achieving the Little Ice Age maximum positions reached between the 16th and 19th centuries.
Glacier tongues in Norway, for example, have retreated by some kilometers from their maximum extents in the 19th century. The intermittent re-advances of the 1990s were restricted to glaciers in coastal areas and to a few hundred meters.
The study shows that the intense ice loss of the last two decades has resulted in what it calls "a strong imbalance of glaciers in many regions of the world." And Dr. Zemp warns: "These glaciers will suffer further ice loss, even if climate remains stable."
He told Climate News Network: "Due to the strong ice loss over the past few decades, many glaciers are too big under current climatic conditions. They simply have not had enough time to react to the climatic changes of the past.
"So they will have to retreat further until they are in balance with climatic conditions again. In the European Alps, many glaciers would lose about 50 percent of their present surface area without further climate change."
YOU MIGHT ALSO LIKE
Is a 'Mini Ice Age' on the Horizon?
Australia's 'Sunshine State' Gets Rare Dumping of Snow During Record Cold Snap
Keri Russell: We Need to Protect the Arctic for Future Generations
EcoWatch Daily Newsletter
Pxhere
By Richard Denison
Readers of this blog know how concerned EDF is over the Trump EPA's approval of many dozens of new chemicals based on its mere "expectation" that workers across supply chains will always employ personal protective equipment (PPE) just because it is recommended in the manufacturer's non-binding safety data sheet (SDS).
By Grant Smith
From 2009 to 2012, Gregory Jaczko was chairman of the Nuclear Regulatory Commission, which approves nuclear power plant designs and sets safety standards for plants. But he now says that nuclear power is too dangerous and expensive — and not part of the answer to the climate crisis.
A lake in Rocky Mountain National Park. Brett Walton / Circle of Blue
By Brett Walton
When Greg Wetherbee sat in front of the microscope recently, he was looking for fragments of metals or coal, particles that might indicate the source of airborne nitrogen pollution in Rocky Mountain National Park. What caught his eye, though, were the plastics.
Gabriele Holtermann Gorden / Pacific Press / LightRocket / Getty Images
In a big victory for animals, Prada has announced that it's ending its use of fur! It joins Coach, Jean Paul Gaultier, Giorgio Armani, Versace, Ralph Lauren, Vivienne Westwood, Michael Kors, Donna Karan and many others PETA has pushed toward a ban.
This is a victory more than a decade in the making. PETA and our international affiliates have crashed Prada's catwalks with anti-fur signs, held eye-catching demonstrations all around the world, and sent the company loads of information about the fur industry. In 2018, actor and animal rights advocate Pamela Anderson sent a letter on PETA's behalf urging Miuccia Prada to commit to leaving fur out of all future collections, and the iconic designer has finally listened.
Amer Ghazzal / Barcroft Media / Getty Images
If people in three European countries want to fight the climate crisis, they need to chill out more.
That's the conclusion of a new study from think tank Autonomy, which found that Germany, the UK and Sweden all needed to drastically reduce their workweeks to fight climate change.
Amazon Employees for Climate Justice held a press conference after the annual shareholder meeting on May 22. Amazon Employees for Climate Justice
An artist's rendering of the recomposition facility. MOLT Studios
Washington became the first U.S. state to legalize human composting Tuesday, offering residents a more environmentally friendly way to dispose of their remains, AFP reported.
Mr.TinDC / Flickr / CC BY-ND 2.0
Many nutrients are essential for good health.