This website uses cookies to ensure you get the best experience while browsing it. By clicking 'Got It' you're accepting these terms.
World's First Solar-Powered Lock Protects You and Your Bike
Jan. 27, 2015 01:06PM EST
Business
Remember that bicycle lock you had as a kid? Maybe you still have it? You close it and go on your way until you get back and insert the key or input the combination, assuming the lock hasn't been cut or jimmied and your bike is gone. Let's hope not.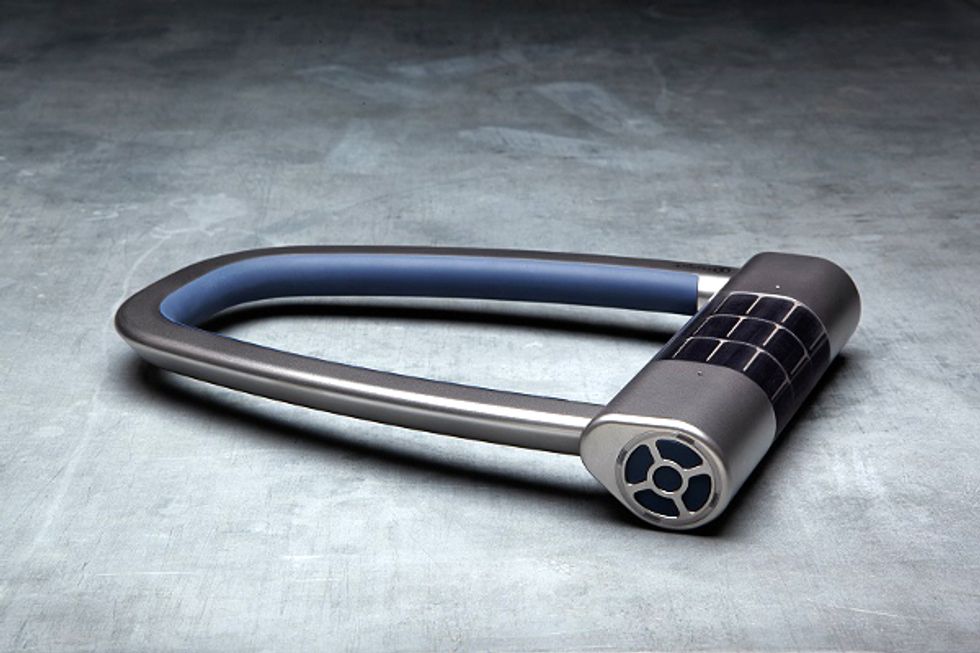 The Skylock isn't anything like that. The "intelligent" lock may not be able to take your bar exam for you, but when it comes to you and your bicycle, there's very little it can't do to keep you both safe and secure.
The keyless, Bluetooth-enabled smart lock was developed by a team of San Francisco-based engineers who call it "the world's first solar-powered connected bike lock." An app downloaded on the user's iPhone or Android device is the connection between him and his Skylock-equipped bike.
Yes, it controls the lock remotely, but it does much more than that. If someone is trying to cut the lock—a difficult and time-consuming process—the lock's triaxial accelerometer will have notified you that your bike is being tampered with before the thief can take off. According to the developers, "Any lock can be cut with enough time and the right tools. Since Skylock requires two cuts to break, this means you have twice the amount of time to respond to a theft alert." Sure, it can send a false alarm if someone accidentally bumps your bike but at least you can go check to see what's going on.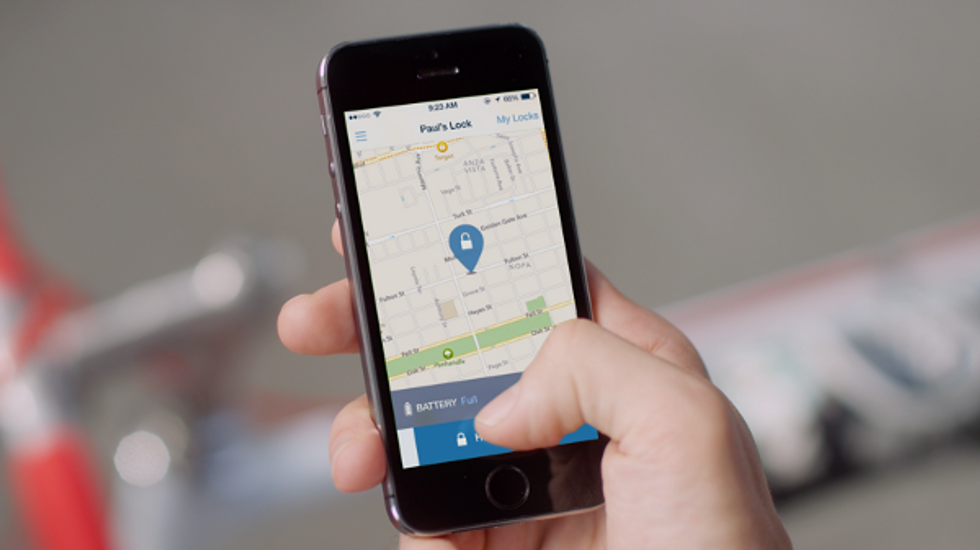 The Skylock can also be programmed so that if you are in an accident or get hit by a car it sends an automatic alert to a person or persons of your choice. The system only works if both phone and Skylock get a shock, so nothing will happen if you drop one or the other. What happens if both are in your backpack and you drop it? "The system will ask you if you are ok and take action if you don't reply, so if you activate this feature, keep this in mind and don't slam your backpack," they advise. That's probably good advice in general.
The Skylock isn't just convenient and protective, it's also eco-friendly. With its low-power design and solar-recharged battery, it needs little charging to provide power for up to months at a time. Although Skylock's developers say you're unlikely to run out of battery power (or your phone runs out) and find yourself locked out of your bike, they've got you covered.
"If you are ever running low, just plug in the USB charger and Skylock will be ready to guard you and your bike again," they say. "Skylock also has a built-in capacitive panel. Just type in a key code combination to unlock Skylock if your phone ever runs out of battery. Never worry about getting your bike stuck outside."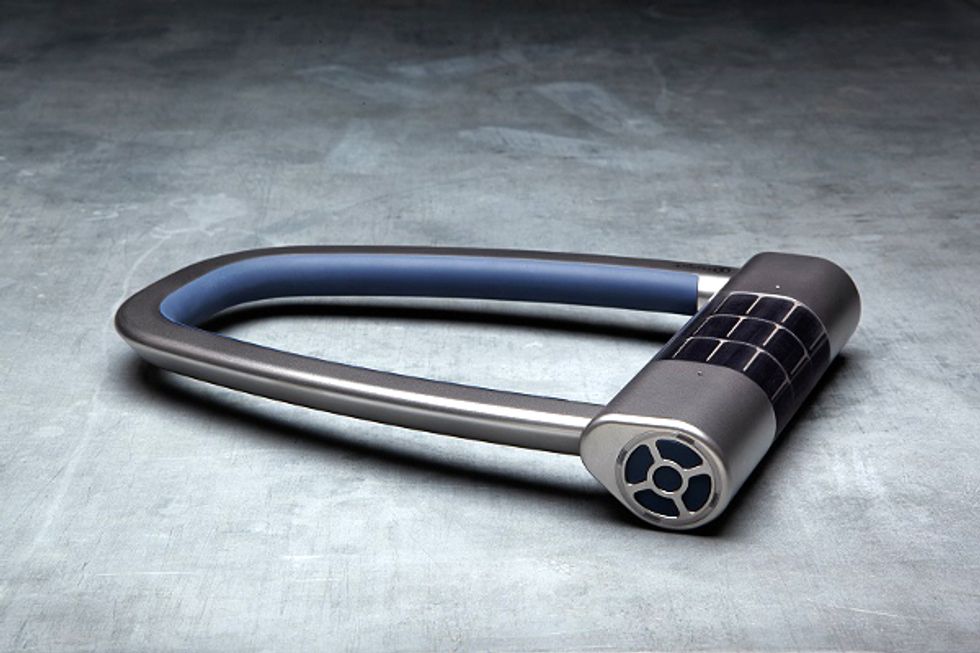 With Skylock, you can even share your bike with trusted friends. You can alert them to the bike's location and send them access to it via phone.
Cycling enthusiasts were excited enough by the Skylock that it blew through its first Indiegogo fundraising goal in a single day and raised double its set goal in the second.
Naturally, Skylock doesn't come cheap, but we know some serious cyclists that measure their dedication by how much money they are able to spend. Skylock can help them. While regular bike locks may run you anywhere from $10-$100, Skylock will retail for $250 but the company is taking preorders at $159. The lock should be in your hands before the summer cycling season is too far along.
YOU MIGHT ALSO LIKE
What Are the Best Cities for Cyclists?
Ride Your Bike to Work … And Share
EcoWatch Daily Newsletter
A new study shows that half of all Arctic warming and corresponding sea-loss during the late 20th century was caused by ozone-depleting substances. Here, icebergs discharged from Greenland's Jakobshavn Glacier. Kevin Krajick / Earth Institute /
EurekAlert!
The world awakened to the hole in the ozone layer in 1985, which scientists attributed it to ozone depleting substances. Two years later, in Montreal, the world agreed to ban the halogen compounds causing the massive hole over Antarctica. Research now shows that those chemicals didn't just cut a hole in the ozone layer, they also warmed up the Arctic.
Diane Wilson holds up a bag full of nurdles she collected from one of Formosa's outfall areas on Jan. 15. Julie Dermansky / DeSmogBlog
On the afternoon of Jan. 15, activist Diane Wilson kicked off a San Antonio Estuary Waterkeeper meeting on the side of the road across from a Formosa plastics manufacturing plant in Point Comfort, Texas.
After Wilson and the waterkeeper successfully sued Formosa in 2017, the company agreed to no longer release even one of the tiny plastic pellets known as nurdles into the region's waterways. The group of volunteers had assembled that day to check whether the plant was still discharging these raw materials of plastics manufacturing.
Malaysian Environment Minister Yeo Bee Yin (front 2nd L) and officials inspect a container containing plastic waste shipment on Jan. 20, 2020 before sending back to the countries of origin. AFP via Getty Images
The Southeast Asian country Malaysia has sent 150 shipping containers packed with plastic waste back to 13 wealthy countries, putting the world on notice that it will not be the world's garbage dump, as CNN reported. The countries receiving their trash back include the United States, the United Kingdom, France and Canada.
Trump leaves after delivering a speech at the Congress Centre during the World Economic Forum annual meeting in Davos on Jan. 21, 2020. JIM WATSON / AFP via Getty Images