This website uses cookies to ensure you get the best experience while browsing it. By clicking 'Got It' you're accepting these terms.
World's First Plantable Coffee Cup to Replenish Forests
Feb. 27, 2015 09:42AM EST
Unless you bring your own thermos or mug, paper cups are the de facto option for on-the-go coffee. But as we all know, producing these simple items mow down forests of trees and contributes to mountains of landfill waste. In fact, Starbucks alone goes through 4 billion paper cups a year globally and most of these plastic-lined menaces are never recycled.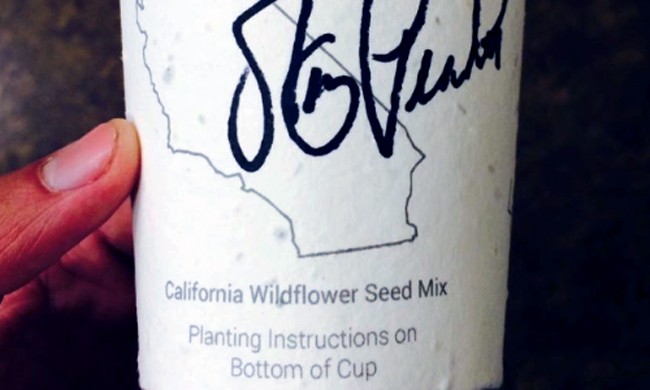 But a noble project from Reduce. Reuse. Grow. is tackling the coffee industry's behemoth paper cup problem by giving these single-use beverage holders a further purpose: reforestation.
A San Luis Obispo, California startup claims to have developed "The World's First Plantable Coffee Cup." The prototype 12-ouncer has seeds from local nurseries and landscapes embedded within its post-consumer, paper-based material. That means after you're done with the cup, you can unravel it, soak it in water for a few minutes, bury it and let nature take over.
To prevent the spread of invasive plants, the bottom of the cup details the seed variety and also includes instructions on how to plant it either in the northern or central coast of California. (So if you got the cup, you wouldn't want to plant it outside of specific regions). For those who don't want to get their hands dirty, the cup can be tossed into a designated Reduce. Reuse. Grow. bin where it'll eventually be taken to a reforestation location.
The cup is currently in prototype phase, and the company is crowdsource funding in order to take it into commercial production and target coffee shops to stock the cups.
Even though there are already recyclable cups on the market, as Reduce. Reuse. Grow. points out on their Kickstarter page, those cups can only be recycled a few times before it's trashed, whereas their cups are compost certified and can biodegrade within 180 days.
"Even when we think we are recycling and doing a good deed, the paper itself within these products can only be reused [two to three times] before the fibers are unusable and discarded into local landfills without consumer's knowing," the page reads.
Seed-filled everyday items aren't exactly a new concept. There are already plantable greeting cards and even memorial tree urns, as well as a similar paper seed cup that someone tried to market a few years back.
Still, it's clear that something needs to be done about the country's 146 billion paper cup a year problem. Reduce. Reuse. Grow. began as a senior project by Cal Poly San Luis Obispo landscape architecture student Alex Henige, who wrote on his bio page, "The thought of 'throwing away' items which would later be sent into local landfills always seemed like a strange concept and ultimately a huge design flaw within or current consumption day to day actions."
We'll drink to that.
Watch here as Henige shares his concerns about consumerism and the work of Reduce. Reuse. Grow.:
YOU MIGHT ALSO LIKE
3 Young Entrepreneurs Find Revolutionary Way to Cut Out Food Waste
Charge Your Smart Phone With 3D-Printed Solar Tree
Plus, learn if there's one that's best for your health.
Catherine Falls Commercial / Moment / Getty Images
An invasive Amynthas worm, also known as a crazy snake worm, Asian jumping worm and Alabama jumper Tom Potterfield / Flickr
By Jason Bittel
My wife and I built a house two years ago on a few acres of woodland outside of Pittsburgh. The backyard is full of maples, poplars, briars and common spicebush. Two-lined salamanders and grumpy-looking crayfish wade among the rocks in the small stream that runs down the edge of the property. Deer, raccoon and opossum tracks appear regularly in the snow and mud. Sometimes, my trail-cam even catches a pair of gray foxes as they slink through the night.
AleksandarNakic / Getty Images
By Kate Murphy
No matter the time of year, there's always a point in each season when my skin decides to cause me issues. While these skin issues can vary, I find the most common issues to be dryness, acne and redness.

David Woodfall / The Image Bank / Getty Images
By Sam Nickerson
The U.S. Environmental Protection Agency (EPA) in April 2018 proposed relaxing standards related to how it assesses the effects of exposure to low levels of toxic chemicals on public health.
Now, correspondence obtained by the LA Times revealed just how deeply involved industry lobbyists and a controversial, industry-funded toxicologist were in drafting the federal agency's proposal to scrap its current, protective approach to regulating toxin exposure.
Steve Irwin poses with a three foot long alligator at the San Francisco Zoo on June 26, 2002. Justin Sullivan / Getty Images
February 22 is the birthday of conservationist and beloved TV personality "Crocodile Hunter" Steve Irwin, who would have been 57 years old today.
Irwin's life was tragically cut short when the barb from a stingray went through his chest while he was filming in 2006, but his legacy of loving and protecting wildlife lives on, most recently in a Google Doodle today honoring his birthday.