World's First Battery-Powered Bus Transports 135,000 Passengers in 10 Days
Mar. 20, 2014 11:09AM EST
Business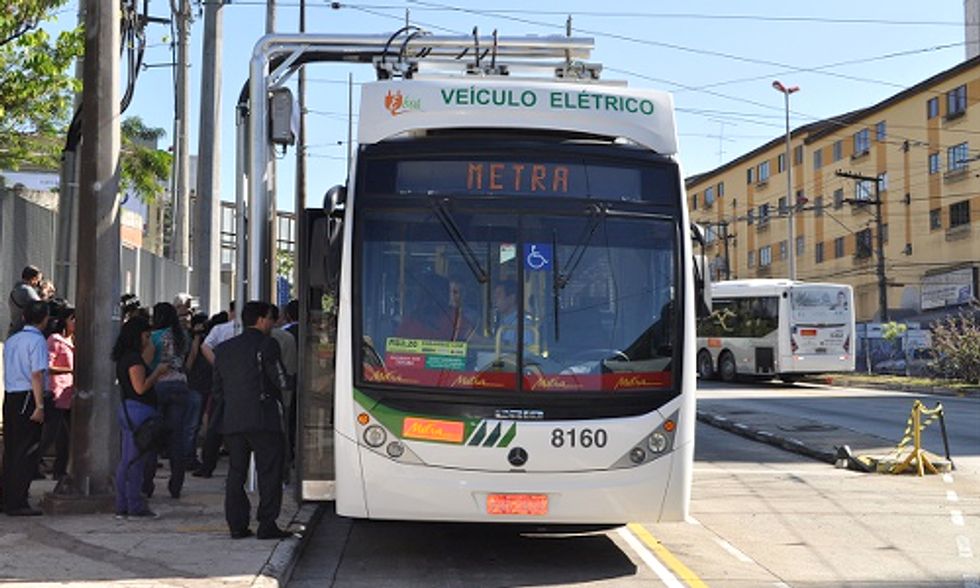 Electric buses have been rolled out at trade shows in recent years, but a suburb of São Paulo, Brazil began picking up riders earlier this month in what officials say is the world's first battery-powered public transit bus.
 In its first 10 days, more than 135,000 passengers used the bus in the suburb of Diadema, Fox News Latino reported.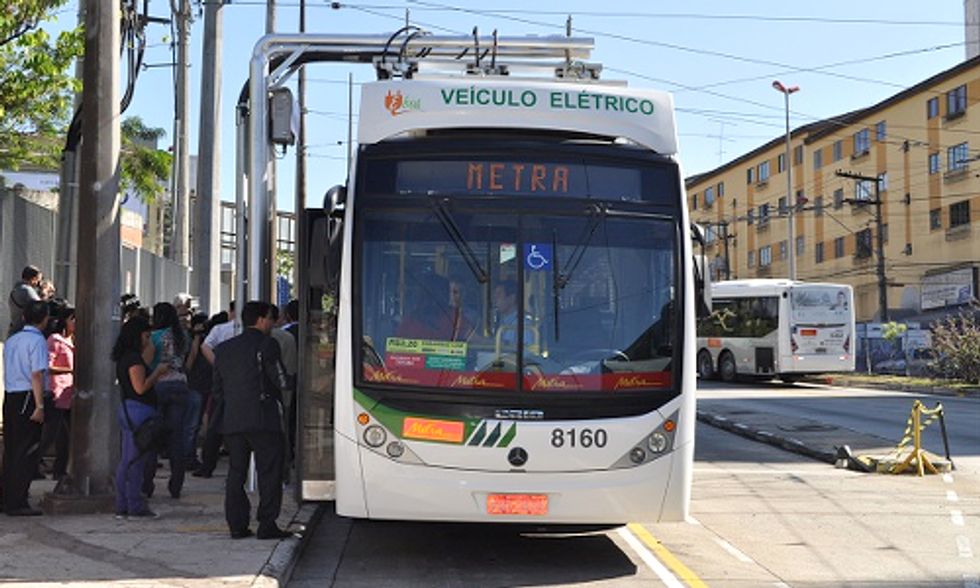 "The bus is super-healthy for the planet and can do its job almost like diesel-fueled models, thanks to its recharge technology and use of energy," Ivan Regina, manager of the Transport Planning, Technological Development and Environment unit within the state government, told Efe.
There are no doubts in the area regarding the fuel savings potential and noise reduction of the bus, compared to others in its fleet, which include diesel, ethanol, biodiesel and hydrogen. Electra Industrial assembled the bus almost entirely in Brazil, with the exception of the battery itself, which was developed in Japan by Mitsubishi. Electric bus manufacturer BYD tested two 40-foot buses for the government in late 2013. BYD buses have performed trial runs in Europe, North America, Central America, the Caribbean and Asia, according to the company.
The 124-passenger bus is under a six-month period, which is also considered a trial phase, only this one involves actual customers. According to the Metropolitan Urban Transportation Company, the plan allows for four, four-minute quick recharges throughout the day. Slow charges, which last two or three hours, are conducted in the garage during the evening, the Brazil-Arab News Agency reported.
The batteries contain rechargeable lithium ions, similar to those electronic devices and the ones Tesla is planning to manufacture in a massive "gigafactory."
Regina said São Paulo-based automotive engineering company Netz will analyze results before officials say just how much they will save in fuel costs. Still, the city's diesel buses consume the equivalent of 925 gallons of fuel per month, emitting 9 tons of carbon dioxide.
According to ThinkProgress, the state has plans to replace 70,000 or so buses with renewable models by 2020. Having battery-powered buses on the roads is important for Brazil, as sports enthusiasts will travel to Sao Paulo in June and July for the 2014 World Cup.
"The battery-powered bus is more silent than others and provides just as much comfort," Regina said. "There is no difference to the users, only to the environment."
In the U.S., the nation's first electric school bus picked up California students about a month ago.
Visit EcoWatch's TRANSPORTATION page for more related news on this topic.

EcoWatch Daily Newsletter
Related Articles from EcoWatch