World's First and Only Sunglasses Made From 100% Reclaimed Fishing Nets
Marine debris, as you might already know, can have a harmful and even deadly impact on aquatic life. But one Los Angeles-based startup, Bureo, is doing its part in fighting ocean pollution by turning trash into something you might actually like.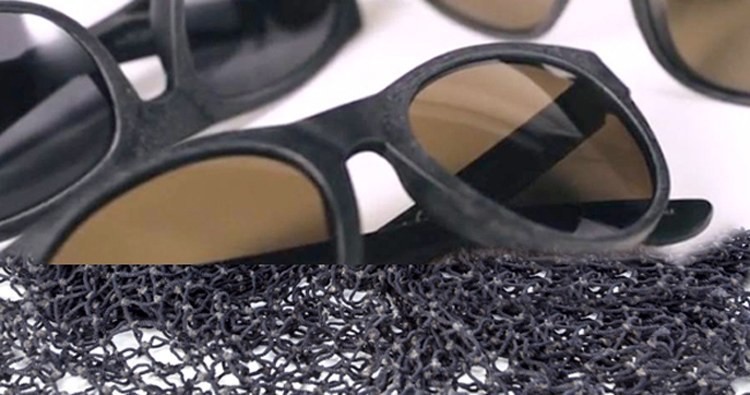 The "Ocean Collection" is the world's first and only line of sunglasses made of 100 percent recycled fishing nets.
Designed in collaboration with Chilean eyewear company Karun, the sunglasses are made from nets collected by Net Positiva, a Chile-based fishnet collection and recycling program developed and operated by Bureo's own team, according to ecouterre.
"The majority of the population owns at least one pair of plastic sunglasses, none of which are made in a responsible way," Bureo's founders, Ben Kneppers, David Stover and Kevin Ahearn, told the website. "This new collection of sunglasses represents a major step forward in bringing awareness about ocean plastic pollution to the general public."
The company first made a splash a few years back with their line of sustainable skateboards that's also made from the same material.
"Discarded fishing gear," as the company points out in the video below, "accounts for an estimated 10 percent of the ocean's plastic pollution."
Bureo's sunglasses cost $139 each. "For every pair of glasses purchased, Bureo will be able to further expand this community-based fishnet collection and recycling program, while generating funds for programs that empower coastal communities most affected by plastic pollution," the company told ecouterre.
The company added that the manufacturing process of the frames generates roughly 70 percent fewer greenhouse-gas emissions due to an innovative mechanical processing technique that's free of chemicals and uses minimal water to melt the nets into pellets.
"This greatly differs from a 'chemical recycling process' which not only creates a waste byproduct but also requires heavy chemicals and water to break down the nets and return them to a form of nylon which can be made into thread for soft goods like clothing, swimwear and shoes," Bureo said.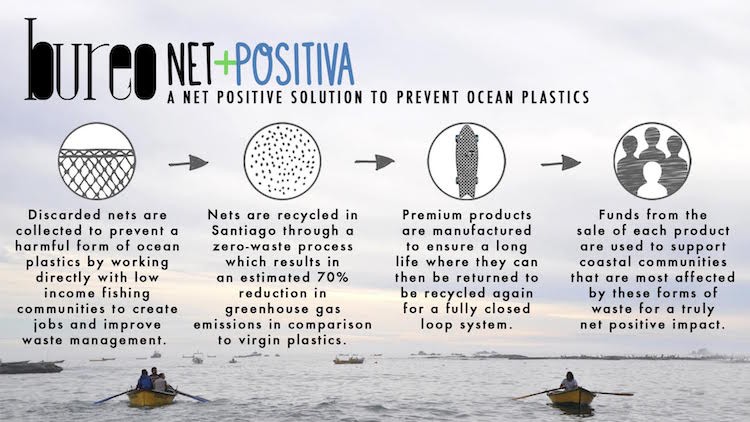 The word "Bureo" comes from the native Chilean language of the Mapuche and translates to "waves."
"It's not just about the ocean waves, but about what we're doing—trying to create this wave of change. If everyone does their part to create a ripple, then we're all part of the bigger solution," Kneppers told the Huffington Post.
Last year alone, the Net Positiva program collected more than 50 tonnes (110,000 pounds) of fishing nets from 16 communities in the country.
The innovative program has earned recognition from the U.S. Department of State and was awarded an innovation award and grant funding from the Chilean Government, Bureo says.
YOU MIGHT ALSO LIKE 
This $16 Water Filter Could Save 100,000 Lives a Year
Ever Wonder What's Happened to the More Than 570 Million iPhones Sold Since 2007?
Whale Found Dead With Small Pieces of Plastic Garbage in Its Stomach
Bill Maher is sick of billionaires' obsession with Mars, more like "Mars-a-Lago," he said.
In a new animation produced by ATTN:, the popular talk show host of Real Time, discusses the perils of our planet, including how "climate change is killing us."
Keep reading...
Show less
Dr. Benjamin D. Santer, research scientist
A group of prominent climate scientists have written a study explicitly refuting statements made by the U.S. Environmental Protection Agency Administrator Scott Pruitt on climate data. During his Senate confirmation hearing, Pruitt claimed in a written response that satellite data shows a "leveling off" of warming over the past two decades.
Keep reading...
Show less
By David Pomerantz
The Nevada Assembly passed a bill Wednesday that would dramatically increase the growth of renewable energy in the state, but Sheldon Adelson, the casino magnate and major donor to Donald Trump, is attempting to prevent the bill from becoming law.
Keep reading...
Show less
Matt Crossick
By Yosola Olorunshola
Whether it's through fashion or protest, Vivienne Westwood is not a woman afraid of making a statement.
On May 23, she rocked up to the residence of the Archbishop of Canterbury in London with a special guest—the Grim Reaper—to issue a strong statement on the Church of England's position on fracking.
Keep reading...
Show less
By Paul Brown
The food industry and big agricultural concerns are driving climate change and at the same time threatening to undermine efforts to feed the world's growing population, according to GRAIN, an organization that supports small farmers.
Particularly singled out for criticism are the large chemical fertilizer producers that have gained access to the United Nations talks on climate change. GRAIN accuses them of behaving like the fossil fuel companies did in the 1990s, pushing false information in the hope of delaying real action on climate change.
Keep reading...
Show less
By Sydney Robinson
President Trump has no doubt been given a long list of extravagant, elaborate gifts in his lifetime, but the gift given to him today by Pope Francis may not make it on his most favorite list.
Keep reading...
Show less
By John Rogers
Maybe it's because I first started working on clean energy while serving in the Peace Corps he founded, or maybe it's my years of working on these issues from his home state. But I can't help thinking about the 100th anniversary of John F. Kennedy's birth, and connecting his stirring rhetoric to the energy challenges of our times.
Here's what our 35th president might have said about the challenges of energy transition and the opportunities in clean energy:
"Change is the law of life. And those who look only to the past or present are certain to miss the future."
Keep reading...
Show less
May. 24, 2017 01:47PM EST
Keep reading...
Show less


Get EcoWatch in your inbox