This website uses cookies to ensure you get the best experience while browsing it. By clicking 'Got It' you're accepting these terms.
World's First and Only Sunglasses Made From 100% Reclaimed Fishing Nets
Feb. 28, 2016 09:52AM EST
Business
Marine debris, as you might already know, can have a harmful and even deadly impact on aquatic life. But one Los Angeles-based startup, Bureo, is doing its part in fighting ocean pollution by turning trash into something you might actually like.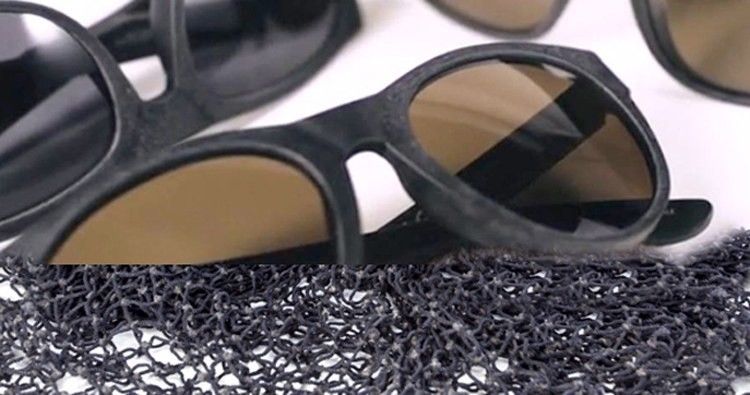 The "Ocean Collection" is the world's first and only line of sunglasses made of 100 percent recycled fishing nets.
Designed in collaboration with Chilean eyewear company Karun, the sunglasses are made from nets collected by Net Positiva, a Chile-based fishnet collection and recycling program developed and operated by Bureo's own team, according to ecouterre.
"The majority of the population owns at least one pair of plastic sunglasses, none of which are made in a responsible way," Bureo's founders, Ben Kneppers, David Stover and Kevin Ahearn, told the website. "This new collection of sunglasses represents a major step forward in bringing awareness about ocean plastic pollution to the general public."
The company first made a splash a few years back with their line of sustainable skateboards that's also made from the same material.
"Discarded fishing gear," as the company points out in the video below, "accounts for an estimated 10 percent of the ocean's plastic pollution."
Bureo's sunglasses cost $139 each. "For every pair of glasses purchased, Bureo will be able to further expand this community-based fishnet collection and recycling program, while generating funds for programs that empower coastal communities most affected by plastic pollution," the company told ecouterre.
The company added that the manufacturing process of the frames generates roughly 70 percent fewer greenhouse-gas emissions due to an innovative mechanical processing technique that's free of chemicals and uses minimal water to melt the nets into pellets.
"This greatly differs from a 'chemical recycling process' which not only creates a waste byproduct but also requires heavy chemicals and water to break down the nets and return them to a form of nylon which can be made into thread for soft goods like clothing, swimwear and shoes," Bureo said.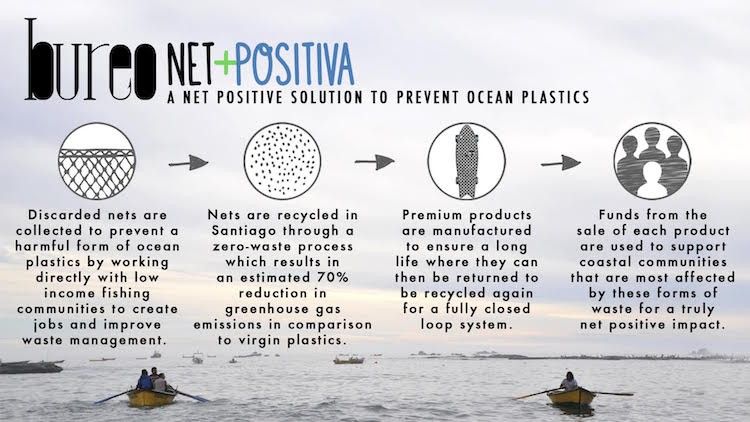 The word "Bureo" comes from the native Chilean language of the Mapuche and translates to "waves."
"It's not just about the ocean waves, but about what we're doing—trying to create this wave of change. If everyone does their part to create a ripple, then we're all part of the bigger solution," Kneppers told the Huffington Post.
Last year alone, the Net Positiva program collected more than 50 tonnes (110,000 pounds) of fishing nets from 16 communities in the country.
The innovative program has earned recognition from the U.S. Department of State and was awarded an innovation award and grant funding from the Chilean Government, Bureo says.
YOU MIGHT ALSO LIKE 
This $16 Water Filter Could Save 100,000 Lives a Year
Ever Wonder What's Happened to the More Than 570 Million iPhones Sold Since 2007?
Whale Found Dead With Small Pieces of Plastic Garbage in Its Stomach
EcoWatch Daily Newsletter
Gina Lopez, the Philippine secretary of the environment, at a meeting with residents affected by a mine tailing disaster. Keith Schneider
Gina Lopez, a former Philippine environment secretary, philanthropist and eco-warrior, died on Aug. 19 from brain cancer. She was 65.
Trump speaks to contractors at the Shell Chemicals Petrochemical Complex on Aug. 13 in Monaca, Pennsylvania. Jeff Swensen / Getty Images
Thousands of union members at a multibillion dollar petrochemical plant outside of Pittsburgh were given a choice last week: Stand and wait for a speech by Donald Trump or take the day off without pay.
Aerial view of lava flows from the eruption of volcano Kilauea on Hawaii, May 2018. Frizi / iStock / Getty Images
Hawaii's Kilauea volcano could be gearing up for an eruption after a pond of water was discovered inside its summit crater for the first time in recorded history, according to the AP.
By Simon Mui
States across the country are stepping up to make clean cars cheaper and easier to find. Colorado's Air Quality Control Commission (AQCC) voted Friday to adopt a Zero Emission Vehicle (ZEV) program that will increase the availability of electric vehicles in the state, improve air quality and increase transportation affordability.
An internally displaced woman flees from drought in Dollow, Somalia. Zohra Bensemra / Reuters
By Annemieke Tsike-Sossah
World Humanitarian Day offers an opportunity to take stock of where the world stands on addressing humanitarian issues and highlight lessons for how to improve in the future. Here are five ways we all can commit to driving positive change for the world.
A view from the top of Ok volcano in Iceland, where the Okjokull glacier used to be located. Drepicter / Getty Images Plus
Officials, activists and scientists gathered in Iceland Sunday for the funeral of the nation's first glacier to fall victim to the climate crisis.
picture-alliance / Xinhua / Then Chih Wey
Some 183 nations are set to discuss possibly loosening elephant and ivory exports at the World Wildlife Conference on trade in endangered species, known as CITES, which is meeting in Geneva, Switzerland.