This website uses cookies to ensure you get the best experience while browsing it. By clicking 'Got It' you're accepting these terms.
World's Appetite for Coal Continues to Grow
Dec. 15, 2011 09:52AM EST
Energy

According to the International Energy Agency (IEA) in a new annual publication, Medium-Term Coal Market Report 2011, released Dec. 13, global demand for coal will continue to expand aggressively over the next five years despite public calls in many countries to reduce reliance on the high-carbon fuel as a primary energy source.
Unfortunately, the recent United Nations climate talks in Durban, South Africa did not result in an agreement that would reduce the appetite for coal and slow carbon emissions. Overall, the grassroots environmental movement feels that the governments participating in the Durban talks listened to the carbon-intensive polluting corporations instead of listening to the people who want an end to our dependence on fossil fuels and immediate action on climate change.
According to Greenpeace International Executive Director Kumi Naidoo, "Right now the global climate regime amounts to nothing more than a voluntary deal that's put off [an agreement] for a decade. This could take us over the two degree threshold where we pass from danger to potential catastrophe.
"Our atmosphere has been loaded with a carbon debt and the bill, carrying a Durban postmark, has been posted to the world's poorest countries. The chance of averting catastrophic climate change is slipping through our hands with every passing year that nations fail to agree on a rescue plan for the planet," said Naidoo.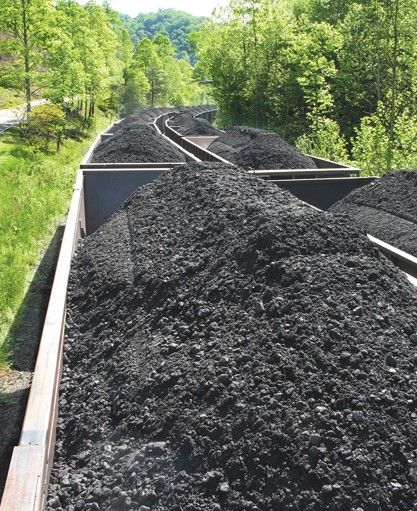 Coal is the single-largest source of electricity generation globally, and the IEA report says the main reason for the projected increase in coal demand over the next five years is surging power generation in emerging economies.
"For all of the talk about removing carbon from the energy system, the IEA projects average coal demand to grow by 600,000 tons every day over the next five years," said IEA Executive Director Maria van der Hoeven. "Policy makers must be aware of this when designing strategies to enhance energy security while tackling climate change."
The IEA report included the following key findings:
• Growth in coal demand over the next five years will mostly occur in non-OECD (Organization for Economic Co-operation and Development) countries, with China and India accounting for the majority.
• Growing demand means poorer deposits will have to be exploited, which will likely lead to upward pressure on mining costs and therefore on coal prices.
• Despite the rise of new exporting countries, like Mongolia and Mozambique, traditional exporters will meet the bulk of demand growth.
• While coal has traditionally been considered a cheap and secure energy resource, this perception may be tested in the years ahead. Six countries account for more than 80 percent of global coal exports, and as demand surges, markets could experience more of the infrastructure bottlenecks that in recent years caused coal prices to more than triple.
The IEA report and the dismal outcome of the Durban climate talks certainly speak to the complexities and challenges facing the global energy crisis, and the overall public desire to transition to a sustainable global energy system that relies on low-carbon and renewable energy sources.
For more information on this report, click here.
EcoWatch Daily Newsletter
Smog over Los Angeles. Westend61 / Getty Images
After four decades of improving air quality, the U.S. has started to take a step backwards, as the number of polluted days has ticked upwards over the last two years, the Associated Press reported.
Photobos / iStock / Getty Images
Governors in Vermont and Maine signed bills on Monday that will ban plastic bags in their states next year, The Hill reported.
The Maine ban will go into effect next Earth Day, April 22, 2020. The Vermont ban, which extends beyond plastic bags and is the most comprehensive plastics ban so far, will go into effect in July 2020. The wait time is designed to give businesses time to adjust to the ban.
picture-alliance / AP Images / D. Goldman
By Daniel Moattar
Eastern Kentucky's hills are interrupted by jarring flats of bare rock: the aftermath of mountaintop removal mining, which uses explosives to destroy and harvest coal-rich peaks.
By Molly Taft
Lisa Marshall isn't your typical activist. For one thing, she's not into crowds. "I don't really like rallies," Marshall, a mom of three from upstate New York, said. "They're a little stressful — not my favorite thing."

An oil drilling site in a residential area of Los Angeles, California on July 16, 2014.
Faces of Fracking / Flickr
By Jake Johnson
A comprehensive analysis of nearly 1,500 scientific studies, government reports, and media stories on the consequences of fracking released Wednesday found that the evidence overwhelmingly shows the drilling method poses a profound threat to public health and the climate.

sonsam / iStock / Getty Images
By Grace Francese
A new Environmental Working Group (EWG) study published in Environmental Research found that nitrate, one of the most common contaminants of drinking water, may cause up to 12,594 cases of cancer per year, but that's not its only danger: It can pose unique health risks to children.
Melt water from Everest's Khumbu glacier. Ed Giles / Getty Images
EPA Administrator Andrew Wheeler signs his replacement for the Clean Power Plan. Win McNamee / Getty Images