This website uses cookies to ensure you get the best experience while browsing it. By clicking 'Got It' you're accepting these terms.
#WorldMeatFreeDay: A Great Day to Consider How Daily Food Choices Impact People and Planet
Jun. 13, 2016 08:20AM EST
Climate
It's back! Today is #WorldMeatFreeDay, a great time to think about how the everyday choices we make about the food we eat can impact our health and the health of the planet.
From deforestation to water pollution and climate change, the mark that industrial animal agriculture leaves on the environment is huge.
Globally, livestock production is responsible for around 14 percent of greenhouse gas (GHG) emissions—that's more than the emissions from all road vehicles in the world.
Animal agriculture is the largest source of the most powerful greenhouse gasses: methane and nitrous oxide. On top of that, growing crops for animal feed, especially soy, results in the deforestation of rainforests, releasing yet more CO2.
There is now overwhelming evidence, that we can't possibly avoid catastrophic climate change if we don't address the impact of high levels of meat consumption. We are already living beyond our planetary means. Feeding a growing and more affluent global population of at least nine billion by 2050 simply isn't possible unless we make some changes.
We need a "less is better" approach to meat eating. That's where World Meat Free Day can make a difference; by raising awareness of how simple, small changes can start to have a positive global influence. The World Meat Free Day website has a sustainability calculator that shows how meat-free meals can have an immediate impact on carbon emissions and water usage.
If 10,000 people go meat free for just one day, they save:
The CO2 equivalent of driving a car 288,917 kilometers.
Enough water for one person for 93 years.
Just imagine the impact if your whole family, town or workplace did the same. Or, imagine if you kept up Meat Free Mondays for a whole year or even ate no animal products every day! It's easy to adopt more meat free days in a way that works with your lifestyle.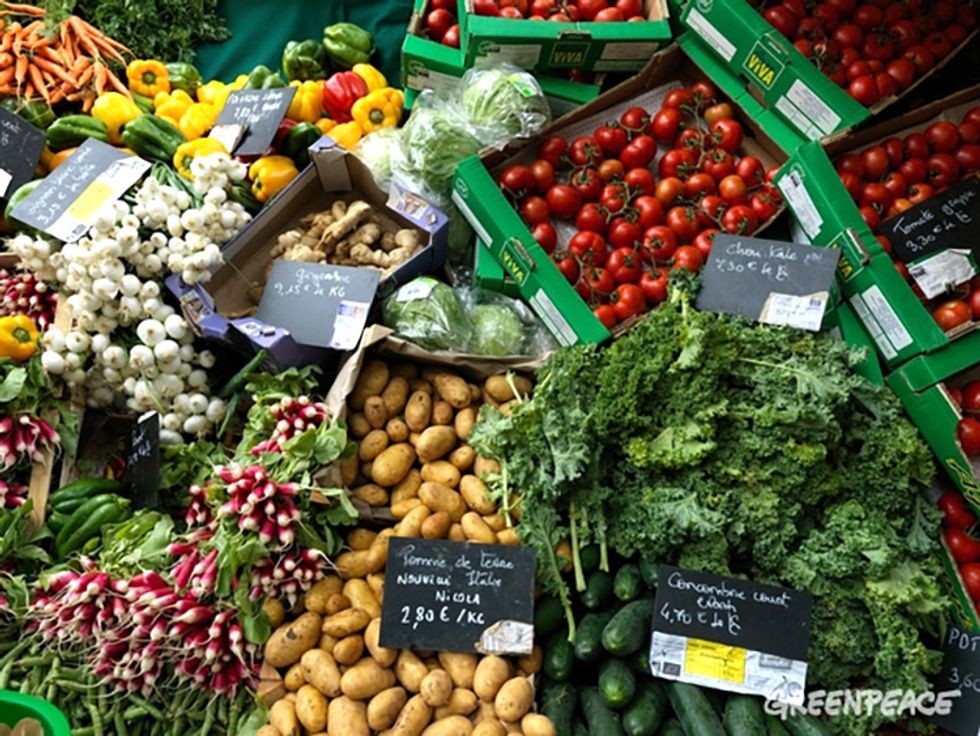 More and more people are starting to recognisz the benefits of eating less meat; describing themselves as "flexitarians," "meat-reducers" or "part time carnivores" as well as going full-time vegan and vegetarian. If you wish to continue eating meat, you can commit to eating less and use the money you save to choose better quality meat—produced to higher environmental and animal welfare standards. You can even visit our I Know Who Grew It challenge platform to make a commitment and challenge your friends.
Every meal matters for the planet. This year, celebrate World Meat Free Day with us—and share with friends and family too.
Sue Dibb is the coordinator of Eating Better, a broad alliance to help people move towards eating less meat and more food that's better for people and the planet, as part of the vital task of creating sustainable food and farming systems.
Davin Hutchins is a senior campaign strategist for Greenpeace's Food For Life campaign. 
YOU MIGHT ALSO LIKE
Brazil Won't Buy U.S. GMO Corn, Highlights Worldwide Divide Over GMOs
World's First Large-Scale Carbon-Neutral Brewery Now in Operation
Atrazine and Glyphosate More Harmful Than Scientists Once Thought
World's First 'Spotty Dog' and Cow-Like Sheep Created Using Gene Editing
EcoWatch Daily Newsletter
Germany reached an agreement Thursday that will allow it to stop burning coal by 2038.
This photograph shows green photosynthetic cyanobacteria growing and mineralizing in the sand-hydrogel framework. The living material has similar strength to cement-base mortar. College of Engineering and Applied Science at Colorado University Boulder /
EurekAlert!
Cement is a remarkable building material; it's cheap, durable and readily available. However, its production is a leading source of carbon dioxide emissions, coughing up 2.8 gigatons of emissions every year, as Advanced Science News reported.
Internal documents from the Department of Homeland Security reveal that non-violent demonstrators targeting the oil industry were classified as "extremists," with some organization members listed alongside known white supremacists, as The Guardian reported.
An additional 2,100 deaths from fatal injuries may occur in the U.S. every year from a 2 C rise in temperatures, which could have grave implications for global changes associated with the climate crisis.