This website uses cookies to ensure you get the best experience while browsing it. By clicking 'Got It' you're accepting these terms.
World Trade Center Ship Traced to Colonial-Era Philadelphia
Sep. 03, 2014 07:58AM EST
Four years ago this month, archeologists monitoring the excavation of the former World Trade Center site uncovered a ghostly surprise: the bones of an ancient sailing ship. Tree-ring scientists at Columbia University's Lamont-Doherty Earth Observatory were among those asked to analyze its remains for clues about its age and origins. In a study now out in the journal Tree Ring Research, the scientists say that an old growth forest in the Philadelphia area supplied the white oak used in the ship's frame, and that the trees were probably cut in 1773 or so—a few years before the bloody war that established America's independence from Britain.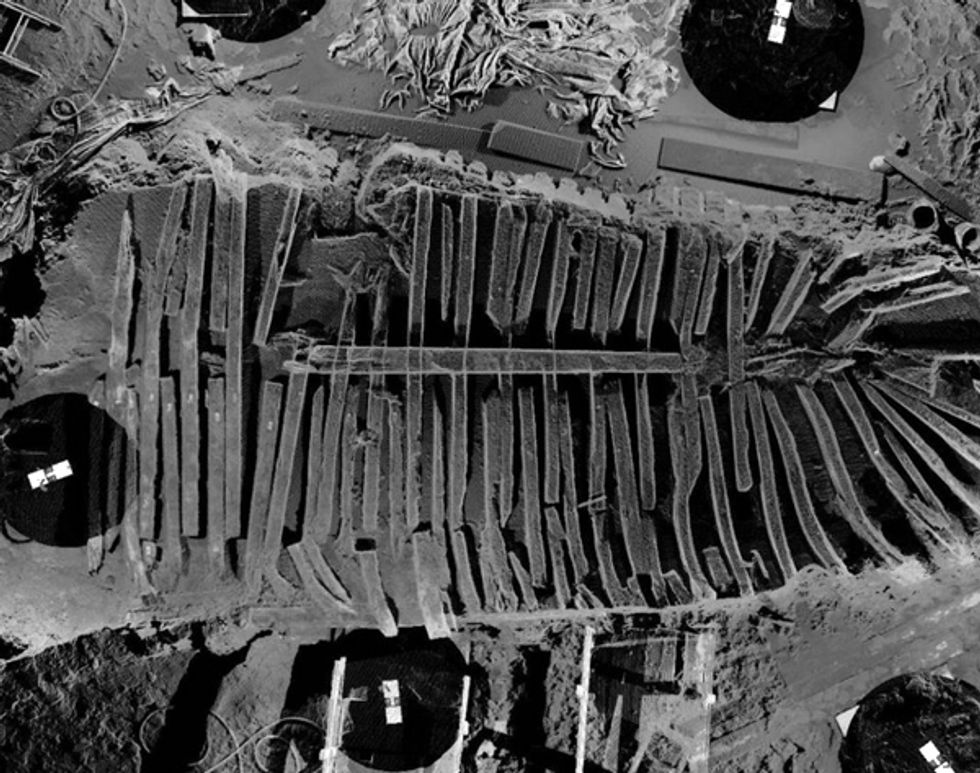 Key to the analysis was wood sampled from Philadelphia's Independence Hall two decades earlier by Lamont tree-ring scientist Ed Cook. It turns out that growth rings still visible in the building's timbers matched those from the World Trade Center ship, suggesting that the wood used in both structures came from the same region. As trees grow, they record the climate in which they lived, putting on tighter rings in dry years and wider rings in wet years. In the process, a record of the region's climate is created, allowing scientists to see how Philadelphia's climate differed hundreds of years ago from say, New York's Hudson Valley. The climate fingerprint also serves as a kind of birth certificate, telling scientists where pieces of wood originated.
The ship itself has been tentatively identified as a Hudson River Sloop, designed by the Dutch to carry passengers and cargo over shallow, rocky water. It was likely built in Philadelphia, a center for ship-building in Colonial times. After 20 to 30 years of service, it is thought to have sailed to its final resting place in lower Manhattan, a block west of Greenwich Street. As trade in New York harbor and the young country flourished, Manhattan's western shoreline inched westward until the ship was eventually buried by trash and other landfill. By 1818, the ship would have vanished from view completely until the terrorist attacks on Sept. 11, 2001 set in motion the events leading to the World Trade Center's excavation and rebirth. The ship's removal from Ground Zero and the analysis of its timbers and some of the artifacts uncovered are described in a photo essay.
The Earth Institute is made up of more than 30 research centers and over 850 scientists, postdoctoral fellows, staff and students. To learn more about the Earth Institute's education programs such as the MPA in Environmental Science and Policy or the MS in Sustainability Management, click here.
YOU MIGHT ALSO LIKE
How Green Infrastructure Minimizes the Impacts of Climate Change
EcoWatch Daily Newsletter
Blue whale (Balaenoptera musculus) surfacing, showing the remains of a blow and its mottled appearance near South Georgia Island in the Polar Regions. Mick Baines & Maren / Getty Images
The largest animal on Earth is proving that wildlife protections work.
More than 300 people were forced to evacuate and 46 were sent to the hospital after a gas pipeline ruptured in Mississippi Saturday.

Pexels
By Tim Lydon
Climate-related disasters are on the rise, and carbon emissions are soaring. Parents today face the unprecedented challenge of raising children somehow prepared for a planetary emergency that may last their lifetimes. Few guidebooks are on the shelves for this one, yet, but experts do have advice. And in a bit of happy news, it includes strategies already widely recognized as good for kids.
Pexels
Be it Nina Simone and James Brown for civil rights, Joni Mitchell and Marvin Gaye for the environment, or Jackson Browne and Buffalo Springfield for nuclear disarmament, musicians have long helped push social movements into the limelight.
Yulia Lisitsa / iStock / Getty Images Plus
Collagen is the most abundant protein in your body.
It is the major component of connective tissues that make up several body parts, including tendons, ligaments, skin, and muscles.