This website uses cookies to ensure you get the best experience while browsing it. By clicking 'Got It' you're accepting these terms.
World Trade Center Ship Traced to Colonial-Era Philadelphia
Sep. 03, 2014 07:58AM EST
Four years ago this month, archeologists monitoring the excavation of the former World Trade Center site uncovered a ghostly surprise: the bones of an ancient sailing ship. Tree-ring scientists at Columbia University's Lamont-Doherty Earth Observatory were among those asked to analyze its remains for clues about its age and origins. In a study now out in the journal Tree Ring Research, the scientists say that an old growth forest in the Philadelphia area supplied the white oak used in the ship's frame, and that the trees were probably cut in 1773 or so—a few years before the bloody war that established America's independence from Britain.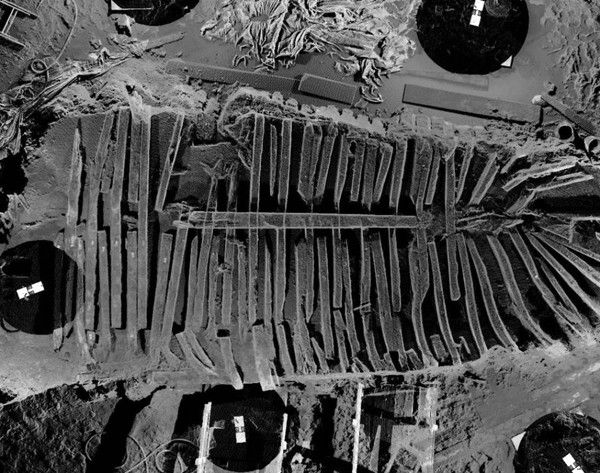 Key to the analysis was wood sampled from Philadelphia's Independence Hall two decades earlier by Lamont tree-ring scientist Ed Cook. It turns out that growth rings still visible in the building's timbers matched those from the World Trade Center ship, suggesting that the wood used in both structures came from the same region. As trees grow, they record the climate in which they lived, putting on tighter rings in dry years and wider rings in wet years. In the process, a record of the region's climate is created, allowing scientists to see how Philadelphia's climate differed hundreds of years ago from say, New York's Hudson Valley. The climate fingerprint also serves as a kind of birth certificate, telling scientists where pieces of wood originated.
The ship itself has been tentatively identified as a Hudson River Sloop, designed by the Dutch to carry passengers and cargo over shallow, rocky water. It was likely built in Philadelphia, a center for ship-building in Colonial times. After 20 to 30 years of service, it is thought to have sailed to its final resting place in lower Manhattan, a block west of Greenwich Street. As trade in New York harbor and the young country flourished, Manhattan's western shoreline inched westward until the ship was eventually buried by trash and other landfill. By 1818, the ship would have vanished from view completely until the terrorist attacks on Sept. 11, 2001 set in motion the events leading to the World Trade Center's excavation and rebirth. The ship's removal from Ground Zero and the analysis of its timbers and some of the artifacts uncovered are described in a photo essay.
The Earth Institute is made up of more than 30 research centers and over 850 scientists, postdoctoral fellows, staff and students. To learn more about the Earth Institute's education programs such as the MPA in Environmental Science and Policy or the MS in Sustainability Management, click here.
YOU MIGHT ALSO LIKE
How Green Infrastructure Minimizes the Impacts of Climate Change
EcoWatch Daily Newsletter
SHEALAH CRAIGHEAD
By Elliott Negin
On July 19, President Trump hosted Apollo 11 astronauts Buzz Aldrin and Michael Collins and their families, along with the family of their deceased colleague Neil Armstrong, at a White House event to commemorate the 50th anniversary of the first manned landing on the moon.
The study looked at three groups of diverse lizards from South America. Daniel Pincheira-Donoso
Cold-climate lizards that give live birth to their offspring are more likely to be driven to extinction than their egg-laying cousins as global temperatures continue to rise, new research suggests.
Sean Gallup / Getty Images
A stock photo of fire in the Amazon; a record number of fires have burned there this year. Brasil2 / E+ / Getty Images
Tuna auctions are a tourist spectacle in Tokyo. Outside the city's most famous fish market, long queues of visitors hoping for a glimpse of the action begin to form at 5 a.m. The attraction is so popular that last October the Tsukiji fish market, in operation since 1935, moved out from the city center to the district of Toyosu to cope with the crowds.

gmnicholas / E+ / Getty Images
Kristan Porter grew up in a fishing family in the fishing community of Cutler, Maine, where he says all roads lead to one career path: fishing. (Porter's father was the family's lone exception. He suffered from terrible seasickness, and so became a carpenter.) The 49-year-old, who has been working on boats since he was a kid and fishing on his own since 1991, says that the recent warming of Maine's cool coastal waters has yielded unprecedented lobster landings.
Aerial view of lava flows from the eruption of volcano Kilauea on Hawaii, May 2018. Frizi / iStock / Getty Images
Hawaii's Kilauea volcano could be gearing up for an eruption after a pond of water was discovered inside its summit crater for the first time in recorded history, according to the AP.