This website uses cookies to ensure you get the best experience while browsing it. By clicking 'Got It' you're accepting these terms.
World Population to Hit 12 Billion in 2100, New Study Predicts
Sep. 19, 2014 02:56PM EST
Climate
Researchers had been predicting a leveling off of the world's population, currently more than seven million. But Science, the journal of the American Association for the Advancement of Science, published a paper today projecting that population will continue to grow in this century and could reach 12 billion by 2100. The paper gave an 80 percent chance that world population in 2100 will be between 9.6 billion and 12.3 billion.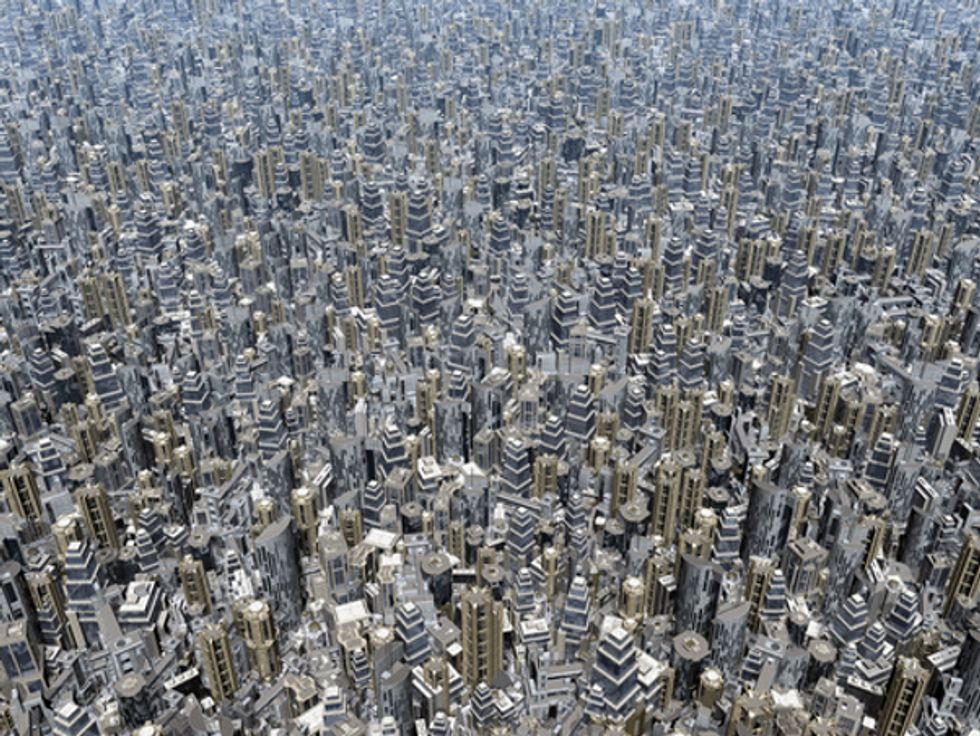 Photo credit: Shutterstock
Such population growth would have strong negative impacts on the environment and hasten climate change, due to the demand for food, water, energy, and space, as cities swallowed up open land, deserts expanded, and once-fertile land was overfarmed. It would also increase political unrest as people competed for scarce resources.
"The unsustainable growth of the human population is a key driver of many of the world's environmental problems, including global warming and the loss of wildlife around the globe," said Stephanie Feldstein, director of the Center for Biological Diversity's population and sustainability program in response to the report. "Add in our voracious appetites for land, water, meat and energy, and these newest predictions make it clear it's time for a global conversation about population growth and consumption."
Much of that growth has occurred in Africa, where future growth is predicted as well, as HIV mortality goes down and access to contraception is limited. The population there could grow from one billion to four billion. But the paper's authors suggest that population could be controlled by contraception and educating women.
The study, led by Patrick Gerland of the United Nations Population Division in New York, included both new data and new ways of looking at existing data on fertility, life expectancy and international migration.
But, while researchers believe this gave them more accurate projections than in the past, they warn not to treat these projections as inevitable.
"We're still talking about much slower population growth than we just came through," said University of Michigan population researcher David Lam. "The world population doubled between 1960 and 1999, and we're never going to do that again. The population is leveling off and it's going to eventually level off under any of these scenarios, whether that's before 2100 or after."
YOU MIGHT ALSO LIKE
Earth's Annual Resource Allotment Runs Out Today
EcoWatch Daily Newsletter
Germany reached an agreement Thursday that will allow it to stop burning coal by 2038.
This photograph shows green photosynthetic cyanobacteria growing and mineralizing in the sand-hydrogel framework. The living material has similar strength to cement-base mortar. College of Engineering and Applied Science at Colorado University Boulder /
EurekAlert!
Cement is a remarkable building material; it's cheap, durable and readily available. However, its production is a leading source of carbon dioxide emissions, coughing up 2.8 gigatons of emissions every year, as Advanced Science News reported.
Internal documents from the Department of Homeland Security reveal that non-violent demonstrators targeting the oil industry were classified as "extremists," with some organization members listed alongside known white supremacists, as The Guardian reported.
An additional 2,100 deaths from fatal injuries may occur in the U.S. every year from a 2 C rise in temperatures, which could have grave implications for global changes associated with the climate crisis.