This website uses cookies to ensure you get the best experience while browsing it. By clicking 'Got It' you're accepting these terms.
World Petroleum Use Sets Record High, Asia Remains Largest Consumer
Aug. 26, 2013 08:58AM EST
Energy
The world's consumption of gasoline, diesel fuel, jet fuel, heating oil and other petroleum products reached a record high of 88.9 million barrels per day (bbl/d) in 2012, as declining consumption in North America and Europe was more than outpaced by growth in Asia and other regions.
A previous article examined regional trends in petroleum consumption between 1980 and 2010; today's article extends that analysis through 2012.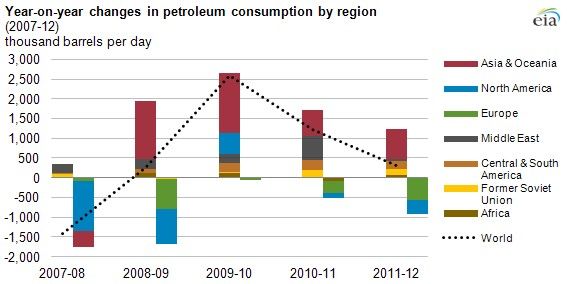 Note: Oceania is grouped with Asia; it accounts for 1% of world consumption. U.S. EIA, International Energy Statistics
Some recent annual trends in Asia, North America and Europe, the world's top three petroleum-consuming regions, are discussed below:
Asia
In 2009, Asia surpassed North America as the world's largest petroleum-consuming region as consumption rebounded from its 2008 decline. Between 2008 and 2012, Asia's consumption increased by 4.4 million bbl/d. The rapidly industrializing economies of China and India fueled much of Asia's demand increase, growing 2.8 million bbl/d and 800,000 bbl/d, respectively. If China's use of petroleum continues to grow as projected, it is expected to replace the U.S. as the world's largest net oil importer this fall.
North America
Petroleum use in North America, which is dominated by consumption in the U.S., has declined since 2005. Declines in petroleum consumption in the U.S. in 2008 and 2009 occurred during the economic downturn. Increased consumption in 2010 reflected improving economic conditions. In 2011 and 2012, higher oil prices and increased fuel efficiency of light-duty vehicles contributed to reduced U.S. consumption. Motor gasoline consumption, which makes up almost half of total U.S. liquids fuel consumption, fell by 290,000 bbl/d between 2010 and 2012 as the Corporate Average Fuel Economy standards led to improvements in vehicle fuel economy that outpaced highway travel growth.
Europe
Petroleum use in Europe has declined in every year since 2006. Part of this decline was related to a reduction in overall energy intensity and government policies that encourage energy efficiency. Europe's weak economic performance has also affected its petroleum use, with declines of 780,000 bbl/d in 2009 and 570,000 bbl/d in 2012 occurring at a time of slow growth and/or recessions in many European countries.
Visit EcoWatch's ENERGY page for more related news on this topic.
——–
EcoWatch Daily Newsletter
By Anita Desikan
The Trump administration is routinely undermining your ability — and mine, and everyone else's in this country — to exercise our democratic rights to provide input on the administration's proposed actions through the public comment process. Public comments are just what they sound like: an opportunity for anyone in the public, both individuals and organizations, to submit a comment on a proposed rule that federal agencies are required by law to read and take into account. Public comments can raise the profile of an issue, can help amplify the voices of affected communities, and can show policymakers whether a proposal has broad support or is wildly unpopular.
Alena Gamm / EyeEm / Getty Images
Picture this: a world where chocolate is as rare as gold. No more five-dollar bags of candy on Halloween. No more boxes of truffles on Valentine's day. No more roasting s'mores by the campfire. No more hot chocolate on a cold winter's day.
Who wants to live in a world like that?
Fabian Krause / EyeEm / Getty Images
Water protectors of all persuasions gathered in talking circles at Borderland Ranch in Pe'Sla, the heart of the sacred Black Hills, during the first Sovereign Sisters Gathering. At the center are Cheryl Angel in red and white and on her left, Lyla June. Tracy Barnett
By Tracy L. Barnett
Sources reviewed this article for accuracy.
For Sicangu Lakota water protector Cheryl Angel, Standing Rock helped her define what she stands against: an economy rooted in extraction of resources and exploitation of people and planet. It wasn't until she'd had some distance that the vision of what she stands for came into focus.
Hedges, 2019 © Hugh Hayden. All photos courtesy of Lisson Gallery
By Patrick Rogers
"I'm really into trees," said the sculptor Hugh Hayden. "I'm drawn to plants."
BruceBlock / iStock / Getty Images
Thanks to their high concentration of powerful plant compounds, foods with a natural purple hue offer a wide array of health benefits.