World Meteorological Organization: Ocean Acidification and Greenhouse Gas Emissions Hit Record Levels
The World Meteorological Organization (WMO) reports that the amounts of atmospheric greenhouse gases reached a new high in 2013, driven by rapidly rising levels of carbon dioxide.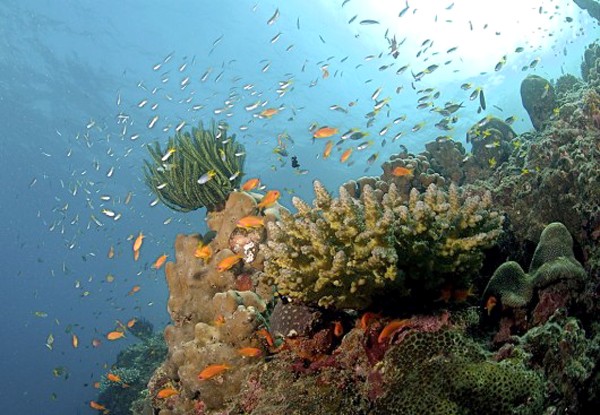 The news is consistent with trends in fossil fuel consumption. But what comes as more of a surprise is the WMO's revelation that the current rate of ocean acidification, which greenhouse gases (GHGs) help to cause, appears unprecedented in at least the last 300 million years.
The details of growing GHG levels are in the annual Greenhouse Gas Bulletin, published by the WMO—the United Nations specialist agency that plays a leading role in international efforts to monitor and protect the environment.
They show that between 1990 and 2013 there was a 34 percent increase in radiative forcing—the warming effect on our climate—because of long-lived greenhouse gases such as carbon dioxide (CO2), methane and nitrous oxide.
Complex interactions
The Bulletin reports on atmospheric concentrations—not emissions—of greenhouse gases. Emissions are what go into the atmosphere, while concentrations are what stay there after the complex system of interactions between the atmosphere, biosphere (the entire global ecological system) and the oceans.
About a quarter of total emissions are taken up by the oceans and another quarter by the biosphere, cutting levels of atmospheric CO2.
In 2013, the atmospheric concentration of CO2 was 142 percent higher than before the Industrial Revolution started, in about 1750. Concentrations of methane and nitrous oxide had risen by 253 percent and 121 percent respectively.
The observations from WMO's Global Atmosphere Watch network showed that CO2 levels increased more from 2012 to 2013 than during any other year since 1984. Scientists think this may be related to reduced CO2 absorption by the Earth's biosphere, as well as by the steady increase in emissions.
Although the oceans lessen the increase in CO2 that would otherwise happen in the atmosphere, they do so at a price to marine life and to fishing communities—and also to tourism. The Bulletin says the oceans appear to be acidifying faster than at any time in at least the last 300 million years.
"We know without any doubt that our climate is changing and our weather is becoming more extreme due to human activities such as the burning of fossil fuels," said the WMO's secretary-general, Michel Jarraud.
Running out of time
"The Greenhouse Gas Bulletin shows that, far from falling, the concentration of carbon dioxide in the atmosphere actually increased last year at the fastest rate for nearly 30 years. We are running out of time. The laws of physics are non-negotiable.
"The Bulletin provides a scientific base for decision-making. We have the knowledge and we have the tools for action to try to keep temperature increases within 2°C to give our planet a chance and to give our children and grandchildren a future. Pleading ignorance can no longer be an excuse for not acting."
Wendy Watson-Wright, executive secretary of the Intergovernmental Oceanographic Commission of UNESCO, said: "It is high time the ocean, as the primary driver of the planet's climate and attenuator of climate change, becomes a central part of climate change discussions.
"If global warming is not a strong enough reason to cut CO2 emissions, ocean acidification should be, since its effects are already being felt and will increase for many decades to come."
The amount of CO2 in the atmosphere reached 396.0 parts per million (ppm) in 2013. At the current rate of increase, the global annual average concentration is set to cross the symbolic 400 ppm threshold within the next two years.
More potent
Methane, in the short term, is a far more powerful greenhouse gas than CO2—34 times more potent over a century, but 84 times more over 20 years.
Atmospheric methane reached a new high of about 1,824 parts per billion (ppb) in 2013, because of increased emissions from human sources. Since 2007, it has started increasing again, after a temporary period of levelling-off.
Nitrous oxide's atmospheric concentration in 2013 was about 325.9 ppb. Its impact on climate, over a century, is 298 times greater than equal emissions of CO2. It also plays an important role in the destruction of the ozone layer that protects the Earth from harmful ultraviolet solar radiation.
The oceans currently absorb a quarter of anthropogenic CO2 emissions—about 4kg of CO2 per day per person. Acidification will continue to accelerate at least until mid-century, according to projections from Earth system models.
You Might Also Like
NOAA: Ocean Acidification Rises, Marine Economy Sinks
Sea Shepherd Founder to Bill Maher: 'If Oceans Die, We Die'
How Acidification, Overfishing and Plastics Threaten the World's Oceans
Dow CEO Andrew Liveris and President Donald Trump in February.
U.S. Environmental Protection Agency (EPA) administrator Scott Pruitt met with Dow Chemical CEO Andrew Liveris before deciding to reverse an earlier EPA decision to ban the company's toxic and widely used pesticide, chlorpyrifos.
According to records obtained by the Associated Press, the EPA boss met with Liveris for about 30 minutes at a Houston hotel on March 9. Later that month, Pruitt announced that he would no longer pursue a ban on chlorpyrifos from being used on food, ignoring his agency's own review that even small amounts of the pesticide could impact fetus and infant brain development.
Keep reading...
Show less
www.facebook.com
Native communities and environmental justice advocates in Louisiana opened a new resistance camp Saturday to oppose the proposed Bayou Bridge Pipeline project. Called L'eau Est La Vie, or Water is Life, the camp will consist of floating indigenous art structures on rafts and constant prayer ceremonies during its first two weeks.
Keep reading...
Show less
Continuing its march toward elimination of key Clean Water Act protections, the U.S. Environmental Protection Agency (EPA) on Tuesday issued a formal notice of withdrawal of the Obama administration's rule defining which waters can be protected against pollution and destruction under federal law.
Keep reading...
Show less
The U.S. Environmental Protection Agency (EPA) is not doing enough to prevent weed resistance to the herbicide glyphosate (Roundup) says a new report from the EPA's Inspector General's Office, which draws in part on a report from the agbiotech company, Pioneer: Weed Management in the Era of Glyphosate Resistance.
Keep reading...
Show less
SUMR
When it comes to the latest wind turbine technologies, size matters. A group of six institutions and universities is designing an offshore wind turbine that will stand 500 meters in height. That's taller than the Eiffel Tower and the Empire State Building.
The research team, led by researchers at the University of Virginia, believes that its wind turbine concept will produce 50 megawatts of peak power, or about 10 times more powerful than conventional wind turbines.
Keep reading...
Show less
www.facebook.com
Natural gas is often considered the cleanest fossil fuel, but could it actually be dirtier than coal?
Watch as New York Times reporter Mark Bittman, in the above Year's of Living Dangerously video, investigates how much methane is leaking at fracking wells. Find out how the natural gas industry's claims compare to what scientists are reporting.
See what happens when Gaby Petron, an atmospheric scientist with NOAA, converts her van into a mobile methane detector and sets out across northeastern Colorado for two years, taking thousands of readings to uncover the truth.
www.youtube.com
Adrian Grenier was named UN Goodwill Ambassador earlier this month. The Hollywood actor, best known for his iconic role of A-list movie star Vincent Chase in the HBO smash hit and film Entourage, will advocate for drastically reducing single-use plastic and protection of marine species, and encourage his followers to make conscious consumer choices to reduce their environmental footprint, according to the UN Environment announcement.
"Together we must usher in a new era of compassion and carefulness through forward thinking environmental programs to drive measurable change," Grenier said. "I am personally committed to creating ways in which the global community can come together to help solve our most critical climate crises through routine, collective action.
"The more we connect to nature in our daily lives, the more dedicated we will become to our individual commitments. Together, I believe we can go further, faster in our race to achieve the UN Sustainable Development Goals by 2030."
Watch the video above to learn more.
The last week has seen a flood of stories on clean energy's prospects—stories that make your head spin with their conflicting tales of renewable energy's prospects of ending our dangerous addiction to fossil fuel power from coal and gas.
Keep reading...
Show less