This website uses cookies to ensure you get the best experience while browsing it. By clicking 'Got It' you're accepting these terms.
World Meteorological Organization: Ocean Acidification and Greenhouse Gas Emissions Hit Record Levels
Sep. 09, 2014 08:55AM EST
Climate
The World Meteorological Organization (WMO) reports that the amounts of atmospheric greenhouse gases reached a new high in 2013, driven by rapidly rising levels of carbon dioxide.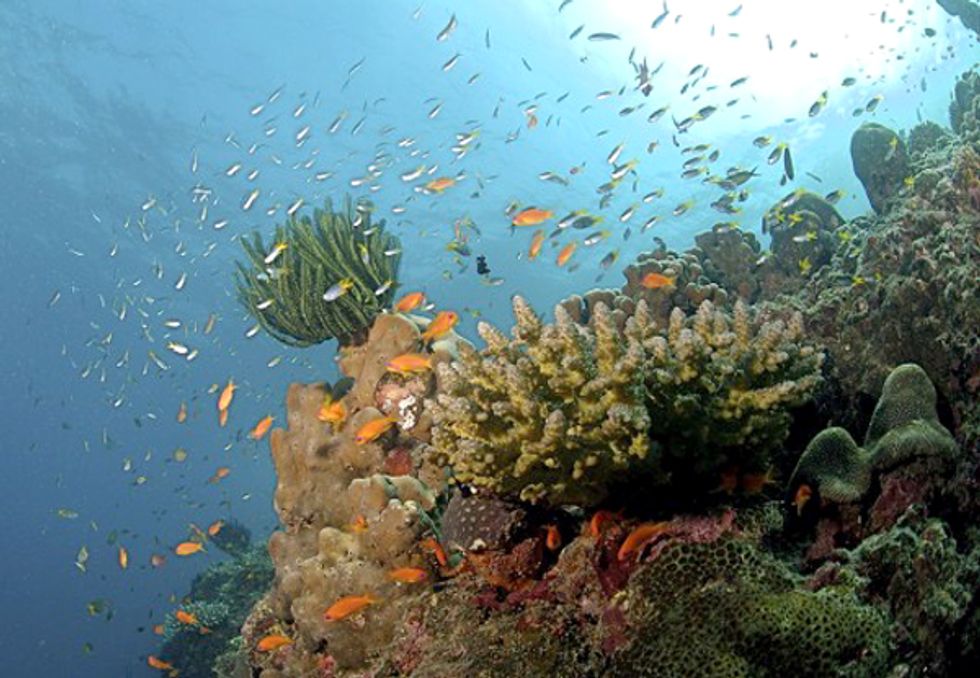 The news is consistent with trends in fossil fuel consumption. But what comes as more of a surprise is the WMO's revelation that the current rate of ocean acidification, which greenhouse gases (GHGs) help to cause, appears unprecedented in at least the last 300 million years.
The details of growing GHG levels are in the annual Greenhouse Gas Bulletin, published by the WMO—the United Nations specialist agency that plays a leading role in international efforts to monitor and protect the environment.
They show that between 1990 and 2013 there was a 34 percent increase in radiative forcing—the warming effect on our climate—because of long-lived greenhouse gases such as carbon dioxide (CO2), methane and nitrous oxide.
Complex interactions
The Bulletin reports on atmospheric concentrations—not emissions—of greenhouse gases. Emissions are what go into the atmosphere, while concentrations are what stay there after the complex system of interactions between the atmosphere, biosphere (the entire global ecological system) and the oceans.
About a quarter of total emissions are taken up by the oceans and another quarter by the biosphere, cutting levels of atmospheric CO2.
In 2013, the atmospheric concentration of CO2 was 142 percent higher than before the Industrial Revolution started, in about 1750. Concentrations of methane and nitrous oxide had risen by 253 percent and 121 percent respectively.
The observations from WMO's Global Atmosphere Watch network showed that CO2 levels increased more from 2012 to 2013 than during any other year since 1984. Scientists think this may be related to reduced CO2 absorption by the Earth's biosphere, as well as by the steady increase in emissions.
Although the oceans lessen the increase in CO2 that would otherwise happen in the atmosphere, they do so at a price to marine life and to fishing communities—and also to tourism. The Bulletin says the oceans appear to be acidifying faster than at any time in at least the last 300 million years.
"We know without any doubt that our climate is changing and our weather is becoming more extreme due to human activities such as the burning of fossil fuels," said the WMO's secretary-general, Michel Jarraud.
Running out of time
"The Greenhouse Gas Bulletin shows that, far from falling, the concentration of carbon dioxide in the atmosphere actually increased last year at the fastest rate for nearly 30 years. We are running out of time. The laws of physics are non-negotiable.
"The Bulletin provides a scientific base for decision-making. We have the knowledge and we have the tools for action to try to keep temperature increases within 2°C to give our planet a chance and to give our children and grandchildren a future. Pleading ignorance can no longer be an excuse for not acting."
Wendy Watson-Wright, executive secretary of the Intergovernmental Oceanographic Commission of UNESCO, said: "It is high time the ocean, as the primary driver of the planet's climate and attenuator of climate change, becomes a central part of climate change discussions.
"If global warming is not a strong enough reason to cut CO2 emissions, ocean acidification should be, since its effects are already being felt and will increase for many decades to come."
The amount of CO2 in the atmosphere reached 396.0 parts per million (ppm) in 2013. At the current rate of increase, the global annual average concentration is set to cross the symbolic 400 ppm threshold within the next two years.
More potent
Methane, in the short term, is a far more powerful greenhouse gas than CO2—34 times more potent over a century, but 84 times more over 20 years.
Atmospheric methane reached a new high of about 1,824 parts per billion (ppb) in 2013, because of increased emissions from human sources. Since 2007, it has started increasing again, after a temporary period of levelling-off.
Nitrous oxide's atmospheric concentration in 2013 was about 325.9 ppb. Its impact on climate, over a century, is 298 times greater than equal emissions of CO2. It also plays an important role in the destruction of the ozone layer that protects the Earth from harmful ultraviolet solar radiation.
The oceans currently absorb a quarter of anthropogenic CO2 emissions—about 4kg of CO2 per day per person. Acidification will continue to accelerate at least until mid-century, according to projections from Earth system models.
You Might Also Like
NOAA: Ocean Acidification Rises, Marine Economy Sinks
Sea Shepherd Founder to Bill Maher: 'If Oceans Die, We Die'
How Acidification, Overfishing and Plastics Threaten the World's Oceans
EcoWatch Daily Newsletter
Heavy industry on the lower Mississippi helps to create dead zones.
AJ Wallace on Unsplash.
Cutting out coal-burning and other sources of nitrogen oxides (NOx) from heavy industry, electricity production and traffic will reduce the size of the world's dead zones along coasts where all fish life is vanishing because of a lack of oxygen.
Despite the ongoing coronavirus pandemic, which has restricted the ability to gather in peaceful assembly, a Canadian company has moved forward with construction of the controversial Keystone XL pipeline, according to the AP.
A gas flare from the Shell Chemical LP petroleum refinery illuminates the sky on August 21, 2019 in Norco, Louisiana. Drew Angerer / Getty Images.
Methane levels in the atmosphere experienced a dramatic rise in 2019, preliminary data released Sunday shows.
A retired West Virginia miner suffering from black lung visits a doctor for tests. Andrew Lichtenstein / Corbis via Getty Images
In some states like West Virginia, coal mines have been classified as essential services and are staying open during the COVID-19 pandemic, even though the close quarters miners work in and the known risks to respiratory health put miners in harm's way during the spread of the coronavirus.