This website uses cookies to ensure you get the best experience while browsing it. By clicking 'Got It' you're accepting these terms.
World Leaders Urged to Kick Coal Habit to Save Lives, Money and the Planet
Jun. 06, 2015 11:08AM EST
Climate
Leaders of G7 countries at this weekend's summit in Germany are being called on today to show leadership by pledging to end all coal burning for electricity generation in the industrialized world.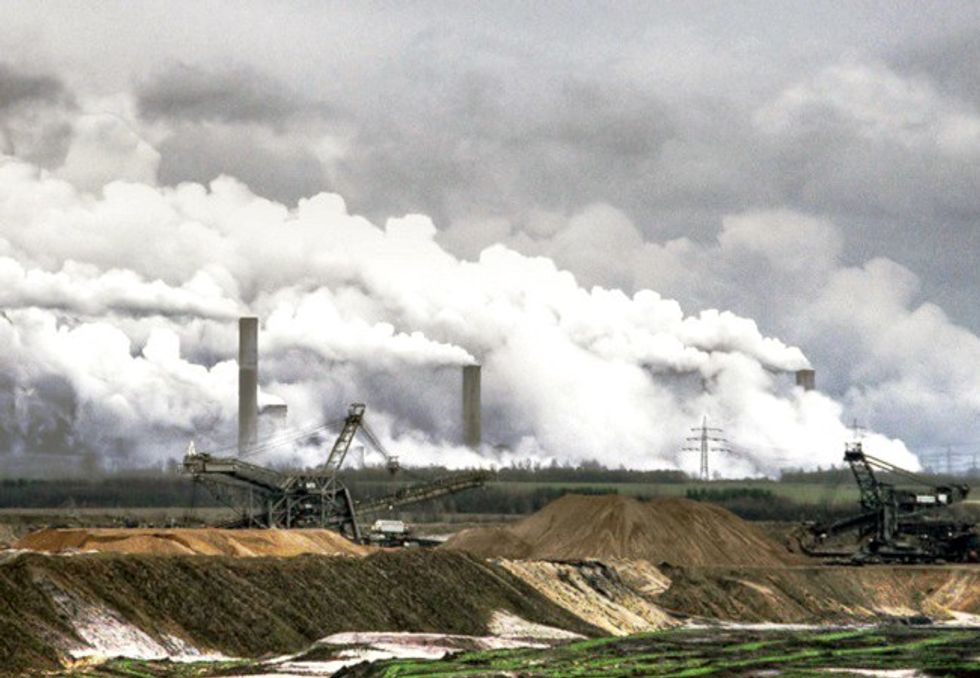 "Let Them Eat Coal," a report by  the international relief charity Oxfam, explains how it can be achieved without financial difficulty, and warns that continuing to burn coal will kill millions because of the food shortages that climate change will cause.
The report is endorsed by a group of scientists, politicians, industrialists, trade unionists and campaigners, who say that only with political leadership from G7 can the prospects of dangerous climate change be averted.
Weapon of destruction
It points out: "Each coal power station can be seen as a weapon of climate destruction—fueling ruinous weather patterns, devastating harvests, driving food price rises and ultimately leaving more people facing hunger. With these climate impacts falling disproportionately on the most vulnerable and least food-secure people, the burning of coal is further exacerbating inequality."
It points out that G7 coal plants emit twice as much fossil fuel carbon dioxide emissions as the whole of Africa, and that "rich industrialised countries must stop hiding behind countries like China and take the lead in kicking their own coal habit".
Coal provides 41 percent of the world's electrical power but 72 percent of power-sector emissions. The report details how it is now cheaper to invest in and produce electricity with renewables than in coal plants in G7 countries.
The report details how many ageing coal plants each G7 country still operates, and how the wealthiest countries of the world can switch to alternatives, while creating jobs and without losing money.
Few of the G7 countries have built new coal plants, so closing them down would not lose capital investment. Ironically, Germany, which sees itself as a world leader in renewables and is the G7 host, has opened massive new coal-burning plants and will take longest to phase out coal unless it is prepared to lose money.
The report concludes that, without financial loss, France could phase out coal by 2020, the UK by 2023 and Italy by the mid-2020s. Canada and the U.S. could follow by 2030, Japan by 2035 and Germany by 2040.
Apart from Germany and Japan, which have invested heavily in new coal plants, all G7 countries have an ageing fleet in which the original investment has long been repaid. For example, the average age of coal plants in the U.S. is 45, and in the UK it is 41. Even in Germany and Japan, most coal plants are of the same vintage.
The report warns: "Coal power plants are the biggest obstacle standing between us and the internationally-agreed target to limit warming to 2 degrees [Centigrade].
Clean technologies
"G7 leaders meeting in 2015 can signal the beginning of the end of the coal era. By doing so, they can establish new momentum towards this year's crucial UN climate talks in Paris and create thousands of new jobs in the clean technologies of the future.
"As the country-specific coal exit plans outlined in this paper make clear, this is not a pipe dream—it is a clear political opportunity that G7 governments can and must seize."
Among those endorsing the report is Professor Olivier De Schutter, co-chair of the International Panel of Experts on Sustainable Food Systems. He said coal-fired stations "increasingly look like weapons of destruction aimed at those who suffer the impacts of changing rainfall patterns as well as of extreme weather events. Getting rid of our addiction to coal is both possible and necessary."
Dr Michael Grubb, senior research fellow at the Cambridge University Centre for Climate Change Mitigation Research, said: "The extraordinary irony is that study after study is showing that coal is bad for G7 economies. The damages associated with extracting and burning coal outweigh any apparent economic value—before even considering its impact on climate change."
YOU MIGHT ALSO LIKE
Insane Heat Wave in Alaska Put Temperatures Higher Than in Arizona
NOAA: There Has Been No 'Pause' or 'Hiatus' in Global Warming
EcoWatch Daily Newsletter
The CDC has emphasized that washing hands with soap and water is one of the most effective ways to prevent the spread of COVID-19. Guido Mieth / Moment / Getty Images
The Centers for Disease Control has emphasized that washing hands with soap and water is one of the most effective measures we can take in preventing the spread of COVID-19. However, millions of Americans in some of the most vulnerable communities face the prospect of having their water shut off during the lockdowns, according to The Guardian.
A California newt (Taricha torosa) from Napa County, California, USA. Connor Long /
CC BY-SA 3.0
Aerial photos of the Sierra Nevada — the long mountain range stretching down the spine of California — showed rust-colored swathes following the state's record-breaking five-year drought that ended in 2016. The 100 million dead trees were one of the most visible examples of the ecological toll the drought had wrought.
Now, a few years later, we're starting to learn about how smaller, less noticeable species were affected.
Disinfectants and cleaners claiming to sanitize against the novel coronavirus have started to flood the market.
Natthawat / Moment / Getty Images
Disinfectants and cleaners claiming to sanitize against the novel coronavirus have started to flood the market, raising concerns for the U.S. Environmental Protection Agency (EPA), which threatened legal recourse against retailers selling unregistered products, according to The New York Times.
A customer packs groceries in reusable bags at a NYC supermarket on March 1, 2020. Eduardo Munoz Alvarez/Getty Images
The global coronavirus pandemic has thrown our daily routine into disarray. Billions are housebound, social contact is off-limits and an invisible virus makes up look at the outside world with suspicion. No surprise, then, that sustainability and the climate movement aren't exactly a priority for many these days.
Ingredients are displayed for the Old School Pinto Beans from the Decolonize Your Diet cookbook by Luz Calvo and Catriona Rueda Esquibel. Melissa Renwick / Toronto Star via Getty Images
By Molly Matthews Multedo
Livestock farming contributes to global warming, so eating less meat can be better for the climate.