This website uses cookies to ensure you get the best experience while browsing it. By clicking 'Got It' you're accepting these terms.
World Leaders, Listen to the People Not the Polluters
Sep. 24, 2014 12:06PM EST
Climate

The world has changed since our leaders discussed climate change in 2009. It has become even more evident; ravaging crops in Africa, melting ice in the Arctic, drowning the Philippines and drying-up California. The poor are paying the highest price. But ever since super storm Sandy hit New York, even the rich in industrialized countries know that they can´t hide from devastating climate change in their gated communities.
Climate change is not on its way. It's already here.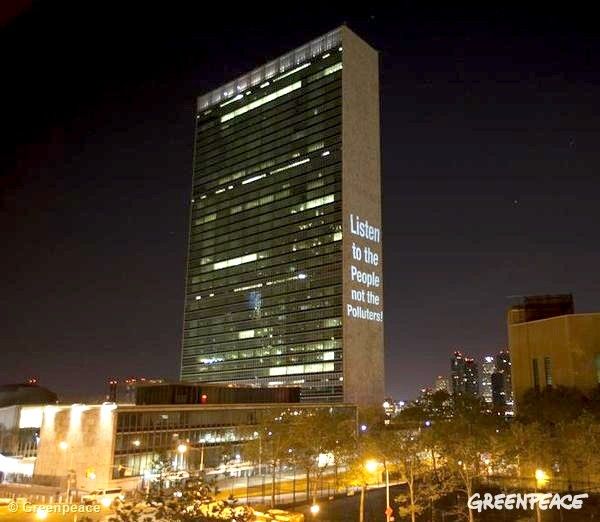 People are standing up to polluters, so we put their message on the side of the UN building in NYC, hours before the UN Climate Summit 2014 started. Photo credit: Greenpeace
Yet, cost-effective, sensible solutions have also made quantum leaps since 2009. Clean, renewable energy is getting bigger, better and cheaper every day. It can provide the answers our exhausted planet is looking for. Renewables are the most economical solution for new power capacity in an ever-increasing number of countries. 100 percent of power capacity added in the U.S. last month was renewable and countries like Denmark and Germany are producing new clean electricity records almost every month. In China, real change is under way, too. Not only is China installing as much solar this year as the U.S. has ever done, but their apocalyptic coal boom which drove up global carbon pollution since 2000 is also coming to an end. Things are rapidly changing and the current economic paradigm is no longer impenetrable—the light of reason is starting to shine through its cracks.
If rationality and economics were humanity's guide to living on this planet, climate action would no longer need summits. The more successful clean energy solutions get, the more they are cutting into the profit margins of those few powerful companies whose business models depends on continued fossil fuel dependency. That's why we agree with UN Secretary General Ban Ki-moon when he says "instead of asking if we can afford to act, we should be asking what is stopping us, who is stopping us, and why?" We would add to this another question: for how long?
Today, it is interests of the fossil fuel industries—not technology nor economics—which are the only obstacle to securing a safe future for us and our children on this planet. And they know it, too. When we talk to people at major energy firms these days, they admit in private that they understand the need to transition towards clean energy. But the coal investments that companies like Duke Energy in the US, and Eskom in South Africa have made are holding them back. Worse, because they fear that their massive investments could become stranded (i.e. wasted) assets they are actively lobbying politicians to slow down the clean, people-powered energy revolution that is under way.
Business lobbies such as ALEC in the U.S. or Business Europe in the EU are fighting tooth and nail to prevent progressive climate policies from being adopted. They claim they do this to "protect jobs." But this is an utter lie. We want workers fully involved in a just transition to a clean energy future. But we also know from Greenpeace Energy Revolution analyses over the past decade that renewables and energy efficiency will deliver more jobs than carrying on with dirty energy business as usual. By implementing a step by step energy ®evolution governments can, for example, help businesses create 3.2 million more jobs by 2030 in the global power supply sector alone. In South Africa, to pick just one country, 149,000 direct jobs could be created by 2030. That's 38,000 more than in the current government plan.
Meanwhile, China's turnaround on coal could also change the dynamics in the global climate debate. At the New York City summit, the Chinese government could end the current "you go first" mentality that has poisoned progress during the UN climate talks. Wouldn't it be wonderful if China, emboldened by its domestic actions, were to lead the world to a new global climate agreement by, for example, announcing in New York a peak in their emissions long before 2030?
It's only these kind of bold, concrete commitments that will be acceptable for the New York climate summit. Progressive business leaders need to—as Ban Ki-moon put it, "push back against skeptics and entrenched interests." They can do so by leaving destructive business lobbies such as ALEC or Business Europe and setting themselves concrete deadlines by which they will run their businesses on 100 percent renewable energy. Governments need to send a clear signal to investors by supporting a phase-out of fossil fuels by 2050.Indeed concrete steps need to be taken now—such as ending the financing of coal fired power plants—to get us there.
The world has changed since 2009. Baby steps are no longer enough. To control runaway climate change, we need to sharply change tack and sail with the wind, not against it with unsustainable fossil fuels.
That's why we marched on the streets of New York, and cities around the world on Sept. 21: to show—alongside tens of thousands of people—that it's time the polluters got out of the way and let us build a green, just and peaceful future for the generations which follow us.
YOU MIGHT ALSO LIKE
We Can Run the Planet on 100% Renewable Energy
To Change Everything We Need Everyone
EcoWatch Daily Newsletter
The Centers for Disease Control (CDC) released new numbers that show vaping-related lung illnesses are continuing to grow across the country, as the number of fatalities has climbed to 33 and hospitalizations have reached 1,479 cases, according to a CDC update.
During the summer, the Arctic tundra is usually a thriving habitat for mammals such as the Arctic fox. Education Images / Universal Images Group via Getty Images
Reports of extreme snowfall in the Arctic might seem encouraging, given that the region is rapidly warming due to human-driven climate change. According to a new study, however, the snow could actually pose a major threat to the normal reproductive cycles of Arctic wildlife.
A fracking well looms over a residential area of Liberty, Colorado on Aug. 19.
WildEarth Guardians / Flickr
Pope Francis flanked by representatives of the Amazon Rainforest's ethnic groups and catholic prelates march in procession during the opening of the Special Assembly of the Synod of Bishops for the Pan-Amazon Region at The Vatican on Oct. 07 in Vatican City, Vatican. Alessandra Benedetti / Corbis News / Getty Images
The Catholic Church "hears the cry" of the Amazon and its peoples. That's the message Pope Francis hopes to send at the Synod of the Amazon, a three-week meeting at the Vatican that ends Oct. 27.
The crowd appears to attack a protestor in a video shared on Twitter by ITV journalist Mahatir Pasha.
VOA News /
Youtube screenshot
Some London commuters had a violent reaction Thursday morning when Extinction Rebellion protestors attempted to disrupt train service during rush hour.
Some fruit drinks may appear to be healthier, but many can have high levels of added sugars. d3sign / Moment / Getty Images
By Kristen Fischer
Though the science has shown sugary drinks are not healthy for children, fruit drinks and similar beverages accounted for more than half of all children's drink sales in 2018, according to a new report.

Donald Trump attends the opening of Red Tiger Golf Course at Trump National Doral on Jan. 12, 2015 in Doral, Florida. Johnny Louis / FilmMagic
Acting White House Chief of Staff Mick Mulvaney made two controversial announcements about the 2020 Group of Seven (G7) summit: it will be hosted at one of President Donald Trump's golf resorts in Miami and it won't feature any discussion of the climate crisis.
Farms with just one or a handful of different crops encourage fewer species of pollinating and pest-controlling insects to linger, ultimately winnowing away crop yields, according to a new study.
Up to half of the detrimental impacts of the "landscape simplification" that monocropping entails come as a result of a diminished mix of ecosystem service-providing insects, a team of scientists reported Oct. 16 in the journal Science Advances.
Monocrop palm oil plantation Honduras.
​SHARE Foundation / Flickr / CC BY-NC 2.0​
"Our study shows that biodiversity is essential to ensure the provision of ecosystem services and to maintain a high and stable agricultural production," Matteo Dainese, the study's lead author and a biologist at Eurac Research in Bolzano, Italy, said in a statement.

It stands to reason that, with declines in the sheer numbers of insects that ferry pollen from plant to plant and keep crop-eating pests under control, these services will wane as well. But until now, it hasn't been clear how monocultures affect the number and mix of these species or how crop yields might change as a result.
Aiming to solve these questions, Dainese and his colleagues pulled together data from 89 studies cutting across a variety of landscapes, from the tropics of Asia and Africa to the higher latitudes of northern Europe. They tabulated the number of pollinating and pest-controlling insects at these sites — both the absolute number of individuals and the number of species — along with an assessment of the ecosystem services the insects provided.
In almost all of the studies they looked at, the team found that a more diverse pool of these species translated into more pollination and greater pest control. They also showed that simplified landscapes supported fewer species of service-providing insects, which ultimately led to lower crop yields.
The researchers also looked at a third measure of the makeup of insect populations — what they called "evenness." In natural ecosystems, a handful of dominant species with many more individuals typically live alongside a higher number of rarer species. The team found as landscapes became less diverse, dominant species numbers dwindled and rare species gained ground. This resulting, more equitable mix led to less pollination (though it didn't end up affecting pest control).
"Our study provides strong empirical support for the potential benefits of new pathways to sustainable agriculture that aim to reconcile the protection of biodiversity and the production of food for increasing human populations," Ingolf Steffan-Dewenter, one of the study's authors and an animal ecologist at the University of Würzburg in Germany, said in the statement.
The scientists figure that the richness of pollinator species explains around a third of the harmful impacts of less diverse landscapes, while the richness of pest-controlling species accounts for about half of the same measure. In their view, the results of their research point to the need to protect biodiversity on and around crops in an uncertain future.
"Under future conditions with ongoing global change and more frequent extreme climate events, the value of farmland biodiversity ensuring resilience against environmental disturbances will become even more important," Steffan-Dewenter said.
Reposted with permission from our media associate Mongabay.
From Your Site Articles
Related Articles Around the Web