This website uses cookies to ensure you get the best experience while browsing it. By clicking 'Got It' you're accepting these terms.
World Leaders, Listen to the People Not the Polluters
Sep. 24, 2014 12:06PM EST
Climate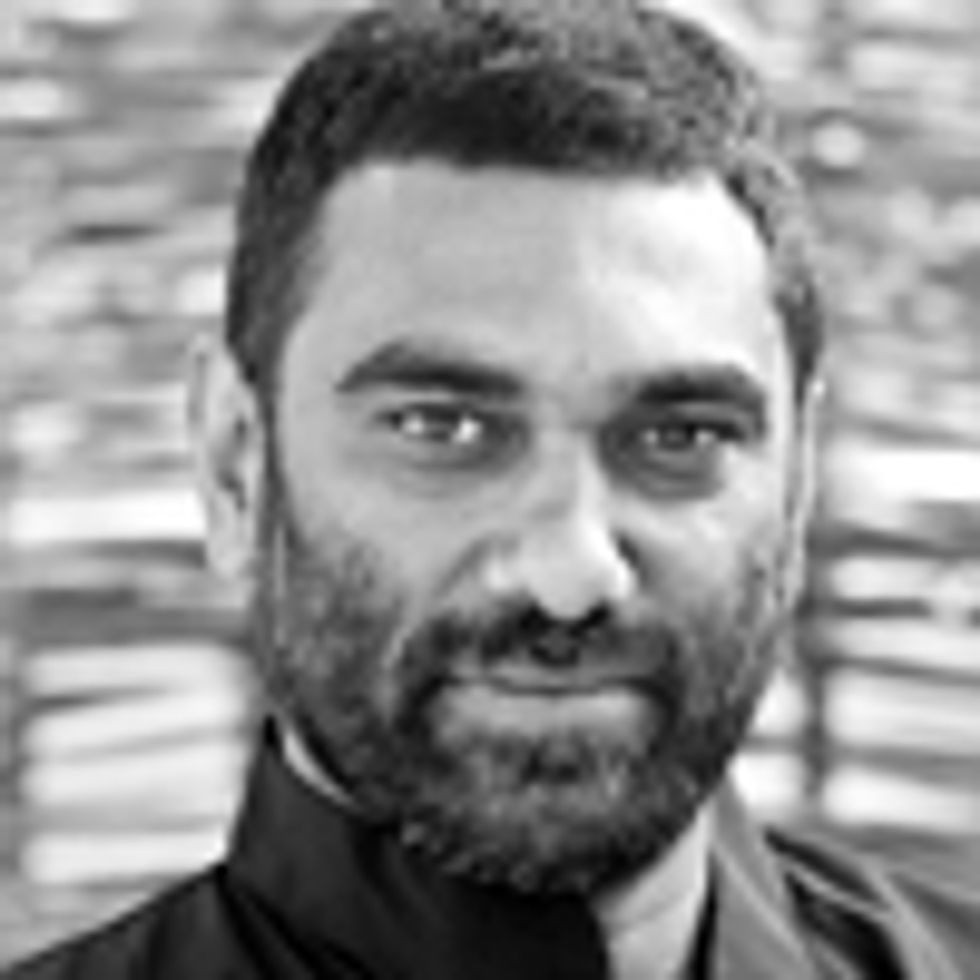 The world has changed since our leaders discussed climate change in 2009. It has become even more evident; ravaging crops in Africa, melting ice in the Arctic, drowning the Philippines and drying-up California. The poor are paying the highest price. But ever since super storm Sandy hit New York, even the rich in industrialized countries know that they can´t hide from devastating climate change in their gated communities.
Climate change is not on its way. It's already here.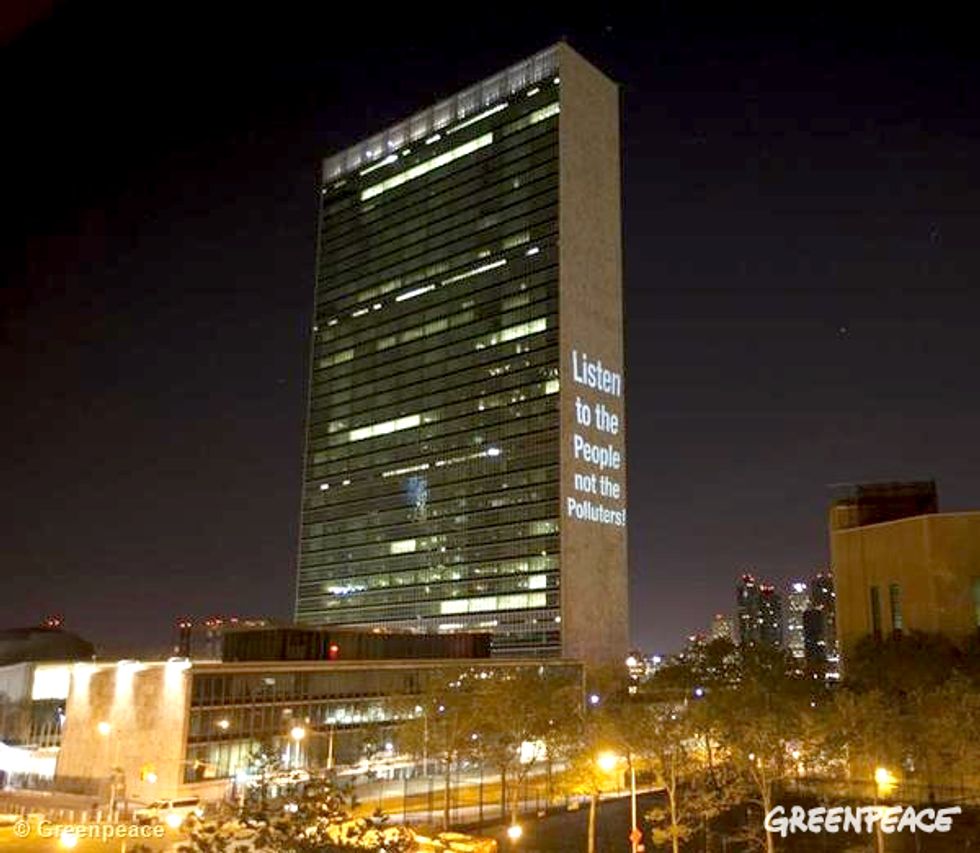 People are standing up to polluters, so we put their message on the side of the UN building in NYC, hours before the UN Climate Summit 2014 started. Photo credit: Greenpeace
Yet, cost-effective, sensible solutions have also made quantum leaps since 2009. Clean, renewable energy is getting bigger, better and cheaper every day. It can provide the answers our exhausted planet is looking for. Renewables are the most economical solution for new power capacity in an ever-increasing number of countries. 100 percent of power capacity added in the U.S. last month was renewable and countries like Denmark and Germany are producing new clean electricity records almost every month. In China, real change is under way, too. Not only is China installing as much solar this year as the U.S. has ever done, but their apocalyptic coal boom which drove up global carbon pollution since 2000 is also coming to an end. Things are rapidly changing and the current economic paradigm is no longer impenetrable—the light of reason is starting to shine through its cracks.
If rationality and economics were humanity's guide to living on this planet, climate action would no longer need summits. The more successful clean energy solutions get, the more they are cutting into the profit margins of those few powerful companies whose business models depends on continued fossil fuel dependency. That's why we agree with UN Secretary General Ban Ki-moon when he says "instead of asking if we can afford to act, we should be asking what is stopping us, who is stopping us, and why?" We would add to this another question: for how long?
Today, it is interests of the fossil fuel industries—not technology nor economics—which are the only obstacle to securing a safe future for us and our children on this planet. And they know it, too. When we talk to people at major energy firms these days, they admit in private that they understand the need to transition towards clean energy. But the coal investments that companies like Duke Energy in the US, and Eskom in South Africa have made are holding them back. Worse, because they fear that their massive investments could become stranded (i.e. wasted) assets they are actively lobbying politicians to slow down the clean, people-powered energy revolution that is under way.
Business lobbies such as ALEC in the U.S. or Business Europe in the EU are fighting tooth and nail to prevent progressive climate policies from being adopted. They claim they do this to "protect jobs." But this is an utter lie. We want workers fully involved in a just transition to a clean energy future. But we also know from Greenpeace Energy Revolution analyses over the past decade that renewables and energy efficiency will deliver more jobs than carrying on with dirty energy business as usual. By implementing a step by step energy ®evolution governments can, for example, help businesses create 3.2 million more jobs by 2030 in the global power supply sector alone. In South Africa, to pick just one country, 149,000 direct jobs could be created by 2030. That's 38,000 more than in the current government plan.
Meanwhile, China's turnaround on coal could also change the dynamics in the global climate debate. At the New York City summit, the Chinese government could end the current "you go first" mentality that has poisoned progress during the UN climate talks. Wouldn't it be wonderful if China, emboldened by its domestic actions, were to lead the world to a new global climate agreement by, for example, announcing in New York a peak in their emissions long before 2030?
It's only these kind of bold, concrete commitments that will be acceptable for the New York climate summit. Progressive business leaders need to—as Ban Ki-moon put it, "push back against skeptics and entrenched interests." They can do so by leaving destructive business lobbies such as ALEC or Business Europe and setting themselves concrete deadlines by which they will run their businesses on 100 percent renewable energy. Governments need to send a clear signal to investors by supporting a phase-out of fossil fuels by 2050.Indeed concrete steps need to be taken now—such as ending the financing of coal fired power plants—to get us there.
The world has changed since 2009. Baby steps are no longer enough. To control runaway climate change, we need to sharply change tack and sail with the wind, not against it with unsustainable fossil fuels.
That's why we marched on the streets of New York, and cities around the world on Sept. 21: to show—alongside tens of thousands of people—that it's time the polluters got out of the way and let us build a green, just and peaceful future for the generations which follow us.
YOU MIGHT ALSO LIKE
We Can Run the Planet on 100% Renewable Energy
To Change Everything We Need Everyone
EcoWatch Daily Newsletter
In this view from an airplane rivers of meltwater carve into the Greenland ice sheet near Sermeq Avangnardleq glacier on Aug. 4 near Ilulissat, Greenland. Climate change is having a profound effect in Greenland, where over the last several decades summers have become longer and the rate that glaciers and the Greenland ice cap are retreating has accelerated. Sean Gallup / Getty Images
The rate that Greenland's ice sheet is melting surpassed scientists' expectations and has raised concerns that their worst-case scenario predictions are coming true, Business Insider reported.
An Alagoas curassow in captivity. Luís Fábio Silveira / Agência Alagoas / Mongabay
By Pedro Biondi
Extinct in its habitat for at least three decades, the Alagoas curassow (Pauxi mitu) is now back in the jungle and facing a test of survival, thanks to the joint efforts of more than a dozen institutions to pull this pheasant-like bird back from the brink.

Elizabeth Warren's Blue New Deal aims to expand offshore renewable energy projects, like the Block Island Wind Farm in Rhode Island.
Luke H. Gordon / Flickr
By Julia Conley
Sen. Elizabeth Warren expanded her vision for combating the climate crisis on Tuesday with the release of her Blue New Deal — a new component of the Green New Deal focusing on protecting and restoring the world's oceans after decades of pollution and industry-caused warming.
Former U.S. Secretary of State Rex Tillerson leaves the courthouse after testifying in the Exxon Mobil trial on Oct. 30, 2019 in New York. DON EMMERT / AFP via Getty Images
A judge in New York's Supreme Court sided with Exxon in a case that accused the fossil fuel giant of lying to investors about the true cost of the climate crisis. The judge did not absolve Exxon from its contribution to the climate crisis, but insisted that New York State failed to prove that the company intentionally defrauded investors, as NPR reported.
By Sharon Elber
You may have heard that giving a pet for Christmas is just a bad idea. Although many people believe this myth, according to the ASPCA, 86 percent of adopted pets given as gifts stay in their new homes. These success rates are actually slightly higher than average adoption/rehoming rates. So, if done well, giving an adopted pet as a Christmas gift can work out.