World Leaders, Listen to the People Not the Polluters
Sep. 24, 2014 01:06PM EST
Climate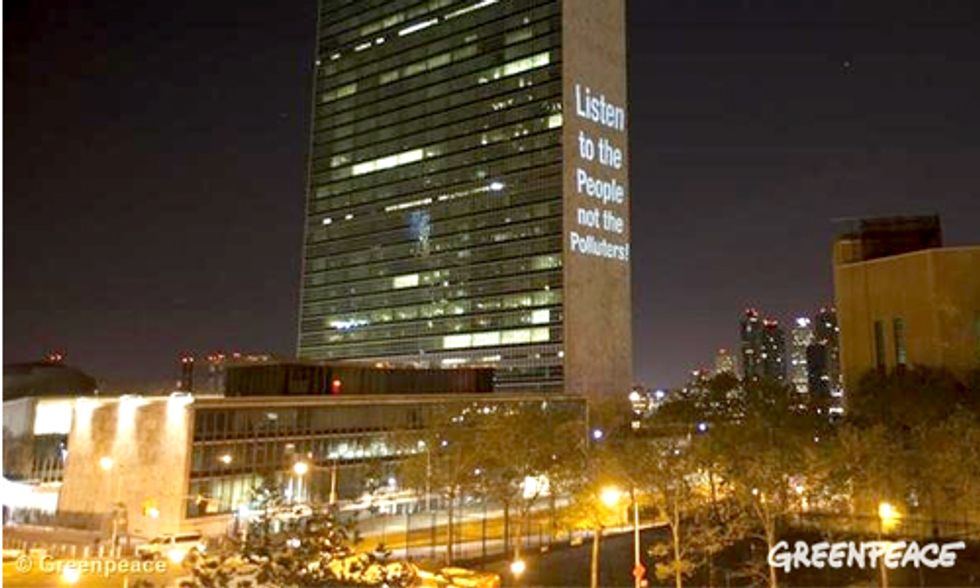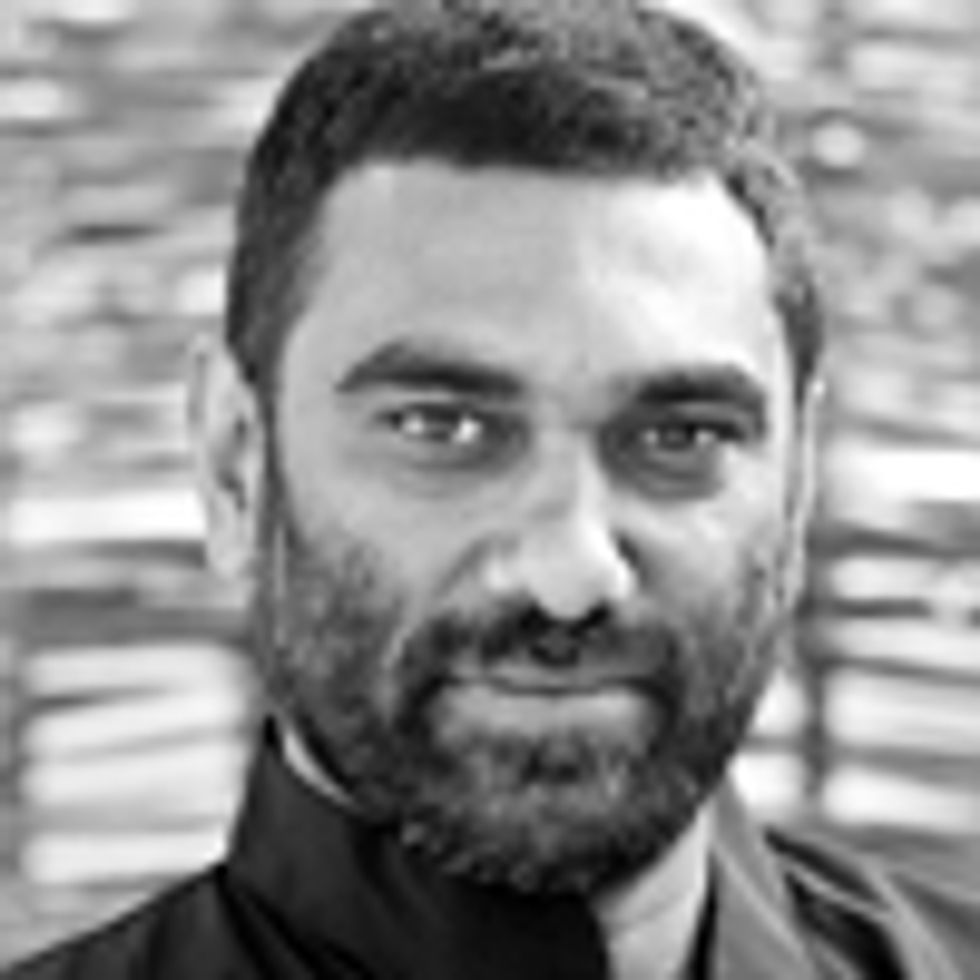 The world has changed since our leaders discussed climate change in 2009. It has become even more evident; ravaging crops in Africa, melting ice in the Arctic, drowning the Philippines and drying-up California. The poor are paying the highest price. But ever since super storm Sandy hit New York, even the rich in industrialized countries know that they can´t hide from devastating climate change in their gated communities.
Climate change is not on its way. It's already here.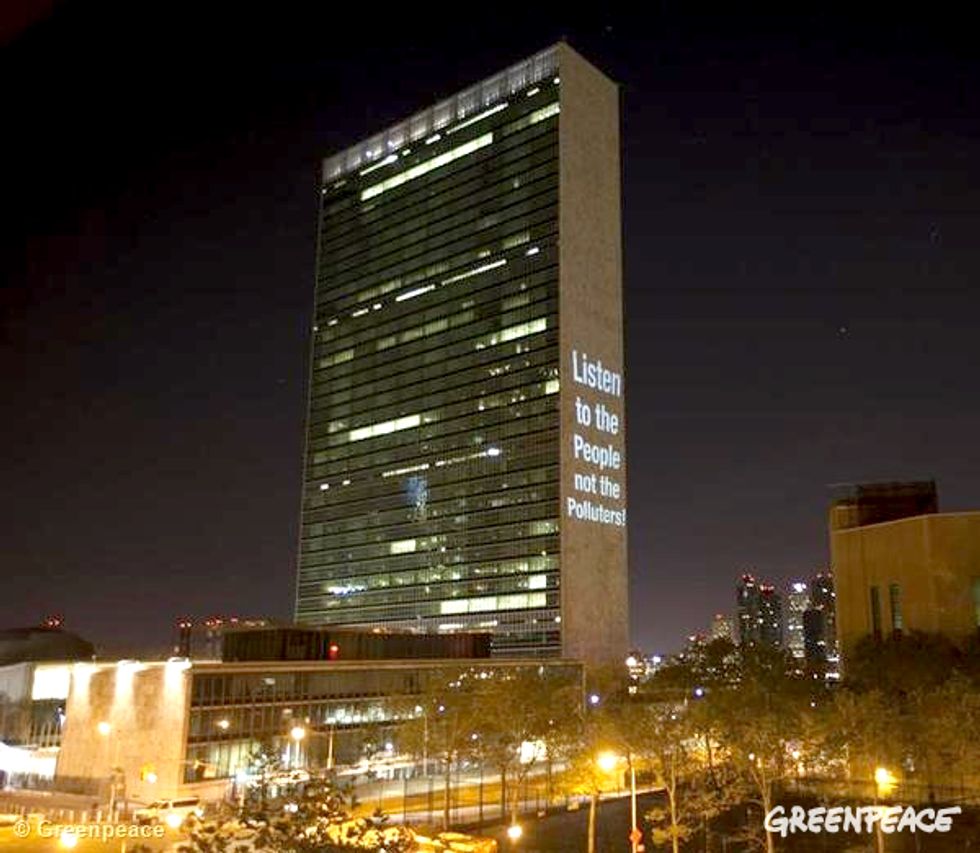 People are standing up to polluters, so we put their message on the side of the UN building in NYC, hours before the UN Climate Summit 2014 started. Photo credit: Greenpeace
Yet, cost-effective, sensible solutions have also made quantum leaps since 2009. Clean, renewable energy is getting bigger, better and cheaper every day. It can provide the answers our exhausted planet is looking for. Renewables are the most economical solution for new power capacity in an ever-increasing number of countries. 100 percent of power capacity added in the U.S. last month was renewable and countries like Denmark and Germany are producing new clean electricity records almost every month. In China, real change is under way, too. Not only is China installing as much solar this year as the U.S. has ever done, but their apocalyptic coal boom which drove up global carbon pollution since 2000 is also coming to an end. Things are rapidly changing and the current economic paradigm is no longer impenetrable—the light of reason is starting to shine through its cracks.
If rationality and economics were humanity's guide to living on this planet, climate action would no longer need summits. The more successful clean energy solutions get, the more they are cutting into the profit margins of those few powerful companies whose business models depends on continued fossil fuel dependency. That's why we agree with UN Secretary General Ban Ki-moon when he says "instead of asking if we can afford to act, we should be asking what is stopping us, who is stopping us, and why?" We would add to this another question: for how long?
Today, it is interests of the fossil fuel industries—not technology nor economics—which are the only obstacle to securing a safe future for us and our children on this planet. And they know it, too. When we talk to people at major energy firms these days, they admit in private that they understand the need to transition towards clean energy. But the coal investments that companies like Duke Energy in the US, and Eskom in South Africa have made are holding them back. Worse, because they fear that their massive investments could become stranded (i.e. wasted) assets they are actively lobbying politicians to slow down the clean, people-powered energy revolution that is under way.
Business lobbies such as ALEC in the U.S. or Business Europe in the EU are fighting tooth and nail to prevent progressive climate policies from being adopted. They claim they do this to "protect jobs." But this is an utter lie. We want workers fully involved in a just transition to a clean energy future. But we also know from Greenpeace Energy Revolution analyses over the past decade that renewables and energy efficiency will deliver more jobs than carrying on with dirty energy business as usual. By implementing a step by step energy ®evolution governments can, for example, help businesses create 3.2 million more jobs by 2030 in the global power supply sector alone. In South Africa, to pick just one country, 149,000 direct jobs could be created by 2030. That's 38,000 more than in the current government plan.
Meanwhile, China's turnaround on coal could also change the dynamics in the global climate debate. At the New York City summit, the Chinese government could end the current "you go first" mentality that has poisoned progress during the UN climate talks. Wouldn't it be wonderful if China, emboldened by its domestic actions, were to lead the world to a new global climate agreement by, for example, announcing in New York a peak in their emissions long before 2030?
It's only these kind of bold, concrete commitments that will be acceptable for the New York climate summit. Progressive business leaders need to—as Ban Ki-moon put it, "push back against skeptics and entrenched interests." They can do so by leaving destructive business lobbies such as ALEC or Business Europe and setting themselves concrete deadlines by which they will run their businesses on 100 percent renewable energy. Governments need to send a clear signal to investors by supporting a phase-out of fossil fuels by 2050.Indeed concrete steps need to be taken now—such as ending the financing of coal fired power plants—to get us there.
The world has changed since 2009. Baby steps are no longer enough. To control runaway climate change, we need to sharply change tack and sail with the wind, not against it with unsustainable fossil fuels.
That's why we marched on the streets of New York, and cities around the world on Sept. 21: to show—alongside tens of thousands of people—that it's time the polluters got out of the way and let us build a green, just and peaceful future for the generations which follow us.
YOU MIGHT ALSO LIKE
We Can Run the Planet on 100% Renewable Energy
To Change Everything We Need Everyone
Scientists are studying barley, the key ingredient in beer. Ridofranz / Getty Images
Researchers at UC-Riverside are investigating how barley, a key ingredient in beer, survives in such a wide variety of climates with hopes of learning what exactly makes it so resilient across climates.
Barley was first grown domestically in Southwest Asia about 10,000 year ago and is grown around the world, from Egypt to Minnesota.
Barley's prime growing regions have shifted northward in recent decades as global temperatures have risen due to climate change caused by human extraction and combustion of fossil fuels.
Chuck Skypeck, technical brewing projects manager for the Brewers Association located in Boulder, Colorado, told E&E climate change's effects are impacting the brewing industry.
"Certainly dynamic growing conditions, water scarcity, extreme weather events, growers' planting decisions can all affect both pricing and availability of brewers' supply of malted barley," he told E&E News.
For a deeper dive:
For more climate change and clean energy news, you can follow Climate Nexus on Twitter and Facebook, sign up for daily Hot News, and visit their news site, Nexus Media News.
EcoWatch Daily Newsletter
Air France airplanes parked at the Charles de Gaulle/Roissy airport on March 24, 2020. SAMSON / AFP via Getty Images
France moved one step closer this weekend to banning short-haul flights in an attempt to fight the climate crisis.
A bill prohibiting regional flights that could be replaced with an existing train journey of less than two and a half hours passed the country's National Assembly late on Saturday, as Reuters reported.
"We know that aviation is a contributor of carbon dioxide and that because of climate change we must reduce emissions," Industry Minister Agnes Pannier-Runacher told Europe 1 radio, according to Reuters.
The measure now has to pass the French Senate, then return to the lower house for a final vote. It would end regional flights between Paris's Orly airport and cities like Nantes and Bordeaux, The Guardian explained. It would not, however, impact connecting flights through Paris's Charles de Gaulle/Roissy airport.
The bill is part of a legislative package which aims to reduce France's emissions by 40 percent of 1990 levels by 2030, Reuters reported. It is a watered-down version of a proposal suggested by France's Citizens' Convention on Climate, BBC News explained. This group, which was formed by President Emmanuel Macron in 2019 and included 150 ordinary citizens, had put forward a ban on flights that could be replaced with an existing train journey of under four hours.
However, the journey length was lowered after protests from KLM-Air France, which had suffered heavy losses due to the coronavirus pandemic, and regions who were concerned about being left out of national transit networks, as The Guardian explained.
"We have chosen two and a half hours because four hours risks isolating landlocked territories including the greater Massif Central, which would be iniquitous," transport minister Jean-Baptiste Djebbari said, as The Guardian reported.
However, some environmental and consumer groups objected to the changes. The organization UFC-Que Choisir compared plane routes with equivalent train journeys of under four hours and found that the plane trips emitted an average of 77 times more carbon dioxide per passenger than the train journeys. At the same time, the train alternatives were cheaper and only as much as 40 minutes longer.
"[T]he government's choice actually aims to empty the measure of its substance," the group said, according to The Guardian.
The new measure also opens the French government to charges of hypocrisy. It bailed out Air France-KLM to the tune of a seven-billion euro loan last year, though it did require the airline to drop some domestic routes as a condition. Then, days before the measure passed, it more than doubled its stake in the airline, BBC News reported. However, Pannier-Runacher insisted to Europe 1 radio that it was possible to balance fighting climate change and supporting struggling businesses.
"Equally, we must support our companies and not let them fall by the wayside," she said, as Reuters reported.
This is not the first time that climate measures and aviation bailouts have coincided in the wake of the coronavirus pandemic. Austrian Airlines replaced its Vienna-Salzburg flight with additional train service after it received government money dependent on cutting greenhouse gas emissions, BBC News reported.
The number of flights worldwide declined almost 42 percent in 2020 when compared with 2019. It is expected that global aviation may not fully recover until 2024, according to Reuters.
A woman looks at a dead gray whale on the beach in the SF Bay area on May 23, 2019; a new spate of gray whales have been turning up dead near San Francisco. Justin Sullivan / Getty Images
Four gray whales have washed up dead near San Francisco within nine days, and at least one cause of death has been attributed to a ship strike.
A small tourist town has borne the brunt of a cyclone which swept across the West Australian coast.
ABC News (Australia) / YouTube
A general view shows the remains of a dam along a river in Tapovan, India, on February 10, 2021, following a flash flood caused by a glacier break on February 7. Sajjad Hussain / AFP / Getty Images
By Rishika Pardikar
Search operations are still underway to find those declared missing following the Uttarakhand disaster on 7 February 2021.
This story originally appeared in Eos and is republished here as part of Covering Climate Now, a global journalism collaboration strengthening coverage of the climate story.