World Health Organization Reports Air Pollution Killed 7 Million People in 2012
In new estimates released Tuesday, the World Health Organization (WHO) reported about 7 million people died as a result of air pollution exposure in 2012.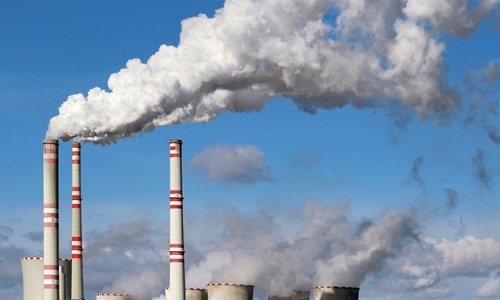 Photo courtesy of Shutterstock
This finding more than doubles previous estimates and confirms that air pollution is now the world's largest single environmental health risk as 1 in every 8 deaths is linked to it.
In particular, the new research reveals a stronger connection between both indoor and outdoor air pollution exposure and cardiovascular diseases, such as strokes and heart disease, as well as cancer. The report also found air pollution plays a role in the development of respiratory diseases, including acute respiratory infections and chronic obstructive pulmonary diseases.
The new estimates used improved measurements and technology, enabling scientists to make a more detailed analysis of health risks from a wider demographic spread that now includes both urban and rural areas.
Low- and middle-income countries in the WHO South-East Asia and Western Pacific Regions had the largest air pollution-related burden in 2012, with a total of 3.3 million deaths linked to indoor air pollution and 2.6 million deaths related to outdoor air pollution.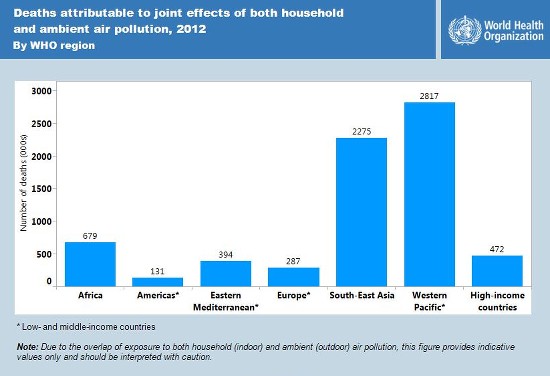 "Cleaning up the air we breathe prevents noncommunicable diseases as well as reduces disease risks among women and vulnerable groups, including children and the elderly," said Dr Flavia Bustreo, WHO assistant director of General Family, Women and Children's Health. "Poor women and children pay a heavy price from indoor air pollution since they spend more time at home breathing in smoke and soot from leaky coal and wood cook stoves."
Included in the assessment is a breakdown of deaths attributed to specific diseases, which shows the vast majority of air pollution deaths are tied to cardiovascular diseases.
Outdoor Air Pollution-Caused Deaths—Breakdown by Disease:
40 percent: Ischaemic heart disease
40 percent: Stroke
11 percent: Chronic obstructive pulmonary disease
6 percent: Lung cancer
3 percent: Acute lower respiratory infections in children
Indoor Air Pollution-caused deaths—Breakdown by Disease:
34 percent: Stroke
26 percent: Ischaemic heart disease
22 percent: Chronic obstructive pulmonary disease
12 percent: Acute lower respiratory infections in children
6 percent: Lung cancer
The estimates of people's exposure to outdoor air pollution in different parts of the world were tabulated using a new global data mapping system, which incorporated satellite data, ground-level monitoring measurements and data on pollution emissions from key sources, as well as modeling of how pollution drifts in the air.
Risk Factors Are Greater Than Expected
"The risks from air pollution are now far greater than previously thought or understood, particularly for heart disease and strokes," said Dr Maria Neira, director of WHO's Department for Public Health, Environmental and Social Determinants of Health. "Few risks have a greater impact on global health today than air pollution; the evidence signals the need for concerted action to clean up the air we all breathe."
WHO estimates indoor air pollution was linked to 4.3 million deaths in 2012 in households cooking over coal, wood and biomass stoves.
Regarding outdoor air pollution, WHO estimates there were 3.7 million deaths in 2012 from urban and rural sources worldwide.
"Excessive air pollution is often a by-product of unsustainable policies in sectors such as transport, energy, waste management and industry," said Dr Carlos Dora, WHO coordinator for Public Health, Environmental and Social Determinants of Health. "In most cases, healthier strategies will also be more economical in the long term due to healthcare cost savings as well as climate gains. WHO and health sectors have a unique role in translating scientific evidence on air pollution into policies that can deliver impact and improvements that will save lives." 
Later this year, WHO will release indoor air quality guidelines on household fuel combustion, as well as country data on outdoor and indoor air pollution exposures and related mortality, plus an update of air quality measurements in 1,600 cities from all regions of the world.
——–
Related Content:
Glyphosate, the main ingredient in Monsanto's widely used herbicide Roundup, will be added July 7 to California's list of chemicals known to the state to cause cancer, according to a Reuters report Tuesday. This news comes after the company's unsuccessful attempt to block the listing in trial court and requests for stay were denied by a state appellate court and California's Supreme Court.
California's Office of Environmental Health Hazard Assessment (OEHHA) announced the designation on Monday under the Safe Drinking Water and Toxic Enforcement Act of 1986, or Proposition 65.
Keep reading...
Show less
www.facebook.com
Keep reading...
Show less
Researchers from the Marine Animal Response Society examine one of the dead right whales. Marine Animal Response Society
Canadian government officials and marine biologists are investigating the mysterious deaths of six North American right whales. The endangered animals all turned up dead between June 6 and June 23 in the Gulf of St. Lawrence, off Canada's southeastern coast.
North Atlantic right whales are the rarest of all large whale species and among the rarest of all marine mammal species, with only about 450 right whales in the North Atlantic.
Keep reading...
Show less
Scott Pruitt testifies during his Senate confirmation hearing for EPA administrator, January 2017.
The U.S. Environmental Protection Agency's (EPA) chief of staff pressured the leader of its Board of Scientific Counselors to change her congressional testimony to downplay the impact of the agency's mass dismissal of scientists from the board, the New York Times reports.
Keep reading...
Show less
By Jason Mark
Sequoiadendron giganteum. That's the scientific name for the giant sequoia: the mammoth trees found in California's Sierra Nevada that are the largest organisms on Earth, and among the longest-lived. Biologists estimate that about half of all sequoias live in Giant Sequoia National Monument, a 328,000-acre preserve in the Southern Sierra Nevada established by President Clinton in 2000.
Now that national monument is in jeopardy.
Keep reading...
Show less
By Andy Rowell
Donald Trump this week is launching an "energy week," pushing the argument that the U.S. will become a net exporter of oil and gas.
The president and his cronies are talking about a new era of "U.S. energy dominance," which could stretch for decades to come. However, no one believes the president anymore.
Keep reading...
Show less
UN
By Colleen Curry
The United Nations has designated 23 new sites around the world to its World Network of Biosphere reserves—stunning natural landscapes that balance environmental and human concerns and strive for sustainability.
The forests, beaches and waterways were added to the list this year at the International Coordinating Council of the Man and the Biosphere Programme meeting in Paris earlier this month.
Keep reading...
Show less
Jun. 26, 2017 01:48PM EST
www.elysee.fr
By Andy Rowell
There is a growing feeling within European capitals that a quiet, but deeply positive, revolution is happening under Emmanuel Macron in France.
Macron's opinion poll rating is high, especially boosted in how the young French president has reacted to Donald Trump on the international stage.
Keep reading...
Show less
Jun. 26, 2017 12:32PM EST
www.facebook.com
Keep reading...
Show less