This website uses cookies to ensure you get the best experience while browsing it. By clicking 'Got It' you're accepting these terms.
World Fertilizer Use Reaches Diminishing Returns
Jan. 08, 2014 03:24PM EST
Food

When German chemist Justus von Liebig demonstrated in 1847 that the major nutrients that plants removed from the soil could be applied in mineral form, he set the stage for the development of the fertilizer industry and a huge jump in world food production a century later. Growth in food production during the nineteenth century came primarily from expanding cultivated area. It was not until the mid-twentieth century, when land limitations emerged and raising yields became essential, that fertilizer use began to rise.
The growth in the world fertilizer industry after World War II was spectacular. Between 1950 and 1988, fertilizer use climbed from 14 million to 144 million tons. This period of remarkable worldwide growth came to an end when fertilizer use in the former Soviet Union fell precipitously after heavy subsidies were removed in 1988 and fertilizer prices there moved to world market levels. After 1990, the breakup of the Soviet Union and the effort of its former states to convert to market economies led to a severe economic depression in these transition economies. The combined effect of these shifts was a four-fifths drop in fertilizer use in the former Soviet Union between 1988 and 1995. After 1995 the decline bottomed out, and increases in other countries, particularly China and India, restored growth in world fertilizer use.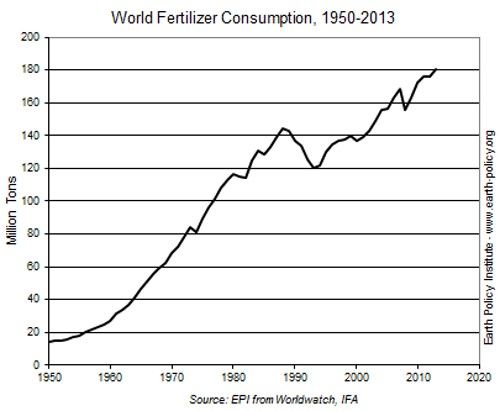 As the world economy evolved from being largely rural to being highly urbanized, the natural nutrient cycle was disrupted. In traditional rural societies, food is consumed locally, and human and animal waste is returned to the land, completing the nutrient cycle. But in highly urbanized societies, where food is consumed far from where it is produced, using fertilizer to replace the lost nutrients is the only practical way to maintain land productivity. It thus comes as no surprise that the growth in fertilizer use closely tracks the growth in urbanization, with much of it concentrated in the last 60 years.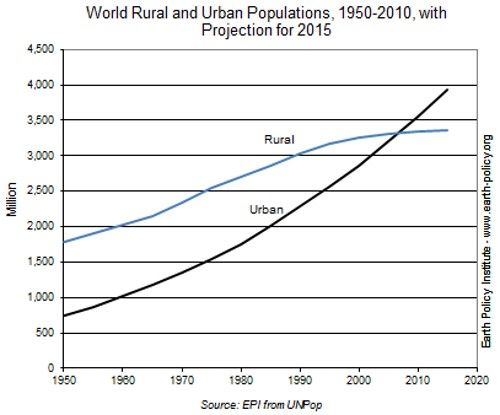 The big three grain producers—China, India and the U.S.—account for more than half of world fertilizer consumption. In the U.S., the growth in fertilizer use came to an end in 1980. China's fertilizer use climbed rapidly in recent decades but has leveled off since 2007. In contrast, India's fertilizer consumption is still on the rise, growing 5 percent annually. While China uses 50 million tons of fertilizer a year and India uses 28 million tons, the U.S. uses only 20 million tons. (See data).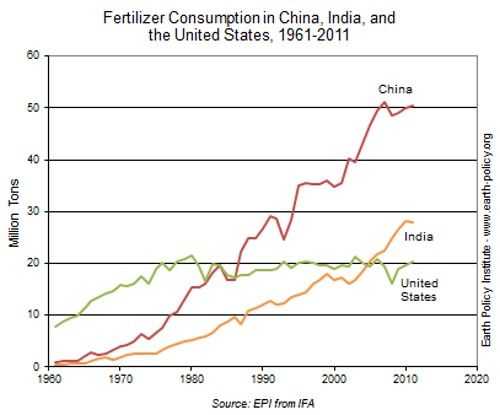 Given that China uses 2.5 times more fertilizer than the U.S. and that the two countries' average annual grain output totals are similar—450 million tons in China compared to 400 million tons in the U.S.—the grain produced per ton of fertilizer in the U.S. is roughly twice that in China.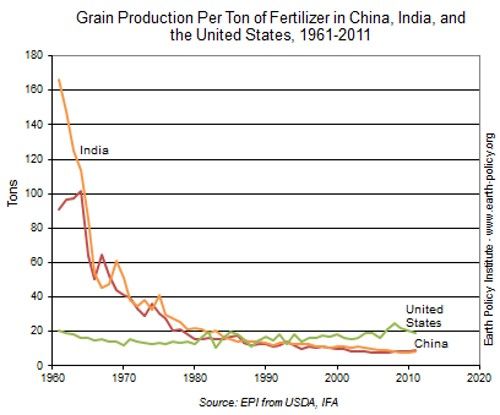 This is partly because American farmers are much more precise in matching application with need, but also partly because the U.S. is the world's largest soybean producer. (Brazil's soy production has recently skyrocketed, bringing it into contention with the U.S.) The soybean, being a legume, fixes nitrogen in the soil that can be used by subsequent crops. U.S. farmers regularly plant corn and soybeans in a two-year rotation, thus reducing the amount of nitrogen fertilizer that has to be applied for the corn.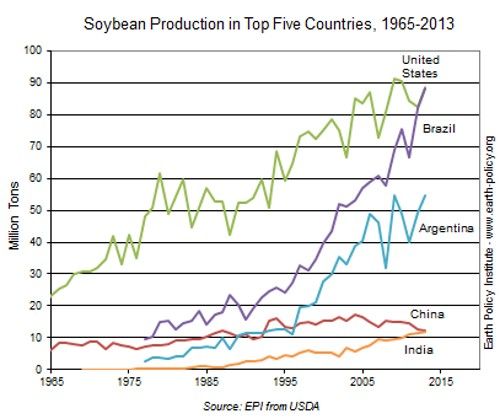 Despite this U.S. advantage in fertilizer use efficiency over China, over-application poses serious pollution problems in both countries. Fertilizer runoff from the U.S. Corn Belt, for example, contributes heavily to an annual oxygen-starved "dead zone" in the Gulf of Mexico—an area where sea life cannot exist, which in some years grows to the size of New Jersey. Research suggests that U.S. and Chinese farmers could use substantially less fertilizer and maintain or even increase productivity.
In many other agriculturally advanced economies, fertilizer use has actually fallen in recent decades. France, Germany and the United Kingdom, which together account for over one third of the European wheat harvest, have maintained high production levels despite significant declines in fertilizer use. Farmers in France and Germany now use half as much fertilizer as they did in the 1980s, while U.K. fertilizer use has dropped by 40 percent. And in Japan, 56 percent less fertilizer is now used than in the peak year of 1973.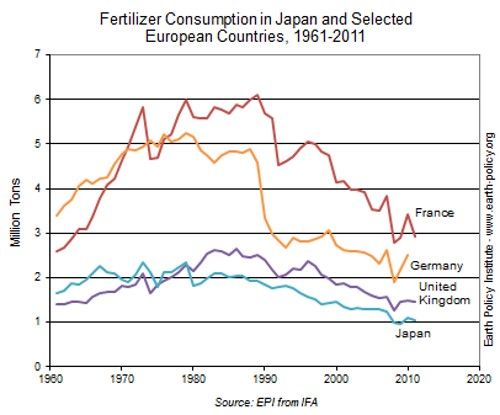 There are still some countries with a large potential for expanding fertilizer use. But in the many countries that have effectively removed nutrient constraints on crop yields, applying more fertilizer has little effect on yields. For the world as a whole, the era of rapidly growing fertilizer use is now history.
Visit EcoWatch's FOOD page for more related news on this topic.
——–
EcoWatch Daily Newsletter
United Nations Secretary-General Antonio Guterres speaks at a news conference at UN headquarters on Sept. 18. Drew Angerer / Getty Images
A vegan diet can improve your health, but experts say it's important to keep track of nutrients and protein. Getty Images
By Dan Gray
Research shows that 16 weeks of a vegan diet can boost the gut microbiome, helping with weight loss and overall health.
A healthy microbiome is a diverse microbiome. A plant-based diet is the best way to achieve this.
It isn't necessary to opt for a strictly vegan diet, but it's beneficial to limit meat intake.
New research shows that following a vegan diet for about 4 months can boost your gut microbiome. In turn, that can lead to improvements in body weight and blood sugar management.
Students gathered at the National Mall in Washington DC, Sept. 20. NRDC
By Jeff Turrentine
Nearly 20 years have passed since the journalist Malcolm Gladwell popularized the term tipping point, in his best-selling book of the same name. The phrase denotes the moment that a certain idea, behavior, or practice catches on exponentially and gains widespread currency throughout a culture. Having transcended its roots in sociological theory, the tipping point is now part of our everyday vernacular. We use it in scientific contexts to describe, for instance, the climatological point of no return that we'll hit if we allow average global temperatures to rise more than 2 degrees Celsius above preindustrial levels. But we also use it to describe everything from resistance movements to the disenchantment of hockey fans when their team is on a losing streak.
samael334 / iStock / Getty Images
Berries are small, soft, round fruit of various colors — mainly blue, red, or purple.
A glacier is seen in the Kenai Mountains on Sept. 6, near Primrose, Alaska. Scientists from the U.S. Geological Survey have been studying the glaciers in the area since 1966 and their studies show that the warming climate has resulted in sustained glacial mass loss as melting outpaced the accumulation of new snow and ice. Joe Raedle / Getty Images
By Mark Mancini
On Aug. 18, Iceland held a funeral for the first glacier lost to climate change. The deceased party was Okjökull, a historic body of ice that covered 14.6 square miles (38 square kilometers) in the Icelandic Highlands at the turn of the 20th century. But its glory days are long gone. In 2014, having dwindled to less than 1/15 its former size, Okjökull lost its status as an official glacier.
Members of Chicago Democratic Socialists of America table at the Logan Square Farmers Market on Aug. 18. Alex Schwartz
By Alex Schwartz
Among the many vendors at the Logan Square Farmers Market on Aug. 18 sat three young people peddling neither organic vegetables, gourmet cheese nor handmade crafts. Instead, they offered liberation from capitalism.
Hackney primary school students went to the Town Hall on May 24 in London after school to protest about the climate emergency. Jenny Matthews / In Pictures / Getty Images