This website uses cookies to ensure you get the best experience while browsing it. By clicking 'Got It' you're accepting these terms.
World Farmers Need to Do More to Stop Catastrophic Climate Change
May. 19, 2016 10:45AM EST
Climate
The world's farmers and food producers must do more—perhaps five times as much—to reduce the greenhouse gas (GHG) emissions that threaten catastrophic global climate change, according to new research.
Right now, scientists calculate that the options available to meet the recent Paris agreement to limit global warming to a maximum of 2 C above historic levels would deliver at most 40 percent and at the lowest estimate 21 percent, of the mitigation necessary.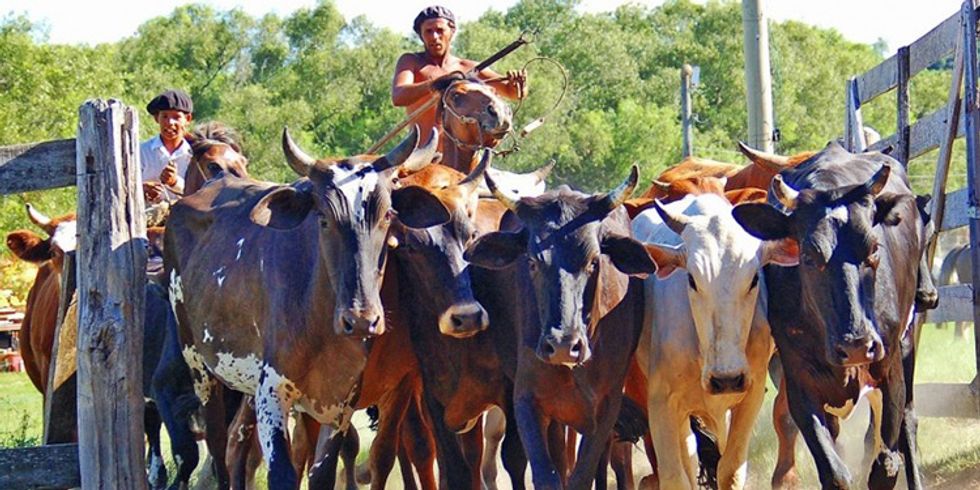 That means that cattlemen, rice farmers, shepherds, growers and livestock managers of all kinds must somehow achieve reductions in methane and oxides of nitrogen equivalent to a billion tons of carbon dioxide each year by 2030.
Carbon dioxide is the principal greenhouse gas, but although the others are released in much lower quantities and linger in the atmosphere for a much shorter span, they are also many times more potent in terms of the greenhouse effect.
Reality Check
This new look at the challenge ahead for the world's food producers, published in Global Change Biology journal, is the outcome of a co-operation between scientists from 22 institutes or laboratories of global distinction.
These include the Consortium of International Agricultural Research Centres, the International Centre for Tropical Agriculture, the UN's Food and Agriculture Organization, the International Rice Research Institute and many other agencies and universities.
"This research is a reality check," said Lini Wollenberg, an anthropologist and natural resource management specialist at the University of Vermont, who leads the low emissions development research program of the Climate Change, Agriculture and Food Security collaboration.
"Countries want to take action on agriculture, but the options currently on offer won't make the dent in emissions needed to meet the global targets agreed to in Paris. We need a much bigger menu of technical and policy solutions, with major investment to bring them to scale."
In the developing countries, agriculture is the source of about 35 percent of total greenhouse gas emissions; in the developed world, this share is about 12 percent.
At the Paris climate change conference last December, 195 countries pledged to take action and agriculture is included in the mitigation plans promised by 119 of the signatory nations. These Nationally Determined Contributions are, however, still just promises and nobody is sure how such promises are to be delivered.
Agriculture involves a complex bargain with the atmosphere. Plants soak up carbon dioxide, soils both store and release oxides of nitrogen, animals and microbes digest plants and release CO2 and methane.
So researchers have begun to look at every aspect of the greenhouse world—in the rice fields and cattle yards and in the intricate processes involved in tillage and harvest.
They have considered the impact of climate change on world harvests and the way wasteful processes contribute to climate change. They have examined the ways in which farming practices change the atmosphere and have begun to look at every process in the traffic between soil and air, literally from the ground up.
This has involved thinking about cattle digestive tracts and why rice paddy fields produce so much methane. Scientists have considered the emissions linked to the way human diet has begun to change. And they have even concluded that, in principle, it should be possible to feed the world and spare the forests and contain emissions all at the same time.
Food Production
But with a global population predicted to reach 9 billion sometime this century and against a background of difficult-to-predict climate change, farming practices must also change. Researchers need to think again about the efficient management of livestock, fertilizer use and every other aspect of food production.
"We need to help farmers play their part in reaching global climate goals while still feeding the world," said Prof. Pete Smith, a co-author of the report and "theme leader" for environment and food security at the University of Aberdeen.
"Reducing emissions in agriculture without compromising food security is something we know how to do. A lot can already be done with existing best management practices in agriculture," Smith said.
"The tough part is how to reduce emissions by a further two to five times and support large numbers of farmers to change their practices in the next 10 to 20 years," Smith added.
YOU MIGHT ALSO LIKE
This Oregon County Said 'No' to Nestle and Won in a 'Landslide Victory'
EU Delays Approval of Glyphosate, Again
Academies of Science Finds GMOs 'Safe,' But 'More Research Needed'
EcoWatch Daily Newsletter
A Starbucks barista prepares a drink at a Starbucks Coffee Shop location in New York. Ramin Talaie / Corbis via Getty Images
By Cathy Cassata
Are you getting your fill of Starbucks' new Almondmilk Honey Flat White, Oatmilk Honey Latte, and Coconutmilk Latte, but wondering just how healthy they are?
By Sharon Kelly
Back in April last year, the Trump administration's Environmental Protection Agency decided it was "not necessary" to update the rules for toxic waste from oil and gas wells. Torrents of wastewater flow daily from the nation's 1.5 million active oil and gas wells and the agency's own research has warned it may pose risks to the country's drinking water supplies.
Swedish climate activist Greta Thunberg takes part in a "Friday for Future" youth demonstration in a street of Davos on Jan. 24, 2020 on the sideline of the World Economic Forum annual meeting. FABRICE COFFRINI / AFP via Getty Images
Treasury Secretary Steven Mnuchin pretended not to know who Greta Thunberg is, and then he told her to get a degree in economics before giving world leaders advice, as The Guardian reported.
The Visible Infrared Imaging Radiometer Suite on the Suomi NPP satellite acquired this image of forest fire smoke hovering over North America on Aug. 15, 2018. NASA Earth Observatory
New York City isn't known for having the cleanest air, but researchers traced recent air pollution spikes there to two surprising sources — fires hundreds of miles away in Canada and the southeastern U.S.
If temperatures continue to rise, the world is at risk from global
sea-level rise
, which will flood many coastal cities as seen above in Bangladesh. NurPhoto / Contributor / Getty Images
The mounting climate emergency may spur the next global financial crisis and the world's central banks are woefully ill equipped to handle the consequences, according to a new book-length report by the Bank for International Settlements (BIS), as S&P Global reported. Located in Basel, Switzerland, the BIS is an umbrella organization for the world's central banks.