Wondering If Solar Is Right for You? Just Ask Google's 'Project Sunroof'
Aug. 18, 2015 10:51AM EST
Business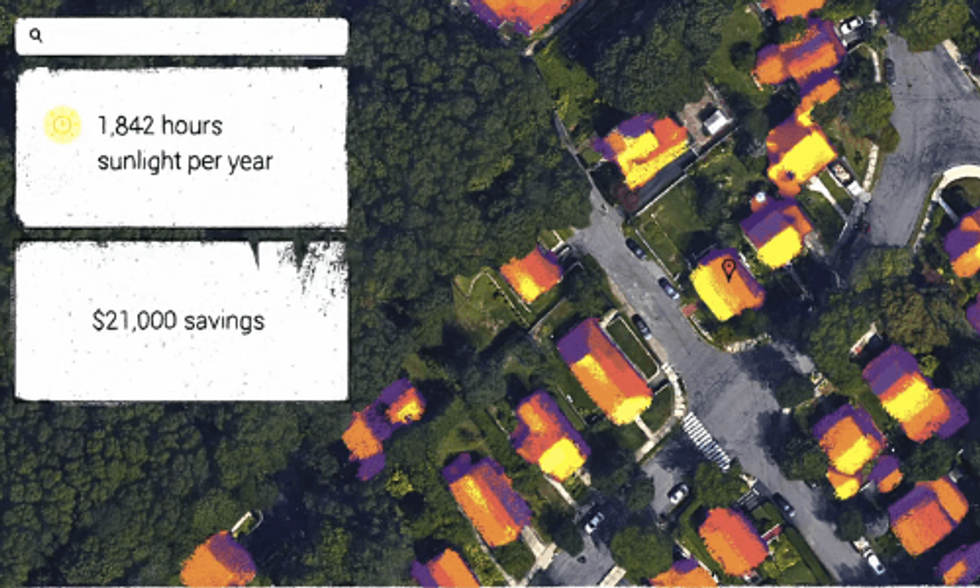 Ever wonder how much would you'd save by installing solar panels? Google's new Project Sunroof will not only answer that question, it'll also let you know if your roof is right for panels and how to get them installed—simply by entering your address.
Stick it where the sun shines! Project Sunroof can help you make the switch to solar → http://t.co/Jv0xbrm8EJ pic.twitter.com/djAaCTArWc

— Google (@google) August 17, 2015
The project taps into Google's trove of location and business data. By using the company's mapping and computing resources, Project Sunroof calculates how much sun hits your roof, the angle of your roof and sun-blocking obstructions such as trees and chimneys.
Project Sunroof also calculates how many panels you might need to save on your electric bill and throws in the solar incentives in your area. Use the slider tool to enter your typical electric bill amount to further customize the results. The website also presents users with buying or leasing options for solar panels and suggests a list of local installers.
And in case you were wondering: "Don't worry," Google says, "Project Sunroof doesn't give the address to anybody else unless you ask it to."
The website is ideal for people who want to tap into the fastest-growing renewable energy source, but might not know the first thing between "photovoltaics" and "kilowatts."
As Project Sunroof's lead engineer Carl Elkin, wrote in a blog post, "The cost of solar power is at a record low. A typical solar home can save hundreds or even thousands of dollars per year on their electricity bill. But, as a volunteer with the Boston-based solar program Solarize Massachusetts and a solar homeowner myself, I've always been surprised at how many people I encounter who think that 'my roof isn't sunny enough for solar,' or 'solar is just too expensive.' Certainly many of them are missing out on a chance to save money and be green."
Project Sunroof is currently available for residents in San Francisco and Fresno, California, and Boston, Massachusetts. There are plans to expand the project from coast to coast, and "maybe even the whole world," as the video below says.
"While Project Sunroof is in a pilot phase for now, during the coming months we'll be exploring how to make the tool better and more widely available," Elkin also wrote. "If you find that your address isn't covered by the tool yet, you can leave your email address and we'll let you know when Project Sunroof is ready for your rooftop!"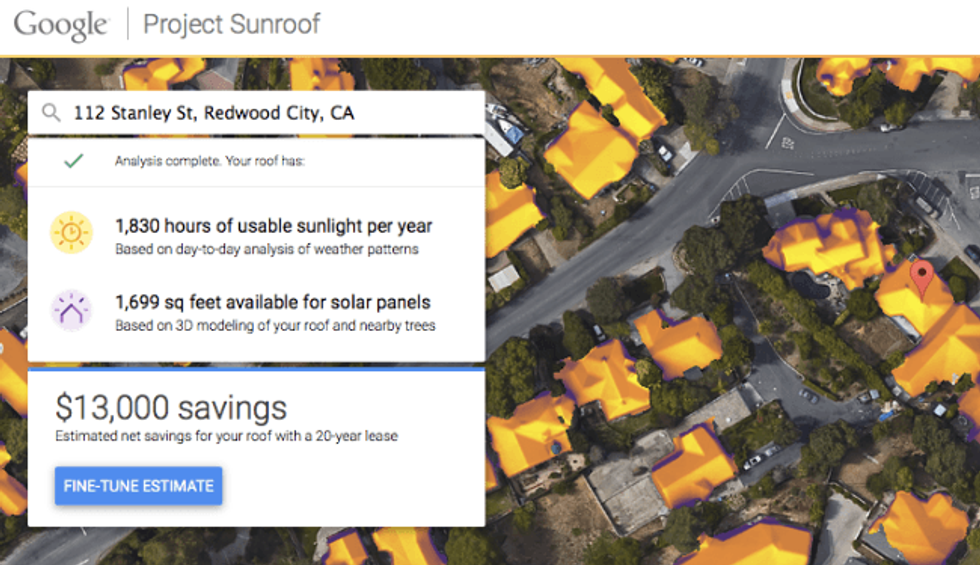 Google had recorded a number of green initiatives, and has a long‐term goal to power their operations with 100 percent renewable energy. The company said it has purchased 1.1 gigawatts of renewable energy to power their data centers, and aims to triple their purchases of renewable energy by 2025.
Last month, EcoWatch reported that Google was one of the 13 companies to commit a combined $140 billion to the White House's "American Business Act on Climate Pledge" to slash their environmental footprints and to combat climate change.
"We believe that by directly investing in renewable energy projects, we can help accelerate the shift to zero-carbon power and create a better future for everyone," Google said in a press release.
Watch Google's video below to learn more about Project Sunroof.
YOU MIGHT ALSO LIKE
Carbon Emissions Falling Fast as Wind and Solar Replace Fossil Fuels
3 Reasons Why America Is Turning to Renewable Energy
Elon Musk's Tesla Battery So Popular It Sold Out Through 2016
EcoWatch Daily Newsletter