Women's Rights and Climate Change: What's the Connection?
Aug. 25, 2014 10:25AM EST
Climate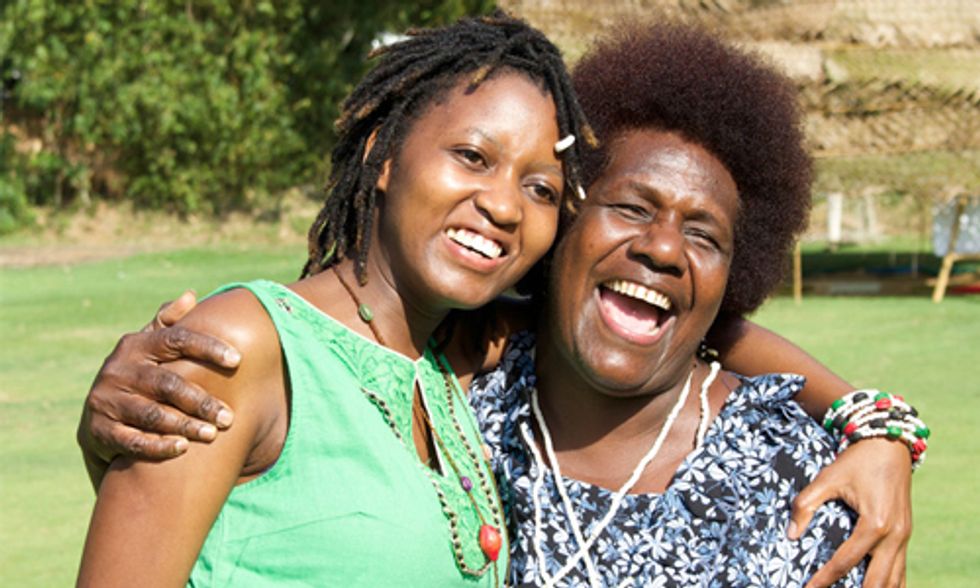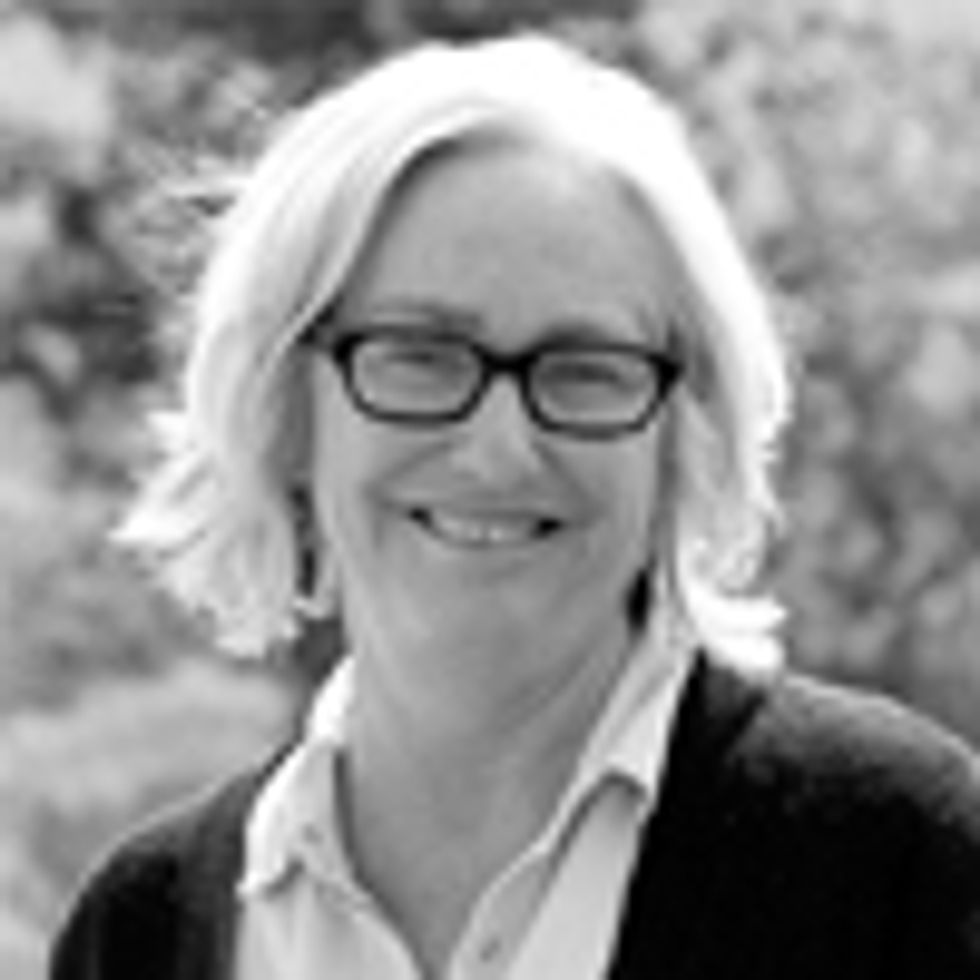 People ask me all the time what women's rights have to do with climate change. While it's obvious to me that we won't save the planet without women's leadership and participation, the environmental and feminist movements seem unrelated and rarely work in concert.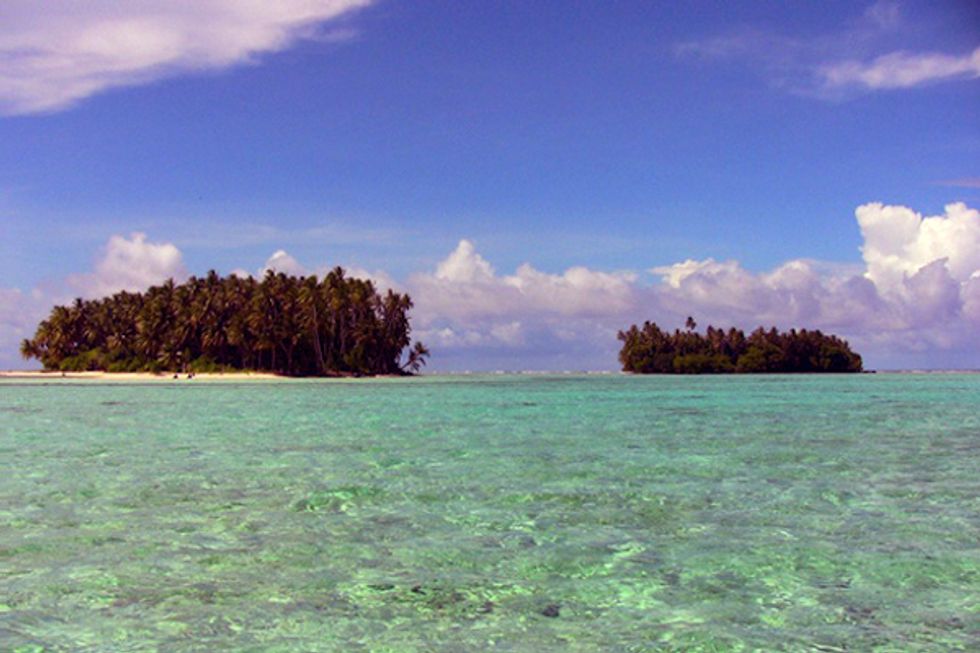 Here are the facts: Women make up more than half of the world's population. Women produce more than half of all food. In northern countries, we use as much gasoline as men and are as much of the problem. In the Southern Hemisphere, where climate chaos clearly hit first, women walk ever further for essential water and firewood.
We are already living the adverse effects of climate change. For women in regions of the world hit hardest, this means forcible displacement, devastating drought and floods that ruin harvests, water shortages, an increase in tropical diseases, and less food for them and their families. When women's rights are not protected, more women than men die from disasters, most of which, these days, are climate related.
More importantly, women are already implementing solutions in their communities. These solutions are simple, inexpensive and can grow or contract depending on the need. Women are organizing and protesting to defend their land, saving seeds, using solar panels on their huts and energy efficient cookstoves.
Like men, women need access to the right amount of money at the right time. If we want to combat climate change, we need to involve men and women.
"Mama" Aleta Baun, an award-winning Indonesian environmental activist, was the first grassroots woman to speak at the recent Summit on Women and Climate. This diminutive yet powerful indigenous leader organized women in several communities to fight against land grabbing by mining companies in her region of West Timor. They successfully kept four mining enterprises out by blocking their access to sites, sitting each day for months and weaving the traditional cloth that her people wear as turbans and skirts.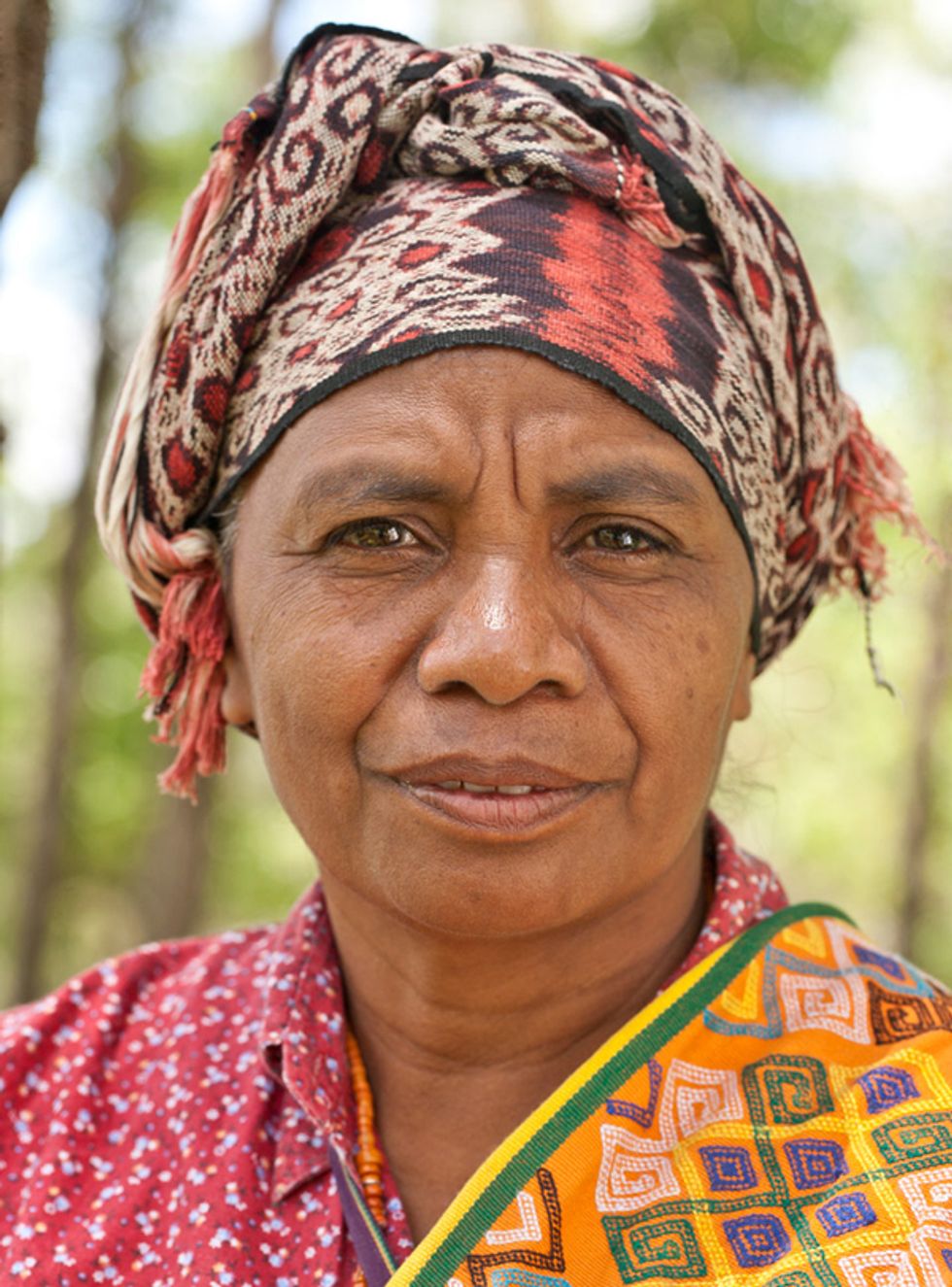 Indonesia is the third largest greenhouse gas emitting country in the world, largely because its carbon-sequestering forests are being burned and plundered for mining and palm oil development. A new report by the World Resources Institute showed that strengthening indigenous people's rights to forests such as those in Indonesia is an effective strategy for combating climate change.
By shutting down the mines, Mama Aleta is not only protecting forest her community considers sacred, but she also is helping curb climate change all around the world. She told me she considers herself both an environmentalist and a feminist.
Co-hosted by Global Greengrants Fund and International Network of Women's Funds, the purpose of the Summit on Women and Climate was to raise the voices of grassroots women and communities about climate change—at home, locally, regionally, nationally and internationally.
Representatives from the environmental and women's rights movements addressed specific challenges, such as the criminalization of activism and the pervasive forms of violence, including rape, used against women climate activists. Activist women leaders from around the world shared both the adaptive and mitigating strategies they are applying to counter climate chaos.
We heard from courageous Ursula Rakova, executive director of Tulele Peisa, a group in Papua New Guinea. Since 2007, Tulele Peisa has been moving more than 2,000 people from the Carteret Islands, an atoll steadily being submerged by rising sea levels, to the Autonomous Region of Bougainville.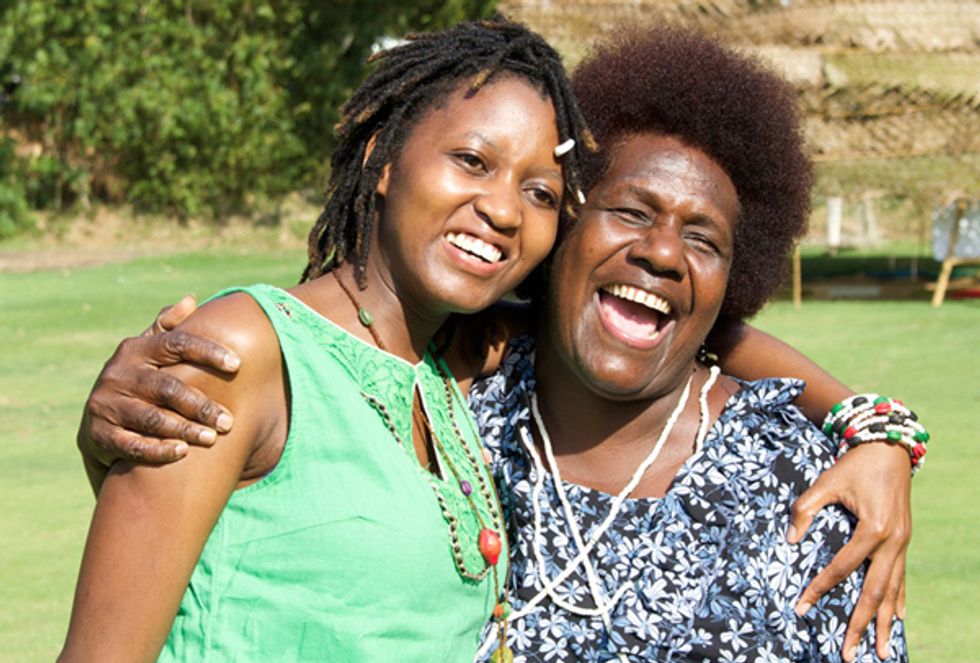 Due to storm surges and increasingly salty soil, Ursula's people—the world's first acknowledged "climate refugees"—can no longer grow enough food. Only the Elders are willing to stay. The government has provided little support. She told us that small grants from international organizations such as Global Greengrants have been absolutely essential. Next month, during Climate Week in New York, Ursula's organization will be awarded the Equator Initiative Prize.
You can hear Ursula tell her story in person in New York on Sept. 23 at this event.
I grew up in both the environment and women's movements. But, I've also suffered from the "one issue at a time" blinder. Earlier this year, I went to a conference in Mexico City about women human rights defenders. I feared that I might be cheating on my primary job at Global Greengrants by attending out of a more personal than "professional" interest.
I learned that in Mesoamerica, 40 percent of all women human rights defenders who are under threat, by far the largest category, are working on resource rights. I had incorrectly assumed that activists fighting violence against women, or for reproductive rights, or for freedom around their gender and sexual identities would dominate. These statistics again support the need to bring a gender analysis within the environmental movement.
At the Mexico City conference and again at the Summit on Women and Climate, I was fortunate to spend time with Berta Cáceres, the articulate, feisty general co-coordinator of an Indigenous organization in Honduras, Consejo Cívico de Organizaciones Populares e Indigenas de Honduras (COPINH), which Global Greengrants has funded on many occasions. Members of COPINH have been fighting against dams and other threats to their territory.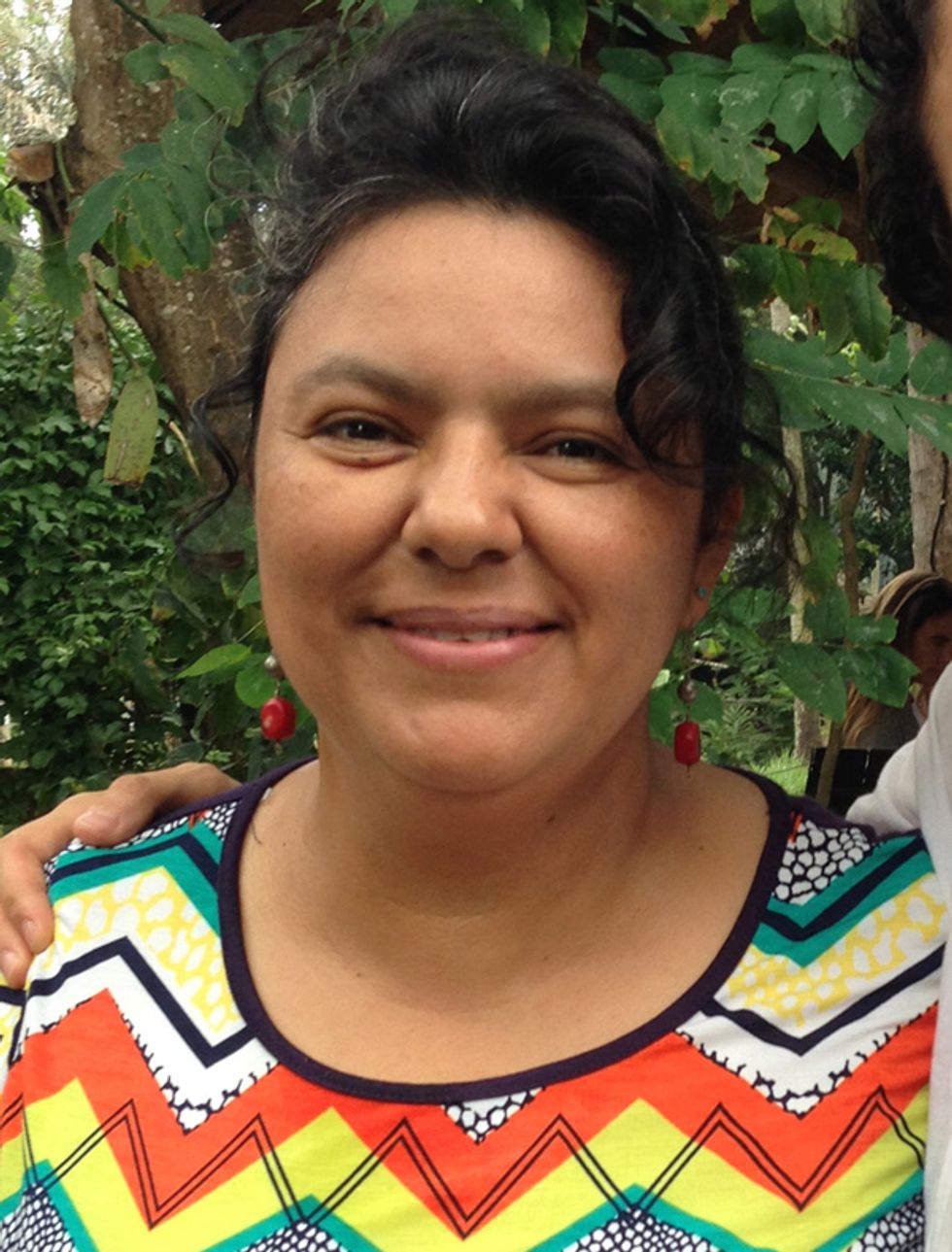 Berta has become the publically acknowledged head of the group, and threats against her by a repressive government and dam-hungry corporations have become dire. She's been jailed, her children and family terrorized, and she lives under a death threat. This year, Berta was a finalist for Front Line Defenders Award for Human Rights Defenders at Risk.
So where do we go from here?
Those of us who built relationships at the summit have pledged to work together to switch the paradigm regarding solutions to the climate crisis. Huge funding has already gone to large efforts and organizations that have accomplished very little. Meanwhile, more modest sums, strategically granted to women's groups at the local level, have proven more effective. Let's work to unite the environmental and women's movements on the most pressing issue of our time. And let's convince policy makers at all levels that grassroots women are part of the solution.
You Might Also Like
Leonardo DiCaprio Narrates Climate Change Films Urging Shift From Fossil Fuels to Renewables
Five Reasons Climate Deniers Are Dead Wrong
A Shell oil drilling rig off the coast of Alaska in the Chukchi Sea on May 21, 2015. Orjan F. Ellingvag / Corbis via Getty Images
By Jake Johnson
A federal appeals court on Tuesday dealt the final blow to former President Donald Trump's attempt to open nearly 130 million acres of territory in the Arctic and Atlantic Oceans to oil and gas drilling.
EcoWatch Daily Newsletter
Electric vehicles are the cars of the future. sl-f / Getty Images
By 2035, every new car and truck sold in the U.S. could be an EV, a new report says.
Accelerations in technology and especially battery affordability, paired with new policy, mean the dramatic transition would save American drivers $2.7 trillion by 2050, an average savings of $1,000 per household per year.
The ramp up in EV production would also create 2 million new jobs by 2035. Battery prices have fallen 74% since 2014, and their unexpectedly rapid fall is a key driver of the cost savings.
EVs are far simpler mechanically, and more efficient, than internal combustion engine (ICE) vehicles, which translates to reduced climate pollution and lower costs for consumers.
Strengthened vehicle efficiency standards and investment in fast charging infrastructure are needed to accelerate the transition, which would prevent 150,000 premature deaths and save $1.3 trillion in health environmental costs by 2050.
For a deeper dive:

The Guardian, Fast Company, E&E, Morning Consult, Canary Media

For more climate change and clean energy news, you can follow Climate Nexus on Twitter and Facebook, sign up for daily Hot News, and visit their news site, Nexus Media News.
The Gowanus Canal in Brooklyn, New York, a polluted nearly 2 mile-long waterway that is an EPA Superfund site. Jonathan Macagba / Moment / Getty Images
Thousands of Superfund sites exist around the U.S., with toxic substances left open, mismanaged and dumped. Despite the high levels of toxicity at these sites, nearly 21 million people live within a mile of one of them, according to the U.S. Environmental Protection Agency (EPA).
The National Weather Service station in Chatham, Massachusetts, near the edge of a cliff at the Monomoy National Wildlife Refuge. Bryce Williams / National Weather Service in Boston / Norton
A weather research station on a bluff overlooking the sea is closing down because of the climate crisis.
The National Weather Service (NWS) station in Chatham, Massachusetts was evacuated March 31 over concerns the entire operation would topple into the ocean.
"We had to say goodbye to the site because of where we are located at the Monomoy Wildlife Refuge, we're adjacent to a bluff that overlooks the ocean," Boston NWS meteorologist Andy Nash told WHDH at the time. "We had to close and cease operations there because that bluff has significantly eroded."
Chatham is located on the elbow of Cape Cod, a land mass extending out into the Atlantic Ocean that has been reshaped and eroded by waves and tides over tens of thousands of years, The Guardian explained. However, sea level rise and extreme weather caused by the climate crisis have sped that change along.
"It's an extremely dynamic environment, which is obviously a problem if you are building permanent infrastructure here," Andrew Ashton, an associate scientist at Cape-Cod based Woods Hole Oceanographic Institution, told The Guardian. "We are putting our foot on the accelerator to make the environment even more dynamic."
This was the case with the Chatham weather station. It used to be protected from the drop into the ocean by about 100 feet of land. However, storm action in 2020 alone washed away as much as six feet of land a day.
"We'd know[n] for a long time there was erosion but the pace of it caught everyone by surprise," Nash told The Guardian. "We felt we had maybe another 10 years but then we started losing a foot of a bluff a week and realized we didn't have years, we had just a few months. We were a couple of storms from a very big problem."
The Chatham station was part of a network of 92 NWS stations that monitor temperature, pressure, humidity, wind speed and direction and other data in the upper atmosphere, The Cape Cod Chronicle explained. The stations send up radiosondes attached to weather balloons twice a day to help with weather research and prediction. The Chatham station, which had been observing this ritual for the past half a century, sent up its last balloon the morning of March 31.
"We're going to miss the observations," Nash told The Cape Cod Chronicle. "It gives us a snapshot, a profile of the atmosphere when the balloons go up."
The station was officially decommissioned April 1, and the two buildings on the site will be demolished sometime this month. The NWS is looking for a new location in southeastern New England. In the meantime, forecasters will rely on data from stations in New York and Maine.
Nash said the leavetaking was bittersweet, but inevitable.
"[M]other nature is evicting us," he told The Cape Cod Chronicle.
Amsterdam is one of the Netherlands' cities which already has "milieuzones," where some types of vehicles are banned. Unsplash / jennieramida
By Douglas Broom
If online deliveries continue with fossil-fuel trucks, emissions will increase by a third.
So cities in the Netherlands will allow only emission-free delivery vehicles after 2025.
The government is giving delivery firms cash help to buy or lease electric vehicles.
The bans will save 1 megaton of CO2 every year by 2030.
Cities in the Netherlands want to make their air cleaner by banning fossil fuel delivery vehicles from urban areas from 2025.
"Now that we are spending more time at home, we are noticing the large number of delivery vans and lorries driving through cities," said Netherlands environment minister Stientje van Veldhoven, announcing plans to ban all but zero-emission deliveries in 14 cities.
"The agreements we are setting down will ensure that it will be a matter of course that within a few years, supermarket shelves will be stocked, waste will be collected, and packages will arrive on time, yet without any exhaust fumes and CO2 emissions," she added.