This website uses cookies to ensure you get the best experience while browsing it. By clicking 'Got It' you're accepting these terms.
Woman Breaks Barriers to Achieve Dream of Working in Wind Energy
Jan. 14, 2014 09:07AM EST
Business
By Meredith MacDonald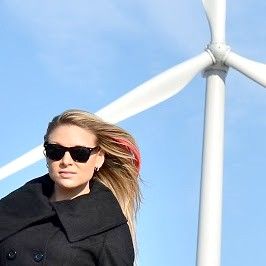 In September of 2010, I set foot on my first wind project as a security guard. I must admit I had set foot on wind farms prior to this, but just as a gawker who wanted to see the giant components up close.
My job on that first wind farm involved looking after a substation which had been a hot target for copper thieves. Even though I mostly worked long night shifts, I enjoyed the work a great deal. I worked the odd Saturday day shift with the linemen and construction workers building the substation and watched them with growing interest. They treated each other like family. They worked hard. They were proud of what they had accomplished at the end of their day.
I worked on two more wind projects as a security guard, getting to know iron workers, electricians, crane operators, turbine technicians and project managers. My interest in a job on the construction side of a wind farm grew. As much as I enjoyed security work, the pay was minimal and there was no foreseeable career growth. I really wanted to be out there, or rather up there, working on wind turbines, the substations or really anything involving wind energy. The problem was that I was scared. Scared to voice my wish to become a construction worker. Scared that as a woman, I couldn't do that work or shouldn't do that work. It was silly; but that little negative voice in my head kept me from making a move.
That little voice persisted until 2013. I discovered a group called Women of Wind Energy (WoWE) and decided to join. Even though I was just a security guard, I was working on wind farms and decided that made me part of the wind industry. My husband and I traveled to Toronto at the end of January for a WoWE meet-up. I was incredibly nervous to be walking in to an event filled with professional women who worked in wind. After all, I was just a security guard and didn't think too highly of what I did. I was greeted warmly by the head of the Toronto chapter and all my nervousness melted away. Everyone I met that night was warm, encouraging, enthusiastic and genuine. My dream of working in the construction of wind farms didn't seem so unrealistic anymore.
I left Toronto feeling encouraged and validated. I felt that my goal was attainable, and that I could do whatever I set my mind to. I tore down all the walls I had built in my head that were stopping me from doing what I truly wanted to do. I purchased tickets to a Canadian Wind Energy Association (CanWEA) networking event in Toronto at the end of February. Once again, my husband and I traveled to Toronto and I nervously stepped in to a room filled with the who's who of the wind industry. I met as many people as I could and exchanged business cards and good conversation. When I left that evening, I was hopeful but unsure if anything would come of my efforts.
A week or so after the CanWEA event, I received an email from a gentleman at Surespan Wind Energy Services. We exchanged a few emails back and forth, and eventually I traveled back Toronto way for a face to face meeting and interview. I left with an offer of employment as a wind turbine technician, working on the quality assurance team for Surespan. The project I would be working on was located in my area, with one of the turbines being built right behind our house!
I was ecstatic beyond words. My dreams had become reality. I had done it! I could hardly stand the wait until I started my new career in June that year.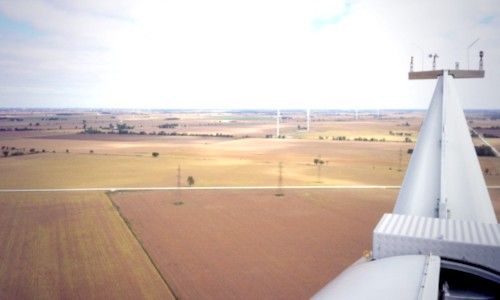 Fast forward to the present. I have been working for Surespan for 7 months now. This is the first time in my life that I have honestly been able to say that I love my job. Yes, I work long hours. My personal best was just shy of 80 hours in a week. Yes, I wake up early. 5 am every day. Yes, there are lots of challenging aspects… but the feeling of accomplishment that I get from meeting those challenges makes it all worth it.
I feel incredibly blessed and grateful to get up each day and go to a job that I'm passionate about. I now understand that feeling of camaraderie and family that I saw way back on my first wind project.
You may be wondering what's so great about working in wind and why I love it so much. I'll put together some highlights in point form:
Better than a gym membership. You get paid to work out, and you can't flake out on those workouts.
Not stuck in a cubicle. Your office is out in the field; sometimes 330 feet in the air.
Amazing co-workers. They become like family. Having a bad day? Guaranteed someone will have you laughing in no time.
Dynamic. Every day brings new challenges. You are always learning, always adapting. Always becoming better.
Being part of something bigger. Helping the world transition from fossil fuel addiction to renewable sources of energy.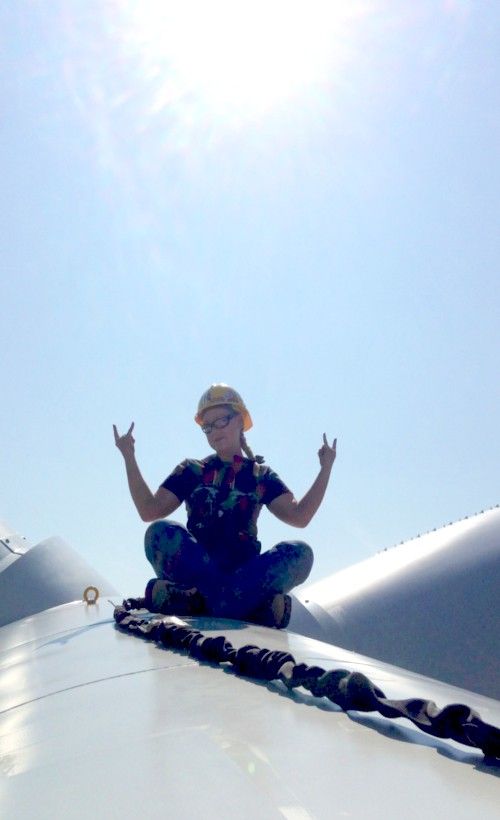 There are so many more things that I love about my job. The sense of pride, the independence, the accountability, the problem solving … and on and on. If nothing else, I hope this blog encourages everyone out there to pursue their dreams. DON'T discount yourself from anything before you even try. DON'T convince yourself that you can't do what you dream of.
Be courageous and take a leap of faith. Decide that you are good enough, strong enough and smart enough. Your gender does not determine what careers you can or cannot have. You are your own limiting factor.
Break down your walls.
Visit EcoWatch's RENEWABLES page for more related news on this topic.

EcoWatch Daily Newsletter
Extreme weather events supercharged by climate change in 2012 led to nearly 1,000 more deaths, more than 20,000 additional hospitalizations, and cost the U.S. healthcare system $10 billion, a new report finds.
Giant sequoia trees at Sequoia National Park, California. lucky-photographer / iStock / Getty Images Plus
A Bay Area conservation group struck a deal to buy and to protect the world's largest remaining privately owned sequoia forest for $15.6 million. Now it needs to raise the money, according to CNN.
This aerial view shows the Ogasayama Sports Park Ecopa Stadium, one of the venues for 2019 Rugby World Cup. MARTIN BUREAU / AFP / Getty Images
The Rugby World Cup starts Friday in Japan where Pacific Island teams from Samoa, Fiji and Tonga will face off against teams from industrialized nations. However, a new report from a UK-based NGO says that when the teams gather for the opening ceremony on Friday night and listen to the theme song "World In Union," the hypocrisy of climate injustice will take center stage.
Vera_Petrunina / iStock / Getty Images Plus
By Wudan Yan
In June, New York Times journalist Andy Newman wrote an article titled, "If seeing the world helps ruin it, should we stay home?" In it, he raised the question of whether or not travel by plane, boat, or car—all of which contribute to climate change, rising sea levels, and melting glaciers—might pose a moral challenge to the responsibility that each of us has to not exacerbate the already catastrophic consequences of climate change. The premise of Newman's piece rests on his assertion that traveling "somewhere far away… is the biggest single action a private citizen can take to worsen climate change."

Volunteer caucasian woman giving grain to starving African children.
Bartosz Hadyniak / E+ / Getty Images
Food will be scarce, expensive and less nutritious," CNN warns us in its coverage of the UN's new "Climate Change and Land" report. The New York Times announces that "Climate Change Threatens the World's Food Supply."
By Adam Vaughan
Two-thirds of people in the UK think the amount people fly should be reined in to tackle climate change, polling has found.
Climate Week NYC
On Monday, Sept. 23, the Climate Group will kick off its 11th annual Climate Week NYC, a chance for governments, non-profits, businesses, communities and individuals to share possible solutions to the climate crisis while world leaders gather in the city for the UN Climate Action Summit.
By Pam Radtke Russell in New Orleans
Local TV weather forecasters have become foot soldiers in the war against climate misinformation. Over the past decade, a growing number of meteorologists and weathercasters have begun addressing the climate crisis either as part of their weather forecasts, or in separate, independent news reports to help their viewers understand what is happening and why it is important.