Wolves Poised to Lose Endangered Species Act Protections
By Laura Beans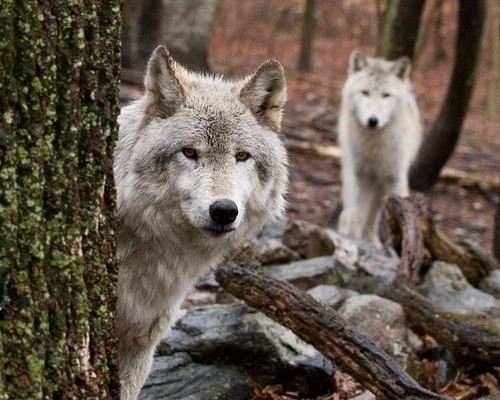 Photo courtesy of Shutterstock

Today the U.S. Fish and Wildlife Service proposed removing federal Endangered Species Act (ESA) protections for wolves across nearly the entire lower 48 states. The gray wolf, one of North America's most iconic native predators, once thrived throughout the U.S. But after centuries of trapping, hunting and poisoning, the wolf population has been devastated. By the 1980s, only a few small pockets of survivors remained in the continental U.S.
"This proposal sets an unfortunate low bar for endangered species recovery in the United States," said Jamie Rappaport Clark, president of Defenders of Wildlife. "Wolves currently inhabit only a fraction of their former range, and this proposal will cut off wolf recovery from vast areas of suitable habitat out west where the species can still thrive."
"Frankly, it's disappointing that the federal government is ready to throw in the towel when wolves are still missing from key states like Colorado, California and Utah. These states have excellent habitat for wolves and can benefit both economically and ecologically from the return of wolves," said Clark.
The proposed rule removes federal ESA protections for all gray wolves in the lower48 states (except for a small population of Mexican wolves in Arizona and New Mexico, where only about 75 wild wolves remain) and would be disastrous for the recovery of the species. The proposal largely relies on scientifically disputed classifications of wolf subspecies, and fails to account for the fact that wolves have yet to recover in many parts of the country, even where excellent wolf habitat still exists.
"With today's proposal, the federal government walks away from wolf recovery before the job is done," said Doug Honnold, an Earthjustice attorney who has fought in court for wolves in the northern Rockies for decades. "The U.S. Fish and Wildlife Service is charged with ensuring the survival of species and today's announced proposal is a huge step in the opposite direction."
Over the past thirty years wolf recovery in America has had some great successes, from the reintroduction of wolves in the northern Rocky Mountains, to the revitalization of populations in the western Great Lakes states.
But wolves have yet to recover in additional parts of the country—including the Pacific Northwest, northern California, the southern Rocky Mountains and the Northeast—where prime wolf habitat still exists.
Further, as seen after wolves lost federal protections in Wyoming, Montana and Idaho, states charged with ensuring the survival of gray wolf populations fail to adequately protect the species; allowing unregulated hunting and "Kill at Will" policies. Wyoming's "wolf management plan" allows unlimited killing in the vast majority of the state, including aerial gunning of wolves and killing wolf pups in their dens.
"Wolf recovery has been one of our greatest Endangered Species Act success stories, but stopping now before the population is fully recovered will negate the decades of hard work that have gone into bringing wolves back from the brink of extinction. Without federal protections this symbol of our wild heritage will slide back into harm's way," said Micheal Brune, executive director of the Sierra Club.
"Now is the time that we should be pressing in to finish the job of wolf recovery, not abandoning wolves to the same kinds of destructive forces that endangered them in the first place. We urge the administration to preserve protections for these amazing animals until the success story is complete," concluded Brune.
Last month, six leading conservation groups sent a letter to Secretary of the Interior Sally Jewell, urging her to reverse course on the planned de-listing. The letter was signed by the chief executives of the Center for Biological Diversity, Defenders of Wildlife, Earthjustice, Endangered Species Coalition, Natural Resources Defense Council and Sierra Club.
Visit EcoWatch's ENDANGERED SPECIES ACT and BIODIVERSITY pages for more related news on this topic.

A coalition of conservation groups and others announced Thursday that a historic number of comments and petitions of support have been submitted to the U.S. Department of the Interior in support of Bears Ears National Monument. Despite the entirely inadequate 15-day comment period ending on May 26, more than 685,000 comments in support of Bears Ears National Monument have been collected.
Keep reading...
Show less
Rink Glacier in western Greenland, with a meltwater lake visible center. NASA/OIB
Scientists have had their eyes on Greenland as its iconic glaciers have begun disappearing due to a warming climate. But, what they didn't expect to see was a whole new type of melting.
Keep reading...
Show less
Mountain View Fire
By Lena Moffitt
An oil tanker in Mead, Colorado exploded, killing one and injuring three on Thursday. Authorities are continuing to investigate the cause of the explosion.
Keep reading...
Show less
Banner created by Alliance for Climate Education
Keep reading...
Show less
Twenty-two GOP senators sent a letter Thursday urging Donald Trump to pull out of the Paris agreement. They argued remaining in the deal could "upend" the administration's ability "to fulfill its goal of rescinding the Clean Power Plan."
Keep reading...
Show less
By Cheryl Johncox
The Federal Energy Regulatory Commission (FERC) rejected on Thursday Energy Transfer Partners' request to resume horizontal directional drilling at two sites for its Rover fracked gas pipeline. This rejection comes after numerous leaks into Ohio's wetlands, and Clean Air and Clean Water act violations. FERC has halted the process at only eight locations of the 32 where drilling is taking place under Ohio's wetlands and streams.
Keep reading...
Show less
By Nadia Prupis
A majority of people in eight countries say they are ready to change their lifestyles if it would prevent climate catastrophe, a survey on global threats released Wednesday found.
Keep reading...
Show less
May. 25, 2017 01:55PM EST
Bill Maher is sick of billionaires' obsession with Mars, more like "Mars-a-Lago," he said.
In a new animation produced by ATTN:, the popular talk show host of Real Time, discusses the perils of our planet, including how "climate change is killing us."
Keep reading...
Show less