This website uses cookies to ensure you get the best experience while browsing it. By clicking 'Got It' you're accepting these terms.
Wolverine Wipeout: FWS Rules Against Endangered Species Listing
Aug. 13, 2014 11:45AM EST
A warming world means a melting cryosphere, which is bad news for species that have evolved to thrive on ice and in snow. Polar bears made depressing history in 2008 when they became the first species to be listed under the U.S. Endangered Species Act solely because of threats from climate change. These sea ice-dwelling carnivores had appeared poised, until Tuesday, to be joined in their global warming-induced regulatory infamy by snow-burrowing wolverines.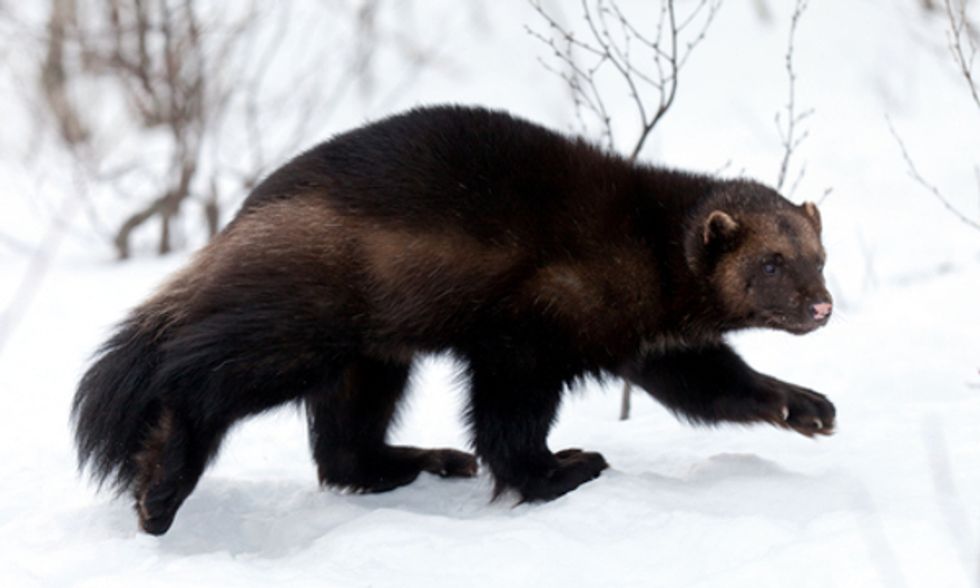 The female wolverine adopts a very specific denning strategy—one that will make it difficult for the species to survive in the parts of its territories where snow becomes history. Photo courtesy of Shutterstock
Wolverines resemble small bears with bushy tails. They are also known as mountain devils, gluttons, caracajou and skunk bears. They are the largest member of Mustelidae—a carnivorous family of mammals that includes otters, badgers, weasels and ferrets.
While polar bears are a highly visible species, wolverines are enchantingly difficult to spot. This is despite their inhabitation of a broad swath of the Arctic that includes northern portions of Europe, Asia and North America.  In North America, most of the populations inhabit Canada and Alaska, although several hundred individuals are estimated to live in the contiguous U.S., mostly in the northern Rocky Mountains. These populations have recently been growing, yet fears over the future of snow in the Lower 48 had federal officials considering adding wolverines to the list of threatened species. On Tuesday, the U.S. Fish & Wildlife Service ruled against the proposed wolverine listing.
Wolverines breed more slowly than most mammals, making them especially vulnerable to breeding disruptions. Once a female reaches the age of three, she normally becomes pregnant every year—but most pregnancies are strategically aborted. That's because it can take two years or more for the wolverine to forage enough carrion, fruits and berries, and to hunt enough small animals and insects, to build up the energy reserves needed to raise a litter.
Once she is ready to rear a litter, the female adopts a very specific denning strategy—one that will make it difficult for the species to survive in the parts of its territories where snow becomes history. The wolverines dig their dens in deep snow, forming living spaces around logs and rocks that include tunnels, runways and bedsites. There has never been a record of a wolverine denning in anything other than excavated snow. And whenever such a cave starts to melt, the wolverine mother abandons it.
"We have determined that habitat loss due to increasing temperatures and reduced late spring snowpack due to climate change is likely to have a significant negative population-level impact on wolverine populations in the contiguous United States," U.S. Fish & Wildlife Service (FWS) officials wrote in the proposal to list those populations as threatened.
"In the future, wolverine habitat is likely to be reduced to the point that the wolverine in the contiguous United States is in danger of extinction."
At least one senior FWS official had been pushing the agency to reject the proposal, arguing that it relies too much on "speculation" about the future effects of climate change. The agency announced on Tuesday that scientists know "too little about the ecology of the wolverine" to list it as threatened or endangered at this time. The ruling "does not close door on this issue," one official said.
It was this focus on uncertainties that was already making scientists who served on a panel that advised the government on the proposal hot under the collar.
"Myself and the other climate scientists on the panel are disappointed that they're focusing on the uncertainty, and appear to be ignoring the aspects of science that are much more certain," said Tim Link, a hydrology professor at the University of Idaho.
Wolverines and polar bears certainly aren't the only species that will feel the heat as global temperatures rise. Dozens of species of coral might be added to the endangered species list because of the combined effects of disease, warming ocean temperatures and ocean acidification. Like global warming, ocean acidification is caused by carbon dioxide pollution, which is produced by fossil fuel burning and by deforestation.
"From the history of the Endangered Species Act, if you look at the 1,500-plus species that have been listed, the overwhelming majority have not been listed because of climate change," said Mike Senator, an attorney with Defenders of Wildlife, which had been pressuring the government to list wolverines under the Act.
"It's been the loss of habitat and other threats—but that's not entirely surprising, given that climate change has been recognized as a relatively recent issue. We certainly expect that we'll see more species listed, at least in part, because of climate change."
You Might Also Like
Increase in Ocean Acidification Threatens Longevity of Shellfish and Coral
10 Success Stories Thanks to the Endangered Species Act
EcoWatch Daily Newsletter
polaristest / Flickr / CC BY-NC-ND 2.0
By Melissa Kravitz Hoeffner
Over six gallons of water are required to produce one gallon of wine. "Irrigation, sprays, and frost protection all [used in winemaking] require a lot of water," explained winemaker and sommelier Keith Wallace, who's also a professor and the founder of the Wine School of Philadelphia, the largest independent wine school in the U.S. And water waste is just the start of the climate-ruining inefficiencies commonplace in the wine industry. Sustainably speaking, climate change could be problematic for your favorite glass of wine.
Pixabay
Spinach is a true nutritional powerhouse, as it's rich in vitamins, minerals, and antioxidants.
Pexels
By Jeff Turrentine
From day to day, our public health infrastructure — the people and systems we've put in place to keep populations, as opposed to individuals, healthy — largely goes unnoticed. That's because when it's working well, its success takes the form of utter normalcy.
By Eoin Higgins
A viral video showing cell phone data collected by location accuracy company X-Mode from spring break partiers potentially spreading the coronavirus around the U.S. has brought up questions of digital privacy even as it shows convincingly the importance of staying home to defeat the disease.
Aerial shot top view Garbage trucks unload garbage to a recycle in the vicinity of the city of Bangkok, Thailand. bugto / Moment / Getty Images
German researchers have identified a strain of bacterium that not only breaks down toxic plastic, but also uses it as food to fuel the process, according to The Guardian.