This website uses cookies to ensure you get the best experience while browsing it. By clicking 'Got It' you're accepting these terms.
Wolf Killing Contest Disguised as Holiday Family Fun in Idaho
Dec. 19, 2013 09:32AM EST
By Alicia Graef
This year while most people will be enjoying a holiday break and winding down after Christmas, a hunters' rights group in Idaho has something special planned to bring people together: it will be hosting the first predator killing contest in decades to take out wolves and coyotes the weekend of Dec. 28-29.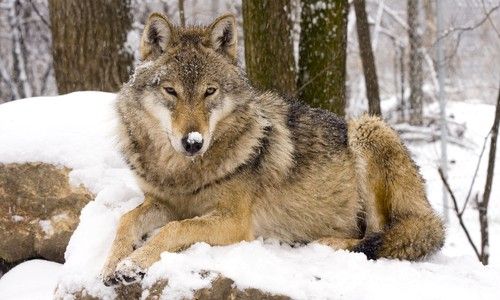 Photo courtesy of Shutterstock
The event is being sponsored by Idaho for Wildlife, which is calling the contest "an incredible opportunity to team up with your son or daughter during Christmas break and spend some quality time in the gorgeous Salmon, Idaho Country!"
The group will be awarding trophies and prize money for killing the largest wolf and most coyotes, among other things, and is offering special prizes for a youth category for children between the ages of 10 and 14.
The group states on its website that its mission is to protect the state's hunting heritage and "to fight against all legal and legislative attempts by the animal rights and anti-gun organizations" to take it away. It also claims the contest is to keep wolves in check and raise awareness about diseases.
Environmentalists and animal lovers, however, have a different take on things and are condemning the contest for what it really is: an offensive, indefensible and reckless waste of life. It isn't even about wildlife management, or hunting, but is about glorifying killing for fun and personal gain. Even many hunters agree that killing for prizes is unethical and violates fair chase.
According to Defenders of Wildlife:
Organizers of this so-called wolf derby admit that one purpose of the event is to show the world that no one can stop them from killing wolves—not you, not me, and especially not the federal government. It's a horrific demonstration of what happens when wolves are prematurely stripped of Endangered Species Act protection.
Ironically, the contest is set to start on the 40th anniversary of the Endangered Species Act. Idaho opened season on wolves two years ago after they lost federal protection. Since the season opened this year on Aug. 30, 154 wolves have already been killed.
Camilla Fox, executive director of Project Coyote, said about that contest that, "it is abundantly clear that the very practices that sent wolves to the brink of extinction still endanger their persistence."
Regardless of the species involved in these types of contests, these alleged hunters are overlooking the inherent value of the wild animals they're so determined to destroy. It's been well established that coyotes and wolves play an important role in maintaining healthy ecosystems as apex predators.  If this group were really interested in working towards balancing wildlife or protecting livestock, then this contest and the mass killing that will ensue would not be taking place.
Hopefully the people that support this type of massacre will one day realize that they are part of a world where all species, even dreaded predators, have a role to play so that all life can continue. Hopefully they will recognize the importance of fostering compassion toward all life around us.
On a brighter note, approximately one million Americans came forward to oppose stripping endangered species protections from wolves before the public comment period closed Tuesday, which is the largest number of comments ever submitted on a federal decision involving an endangered species.
Idaho's little contest just continues to prove that prematurely delisting wolves and turning management over to the states that are clearly hostile towards them will turn what could be a great conservation success story into a complete disaster.
Visit EcoWatch's BIODIVERSITY page for more related news on this topic.

EcoWatch Daily Newsletter
A vegan diet can improve your health, but experts say it's important to keep track of nutrients and protein. Getty Images
By Dan Gray
Research shows that 16 weeks of a vegan diet can boost the gut microbiome, helping with weight loss and overall health.
A healthy microbiome is a diverse microbiome. A plant-based diet is the best way to achieve this.
It isn't necessary to opt for a strictly vegan diet, but it's beneficial to limit meat intake.
New research shows that following a vegan diet for about 4 months can boost your gut microbiome. In turn, that can lead to improvements in body weight and blood sugar management.
Students gathered at the National Mall in Washington DC, Sept. 20. NRDC
By Jeff Turrentine
Nearly 20 years have passed since the journalist Malcolm Gladwell popularized the term tipping point, in his best-selling book of the same name. The phrase denotes the moment that a certain idea, behavior, or practice catches on exponentially and gains widespread currency throughout a culture. Having transcended its roots in sociological theory, the tipping point is now part of our everyday vernacular. We use it in scientific contexts to describe, for instance, the climatological point of no return that we'll hit if we allow average global temperatures to rise more than 2 degrees Celsius above preindustrial levels. But we also use it to describe everything from resistance movements to the disenchantment of hockey fans when their team is on a losing streak.
samael334 / iStock / Getty Images
Berries are small, soft, round fruit of various colors — mainly blue, red, or purple.
A glacier is seen in the Kenai Mountains on Sept. 6, near Primrose, Alaska. Scientists from the U.S. Geological Survey have been studying the glaciers in the area since 1966 and their studies show that the warming climate has resulted in sustained glacial mass loss as melting outpaced the accumulation of new snow and ice. Joe Raedle / Getty Images
By Mark Mancini
On Aug. 18, Iceland held a funeral for the first glacier lost to climate change. The deceased party was Okjökull, a historic body of ice that covered 14.6 square miles (38 square kilometers) in the Icelandic Highlands at the turn of the 20th century. But its glory days are long gone. In 2014, having dwindled to less than 1/15 its former size, Okjökull lost its status as an official glacier.
Members of Chicago Democratic Socialists of America table at the Logan Square Farmers Market on Aug. 18. Alex Schwartz
By Alex Schwartz
Among the many vendors at the Logan Square Farmers Market on Aug. 18 sat three young people peddling neither organic vegetables, gourmet cheese nor handmade crafts. Instead, they offered liberation from capitalism.
Hackney primary school students went to the Town Hall on May 24 in London after school to protest about the climate emergency. Jenny Matthews / In Pictures / Getty Images
Bird watching in the U.S. may be a lot harder than it once was, since bird populations are dropping off in droves, according to a new study.