This website uses cookies to ensure you get the best experience while browsing it. By clicking 'Got It' you're accepting these terms.
Without Passage of RESTORE Act, BP Could Get Sweet Settlement Deal
Feb. 22, 2012 09:26AM EST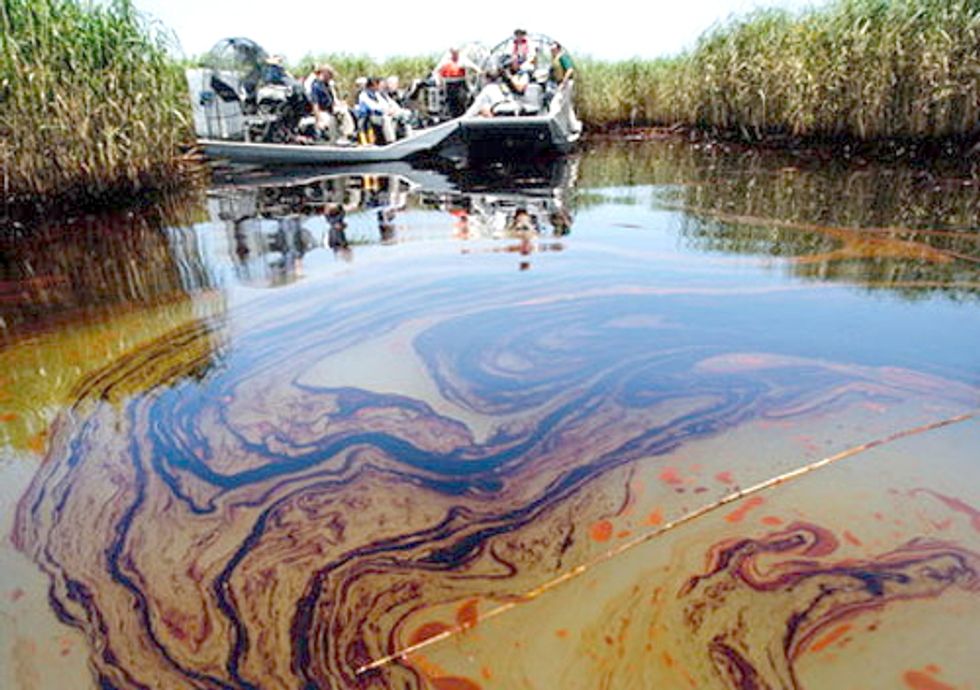 By Jaclyn McDougal
BP could soon squirm its way to a sweet settlement deal this week for the Gulf oil disaster—a move that would allow the company's pockets to continue to expand on the heels of their record profits, while leaving more uncertainty for restoring the Gulf of Mexico to an environmentally and economically healthy state.
News reports indicate that BP may be close to reaching a settlement for its part in the Gulf oil disaster. The proposed settlement allegedly requires BP to pay a mere 3 percent of the full amount of Clean Water Act (CWA) penalties it could be fined under the law. Reports suggest the agreement would require BP to pay only $142 per barrel of oil spilled into the Gulf, although CWA allows up to $4,300 per barrel to be assessed against a liable party. BP has reportedly set aside $3.5 billion in preparation for paying CWA fines, but this settlement deal would be significantly less.
The settlements do not stop there. MOEX Offshore recently settled to pay only $90 million for its part in the Deepwater Horizon blowout. The settlement would send $45 million to the federal government for penalties and restoration. In addition to paying $25 million in CWA penalty funds to the states, MOEX will acquire $20 million worth of properties containing habitat and natural resources worthy of conservation in perpetuity, and/or which will protect water quality in the Gulf of Mexico region.
According to the Department of Justice, there are no federal requirements for how the states use the penalty money.
"The states should use the $25 million in penalty funds to help the damaged Gulf ecosystems and the people in the Gulf that depend on those ecosystems for their livelihoods and quality of life," said John Kostyack, National Wildlife Federation's vice president for wildlife conservation, reacting to the initial MOEX settlement. "As far as the $20 million goes, we need a lot more transparency on where that money is going and what projects it will fund. It is hard to support this without knowing which properties will be acquired or restored and how they intend to restore water quality."
Now is a critical time to get the RESTORE Act passed—it's been nearly two years since the Gulf oil disaster. Last week Sens. Bill Nelson (D-FL) and Richard Shelby (R-AL) introduced an amendment to the Senate Transportation bill (S.1813) that would ensure BP fines from the oil spill go to the Gulf where they belong. Unless Congress takes action now, before a settlement is reached, a significant portion of the funds BP pays could be used for unrelated federal spending, instead of helping the Gulf.
For more information, click here.
EcoWatch Daily Newsletter
The Visible Infrared Imaging Radiometer Suite on the Suomi NPP satellite acquired this image of forest fire smoke hovering over North America on Aug. 15, 2018. NASA Earth Observatory
New York City isn't known for having the cleanest air, but researchers traced recent air pollution spikes there to two surprising sources — fires hundreds of miles away in Canada and the southeastern U.S.
If temperatures continue to rise, the world is at risk from global
sea-level rise
, which will flood many coastal cities as seen above in Bangladesh. NurPhoto / Contributor / Getty Images
The mounting climate emergency may spur the next global financial crisis and the world's central banks are woefully ill equipped to handle the consequences, according to a new book-length report by the Bank for International Settlements (BIS), as S&P Global reported. Located in Basel, Switzerland, the BIS is an umbrella organization for the world's central banks.
Two ice fishers with a truck cut a hole in the ice near an ice fishing hut on frozen Lake Winnebago.
Richard Hamilton Smith / Corbis NX / Getty Images
By Susan Cosier
Come February in Wisconsin, almost everything will be covered in ice and snow. In little shanties on frozen Lake Winnebago, a 30-by-13-mile lake in the eastern part of the state, fishers will keep watch over rectangular holes cut into the ice with a chainsaw. When they spot a fin passing below, they'll jab their spears down deep. The lucky ones will earn themselves a lake sturgeon, a species that has prowled the earth's waters for more than 150 million years.
Fresno, California, seen above, is receiving $66 million for walking trails, sidewalks, bike lanes, and more. DenisTangneyJr / iStock / Getty Images
Grecia Elenes grew up in Fresno, California. She says some parts of the city have been neglected for decades. When she moved back after college she realized nothing has changed.
People are seen embracing at Numeralla Rural Fire Brigade near the scene of a water tanker plane crash on Jan. 23 in Cooma, Australia. Three American firefighters have have died after their C-130 water tanker plane crashed while battling a bushfire near Cooma in southern NSW this afternoon. Jenny Evans / Getty Images
Three U.S. firefighters gave their lives battling Australia's historic wildfires Thursday when their airborne water tanker crashed.