This website uses cookies to ensure you get the best experience while browsing it. By clicking 'Got It' you're accepting these terms.
Without Passage of RESTORE Act, BP Could Get Sweet Settlement Deal
Feb. 22, 2012 09:26AM EST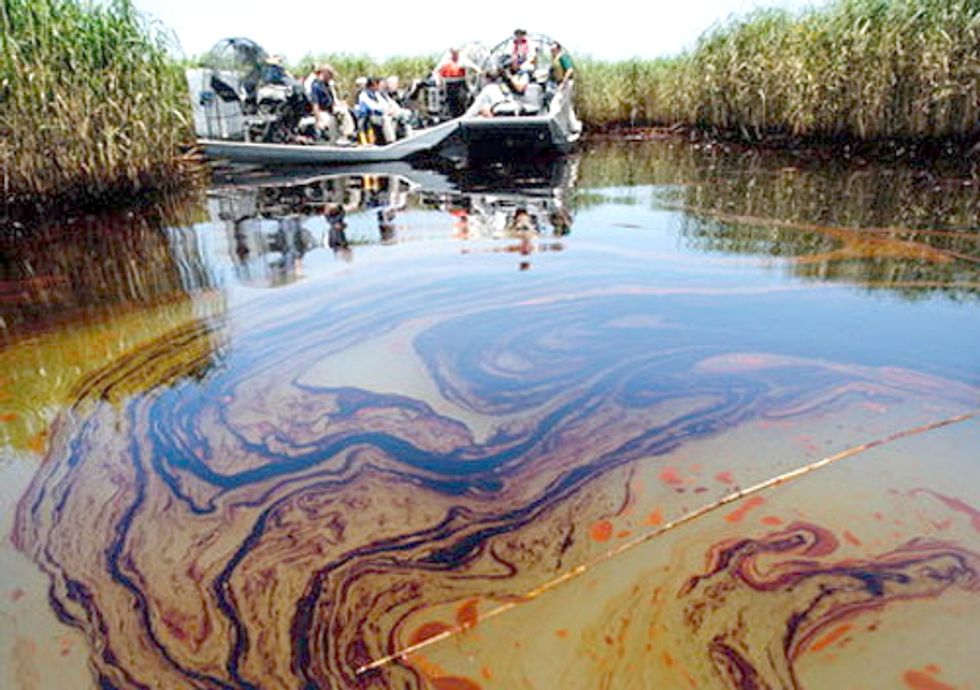 By Jaclyn McDougal
BP could soon squirm its way to a sweet settlement deal this week for the Gulf oil disaster—a move that would allow the company's pockets to continue to expand on the heels of their record profits, while leaving more uncertainty for restoring the Gulf of Mexico to an environmentally and economically healthy state.
News reports indicate that BP may be close to reaching a settlement for its part in the Gulf oil disaster. The proposed settlement allegedly requires BP to pay a mere 3 percent of the full amount of Clean Water Act (CWA) penalties it could be fined under the law. Reports suggest the agreement would require BP to pay only $142 per barrel of oil spilled into the Gulf, although CWA allows up to $4,300 per barrel to be assessed against a liable party. BP has reportedly set aside $3.5 billion in preparation for paying CWA fines, but this settlement deal would be significantly less.
The settlements do not stop there. MOEX Offshore recently settled to pay only $90 million for its part in the Deepwater Horizon blowout. The settlement would send $45 million to the federal government for penalties and restoration. In addition to paying $25 million in CWA penalty funds to the states, MOEX will acquire $20 million worth of properties containing habitat and natural resources worthy of conservation in perpetuity, and/or which will protect water quality in the Gulf of Mexico region.
According to the Department of Justice, there are no federal requirements for how the states use the penalty money.
"The states should use the $25 million in penalty funds to help the damaged Gulf ecosystems and the people in the Gulf that depend on those ecosystems for their livelihoods and quality of life," said John Kostyack, National Wildlife Federation's vice president for wildlife conservation, reacting to the initial MOEX settlement. "As far as the $20 million goes, we need a lot more transparency on where that money is going and what projects it will fund. It is hard to support this without knowing which properties will be acquired or restored and how they intend to restore water quality."
Now is a critical time to get the RESTORE Act passed—it's been nearly two years since the Gulf oil disaster. Last week Sens. Bill Nelson (D-FL) and Richard Shelby (R-AL) introduced an amendment to the Senate Transportation bill (S.1813) that would ensure BP fines from the oil spill go to the Gulf where they belong. Unless Congress takes action now, before a settlement is reached, a significant portion of the funds BP pays could be used for unrelated federal spending, instead of helping the Gulf.
For more information, click here.
EcoWatch Daily Newsletter
One of the 25 new Long Beach Transit hybrid gasoline-electric buses on April 23, 2009. Jeff Gritchen / Digital First Media / Orange County Register / Getty Images
In Long Beach, California, some electric buses can charge along their route without cords or wires.
When a bus reaches the Pine Avenue station, it parks over a special charging pad. While passengers get on and off, the charger transfers energy to a receiver on the bottom of the bus.
Semi trucks travel along I94 on June 21 near Lake forest, Illinois. Scott Olson / Getty Images
The Trump administration pushed through an exemption to clean air rules, effectively freeing heavy polluting, super-cargo trucks from following clean air rules. It rushed the rule without conducting a federally mandated study on how it would impact public health, especially children, said the Environmental Protection Agency (EPA) Inspector General Charles J. Sheehan in a report released yesterday, as the AP reported.

A time-restricted eating plan provides a new way to fight obesity and metabolic diseases that affect millions of people worldwide. RossHelen / iStock / Getty Images Plus
By Satchin Panda and Pam Taub
People with obesity, high blood sugar, high blood pressure or high cholesterol are often advised to eat less and move more, but our new research suggests there is now another simple tool to fight off these diseases: restricting your eating time to a daily 10-hour window.
Kunhui Chih / iStock / Getty Images Plus
A man and his dog walk past an H&M store in Stockholm, Sweden on March 11, 2014. Melanie Stetson Freeman / The Christian Science Monitor via Getty Images
By Ashutosh Pandey
H&M's flagship store at the Sergels Torg square in Stockholm is back in business after a months-long refurbishment. But it's not exactly business as usual here.