This website uses cookies to ensure you get the best experience while browsing it. By clicking 'Got It' you're accepting these terms.
Wisconsin's Mining Moratorium Under Attack
Jan. 04, 2013 08:40AM EST
Al Gedicks and Dave Blouin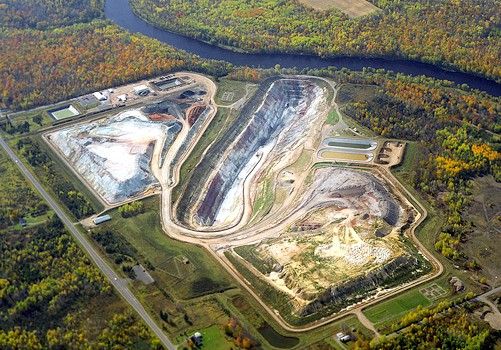 The Flambeau Mine near Ladysmith, Wisconsin before reclamation. The Wisconsin Department of Natural Resources recently completed an investigation of water quality at the Flambeau Mine site and recommended that "Stream C," a tributary of the Flambeau River into which Flambeau Mining Company has been discharging polluted runoff from the mine site since 1999, be included on its list of "impaired waters" for 2012 for "acute aquatic toxicity" caused by copper and zinc.
Wisconsin Governor Scott Walker and the mining industry have begun a major lobbying effort to overturn Wisconsin's landmark Mining Moratorium Law. The law, also known as Wisconsin's "Prove it First" law, was developed to address the problem of acid mine drainage from metallic sulfide mining.
The law requires that before the state can issue a permit for mining of sulfide ore bodies, prospective miners must first provide an example of where a metallic sulfide mine in the U.S. or Canada has not polluted surface or groundwater during or after mining. So far, the industry has not been able to find a single example where they have mined without polluting water. A recent study of metallic sulfide regulation in the Great Lakes region by the National Wildlife Federation called Wisconsin's "Prove it First" regulation an exemplary law.
Tim Sullivan, chairman of the Wisconsin Mining Association, is leading the effort to repeal the law. Sullivan is the governor's special assistant for business and workforce development and a past director of the National Mining Association. He is a former president, CEO and director of Bucyrus International, the largest mining machinery company in the world, now owned by Caterpillar Corporation. He recently told a Wisconsin Senate Mining Committee that Wisconsin's Mining Moratorium was an obstacle to new sulfide mine proposals, including Aquila Resources' gold and copper sulfide deposits in Marathon and Taylor counties in north central Wisconsin.
Mining lobbyists have cited the "success" of the partially-reclaimed Flambeau metallic sulfide mine in Ladysmith, Wisconsin, which Kennecott/Rio Tinto operated from 1993-97, as a reason for repealing "Prove it First" legislation. However, there is no scientific evidence to support such claims.
The Wisconsin Department of Natural Resources (DNR) recently completed an investigation of water quality at the Flambeau Mine site and recommended that "Stream C," a tributary of the Flambeau River into which Flambeau Mining Company (FMC) has been discharging polluted runoff from the mine site since 1999, be included on its list of "impaired waters" for 2012 for "acute aquatic toxicity" caused by copper and zinc. These illegal discharges of toxic metals are why U.S. District Judge Barbara Crabb recently ruled that FMC violated the Clean Water Act on numerous counts.
Wisconsin is now under a well-funded mining industry attack on the grassroots environmental, sportfishing and tribal movement which mobilized tens of thousands of Wisconsin citizens to successfully oppose Exxon's destructive Crandon mine at the headwaters of the Wolf River and enact Wisconsin's landmark Mining Moratorium Law. That citizen movement also supported the sovereign right of the Mole Lake Ojibwe Tribe to protect itself from any mining pollution upstream from the tribe's sacred wild rice beds. In 2003, BHP Billiton admitted defeat of the Crandon mine project and sold the mineral rights to the zinc and copper deposit to the Mole Lake Ojibwe and the Forest County Potawatomi Tribe.
Veterans of the 28-year Crandon mine battle were among those who mobilized public opinion against Gogebic Taconite's (GTac) proposal for a giant open pit iron mine in the headwaters of the Bad River watershed adjacent to the sacred wild rice beds of the Bad River Ojibwe Tribe on the shore of Lake Superior. GTac wrote legislation that exempted itself from critical environmental protections and excluded the public and the tribes from the permitting process. Strong criticism of the Iron Mining bill led to its defeat by one vote in the Wisconsin Senate last spring.
With new GOP majorities in the Wisconsin Legislature, Governor Walker, along with the WMA and Wisconsin Manufacturers and Commerce, has made passage of the Iron Mining Bill and repeal of Wisconsin's Mining Moratorium Law their top legislative priority in 2013.
Many of the new Republican legislators are unfamiliar with the Crandon mine conflict and the ongoing pollution at the closed Flambeau mine. How else can one explain the disregard for the sovereign rights of the Bad River Ojibwe Tribe, whose sacred wild rice beds and way of life are threatened by mining pollution from GTac's proposed open pit mine?
The tribe has sovereign authority, under the Clean Water Act, to protect its wild rice from mining pollution. They also have the right to be consulted about any legislation that would affect their treaty rights. So far, these rights have been ignored. Legislators rushing to accommodate the wishes of powerful corporate actors may be in for a painful reminder about the power of engaged citizens and tribes.
Live in Wisconsin? Tell your state legislator to oppose attempts to repeal the sulfide mining moratorium, and to oppose the Iron Mining bill.
--------
Al Gedicks is the executive secretary of the Wisconsin Resources Protection Council, one of the plaintiffs in the successful lawsuit against the Flambeau Mining Company. He is also the author of Resource Rebels: Native Challenges to Mining and Oil Corporations.
Dave Blouin is the mining committee chair for the Sierra Club—John Muir Chapter (WI) and co-founder of the Mining Impact Coalition of Wisconsin.
EcoWatch Daily Newsletter

georgeclerk / E+ / Getty Images
By Jennifer Molidor
One million species are at risk of extinction from human activity, warns a recent study by scientists with the United Nations. We need to cut greenhouse gas pollution across all sectors to avoid catastrophic climate change — and we need to do it fast, said the Intergovernmental Panel on Climate Change.
This research should serve as a rallying cry for polluting industries to make major changes now. Yet the agriculture industry continues to lag behind.
Edwin Remsburg / VW Pics / Getty Images
Botswana, home to one third of Africa's elephants, announced Wednesday that it was lifting its ban on the hunting of the large mammals.
"The Ministry of Environment, Natural Resources Conservation and Tourism wishes to inform the public that following extensive consultations with all stakeholders, the Government of Botswana has taken a decision to lift the hunting suspension," the government announced in a press release shared on social media.
Pxhere
By Richard Denison
Readers of this blog know how concerned EDF is over the Trump EPA's approval of many dozens of new chemicals based on its mere "expectation" that workers across supply chains will always employ personal protective equipment (PPE) just because it is recommended in the manufacturer's non-binding safety data sheet (SDS).
By Grant Smith
From 2009 to 2012, Gregory Jaczko was chairman of the Nuclear Regulatory Commission, which approves nuclear power plant designs and sets safety standards for plants. But he now says that nuclear power is too dangerous and expensive — and not part of the answer to the climate crisis.
A lake in Rocky Mountain National Park. Brett Walton / Circle of Blue
By Brett Walton
When Greg Wetherbee sat in front of the microscope recently, he was looking for fragments of metals or coal, particles that might indicate the source of airborne nitrogen pollution in Rocky Mountain National Park. What caught his eye, though, were the plastics.
Gabriele Holtermann Gorden / Pacific Press / LightRocket / Getty Images
In a big victory for animals, Prada has announced that it's ending its use of fur! It joins Coach, Jean Paul Gaultier, Giorgio Armani, Versace, Ralph Lauren, Vivienne Westwood, Michael Kors, Donna Karan and many others PETA has pushed toward a ban.
This is a victory more than a decade in the making. PETA and our international affiliates have crashed Prada's catwalks with anti-fur signs, held eye-catching demonstrations all around the world, and sent the company loads of information about the fur industry. In 2018, actor and animal rights advocate Pamela Anderson sent a letter on PETA's behalf urging Miuccia Prada to commit to leaving fur out of all future collections, and the iconic designer has finally listened.
Amer Ghazzal / Barcroft Media / Getty Images
If people in three European countries want to fight the climate crisis, they need to chill out more.
That's the conclusion of a new study from think tank Autonomy, which found that Germany, the UK and Sweden all needed to drastically reduce their workweeks to fight climate change.
Amazon Employees for Climate Justice held a press conference after the annual shareholder meeting on May 22. Amazon Employees for Climate Justice