Windmills are Beautiful

I have a cabin on Quadra Island off the British Columbia coast that's as close to my heart as you can imagine. From my porch you can see clear across the waters of Georgia Strait to the snowy peaks of the rugged Coast Mountains. It's one of the most beautiful views I have seen. And I would gladly share it with a wind farm.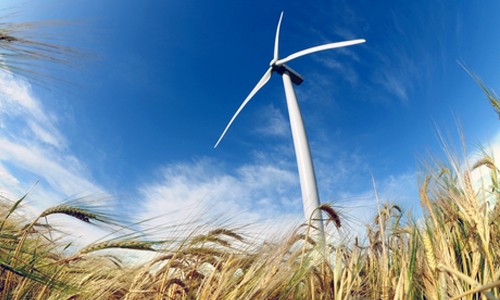 Our perception of beauty is shaped by our values and beliefs. Some people think wind turbines are ugly. I think smokestacks, smog, acid rain, coal-fired power plants and climate change are ugly. Photo credit: Shutterstock
Sometimes it seems I'm in the minority. Across Europe and North America, environmentalists and others are locking horns with the wind industry over farm locations. In Canada, opposition to wind installations has sprung up from Nova Scotia to Ontario to Alberta to B.C. In the U.K., more than 100 national and local groups, led by some of the country's most prominent environmentalists, have argued wind power is inefficient, destroys the ambience of the countryside and makes little difference to carbon emissions. And in the U.S., the Cape Wind Project, which would site 130 turbines off the coast of affluent Cape Cod, Massachusetts, has come under fire from famous liberals, including John Kerry and the late Sen. Edward Kennedy.
It's time for some perspective. With the growing urgency of climate change, we can't have it both ways. We can't shout about the dangers of global warming and then turn around and shout even louder about the "dangers" of windmills. Climate change is one of the greatest challenges humanity will face this century. Confronting it will take a radical change in the way we produce and consume energy—another industrial revolution, this time for clean energy, conservation and efficiency.
We've undergone such transformations before and we can again. But we must accept that all forms of energy have associated costs. Fossil fuels are limited in quantity, create vast amounts of pollution and contribute to climate change. Large-scale hydroelectric power floods valleys and destroys habitat. Nuclear power plants are expensive, create radioactive waste and take a long time to build.
Wind power also has its downsides. It's highly visible and can kill birds. But any man-made structure (not to mention cars and house cats) can kill birds—houses, radio towers, skyscrapers. In Toronto alone, an estimated one million birds collide with the city's buildings every year. In comparison, the risk to birds from well-sited wind farms is low. Even the U.K.'s Royal Society for the Protection of Birds says scientific evidence shows wind farms "have negligible impacts" on birds when they are appropriately located.
Improved technologies and more attention to wind farm placement can clearly reduce harm to birds, bats and other wildlife. Indeed, the real risk to flying creatures comes not from windmills but from a changing climate, which threatens the very existence of species and their habitats. Wind farms should always be subject to environmental-impact assessments, but a blanket "not in my backyard" approach is hypocritical and counterproductive.
Pursuing wind power as part of our move toward clean energy makes sense. Wind power has become the fastest-growing source of energy in the world, employing hundreds of thousands of workers. That's in part because larger turbines and greater knowledge of how to build, install and operate them has dramatically reduced costs over the past two decades. Prices are now comparable to other forms of power generation and will likely decrease further as technology improves.
But, are windmills ugly? Mostafa Tolba, executive director of the UN Environment Programme from 1976 to 1992, told me belching smokestacks were considered signs of progress when he was growing up in Egypt. Even as an adult concerned about pollution, it took him a long time to get over the pride he felt when he saw a tower pouring clouds of smoke.
Our perception of beauty is shaped by our values and beliefs. Some people think wind turbines are ugly. I think smokestacks, smog, acid rain, coal-fired power plants and climate change are ugly. I think windmills are beautiful. They harness the wind's power to supply us with heat and light. They provide local jobs. They help clean air and reduce climate change.
And if one day I look out from my cabin porch and see a row of windmills spinning in the distance, I won't curse them. I will praise them. It will mean we're finally getting somewhere.
--------
YOU ALSO MIGHT LIKE
World's Largest Sovereign Wealth Fund to Invest in Clean Energy
How Wind Energy Can Conserve Europe's Water and Save Billions
Government Encourages Clean Energy By Creating Wind Resource Centers Around the Country
--------
Laurie Woolever
By James O'Hare
There are 20 million people in the world facing famine in South Sudan, Somalia, Nigeria and Yemen. In developed nations, too, people go hungry. Venezuela, for instance, is enduring food insecurity on a national level as a result of economic crisis and political corruption. In the U.S., the land of supposed excess, 12.7 percent of households were food insecure in 2015, meaning they didn't know where their next meal would come from.
Keep reading...
Show less
Melwater, Greenland ice sheet. Diane Tuft
Artists are taking the climate crisis into frame and the results are emotional, beautiful and stirring.
So you've seen the best climate change cartoons and shared them with your friends. You've showed your family the infographics on climate change and health, infographics on how the grid works and infographics about clean, renewable energy. You've even forwarded these official National Oceanic and Atmospheric Administration graphs that explain the 10 clear indicators of climate change to your colleagues at the office.
Keep reading...
Show less
May. 27, 2017 01:11PM EST
As the Trump administration moves full speed ahead on boosting the oil and fossil fuel industry, opposition to increased pipeline construction is cropping up in different communities around the country.
Keep reading...
Show less
May. 27, 2017 01:02PM EST
Minke whale stranding near Havergate Island in Suffolk. MCGA.
By Simon Evans
Last Saturday, two dead whales washed up on the coast of Suffolk, in eastern England, and a third was spotted floating at sea.
What happened next illustrates how news can spread and evolve into misinformation, when reported by journalists rushing to publish before confirming basic facts or sourcing their own quotes.
Keep reading...
Show less
May. 27, 2017 01:22PM EST
By Monica Amarelo and Paul Pestano
Sun safety is a crucial part of any outdoor activity for kids, and sunscreen can help protect children's skin from harmful ultraviolet rays. Kids often get sunburned when they're outside unprotected for longer than expected. Parents need to plan ahead and keep sun protection handy in their cars or bags.
Keep reading...
Show less
May. 27, 2017 01:02PM EST
By Joe McCarthy
A lot of people take part in community clean-up efforts—spending a Saturday morning picking up litter in a park, mowing an overgrown field or painting a fence.
Keep reading...
Show less
May. 26, 2017 03:22PM EST
Rink Glacier in western Greenland, with a meltwater lake visible center. NASA/OIB
Scientists have had their eyes on Greenland as its iconic glaciers have begun disappearing due to a warming climate. But, what they didn't expect to see was a whole new type of melting.
Keep reading...
Show less
May. 26, 2017 03:40PM EST
A coalition of conservation groups and others announced Thursday that a historic number of comments and petitions of support have been submitted to the U.S. Department of the Interior in support of Bears Ears National Monument. Despite the entirely inadequate 15-day comment period ending on May 26, more than 685,000 comments in support of Bears Ears National Monument have been collected.
Keep reading...
Show less


Get EcoWatch in your inbox