This website uses cookies to ensure you get the best experience while browsing it. By clicking 'Got It' you're accepting these terms.
Wind Surpasses Nuclear: Proof Positive Renewables Can Power the Planet
Feb. 25, 2013 03:16PM EST
Energy
By J. Matthew Roney
Wind has overtaken nuclear as an electricity source in China. In 2012, wind farms generated two percent more electricity than nuclear power plants did, a gap that will likely widen dramatically over the next few years as wind surges ahead. Since 2007, nuclear power generation has risen by 10 percent annually, compared with wind's explosive growth of 80 percent per year.
Before the March 2011 nuclear disaster in Japan, China had 10,200 megawatts of installed nuclear capacity. With 28,000 megawatts then under construction at 29 nuclear reactors—19 of which had begun construction since 2009—officials were confident China would reach 40,000 megawatts of nuclear power by 2015 and perhaps 100,000 megawatts by 2020. The government's response to the Fukushima disaster, however, was to suspend new reactor approvals and conduct a safety review of plants in operation and under construction.
When authorities finally lifted the moratorium on approvals in October 2012, it was with the stipulation that going forward only "Generation-III" models that meet stricter safety standards would be approved. China has no experience in operating these more advanced models; several of the Generation-III reactors it has currently under construction are already facing delays due to post-Fukushima design changes or supply chain issues.
Over the course of 2011 and 2012, China connected four reactors with a combined 2,600 megawatts of nuclear generating capacity, bringing its total nuclear installations to 12,800 megawatts. Although officials still claim that China will reach 40,000 megawatts of nuclear capacity in 2015, the current pace of construction makes this appear increasingly unlikely. China's inexperience with Generation-III reactors also casts doubt on its prospects for achieving what the government now sees as a more reasonable 2020 goal, some 70,000 megawatts.
The outlook for wind in China is much more promising. Wind developers connected 19,000 megawatts of wind power capacity to the grid during 2011 and 2012, and they are expected to add nearly this much in 2013 alone. An oft-cited problem for China's wind energy sector has been the inability of the country's underdeveloped electrical grid to fully accommodate fast-multiplying wind turbines in remote, wind-rich areas. Recent efforts to expand and upgrade the grid have improved the situation: by the end of 2012, 80 percent of China's estimated 75,600 megawatts of wind capacity were grid-connected.
China should easily meet its official target of 100,000 megawatts of grid-connected wind capacity by 2015. Looking further ahead, the Chinese Renewable Energy Industry Association (CREIA) sees wind installations soaring to at least 200,000 megawatts by 2020. With the seven massive "Wind Base" mega-complexes now under construction in six provinces—slated to total at least 138,000 megawatts when complete in 2020—the CREIA projection seems well within reach.
China's overall wind energy resource is staggering. Harvard researchers estimate that China's wind generation potential is 12 times larger than its 2010 electricity consumption.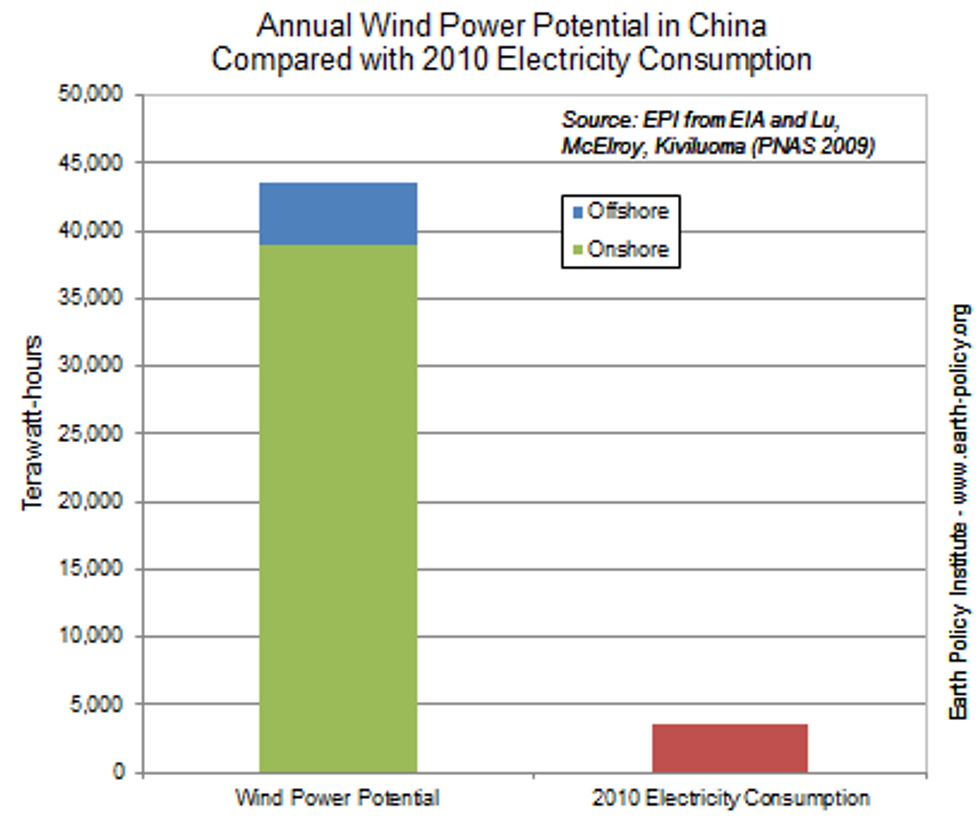 Wind power clearly has its advantages. The immense wind resource cannot be depleted; wind farms can be built quickly; they emit no climate-destabilizing carbon; and no costly fuel imports are needed to run them. (China spends billions of dollars each year importing most of the uranium needed to fuel its reactors). Wind power is also ideal for countries such as China that face severe water shortages: unlike coal and nuclear power plants, wind farms need no water for cooling. As concerns about climate change and water scarcity mount, wind becomes increasingly attractive compared to conventional electricity sources.
Visit EcoWatch's RENEWABLES and NUCLEAR page for more related news on this topic.
——–
Click here to tell Congress to Expedite Renewable Energy.

EcoWatch Daily Newsletter
General view of the empty Alma bridge, in front of the Eiffel tower, while the city imposes emergency measures to combat the Coronavirus COVID-19 outbreak, on March 17, 2020 in Paris, France. Edward Berthelot / Getty Images
Half the world is on lockdown. So, the constant hum of cars, trucks, trains and heavy machinery has stopped, drastically reducing the intensity of the vibrations rippling through the Earth's crust. Seismologists, who use highly sensitive equipment, have noticed a difference in the hum caused by human activity, according to Fast Company.
The current rate of CO2 emissions is a major event in the recorded history of Earth. EPA
At several points in the history of our planet, increasing amounts of carbon dioxide in the atmosphere have caused extreme global warming, prompting the majority of species on Earth to die out.
The "Earthrise" photograph that inspired the first Earth Day. NASA / Bill Anders
For EcoWatchers, April usually means one thing: Earth Day. But how do you celebrate the environment while staying home to prevent the spread of the new coronavirus?
Animal rights activists try to save dogs at a free market ahead of the Yulin Dog Eating Festival in Yulin city, south China's Guangxi Zhuang Autonomous Region on June 21, 2014. Jie Zhao / Corbis via Getty Images
The Great Barrier Reef, where record-high sea temperatures in February caused its most widespread coral bleaching event. JAYNE JENKINS / CORAL REEF IMAGE BANK
Tropical coral reefs are at a critical tipping point, and we've pushed them there, scientists say. Climate change may now cause previously rare, devastating coral bleaching events to occur in tropical coral reefs around the globe on a 'near-annual' basis, reported The Guardian.