This website uses cookies to ensure you get the best experience while browsing it. By clicking 'Got It' you're accepting these terms.
Wind Subsidy Cuts Could Thwart Germany's Renewable Energy Revolution
Jan. 21, 2014 09:17AM EST
Business
Germany's energy minister is expected to propose cuts to renewable energy this week, despite the country's standing as the leader in solar less than two years ago and its record-breaking day for wind power last month.
Leaked documents, believed to be prepared for a conference spanning tomorrow and Thursday, show that Energy Minister Sigmar Gabriel wants to cut aid for onshore wind turbines by as much as 20 percent in 2015, compared to last year's funding, Bloomberg reported. This comes about half a year after the country's former environmental minister said solar subsidies would be scrapped by 2018.
Gabriel says the cuts are necessary as Chancellor Angela Merkel tries to pay the costs associated with her plan to close the country's nuclear plants in favor of renewables.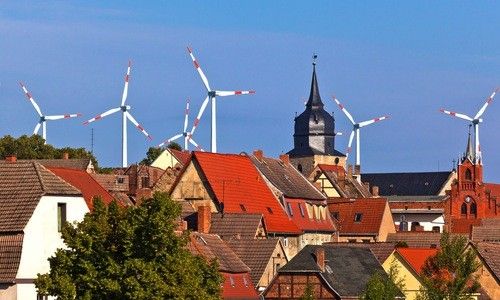 Photo courtesy of Shutterstock
Gabriel wants to limit wind-turbine subsidies to no more than 9 euro cents per kilowatt hour in 2015 and halt expansion to 2.5 gigawatts (GW) a year. Developers would get the current subsidies if their units are authorized before Jan. 22 and enter operation this year, according to the plan.
Though General Electric (GE) produces components for wind energy, a company official said he agrees with reducing subsidies for the industry.
"Germany should focus on innovation rather than subsidies and building," Stephan Reimelt, GE's head of energy in Germany, said. "There is $230 million euros of [research and development] budget for this space and $20 billion euros of subsidies for renewables."
As Europe's top economy, Germany maintains the goal of getting 80 percent of its electricity from renewables by 2050. Today, that figure is about 25 percent.
Germany was the world's biggest solar market in three of four years 2009 to 2012. Solar installations dropped from 7.6 GW to 3.3.
"Expanding solar energy into a key pillar of the energy supply is key for climate policy and by now affordable," Carsten Koernig, head of the BSW-Solar lobby, told Bloomberg.
Koernig is calling for gradual subsidy cuts, so the government doesn't "choke off" the market. Meanwhile, Sylvia Pilarsky-Grosch, president of Bundesverbandes WindEnergie, said the proposed cuts would put a halt to an "energy revolution."
"The acceptance (of renewable energy) by the people is enormous, the demand for 100-percent renewable power is growing," she said. "To successfully continue on the path ... we need a courageous policy," Pilarsky-Grosch said in a statement.
"The proposals of the minister of energy are going in the wrong direction. The energy revolution is liable to be thwarted."
Visit EcoWatch's RENEWABLES page for more related news on this topic.

EcoWatch Daily Newsletter
Colombia rainforest. Marcel Oosterwijk / CC BY-SA 2.0
Many of us think of the Amazon as an untouched wilderness, but people have been thriving in these diverse environments for millennia. Due to this long history, the knowledge that Indigenous and forest communities pass between generations about plants, animals and forest ecology is incredibly rich and detailed and easily dwarfs that of any expert.
picture-alliance / Newscom / R. Ben Ari
By Wesley Rahn
Plastic byproducts were found in 97 percent of blood and urine samples from 2,500 children tested between 2014 and 2017, according to a study by the German Environment Ministry and the Robert Koch Institute.

Pexels
Medically reviewed by Daniel Bubnis, MS, NASM-CPT, NASE Level II-CSS
Hot yoga has become a popular exercise in recent years. It offers many of the same benefits as traditional yoga, such as stress reduction, improved strength, and flexibility.
Lara Hata / iStock / Getty Images
By SaVanna Shoemaker, MS, RDN, LD
Rice is a staple in many people's diets. It's filling, inexpensive, and a great mild-tasting addition to flavorful dishes.
An image of the trans-alaskan oil pipeline that carries oil from the northern part of Alaska all the way to valdez. This shot is right near the arctic national wildlife refuge. kyletperry / iStock / Getty Images Plus
The Trump administration has initialized the final steps to open up nearly 1.6 million acres of the protected Alaskan National Wildlife Refuge to allow oil and gas drilling.
Kaboompics / Pexels
Tensions between lawmakers and several large manufacturing companies came to a head on Capitol Hill this week during a hearing on toxic fluorochemicals in U.S. drinking water.