This website uses cookies to ensure you get the best experience while browsing it. By clicking 'Got It' you're accepting these terms.
Wind Subsidy Cuts Could Thwart Germany's Renewable Energy Revolution
Jan. 21, 2014 09:17AM EST
Business
Germany's energy minister is expected to propose cuts to renewable energy this week, despite the country's standing as the leader in solar less than two years ago and its record-breaking day for wind power last month.
Leaked documents, believed to be prepared for a conference spanning tomorrow and Thursday, show that Energy Minister Sigmar Gabriel wants to cut aid for onshore wind turbines by as much as 20 percent in 2015, compared to last year's funding, Bloomberg reported. This comes about half a year after the country's former environmental minister said solar subsidies would be scrapped by 2018.
Gabriel says the cuts are necessary as Chancellor Angela Merkel tries to pay the costs associated with her plan to close the country's nuclear plants in favor of renewables.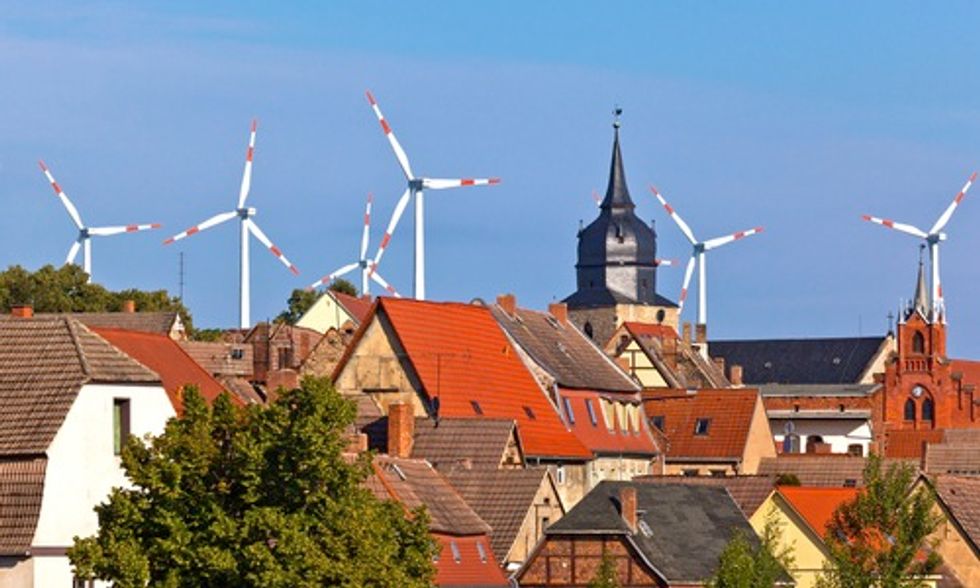 Photo courtesy of Shutterstock
Gabriel wants to limit wind-turbine subsidies to no more than 9 euro cents per kilowatt hour in 2015 and halt expansion to 2.5 gigawatts (GW) a year. Developers would get the current subsidies if their units are authorized before Jan. 22 and enter operation this year, according to the plan.
Though General Electric (GE) produces components for wind energy, a company official said he agrees with reducing subsidies for the industry.
"Germany should focus on innovation rather than subsidies and building," Stephan Reimelt, GE's head of energy in Germany, said. "There is $230 million euros of [research and development] budget for this space and $20 billion euros of subsidies for renewables."
As Europe's top economy, Germany maintains the goal of getting 80 percent of its electricity from renewables by 2050. Today, that figure is about 25 percent.
Germany was the world's biggest solar market in three of four years 2009 to 2012. Solar installations dropped from 7.6 GW to 3.3.
"Expanding solar energy into a key pillar of the energy supply is key for climate policy and by now affordable," Carsten Koernig, head of the BSW-Solar lobby, told Bloomberg.
Koernig is calling for gradual subsidy cuts, so the government doesn't "choke off" the market. Meanwhile, Sylvia Pilarsky-Grosch, president of Bundesverbandes WindEnergie, said the proposed cuts would put a halt to an "energy revolution."
"The acceptance (of renewable energy) by the people is enormous, the demand for 100-percent renewable power is growing," she said. "To successfully continue on the path ... we need a courageous policy," Pilarsky-Grosch said in a statement.
"The proposals of the minister of energy are going in the wrong direction. The energy revolution is liable to be thwarted."
Visit EcoWatch's RENEWABLES page for more related news on this topic.

EcoWatch Daily Newsletter
Germany reached an agreement Thursday that will allow it to stop burning coal by 2038.
This photograph shows green photosynthetic cyanobacteria growing and mineralizing in the sand-hydrogel framework. The living material has similar strength to cement-base mortar. College of Engineering and Applied Science at Colorado University Boulder /
EurekAlert!
Cement is a remarkable building material; it's cheap, durable and readily available. However, its production is a leading source of carbon dioxide emissions, coughing up 2.8 gigatons of emissions every year, as Advanced Science News reported.
Internal documents from the Department of Homeland Security reveal that non-violent demonstrators targeting the oil industry were classified as "extremists," with some organization members listed alongside known white supremacists, as The Guardian reported.
An additional 2,100 deaths from fatal injuries may occur in the U.S. every year from a 2 C rise in temperatures, which could have grave implications for global changes associated with the climate crisis.