Wind Power Guru: Nukes Fail to Gain Traction in Monumental Paris Accord
Paul Gipe is one of the world's great Solartopian pioneers. His early work on wind power helped make the industry possible. His website publishes some of the most up-to-date and reliable information on the wind and solar industry. His books form the basic library for the progress of wind energy. His newest book, Wind Energy for the Rest of Us: A Comprehensive Gide to Wind Power and How to Use It, will be available in mid-2016.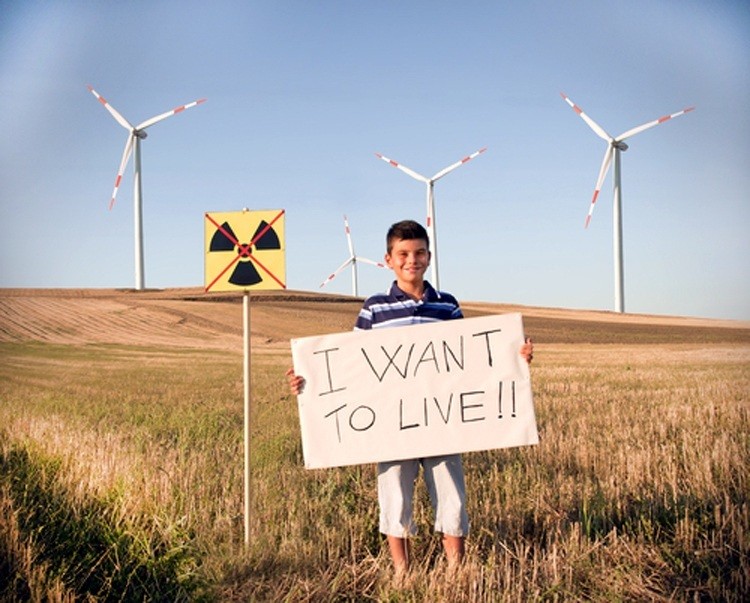 Photo credit: Shutterstock
Based in Bakersfield, California, Gipe is known throughout the business as a brash, independent straight shooter with an incorruptible vision of a green-powered economy and how to best get there.
So when I interviewed him recently on my Solartopia radio show, I was curious to hear his reactions to the Paris accord, since some time has passed to let the dust settle.
But Gipe's take on this landmark agreement comes from well outside the mainstream. Gipe is devoted to community-controlled energy and to the integrity of the green technologies that will take us there.
Gipe minces no words about the horrors of nuclear power. And recent reports of a rising death toll of "Nuclear Gypsies" being sacrificed at Fukushima have not made things any better.
But for Gipe, "Paris was a watershed event," especially with the failure of the nuclear industry to gain real traction there.
Gipe said:
"The world, for the first time, agreed there is a problem with climate change and that we should do something about it. This occurred despite two decades of a sophisticated campaign to downplay and even deny that climate change was occurring.
"Further, several states, regions and provinces agreed for the need to put a price on carbon and numerous cities announced plans to meet 100 percent of their energy needs with renewables.
"There appeared to be a consensus that renewable energy's time has come and that renewables are the future. Regardless of a massive lobbying effort by the nuclear industry there was a sentiment that nuclear is too little, too late and too expensive.
"Another indication of the success of Paris in drawing attention to climate change and need for action has been the shrill cry of right-wing shills for the fossil-fuel industry calling the event a 'sham' because COP 21 didn't include binding targets. They know what happened in Paris and like cornered beasts are reacting with tooth and claw to slow or stop progress toward our renewable future.
"Of course, Paris could have done much more, but considering the opposition of the most powerful corporations on Earth and the nations that profit from the burning of fossil fuels reaching agreement on the need for action is historic.
"Quickly on the heels of Paris, the U.S. Congress, where the party in power in both chambers publicly denies climate change, voted overwhelmingly to renew and extend the subsidies for solar and wind energy. While the wrong policy, the vote revealed that the party's rhetoric about its opposition to subsidies and subsidies particularly to renewable energy is simply a charade."
Gipe concluded though that there's ample room for skepticism. He said that there's no doubting which way the future is going. The Koch Brothers with their fossil/nuclear investments have a lot of clout. But time is not on their side. And when the GOP sides with the renewable energy industry, it's only because there's sufficient financial clout to drive it there.
"There's money to be made in renewables and a lot of it as the world moves toward renewable energy," Gipe said. "Even the Republican party sees that."
And if the Republican party is lining up even partially around renewables, the end for King CONG (Coal, Oil, Nukes & Gas) has surely drawn near.
Here's my interview with Gipe:
Harvey Wasserman hosts the Solartopia Green Power & Wellness Show at www.prn.fm. He edits www.nukefree.org and his America at the Brink of Rebirth: The Organic Spiral of U.S. History will be published soon.
YOU MIGHT ALSO LIKE
Mark Jacobson to James Hansen: Nukes Are Not Needed to Solve World's Climate Crisis
Renewable Energy Soars Amid Plummeting Fossil Fuel Prices
Paris Fails to Revive the Nuclear Dream
Bill Maher is sick of billionaires' obsession with Mars, more like "Mars-a-Lago," he said.
In a new animation produced by ATTN:, the popular talk show host of Real Time, discusses the perils of our planet, including how "climate change is killing us."
Keep reading...
Show less
Dr. Benjamin D. Santer, research scientist
A group of prominent climate scientists have written a study explicitly refuting statements made by the U.S. Environmental Protection Agency Administrator Scott Pruitt on climate data. During his Senate confirmation hearing, Pruitt claimed in a written response that satellite data shows a "leveling off" of warming over the past two decades.
Keep reading...
Show less
By David Pomerantz
The Nevada Assembly passed a bill Wednesday that would dramatically increase the growth of renewable energy in the state, but Sheldon Adelson, the casino magnate and major donor to Donald Trump, is attempting to prevent the bill from becoming law.
Keep reading...
Show less
Matt Crossick
By Yosola Olorunshola
Whether it's through fashion or protest, Vivienne Westwood is not a woman afraid of making a statement.
On May 23, she rocked up to the residence of the Archbishop of Canterbury in London with a special guest—the Grim Reaper—to issue a strong statement on the Church of England's position on fracking.
Keep reading...
Show less
Military veterans from across Virginia released a letter Thursday opposing two proposed fracked-gas pipelines: Dominion Energy's Atlantic Coast Pipeline and EQT's Mountain Valley Pipeline. These pipelines would cross through pristine areas of Virginia, taking private property by use of eminent domain, removing mountain ridgetops and threatening valuable drinking water resources. The veterans view this as contrary to their service to protect and defend the freedom and security of American citizens.

Keep reading...
Show less
By Paul Brown
The food industry and big agricultural concerns are driving climate change and at the same time threatening to undermine efforts to feed the world's growing population, according to GRAIN, an organization that supports small farmers.
Particularly singled out for criticism are the large chemical fertilizer producers that have gained access to the United Nations talks on climate change. GRAIN accuses them of behaving like the fossil fuel companies did in the 1990s, pushing false information in the hope of delaying real action on climate change.
Keep reading...
Show less
May. 24, 2017 06:55PM EST
By Sydney Robinson
President Trump has no doubt been given a long list of extravagant, elaborate gifts in his lifetime, but the gift given to him today by Pope Francis may not make it on his most favorite list.
Keep reading...
Show less
May. 24, 2017 07:17PM EST
By John Rogers
Maybe it's because I first started working on clean energy while serving in the Peace Corps he founded, or maybe it's my years of working on these issues from his home state. But I can't help thinking about the 100th anniversary of John F. Kennedy's birth, and connecting his stirring rhetoric to the energy challenges of our times.
Here's what our 35th president might have said about the challenges of energy transition and the opportunities in clean energy:
"Change is the law of life. And those who look only to the past or present are certain to miss the future."
Keep reading...
Show less


Get EcoWatch in your inbox