This website uses cookies to ensure you get the best experience while browsing it. By clicking 'Got It' you're accepting these terms.
Wind Power Guru: Nukes Fail to Gain Traction in Monumental Paris Accord
Jan. 04, 2016 01:13PM EST
Paul Gipe is one of the world's great Solartopian pioneers. His early work on wind power helped make the industry possible. His website publishes some of the most up-to-date and reliable information on the wind and solar industry. His books form the basic library for the progress of wind energy. His newest book, Wind Energy for the Rest of Us: A Comprehensive Gide to Wind Power and How to Use It, will be available in mid-2016.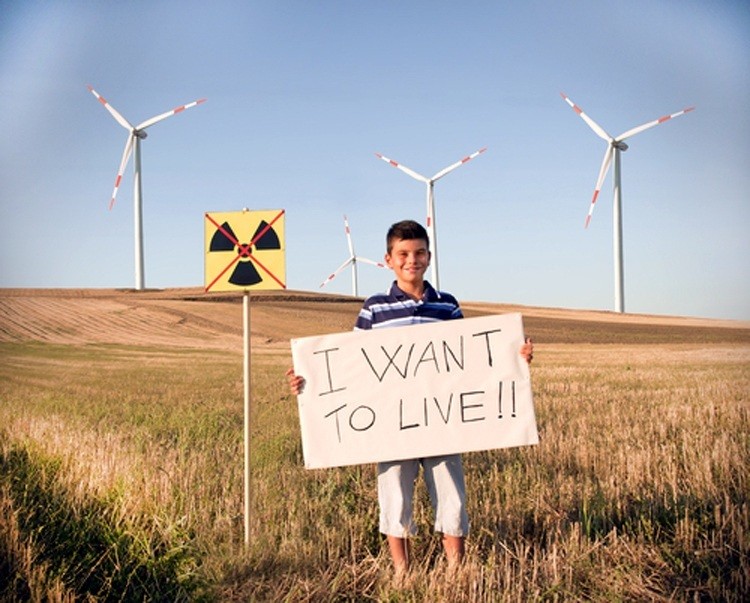 Photo credit: Shutterstock
Based in Bakersfield, California, Gipe is known throughout the business as a brash, independent straight shooter with an incorruptible vision of a green-powered economy and how to best get there.
So when I interviewed him recently on my Solartopia radio show, I was curious to hear his reactions to the Paris accord, since some time has passed to let the dust settle.
But Gipe's take on this landmark agreement comes from well outside the mainstream. Gipe is devoted to community-controlled energy and to the integrity of the green technologies that will take us there.
Gipe minces no words about the horrors of nuclear power. And recent reports of a rising death toll of "Nuclear Gypsies" being sacrificed at Fukushima have not made things any better.
But for Gipe, "Paris was a watershed event," especially with the failure of the nuclear industry to gain real traction there.
Gipe said:
"The world, for the first time, agreed there is a problem with climate change and that we should do something about it. This occurred despite two decades of a sophisticated campaign to downplay and even deny that climate change was occurring.
"Further, several states, regions and provinces agreed for the need to put a price on carbon and numerous cities announced plans to meet 100 percent of their energy needs with renewables.
"There appeared to be a consensus that renewable energy's time has come and that renewables are the future. Regardless of a massive lobbying effort by the nuclear industry there was a sentiment that nuclear is too little, too late and too expensive.
"Another indication of the success of Paris in drawing attention to climate change and need for action has been the shrill cry of right-wing shills for the fossil-fuel industry calling the event a 'sham' because COP 21 didn't include binding targets. They know what happened in Paris and like cornered beasts are reacting with tooth and claw to slow or stop progress toward our renewable future.
"Of course, Paris could have done much more, but considering the opposition of the most powerful corporations on Earth and the nations that profit from the burning of fossil fuels reaching agreement on the need for action is historic.
"Quickly on the heels of Paris, the U.S. Congress, where the party in power in both chambers publicly denies climate change, voted overwhelmingly to renew and extend the subsidies for solar and wind energy. While the wrong policy, the vote revealed that the party's rhetoric about its opposition to subsidies and subsidies particularly to renewable energy is simply a charade."
Gipe concluded though that there's ample room for skepticism. He said that there's no doubting which way the future is going. The Koch Brothers with their fossil/nuclear investments have a lot of clout. But time is not on their side. And when the GOP sides with the renewable energy industry, it's only because there's sufficient financial clout to drive it there.
"There's money to be made in renewables and a lot of it as the world moves toward renewable energy," Gipe said. "Even the Republican party sees that."
And if the Republican party is lining up even partially around renewables, the end for King CONG (Coal, Oil, Nukes & Gas) has surely drawn near.
Here's my interview with Gipe:
Harvey Wasserman hosts the Solartopia Green Power & Wellness Show at www.prn.fm. He edits www.nukefree.org and his America at the Brink of Rebirth: The Organic Spiral of U.S. History will be published soon.
YOU MIGHT ALSO LIKE
Mark Jacobson to James Hansen: Nukes Are Not Needed to Solve World's Climate Crisis
Renewable Energy Soars Amid Plummeting Fossil Fuel Prices
Paris Fails to Revive the Nuclear Dream
Plus, learn if there's one that's best for your health.
Catherine Falls Commercial / Moment / Getty Images
An invasive Amynthas worm, also known as a crazy snake worm, Asian jumping worm and Alabama jumper Tom Potterfield / Flickr
By Jason Bittel
My wife and I built a house two years ago on a few acres of woodland outside of Pittsburgh. The backyard is full of maples, poplars, briars and common spicebush. Two-lined salamanders and grumpy-looking crayfish wade among the rocks in the small stream that runs down the edge of the property. Deer, raccoon and opossum tracks appear regularly in the snow and mud. Sometimes, my trail-cam even catches a pair of gray foxes as they slink through the night.
AleksandarNakic / Getty Images
By Kate Murphy
No matter the time of year, there's always a point in each season when my skin decides to cause me issues. While these skin issues can vary, I find the most common issues to be dryness, acne and redness.

David Woodfall / The Image Bank / Getty Images
By Sam Nickerson
The U.S. Environmental Protection Agency (EPA) in April 2018 proposed relaxing standards related to how it assesses the effects of exposure to low levels of toxic chemicals on public health.
Now, correspondence obtained by the LA Times revealed just how deeply involved industry lobbyists and a controversial, industry-funded toxicologist were in drafting the federal agency's proposal to scrap its current, protective approach to regulating toxin exposure.
Steve Irwin poses with a three foot long alligator at the San Francisco Zoo on June 26, 2002. Justin Sullivan / Getty Images
February 22 is the birthday of conservationist and beloved TV personality "Crocodile Hunter" Steve Irwin, who would have been 57 years old today.
Irwin's life was tragically cut short when the barb from a stingray went through his chest while he was filming in 2006, but his legacy of loving and protecting wildlife lives on, most recently in a Google Doodle today honoring his birthday.