This website uses cookies to ensure you get the best experience while browsing it. By clicking 'Got It' you're accepting these terms.
Wind Power Could Become Nation's Largest Source of Energy by 2050 With Deployment in All 50 States
May. 27, 2015 09:47AM EST
Business
Wind power could become even more prevalent in the U.S. than previously expected, according to a new report released last week from the Department of Energy (DOE), Enabling Wind Power Nationwide. The new report, which was announced at the American Wind Energy Association's WINDPOWER Conference in Orlando, Florida, finds that there is wind power potential in nearly the entire U.S., even in places that were previously thought to have insufficient wind to generate electricity.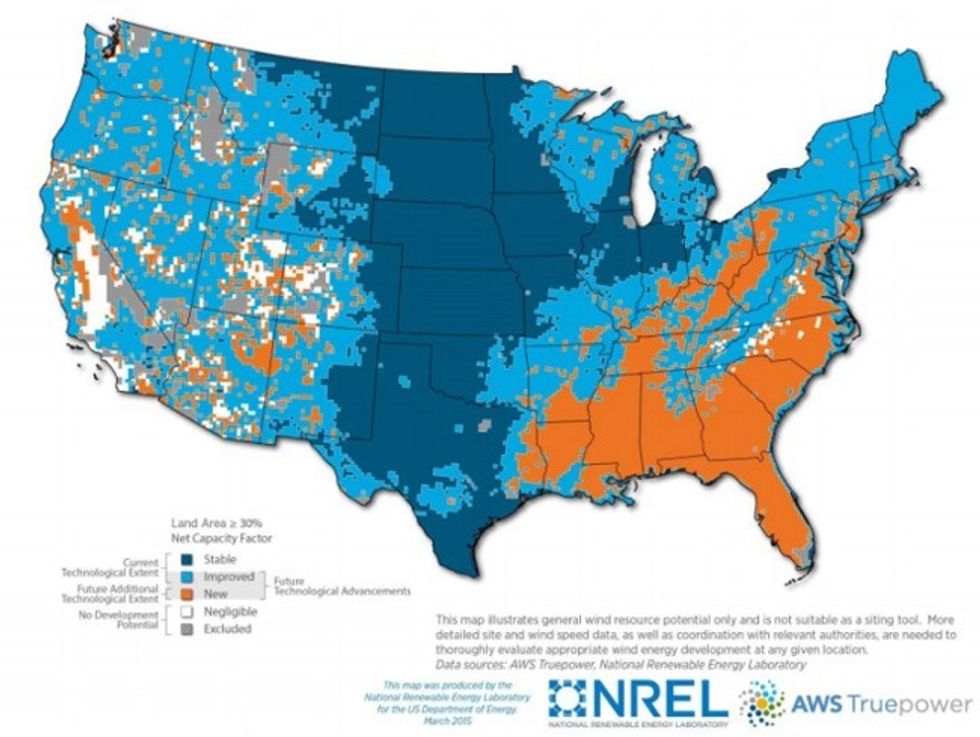 According to the report, the U.S. has the ability to "unlock the vast potential for wind energy deployment in all 50 states" because of next-generation wind turbines. These taller turbines with longer blades, which are currently under development by the DOE and its private industry partners will be able to capture the wind more effectively at higher altitudes where the wind is usually stronger and more constant, says the report.
There's potential to "unlock wind resources in regions with limited wind deployment today, such as the Southeast," says the report. "These new regions represent an additional 700,000 square miles—or about one-fifth of the U.S.—bringing the total area of technical wind potential to 1.8 million square miles."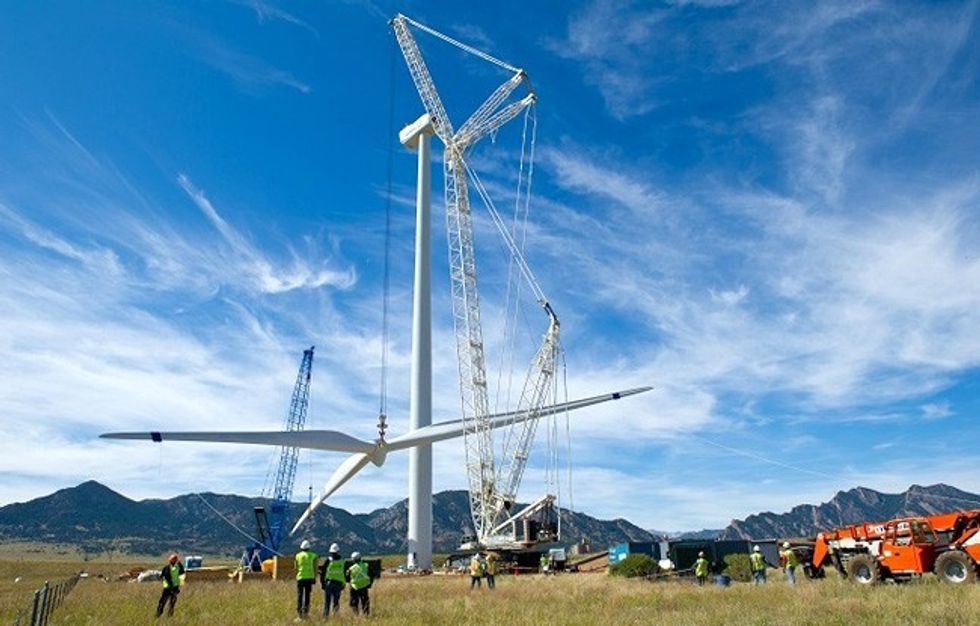 Wind energy installation has skyrocketed in recent years. Wind and solar provided all of the new generating capacity in April, and, along with some geothermal and hydropower, these renewables provided 84 percent of the 1,900 MW of new U.S. electrical generating capacity placed into service during the first third of 2015.
"Wind generation has more than tripled in the United States in just six years, exceeding 4.5 percent of total generation, and we are focused on expanding its clean power potential to every state in the country," said Energy Secretary Ernest Moniz. "By producing the next generation of larger and more efficient wind turbines, we can create thousands of new jobs and reduce greenhouse gas emissions, as we fully unlock wind power as a critical national resource."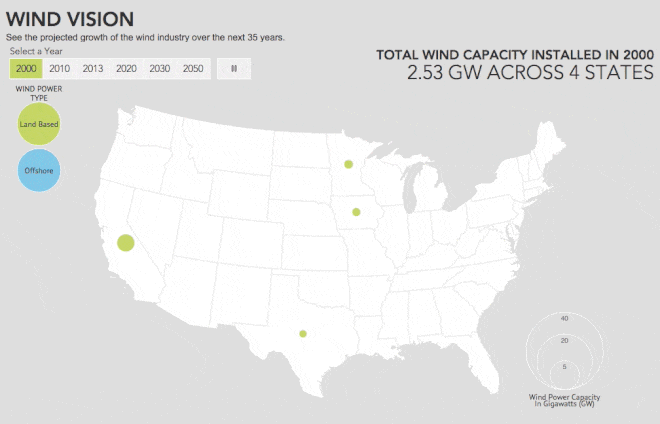 The DOE says these advanced wind energy systems "will generate more electricity per dollar invested and further drive down the cost of wind energy." Currently, wind energy produces less than 5 percent of all electricity, but by mid century, it could become the country's largest source of power, according to an earlier report from the DOE this spring. The report found that wind power could generate 35 percent of U.S. electricity by 2050.
YOU MIGHT ALSO LIKE
Wind and Solar Provide 100% of New Generating Capacity in April
Giant Solar Floating Farm Could Produce 8,000 Tons of Vegetables Annually
Which Country Will Be First to Go Completely Underwater Due to Climate Change?
EcoWatch Daily Newsletter
A harbour seal on an ice floe in Glacier Bay, Alaska. A new study shows that the climate crisis has warmed waters, changing ecosystems and crippling sea ice growth. Janette Hill / robertharding / Getty Images Plus
Doctors report that only 1 in 4 children are getting the recommended 60 minutes of physical activity per day. Ronnie Kaufman / DigitalVision / Getty Images
By Dan Gray
Pediatricians are being urged to start writing "exercise prescriptions" for the children they see in their office.
A First Nations protester walks in front of a train blockade in Tyendinaga, near Belleville, Ontario, Canada on Feb. 21, 2020. LARS HAGBERG / AFP via Getty Images
An indigenous rail blockade that snarled train travel in Canada for more than two weeks came to an end Monday when police moved in to clear protesters acting in solidarity with another indigenous community in British Columbia (B.C.), which is fighting to keep a natural gas pipeline off its land.
A rainbow snake, a rare reptile spotted in a Florida county for the first time in more than 50 years, seen here on July 5, 2013.
Kevin Enge / FWC Fish and Wildlife Research Institute / Flickr
A Florida hiker recently stumbled across a slithering surprise — a rare snake that hadn't been spotted in the area for more than 50 years.
We need our government to do everything it can to stop PFAS contamination and exposure from wreaking havoc in communities across the country. LuAnn Hun /
Unsplash
By Genna Reed
The EPA announced last week that it is issuing a preliminary regulatory determination for public comment to set an enforceable drinking water standard to two of the most common and well-studied PFAS, PFOA and PFOS.
This decision is based on three criteria:
PFOA and PFOS have an adverse effect on public health
PFOA and PFOS occur in drinking water often enough and at levels of public health concern;
regulation of PFOA and PFOS is a meaningful opportunity for reducing the health risk to those served by public water systems.