This website uses cookies to ensure you get the best experience while browsing it. By clicking 'Got It' you're accepting these terms.
11 Reasons to Celebrate Wind Energy's Record Year
Apr. 19, 2017 12:20PM EST
Popular
By John Hensley

AWEA released its U.S. Wind Industry Annual Market Report, Year Ending 2016 today, which showcases strong, steady growth throughout the year.
---
Wind power became the largest source of renewable generating capacity and supplied record amounts of wind energy to many parts of the country. Strong wind project construction, a growing manufacturing sector and the increasing need for wind turbine technicians and operators allowed the industry to add jobs at a rate nine times faster than the overall job market, as wind employment grew to a record 102,500.
Technology advances resulted in more productive turbines, with recent generations achieving average capacity factors more than 40 percent, all while costs continued to fall. And the industry saw the installation of the country's first offshore wind project off the coast of Rhode Island.
Here are the top 11 wind industry trends in 2016:
1. Record Wind Jobs
For the first time in history, there are more than 100,000 Americans employed in the U.S. wind energy industry. Strong wind construction activity throughout the year, combined with a strengthening wind manufacturing sector and growing need for personnel to operate and maintain more than 52,000 wind turbines, allowed the industry to add nearly 15,000 full-time equivalent jobs in 2016.
That brings total U.S. wind industry jobs to 102,500. Impressively, the U.S. wind industry added jobs more than nine times faster than the overall economy. Strong wind project installation, construction, and development activity, combined with strong wind-related manufacturing activity, and over 52,000 wind turbines to operate and maintain, led wind jobs to grow 16.5 percent. That's compared to 1.8 percent for the overall U.S. job market.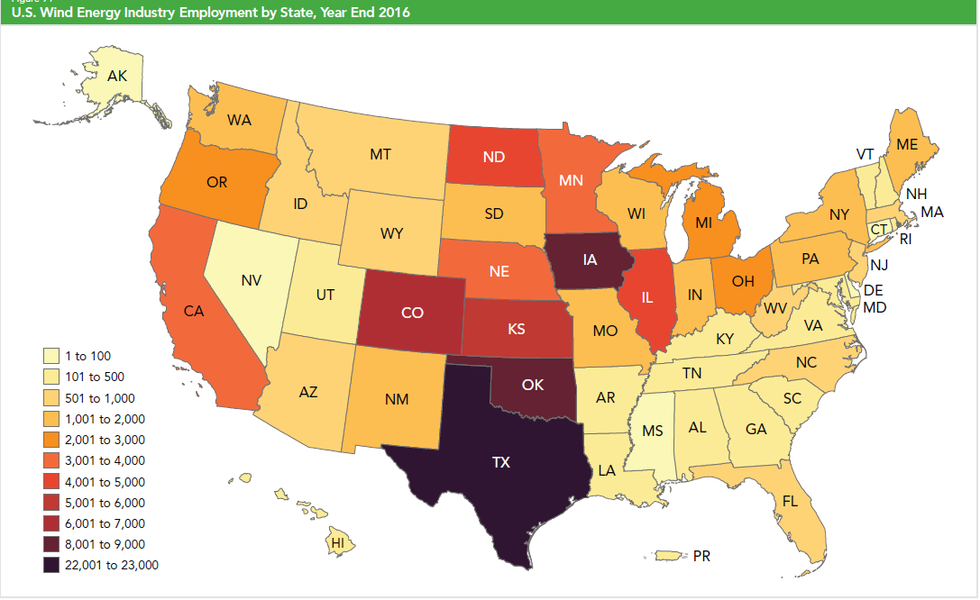 2. Wind #1 Source of Renewable Generating Capacity

Wind energy passed hydroelectric power to become the number one source of renewable generating capacity in 2016. With federal policy stability secured, the U.S. wind industry installed 8,203 megawatts (MW) in 2016 and the industry now has 82,143 MW installed overall, enough wind power for the equivalent of 24 million American homes.

3. Generation Records Set
Wind energy delivered more than 30 percent of the electricity produced in Iowa and South Dakota in 2016. Kansas, Oklahoma and North Dakota generated more than 20 percent of their electricity from wind, while 20 states now produce more than five percent of their electricity from wind energy. ERCOT, the main grid operator for most of Texas, and SPP, which operates across parts of 14 states, competed for new wind power penetration records throughout 2016, both topping 50 percent wind energy on several occasions.
4. U.S. Manufacturing Sector Growth
Wind energy continues to fuel the domestic manufacturing sector, with more than 500 factories across 41 states producing components for the U.S. wind industry in 2016. Domestic wind-related manufacturing jobs grew 17 percent to more than 25,000 as three new factories began supplying the wind industry and five plants expanded production.
5. Technology Boosts Productivity
Technological advances allow wind turbines to reach stronger, steadier winds, and more sophisticated control systems are increasing the amount of electricity modern wind turbines generate. Wind turbines built in 2014 and 2015 achieved capacity factors more than 40 percent during 2016. At the same time, the cost of wind energy dropped more than 66 percent between 2009 and 2016.
6. Corporations and Utilities Want Wind
Fortune 500 companies, electric utilities and others signed 47 power purchase agreements totaling more than 4,000 MW during 2016. In doing so, they cited the declining costs and stable price of wind power as factors. Utilities submitted Integrated Resource Plans detailing at least 14,000 MW in wind power additions in the past two years.
7. Record Wind Enters Queue
67 gigawatts of newly proposed wind projects were added to interconnection queues in 2016, the largest since the addition of 67.3 GW in 2009. This brings total wind capacity in the queues to 136.8 GW, the highest level in five years.
8. Improving the Transmission Grid
Transmission expansion to serve wind continues, particularly in MISO and SPP. A number of proposed interregional Direct Current transmission lines have now also cleared final permitting hurdles. In total, transmission projects that could support the delivery of nearly 52,000 MW of wind energy over the next five years are currently under development, though not all are likely to be built.
9. Wind Benefits Every State
More than 74 percent of U.S. congressional districts have operational wind energy projects or active wind-related manufacturing facilities, including 77 percent of Republican districts and 69 percent of Democratic districts. The industry invested more than $14.1 billion in new wind projects and supported 102,500 jobs across all 50 states.
10. Wind Reduces Emissions and Saves Water
Operational wind projects avoided 393 million pounds of sulfur dioxide and 243 million pounds of nitrogen oxide. These pollutants create smog and trigger asthma attacks, so reducing them saved $7.4 billion in public health costs last year. Meanwhile, operating wind projects avoided the consumption of 87 billion gallons of water, equivalent to 266 gallons per person in the U.S.
11. Offshore Wind Debut
The
first offshore wind project
in the U.S. began operating in late 2016. The five turbine, 30 MW Block Island wind farm is located three miles off the coast of Rhode Island, near Block Island.
EcoWatch Daily Newsletter
Protesters gathered outside US Bank and Wells Fargo locations around the U.S. to protest investment in the Dakota Access Pipeline on Dec. 1, 2016. This photo is from a protest outside US Bank in south Minneapolis, Minnesota.
Fibonacci Blue / CC BY 2.0
By Jake Johnson
As a growing number of states move to pass laws that would criminalize pipeline protests and hit demonstrators with years in prison, an audio recording obtained by The Intercept showed a representative of a powerful oil and gas lobbying group bragging about the industry's success in crafting anti-protest legislation behind closed doors.
Reposted with permission from our media associate Common Dreams.

DESIREE MARTIN / AFP / Getty Images
Wildfires raging on Gran Canaria, the second most populous of Spain's Canary Islands, have forced around 9,000 people to evacuate.
Wolves in Mount Rainier, Washington. Ron Reznick / VW Pics / Universal Images Group via Getty Images
The last four members of an embattled wolf pack were killed in Washington State Friday, hours before the court order that could have saved them.
Aerial view of lava flows from the eruption of volcano Kilauea on Hawaii, May 2018. Frizi / iStock / Getty Images
Hawaii's Kilauea volcano could be gearing up for an eruption after a pond of water was discovered inside its summit crater for the first time in recorded history, according to the AP.
Plateau Creek near De Beque, Colorado, where land has been leased for oil and gas production. Helen H. Richardson / The Denver Post / Getty Images
By Randi Spivak
Slashing two national monuments in Utah may have received the most attention, but Trump's Interior Department and U.S. Forest Service have been quietly, systematically ceding control of America's public lands to fossil fuel, mining, timber and livestock interests since the day he took office.
Global SO2 Emission Hotspot Database / Greenpeace
A new report by Greenpeace International pinpointed the world's worst sources of sulfur dioxide pollution, an irritant gas that harms human health. India has seized the top spot from Russia and China, contributing nearly 15 percent of global sulfur dioxide emissions.
The huge surge this year in Amazon deforestation is leading some European countries to think twice about donations to the Amazon Fund. LeoFFreitas / Moment / Getty Images
By Sue Branford and Thais Borges
Ola Elvestrun, Norway's environment minister, announced Thursday that it is freezing its contributions to the Amazon Fund, and will no longer be transferring €300 million ($33.2 million) to Brazil. In a press release, the Norwegian embassy in Brazil stated:
Gina Lopez, the Philippine secretary of the environment, at a meeting with residents affected by a mine tailing disaster. Keith Schneider
Gina Lopez, a former Philippine environment secretary, philanthropist and eco-warrior, died on Aug. 19 from brain cancer. She was 65.