This website uses cookies to ensure you get the best experience while browsing it. By clicking 'Got It' you're accepting these terms.
Wind Energy Blows Away Records Throughout Europe
Jan. 16, 2014 03:59PM EST
By Michael Goggin
The data is in, and 2013 went out with a bang as wind energy output soared to new records across Europe. Electricity prices and air pollution dropped as wind energy drastically reduced fossil fuel use during high winter energy demand. Ireland, Denmark, Spain, Portugal, Germany, and the UK all saw noteworthy wind output records broken with no electric reliability problems. Below, we summarize the news that has just broken.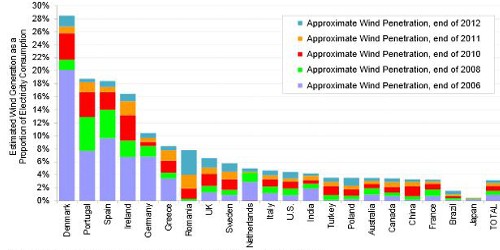 Ireland
The Emerald Isle is now green for two additional reasons, as wind energy reduced pollution and protected consumers' pocketbooks from near-record natural gas prices by providing 24 percent of Ireland's electricity for all of December. The Irish Examiner said on Monday that "The sustained wind volumes forced expensive gas powered plants off the system and this provided downward pressure on wholesale prices." It quotes an energy trader noting that "The substantial contribution of wind energy helped reduce the monthly average wholesale electricity price by 5 percent." The article further explains that wind energy played a critical role in driving the price of electricity down despite near-record natural gas prices. At times wind energy has reliably provided 50 percent of the electricity in Ireland, which is particularly impressive for an island power system without the advantage of large power lines to import and export power to neighboring power systems. On Dec. 5, the output from the country's wind turbines peaked at a record 1588 megawatts (MW), and another new record of 1769 MW was set at 6:30 p.m. on Dec. 17.
Denmark
Long a leader in wind energy use, Denmark's wind energy set a new record by providing a staggering 54.8 percent of the country's electricity consumption for the month of December, as reported yesterday by The Wall Street Journal's Market Watch. For all of 2013, wind energy provided around 33 percent of Denmark's electricity. On certain days, such as Dec. 21, wind energy generated more than 100 percent of the country's electricity use, with the remainder exported across Denmark's strong transmission links to neighboring countries.
Spain
Electric sector carbon dioxide emissions plummeted more than 23 percent in 2013 as wind energy grew to be Spain's largest source of electricity, as noted last week in The Guardian. Wind energy provided 21.1 percent of Spain's electricity for the year, beating out all other fuel sources to provide the largest piece of the country's electricity mix. Wind drove the dramatic drop in carbon dioxide emissions as natural gas power plant output dropped by 34.2 percent from 2012 and coal-fired generation fell by 27.3 percent, even though overall electricity use was relatively flat at a 2.1 percent decline.
Wind has been the dominant factor driving Europe's carbon emissions downward. Even though coal use continues to decline across Europe, that hasn't stopped fossil fuel industry groups, as well as some who should know better, from fabricating the myth of a coal resurgence by misleadingly exaggerating the completion of a few coal plants that were begun nearly a decade ago and a temporary blip in carbon emissions as Germany shut down its nuclear fleet.
Portugal
Portugal generated over 70 percent of its power from renewables during the first quarter of 2013, driven by a surge in wind and hydro power output. At times, Portugal has reliably produced more than 90 percent of its electricity from wind. Shockingly, we still hear fossil fuel-funded groups and other naysayers in the U.S. claim that it is not practical to reliably or efficiently exceed 10 percent (or some other made up number) wind energy on the power system. With glaring counterfactuals in many European countries and now many parts of the U.S., it is becoming increasingly hard for them to keep their heads buried in the sand.
Germany
Germany's old wind generation record was blown away on Dec. 6, as wind-generated electricity peaked at slightly more than 26,000 MW. A news article explains: "The effect on [electricity] prices was also remarkable. In day-ahead trading, power prices on the exchange in Germany were only half of the levels in France and Switzerland, resulting in a large amount of power exports ... Perhaps the most interesting thing about the storm in terms of wind power is that it shows how much more wind power capacity we can withstand. The record peak was still not even one third of peak demand at the time, suggesting that Germany might be able to have three times the current level of wind power—100 gigawatts (GW)—installed before large amounts of wind power would have to be stored." On Dec. 24, German wind energy output came close to setting a new record.
United Kingdom
Britain set a new wind record of 6,053 MW on the morning of Dec. 2, providing about 14 percent of the electricity on the U.K. system, according to Bloomberg News. The article said nearly 7,900 MW of gas-fired generation was shut down during the period of high wind, explaining that "wind and solar have no fuel costs, generally making them cheaper than coal or gas" and quoting an analyst that "it has given the chance for less efficient gas-burn facilities to drop output."
A Business Green article this week provides additional updates on other wind records that were set in December.
"The facts speak for themselves—National Grid's records tumbled one after another. Over the course of the week, which began on Monday [Dec. 16], wind generated a record 783,886 MW hours—the highest ever for a seven-day period—providing 13 percent of Britain's total electricity needs that week.
On the Saturday before Christmas—a busy day for everyone and one when demand for electricity is high—we saw a record daily amount of power produced from wind with 132,812 MWh generated; a staggering 17 percent of the nation's total electricity consumption that day. Don't forget that every unit of clean electricity generated by wind means one less unit is generated using expensive imports of polluting fossil fuels, so this represents a significant economic and environmental benefit for all of us.
The good news is, in fact, even better when we consider that the smaller wind farms that feed into local networks where the output isn't recorded by National Grid would make the above figures at least 30 percent higher.
The record-breaking trend has continued into the New Year with the highest half-hour contribution from wind on the transmission system having been achieved on [Jan. 6]."
Where does the U.S. fit in?
American wind energy continues to grow quickly, and many parts of the U.S. are now reaching wind output levels comparable to those seen in Europe. Iowa and South Dakota now produce more than 20 percent of their electricity from wind, and another seven states are above 10 percent. However, as shown in the U.S. Department of Energy chart above, we could and should be doing more to cultivate the clean energy technologies of the 21st century.
Our wind plants are roughly 50 percent more productive than those in Europe on average, which yields a far lower cost of wind energy in the U.S. Our wind resource is far more diverse, and our power system far larger and more interconnected, making the reliable integration of large amounts of wind energy even easier. The total wind energy resource in the U.S., enough to meet our electricity needs roughly a dozen times over, is unmatched. Yet the lack of policy stability in the U.S. continues to inhibit the wind industry's growth, as seen by the recent lapse of the wind production tax credit due to Congress's inattention.
Fortunately, that problem is fixable.
Visit EcoWatch's RENEWABLES page for more related news on this topic.

Prince William and British naturalist David Attenborough attend converse during the World Economic Forum annual meeting, on January 22 in Davos, Switzerland. Fabrice Cofferini /AFP / Getty Images
Britain's Prince William interviewed famed broadcaster David Attenborough on Tuesday at the World Economic Forum's annual meeting in Switzerland.
During the sit-down, the 92-year-old naturalist advised the world leaders and business elite gathered in Davos this week that we must respect and protect the natural world, adding that the future of its survival—as well as humanity's survival—is in our hands.
Electric vehicle sales took off in 2018, with a record two million units sold around the world, according to a new Deloitte analysis.
What's more, the accounting firm predicts that another 21 million electric cars will be on the road globally over the next decade due to growing market demand for clean transportation, government subsidies, as well as bans on fossil fuel cars.
Teenager Alex Weber and friends collected nearly 40,000 golf balls hit into the ocean from a handful of California golf courses.
Alex Weber /
CC BY-ND
Southwest Greenland had the most consistent ice loss from 2003 to 2012. Eqalugaarsuit, Ostgronland, Greenland on Aug. 1, 2018.
Rob Oo / CC BY 2.0
Greenland is melting about four times faster than it was in 2003, a new study published Monday in the Proceedings of the National Academy of Sciences found, a discovery with frightening implications for the pace and extent of future sea level rise.
"We're going to see faster and faster sea level rise for the foreseeable future," study lead author and Ohio State University geodynamics professor Dr. Michael Bevis said in a press release. "Once you hit that tipping point, the only question is: How severe does it get?"
Finally, some good news about the otherwise terrible partial government shutdown. A federal judge ruled that the Trump administration cannot issue permits to conduct seismic testing during the government impasse.
The Justice Department sought to delay—or stay—a motion filed by a range of coastal cities, businesses and conservation organizations that are suing the Trump administration over offshore oil drilling, Reuters reported. The department argued that it did not have the resources it needed to work on the case due to the shutdown.
Most people have heard of the Amazon, South America's famed rainforest and hub of biological diversity. Less well known, though no less critical, is the Pantanal, the world's largest tropical wetland.
Like the Amazon, the Pantanal is ecologically important and imperiled. Located primarily in Brazil, it also stretches into neighboring Bolivia and Paraguay. Covering an area larger than England at more than 70,000 square miles, the massive wetland provides irreplaceable ecosystem services that include the regulation of floodwaters, nutrient renewal, river flow for navigability, groundwater recharge and carbon sequestration. The wetland also supports the economies of the four South American states it covers.
Demonstrators participate in a protest march over agricultural policy on Jan. 19 in Berlin, Germany. Carsten Koall / Getty Images Europe
By Andrea Germanos
Organizers said 35,000 people marched through the streets of the German capital on Saturday to say they're "fed up" with industrial agriculture and call for a transformation to a system that instead supports the welfare of the environment, animals and rural farmers.

The fire that erupted after a pipeline explosion in Mexico Friday. FRANCISCO VILLEDA / AFP / Getty Images
By Patrick Rogers
If you have ever considered making the switch to an environmentally friendly electric vehicle, don't drag your feet. Though EV prices are falling, and states are unveiling more and more public charging stations and plug-in-ready parking spots, the federal government is doing everything it can to slam the brakes on our progress away from gas-burning internal combustion engines. President Trump, likely pressured by his allies in the fossil fuel industry, has threatened to end the federal tax credits that have already helped put hundreds of thousands of EVs on the road—a move bound to harm not only our environment but our economy, too. After all, the manufacturing and sale of EVs, hybrids, and plug-in hybrids supported 197,000 jobs in 2017, according to the most recent U.S. Energy and Employment Report.