This website uses cookies to ensure you get the best experience while browsing it. By clicking 'Got It' you're accepting these terms.
Will Yours Be a Sustainable Superbowl Sunday?
Feb. 04, 2012 08:30AM EST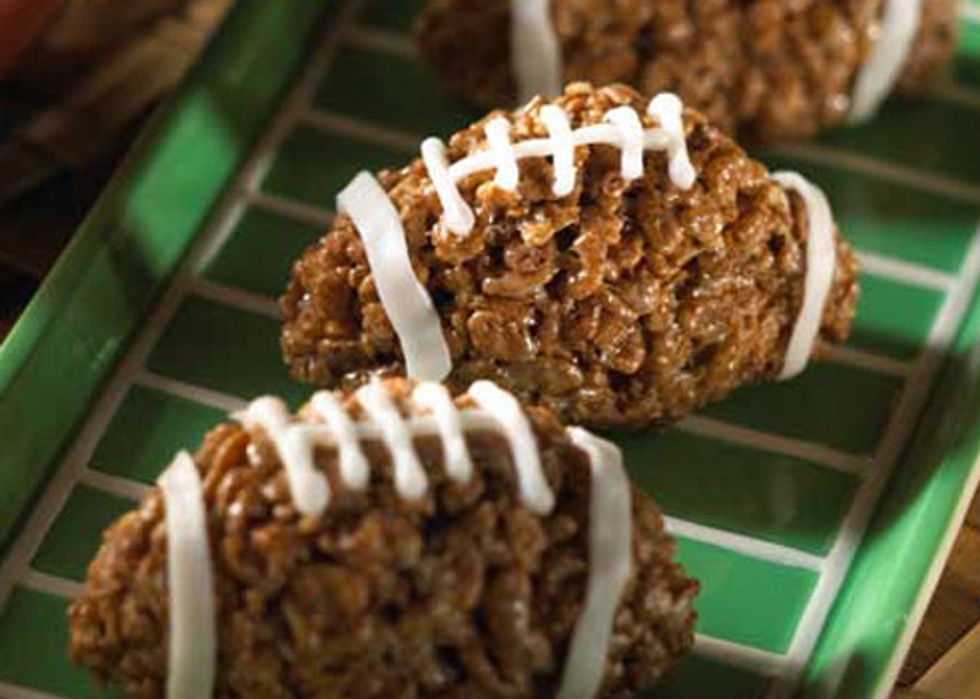 This Sunday, millions of Americans will sit down with friends and family to watch some of the world's greatest athletes competing in the toughest, most physical sport of all.
No one takes health and fitness more seriously than today's top football players. So isn't it kind of absurd that as we watch Sunday's game we will all be bombarded by advertisements for some of the unhealthiest junk food imaginable? And as we admire the speed, strength and agility of our gridiron heroes, chances are that most of the millions of chicken wings and burgers that will be consumed at Super Bowl parties across the U.S. will have come from industrialized livestock farming systems that are damaging to the environment, to animal welfare, and ultimately to our own health.
As two titans of the football world clash this Sunday, there is one Titan football player who is already leading by example. Will Witherspoon is linebacker for the Tennessee Titans—and a sustainable farmer. Will is passionate about producing healthy and nutritious food on his Animal Welfare Approved Shire Gate Farm near Owensville, Missouri. As a professional athlete involved in one of the world's most physical sports, Will is particularly aware of the health benefits of grassfed, high-welfare farming.
"My cattle are raised as nature intended, on grass, and aren't fed growth hormones, antibiotics or other unnatural additives," says Will. "As a pro football player, I can't take over-the-counter cold medicine without letting my trainer know about it. So why would I want my kids eating beef from cattle fed hormones or routine antibiotics?"
The truth is that if you knew what goes on behind the closed doors of most industrial farms you probably wouldn't want to touch the meat—let alone eat it. The only farming images that Big Ag wants you to see are the bucolic, picket-fenced scenes on their food packaging—along with false messages, such as "naturally raised" or "free-roaming" (neither of which actually means that animals were raised outdoors). In the drive to produce ever-cheaper foods, the pursuit of profit comes before all other concerns, including our health. The soaring rates of obesity, heart disease, Type 2 diabetes, and diet-related cancers stand in stark contrast to the healthfulness and sporting prowess that we will all applaud this coming weekend. In today's junk food world, where childhood obesity and diet-related ill health is epidemic, Will Witherspoon is just the kind of sporting role model we urgently need.
So when you're out shopping for your Super Bowl party, why not make sure that at least one of your purchases is a truly sustainable choice. Seek out some high-welfare, pasture-raised chicken wings or grassfed ground beef for your burger patties—I can guarantee you'll taste the difference. And don't be fooled by terms like "all natural," "naturally raised" or "cage-free"—they are used to mask the same old industrialized farming system where confinement, routine antibiotic use, and a horrific, short life are the norm. Make sure you ask for grassfed or pasture-raised meat at your grocery store. Better still, why not make a play for your local farmers market—or use our online directory to find your nearest supplier of Animal Welfare Approved meat and dairy products.
Small changes can make a big difference. As we build up to one of the greatest sporting contests on Earth, let's use the opportunity to start reducing our consumption of unsustainable, unhealthy, intensively reared meat and dairy—and choose high-welfare, pasture-based meat and dairy products instead. Let's make this Super Bowl Sunday really count—let's make it a Sustainable Super Bowl Sunday.
For more information, click here.
EcoWatch Daily Newsletter
Investing in grid infrastructure would enable utilities to incorporate modern technology, making the grid more resilient and flexible. STRATMAN2 / FLICKR
By Elliott Negin
The Royal Swedish Academy of Sciences' recent decision to award the 2019 Nobel Prize in Chemistry to scientists who developed rechargeable lithium-ion batteries reminded the world just how transformative they have been. Without them, we wouldn't have smartphones or electric cars. But it's their potential to store electricity generated by the sun and the wind at their peak that promises to be even more revolutionary, reducing our dependence on fossil fuels and protecting the planet from the worst consequences of climate change.
Two Javan rhinos deep in the forests of Ujung Kulon National Park, the species' last habitat on Earth. Sugeng Hendratno / WWF
The global population of the critically endangered Javan rhinoceros has increased to 72 after four new calves were spotted in the past several months.
A tiger looks out from its cage at a new resort and zoo in the eastern Lao town of Tha Bak on Dec. 5, 2018. Karl Ammann believes the "zoo" is really a front for selling tigers. Terrence McCoy / The Washington Post / Getty Images
Are tigers extinct in Laos?
That's the conclusion of a detailed new study that found no evidence wild tigers still exist in the country.
A group of scientists is warning that livestock production must not expand after 2030 for the world to stave off ecological disaster.
The largest wetland in Africa is in the South Sudan. George Steinmetz / Corbis Documentary / Getty Images Plus
Methane emissions are a far more powerful greenhouse gas than carbon dioxide – about 28 times more powerful. And they have been rising steadily since 2007. Now, a new study has pinpointed the African tropics as a hot spot responsible for one-third of the global methane surge, as Newsweek reported.