Will Toxic Fracking Wastewater Be Transported by Barge?
Dec. 18, 2012 11:01AM EST
Energy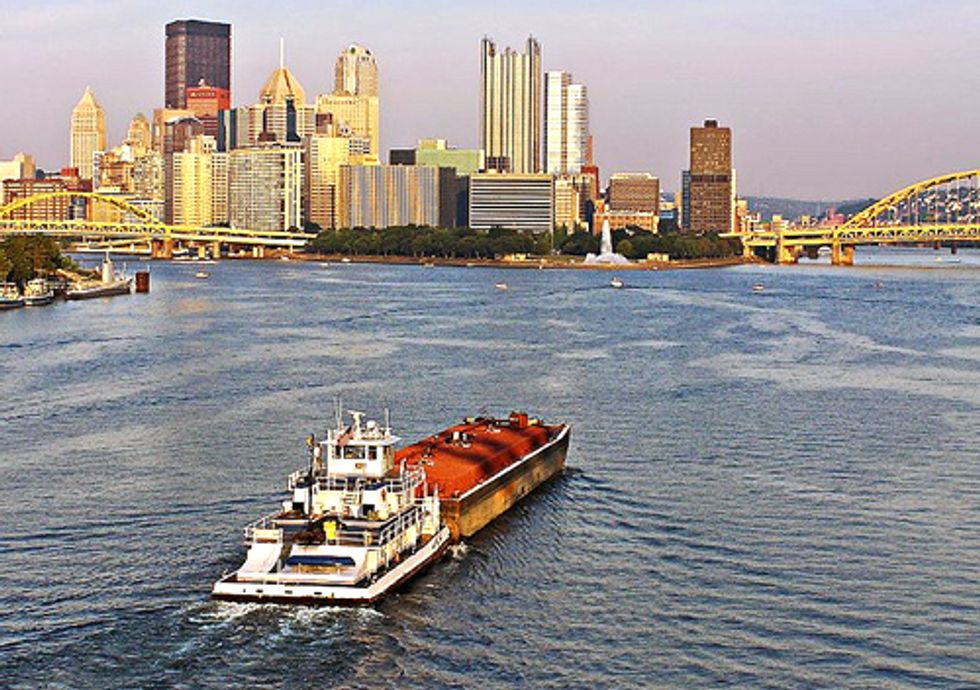 By Emily DeMarco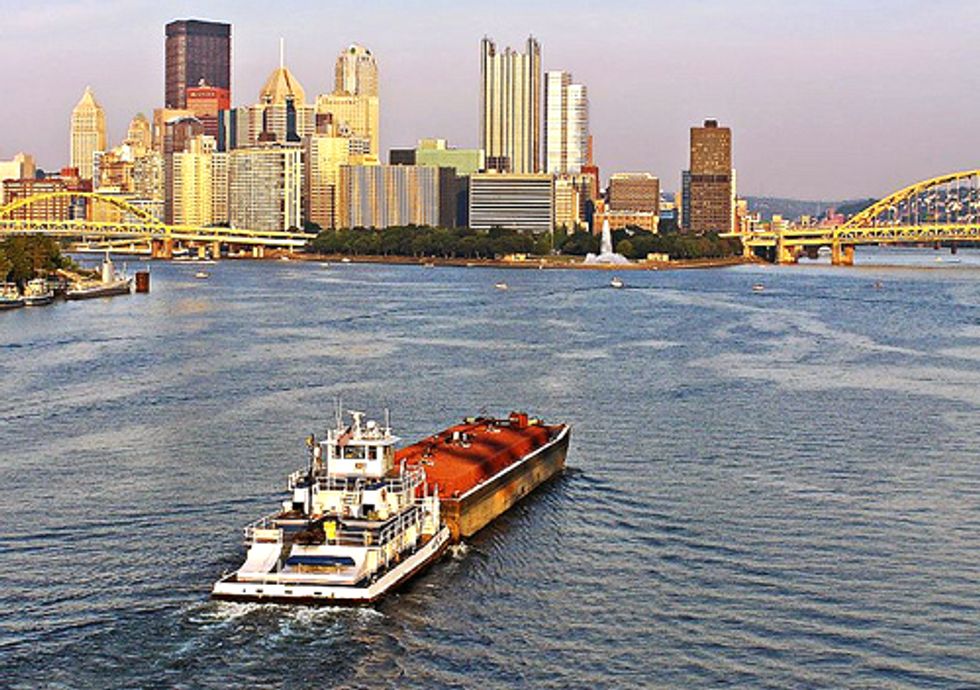 The shale gas drilling industry wants to move its wastewater by barge on rivers and lakes across the country. But the U.S. Coast Guard, which regulates the nation's waterways, must first decide whether it's safe.
"It may be hazardous," said Commander Michael Roldan, chief of the Coast Guard's Hazardous Material Division, stressing the word 'may.' "If it is, it would not be allowed to ship under bulk."
Right now, he pointed out during an interview with PublicSource, it can't be shipped by barge, even though there has been confusion in Pittsburgh, West Virginia and Ohio about whether it could be.
The Coast Guard has been considering whether to allow the industry to use the waterways for about a year, according to Roldan, who said the question came up when the Marine Safety Unit Pittsburgh—the local office of the Coast Guard—called the Washington office to clarify whether bulk transport was allowed after Marcellus Shale drillers began making inquiries.
The Coast Guard's decision would affect more than Pittsburgh's iconic three rivers. Nearly 12,000 miles of waterways could be open to these waterborne behemoths, each carrying 10,000 barrels of [fracking] wastewater.
Like so many questions involving the shale gas industry, it's a divisive one. Environmentalists said the possibility of a spill that could contaminate Pittsburgh's rivers with chemicals isn't worth the risk. But industry officials who advocate waterway transport said barges are the safest, and cheapest, way to move this stuff.
A barge accident would be a "massive catastrophe," said Steve Hvozdovich, Marcellus campaign coordinator for Clean Water Action, a national environmental advocacy organization.
"It's not just a contamination of a waterway," Hvozdovich said. "You're talking about the contamination of the drinking water supply for about half a million people ... It seems like a very bad idea."
However, industry officials and transportation experts counter that other industrial materials, some toxic, are moved on barges now. They include chlorine, hydrochloric acid and anhydrous ammonia. Why should the drilling industry be treated differently? they ask.
Anyone who says moving the wastewater is a danger doesn't know what's on the waters already, said John Jack, vice president of business development and operations for GreenHunter Water, a company that handles wastewater for major oil companies.
"Look what's going down the waters right now," Jack said, "highly toxic stuff ... There's nothing in our product that's hazardous."
Hydraulic fracturing, or fracking, requires about five millions gallons of water per well. Water is combined with chemicals and sand and shot deep underground, releasing pockets of gas from shale rock formations.
Depending on the well, about 15 to 80 percent of what was injected returns to the surface. That's called 'flowback.' Plus, the well continues to regurgitate naturally occurring water from inside the shale, which is called 'produced water.' Both liquids become wastewater, which is often called "brine."
Complications arise for the Coast Guard's analysis because companies use proprietary mixtures of chemicals in fracking. And, salt, hydrocarbons and radioactive elements that occur naturally underground catch a free ride with the watery mixture to the surface.
"If there wasn't the variability, this would be a much easier process," Roldan said.
Ring-around-the-tub effect
The agency is determining appropriate 'ceilings' for each component in the wastewater. Companies that want to ship by bulk would have to test their wastewater first. If the components are under the Coast Guard's ceilings, companies would be given the green light, assuming approval.
The Coast Guard's biggest concern about the wastewater is what Roldan calls the 'bathtub ring' effect inside the barges. Just as, after many showers and baths, calcium in tap water can leave a ring around the tub, radioactive particles in the wastewater may accumulate inside the barge.
Workers and inspectors on the barges could be at risk after long-term exposure, he said, and the agency would likely require regular testing of the barges for radioactivity.
Roldan couldn't say when the Coast Guard's determination of whether wastewater can be safely moved on barges would be complete. In part, that is because the nationwide issue is complicated. For example, experts from the U.S. Environmental Protection Agency, Departments of Transportation (DOT) and Department of Energy have weighed in already.
Others, including a committee established by the White House, will likely review the draft proposal.
The agency plans to publish its proposal on transporting wastewater in the Federal Register. Then, the public and the industry will have an opportunity to weigh in.
But there has been great confusion at the ports about the rules.
Officials at GreenHunter, which moves wastewater for some of the largest drilling companies in the Marcellus and Utica Shales by truck, planned to start using barges before the end of the year because they believed it was allowed, Jack said. They've been investing in five terminals in Pennsylvania and West Virginia.
"I've had the regional commanders out to our sites and nobody told us that we couldn't" move it by barge, he said. His understanding, he said, is that it's being done in Texas and Louisiana.
The Pittsburgh office of the Coast Guard declined to comment.
But Roldan's reaction was immediate when asked whether any company is allowed to do this. "No, they're not allowed," he said. "You may want to tell them before we catch them."
However, he said he understood the confusion because of the way the current regulations are worded. "A liberal reading … could lead to a misinterpretation," he said.
One question the agency couldn't answer is the expected volume of wastewater that would be shipped over the rivers.
"We've been asking ourselves this," Roldan said.
In Pennsylvania alone, about 23 million barrels of wastewater were generated in 2011, according to PublicSource calculations using data from the Pennsylvania Department of Environmental Protection's Oil & Gas Reporting website. The data are self-reported by the producers and are not vetted by the Department of Environmental Protection.
While about 99 percent of the waste from shale drilling is just water, the remaining one percent is salt, chemicals and radioactive particles.
A spokesman for the Marcellus Shale Coalition declined to answer questions about moving waste on barges and instead emphasized the industry's commitment to recycling wastewater.
Today, new technology has increased the capacity for on-site recycling, but that is costly. Transporting the waste off-site to disposal or treatment locations is still needed by the industry.
Less road wear and tear
Shale gas companies have good reason to eye the waterways.
Transporting wastewater by barges has environmental, safety and economic benefits, Jack, of GreenHunter, said. For example, a major drilling company would save 58,000 trucking hours by using barges.
And trucks have about 2,000 accidents for every barge accident, he said, citing data from the DOT and the Coast Guard.
James McCarville, executive director of the Port of Pittsburgh Commission, an agency that advocates for waterway transport, said using barges is a good idea.
"The more that it can be moved on waterways, the less wear and tear of roads," he said, adding that barges also produce less air pollution than trucks.
And they're a fraction of the cost. Barges cost only about 10 percent of the cost to move the waste by truck, said Jim Kruse, director of the Center for Ports and Waterways Institute at Texas A&M University. They are 20 to 30 percent cheaper than trains, he said.
The change would not eliminate trucks because they'd still be needed to get the wastewater from the drill rigs to the barges.
Three gas drilling companies have already approached Pittsburgh-based Campbell Transportation Co., about moving their wastewater by barge, said Peter Stephaich, one of Campbell's shareholders.
"We are regulated by just about everybody," he said, listing federal and state agencies that oversee barge companies. Stephaich said he's confident that wastewater will be moved responsibly.
"If we move it, we'll move it within the rules," he said. "If the costs are too high, we won't do it."
Operators like Campbell may have to purchase new equipment, retrofit their infrastructure, and train their crews.
Benjamin Stout, a biology professor at Wheeling Jesuit University about 60 miles southwest of Pittsburgh, is one expert who didn't know about the Coast Guard's review.
"Oh crap," he said. "A lot of things could go wrong."
For example, wastewater contains bromides. Bromides transform into carcinogens when they are pumped through water treatment facilities, Stout said. (Stout is a board member of FracTracker, a non-profit that disseminates data about the shale gas industry. Both FracTracker and PublicSource are funded, in part, by the Heinz Endowments.)
If there was a barge accident, the treatment facilities would have to shut their intake valves of river water, he said. Cities such as Pittsburgh and Wheeling use water from the Ohio River for drinking.
Despite his alarm, Stout said he is glad that the Coast Guard is studying the issue because it's one more determination about an industry that currently doesn't offer a lot of transparency.
Asked whether the Coast Guard is being lobbied by the industry, Roldan said: "We're not really feeling pressure. We could deny it."
Visit EcoWatch's FRACKING page for more related news on this topic.
——–
Click here to sign a petition to tell the Bureau of Land Management to issue strong rules for federal fracking leases on public lands.

Electric vehicles are the cars of the future. sl-f / Getty Images
By 2035, every new car and truck sold in the U.S. could be an EV, a new report says.
Accelerations in technology and especially battery affordability, paired with new policy, mean the dramatic transition would save American drivers $2.7 trillion by 2050, an average savings of $1,000 per household per year.
The ramp up in EV production would also create 2 million new jobs by 2035. Battery prices have fallen 74% since 2014, and their unexpectedly rapid fall is a key driver of the cost savings.
EVs are far simpler mechanically, and more efficient, than internal combustion engine (ICE) vehicles, which translates to reduced climate pollution and lower costs for consumers.
Strengthened vehicle efficiency standards and investment in fast charging infrastructure are needed to accelerate the transition, which would prevent 150,000 premature deaths and save $1.3 trillion in health environmental costs by 2050.
For a deeper dive:

The Guardian, Fast Company, E&E, Morning Consult, Canary Media

For more climate change and clean energy news, you can follow Climate Nexus on Twitter and Facebook, sign up for daily Hot News, and visit their news site, Nexus Media News.
EcoWatch Daily Newsletter
The Gowanus Canal in Brooklyn, New York, a polluted nearly 2 mile-long waterway that is an EPA Superfund site. Jonathan Macagba / Moment / Getty Images
Thousands of Superfund sites exist around the U.S., with toxic substances left open, mismanaged and dumped. Despite the high levels of toxicity at these sites, nearly 21 million people live within a mile of one of them, according to the U.S. Environmental Protection Agency (EPA).
The National Weather Service station in Chatham, Massachusetts, near the edge of a cliff at the Monomoy National Wildlife Refuge. Bryce Williams / National Weather Service in Boston / Norton
A weather research station on a bluff overlooking the sea is closing down because of the climate crisis.
The National Weather Service (NWS) station in Chatham, Massachusetts was evacuated March 31 over concerns the entire operation would topple into the ocean.
"We had to say goodbye to the site because of where we are located at the Monomoy Wildlife Refuge, we're adjacent to a bluff that overlooks the ocean," Boston NWS meteorologist Andy Nash told WHDH at the time. "We had to close and cease operations there because that bluff has significantly eroded."
Chatham is located on the elbow of Cape Cod, a land mass extending out into the Atlantic Ocean that has been reshaped and eroded by waves and tides over tens of thousands of years, The Guardian explained. However, sea level rise and extreme weather caused by the climate crisis have sped that change along.
"It's an extremely dynamic environment, which is obviously a problem if you are building permanent infrastructure here," Andrew Ashton, an associate scientist at Cape-Cod based Woods Hole Oceanographic Institution, told The Guardian. "We are putting our foot on the accelerator to make the environment even more dynamic."
This was the case with the Chatham weather station. It used to be protected from the drop into the ocean by about 100 feet of land. However, storm action in 2020 alone washed away as much as six feet of land a day.
"We'd know[n] for a long time there was erosion but the pace of it caught everyone by surprise," Nash told The Guardian. "We felt we had maybe another 10 years but then we started losing a foot of a bluff a week and realized we didn't have years, we had just a few months. We were a couple of storms from a very big problem."
The Chatham station was part of a network of 92 NWS stations that monitor temperature, pressure, humidity, wind speed and direction and other data in the upper atmosphere, The Cape Cod Chronicle explained. The stations send up radiosondes attached to weather balloons twice a day to help with weather research and prediction. The Chatham station, which had been observing this ritual for the past half a century, sent up its last balloon the morning of March 31.
"We're going to miss the observations," Nash told The Cape Cod Chronicle. "It gives us a snapshot, a profile of the atmosphere when the balloons go up."
The station was officially decommissioned April 1, and the two buildings on the site will be demolished sometime this month. The NWS is looking for a new location in southeastern New England. In the meantime, forecasters will rely on data from stations in New York and Maine.
Nash said the leavetaking was bittersweet, but inevitable.
"[M]other nature is evicting us," he told The Cape Cod Chronicle.
Amsterdam is one of the Netherlands' cities which already has "milieuzones," where some types of vehicles are banned. Unsplash / jennieramida
By Douglas Broom
If online deliveries continue with fossil-fuel trucks, emissions will increase by a third.
So cities in the Netherlands will allow only emission-free delivery vehicles after 2025.
The government is giving delivery firms cash help to buy or lease electric vehicles.
The bans will save 1 megaton of CO2 every year by 2030.
Cities in the Netherlands want to make their air cleaner by banning fossil fuel delivery vehicles from urban areas from 2025.
"Now that we are spending more time at home, we are noticing the large number of delivery vans and lorries driving through cities," said Netherlands environment minister Stientje van Veldhoven, announcing plans to ban all but zero-emission deliveries in 14 cities.
"The agreements we are setting down will ensure that it will be a matter of course that within a few years, supermarket shelves will be stocked, waste will be collected, and packages will arrive on time, yet without any exhaust fumes and CO2 emissions," she added.
Protestors stage a demonstration against fracking in California on May 30, 2013 in San Francisco, California. Justin Sullivan / Getty Images
The bill, SB467, would have prohibited fracking and other controversial forms of oil extraction. It would also have banned oil and gas production within 2,500 feet of a home, school, hospital or other residential facility. The bill originally set the fracking ban for 2027, but amended it to 2035, The AP reported.
"Obviously I'm very disappointed," State Sen. Scott Wiener (D-San Francisco), one of the bill's two introducers, told the Los Angeles Times. "California really has not done what it needs to do in terms of addressing the oil problem. We have communities that are suffering right now, and the Legislature has repeatedly failed to act."
The bill was introduced after California Gov. Gavin Newsom said he would sign a fracking ban if it passed the legislature, though his administration has continued to issue permits in the meantime, Forbes reported. Newsom has also spoken in favor of a buffer zone between oil and gas extraction and places where people live and learn, according to the Los Angeles Times. The latter is a major environmental justice issue, as fossil fuel production is more likely to be located near Black and Latinx communities.
Urban lawmakers who want California to lead on the climate crisis supported the bill, while inland lawmakers in oil-rich areas concerned about jobs opposed it. The oil and gas industry and trade unions also opposed the bill.
This opposition meant the bill failed to get the five votes it needed to move beyond the Senate's Natural Resources and Water Committee. Only four senators approved it, while Democrat Sen. Susan Eggman of Stockton joined two Republicans to oppose it, and two other Democrats abstained.
Eggman argued that the bill would have forced California to rely on oil extracted in other states.
"We're still going to use it, but we're going to use it from places that produce it less safely," Eggman told The AP. She also said that she supported the transition away from fossil fuels, but thought the bill jumped the gun. "I don't think we're quite there yet, and this bill assumes that we are," she added.
Historically, California has been a major U.S. oil producer. Its output peaked in 1986 at 1.1 million barrels a day, just below Texas and Alaska, according to Forbes. However, production has declined since then making it the seventh-most oil-producing state.
Still, California's fossil fuel industry is at odds with state attempts to position itself as a climate leader.

"There is a large stain on California's climate record, and that is oil," Wiener said Tuesday, according to The AP.
Wiener and Democrat co-introducer Sen. Monique Limón from Santa Barbara vowed to keep fighting.
"While we saw this effort defeated today, this issue isn't going away," they wrote in a joint statement. "We'll continue to fight for aggressive climate action, against harmful drilling, and for the health of our communities."
From Your Site Articles
Related Articles Around the Web