Will This Grandmother Go to Prison for Peaceful Resistance Against Fracking?
Just like the U.S. and elsewhere in Europe, activists in the UK are in the midst of a fight to protect their communities and our climate—and are facing powerful and, in some cases, undemocratic forces. As I tour the U.S. discussing my book Frackopoly, which looks at this growing global movement, I want to take a moment to acknowledge an activist, Tina Rothery, who faces jail time for her peaceful activism against fracking in Lancashire.
Tina is one of the "Lancashire Nanas," a group of grandmothers that, like the Raging Grannies in the U.S., are fighting for our communities and in some cases, getting arrested in protest of fossil fuel projects. The Lancashire Nanas have been standing up against Cuadrilla's plans to drill in the region.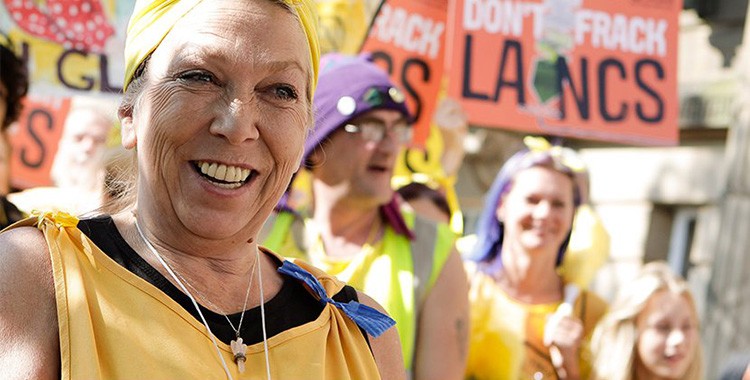 Tina will stand before a judge in court this week—and she's facing a possible prison sentence for peaceful resistance against fracking. In summer 2014, Tina and other Nanas camped for three weeks in a field that Cuadrilla had earmarked for fracking. While they left of their own accord, the company is asking for roughly $78,000 in court costs for an eviction that didn't actually happen.
Rather than raise funds for the court costs, Tina has decided she will not pay as a matter of principle, as it would set a precedent for companies to go after other campaigners. She risks being held in contempt of court and sent to prison. If you want to know more about why Tina is taking this stand, see her blog here.
Tina is expected in court on June 23. You can participate in the social media storm supporting her by using the hashtag #IamTinaRothery.
Background: The Fight Against Cuadrilla in the UK
In 2011, British company Cuadrilla began test drilling in Lancashire in northwest Britain and the region was subsequently rocked by earthquakes. A report sponsored by the company found that drilling had been the cause and a moratorium on drilling was declared. But it was short-lived: after the moratorium was lifted in 2013, Cuadrilla began to test drilling in Balcombe, outside of London. Over the next year the village became the focal point of an extraordinary fight against fracking that featured mass protests that delayed drilling activities and Cuadrilla's license expired.
Prime minister David Cameron has continued to push fracking despite a lack of public support for the practice and fracking was a major issue in the country's May 2015 elections. Friends of the Earth and Greenpeace organized the "Frack Free Promise," in which more than a thousand candidates for office agreed to oppose fracking if elected. (Meanwhile, other countries in the United Kingdom are moving in a different direction. The Scottish parliament just recently voted to ban fracking and Wales recently extended its fracking moratorium).
Cuadrilla's Appeal: Democracy Unravels
In the summer of 2015, Lancashire rejected Cuadrilla's drilling applications, but the company continued to push to frack the biggest shale play in the UK.
Cuadrilla appealed the decision—an appeal that should have been heard by the same county council that made it—but the UK government abruptly changed the law last summer, declaring that the matter was of national significance and would be heard by an unelected inspector.
The government then changed the rules for a second time and said the inspector would not make a decision on the appeal, but would issue a report to the Secretary of State for Communities and Local Government Greg Clarke—who has already declared his support for fracking. Results of the official inquiry into the matter, which began in February are expected to be announced by July 4—in just a matter of weeks. But the report will not be made public until after the minister makes a decision.
This entire process that has unfolded over the past year is a charade, given the minister's very likely decision to allow Cuadrilla to proceed with its plans to frack the region despite local opposition.
Likewise, the fact that Cuadrilla is suing for eviction costs that never happened is absurd. We stand with Tina as she enters court, where hopefully justice can be served.
Follow #IamTinaRothery here:
YOU MIGHT ALSO LIKE
Tesla Makes $2.8 Billion Offer to Acquire SolarCity
Koch Brothers Continue to Fund Climate Change Denial Machine, Spend $21M to Defend Exxon
How Radioactive Fracking Waste Wound Up Near Homes and Schools
Methane Emissions From Onshore Oil and Gas Equivalent to 14 Coal Plants Powered for One Year
www.youtube.com
Volkswagen is bringing back its hippie-approved minivan but with a 21st century upgrade—the new I.D. Buzz is all-electric.
The concept car was first revealed at the Detroit Auto Show in January and now the German automaker is officially putting its reinvigorated Microbus into production.
Keep reading...
Show less
I have asked repeatedly to have my short interview clip removed from this film. The director refuses. He believes his film is fair and balanced. I do not.

I am often interviewed (see media) and hardly ever quoted incorrectly or out of context. This film is one of those rare exceptions.
Keep reading...
Show less
Top of JPMorgan Chase Tower, Dallas, Texas. Joe Mabel / Wikimedia
Keep reading...
Show less
Cupping symptoms associated with dicamba damage on a cucumber plant. University of Arkansas.
Arkansas farmers filed a class-action lawsuit last week against Monsanto and German chemical company BASF, alleging that the companies' dicamba-based herbicides caused damage to their properties.
The plaintiffs claim that Monsanto and BASF implemented and controlled the dicamba crop system, releasing seed technology without a corresponding, safe and approved herbicide.
Keep reading...
Show less
Cup and bubblegum corals found in Northeast U.S. Canyons, the Atlantic's first marine monument. NOAA
Interior Sec. Ryan Zinke, who recently recommended a reduction in the size of the 1.35 million acre Bears Ears National Monument to President Trump, is advocating for more drilling and mining on public lands and waters.
The former Montana Rep. told Reuters that the development of America's protected federal lands could help the country become a "dominant" global energy force.
Keep reading...
Show less
Gage Skidmore / Flickr (CC BY-SA 2.0)
Dozens of scientists on the U.S. Environmental Protection Agency's (EPA) Board of Scientific Counselors and board subcommittees have been informed that they will not be renewed for their roles advising the agency, the Washington Post reported.
Keep reading...
Show less
www.youtube.com
Worried about the future of the Great Barrier Reef? If so, you're not alone.
Many publications have already written obituaries for the reef, despite the fact that it is not completely dead. Thanks to this video via Vox for sounding the alarm on this critical issue, before it's too late.
Keep reading...
Show less
Mike Mozart
By Olga V. Naidenko, Ph.D.
In a landmark rule with global repercussions, California state scientists are preparing to issue the world's first health guideline for Monsanto's glyphosate herbicide based on its cancer risk. The state's proposed safe level is more than 100 times lower than the U.S. Environmental Protection Agency's (EPA) legal allowance for the average-sized American.
Keep reading...
Show less
www.youtube.com
By Bob Henson
A high risk of life-threatening flooding continues on Wednesday over parts of the central Gulf Coast as Tropical Storm Cindy lumbers toward shore. The greatest flood threat will be across low-lying areas of far southern Mississippi and Alabama, according to the NWS/NOAA Weather Prediction Center. A second area with a moderate flood risk lies across far southeast Texas and southwest Louisiana.
Keep reading...
Show less