This website uses cookies to ensure you get the best experience while browsing it. By clicking 'Got It' you're accepting these terms.
Will the World Bank Put Its Money Where Its Mouth Is?
Jun. 20, 2013 01:40PM EST
By Kaisa Kosonen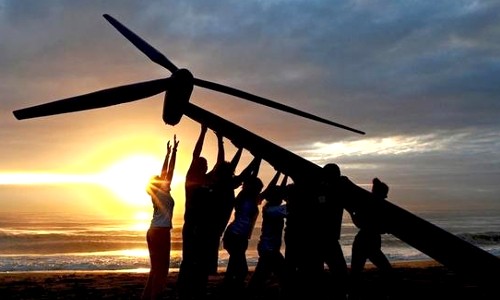 Unprecedented heatwaves, widespread food shortages, more intense cyclones and shifting rain patterns causing either floods or droughts are just some of the future problems outlined in the World Bank's latest climate report, released yesterday.
Following its groundbreaking report that warned about a four degrees Celsius warmer world, the bank has now looked at what that warming would mean for South Asia, Southeast Asia and Sub-Saharan Africa. The picture is dramatic, with climate change threatening the future prosperity of these regions.
Four degrees may not sound like a lot, but it almost compares to the temperature difference between the last ice age and today—and happening during one person's lifetime.
For the regions in question, two degrees would already cause severe problems, which is why we must limit warming to less than two degrees. The World Bank says this is still feasible and it calls for bold action and countries to adopt aggressive targets to cut greenhouse gas emissions.
But what about the bank's own actions?
The World Bank President, Dr. Jim Yong Kim, pledged yesterday that the bank will do everything it can to prevent the bleak future from materializing. Kim pledged the bank will step up its climate work as it increasingly looks at its business through a "climate lens."
Well, we've done that already, and here's what we found: the World Bank is still fueling climate change, big time.
Despite efforts to increase its renewable energy lending, in the past five years the World Bank Group still financed fossil fuels by a total of US$18 billion—nearly half of its energy lending. Since 1994, the group has financed a total of 29 coal-fired power plants in Asia alone. But this financing understates the bank's contribution to dirty coal development, as its loans are usually a small part of the total funding package.
The latest support includes two of the biggest dirty power plants: 4800 megawatts (MW) Medupi in South Africa and 4000 MW Tata Mundra in India—both of these plants will end up high on the list of the biggest carbon dioxide (CO2) sources on earth.
The Kosovo lignite power plant project in Europe will be the first real test for Kim's climate pledges. The bank is planning to grant guarantees for a low-efficiency coal power plant that has CO2 emissions well exceeding the average of new power plants in China, and air pollution emissions up to twice as high as those allowed under either U.S. or Chinese regulations.
The bank claims that building a new, dirty coal power plant is the only way to provide electricity to Kosovo, while even the bank's own former renewable energy expert has shown that practical and affordable renewable energy and energy efficiency options are available and can be implemented in time.
We have been truly impressed by the efforts of Kim to bring climate change onto the political agenda again, warning about the severe consequences of the current path we're on, but action speaks louder than words.
Together, with about 60 development, faith, human rights, community and environmental groups from more than 20 countries, Greenpeace expects the World Bank to lead by example. This means it must end support for all fossil fuel projects unless the projects are solely focused on directly increasing energy access for the poor. In most cases, including Kosovo's, better solutions exist.
It is renewable energy and energy efficiency that truly deliver for the poor—not dirty fossil fuels that are causing our climate to change.
Visit EcoWatch's CLIMATE CHANGE page for more related news on this topic.
——–
Click here to tell Congress to Expedite Renewable Energy.

Kanggava Bay on Rennell Island, where a grounded ship is leaking oil, according to some reports. Peter Hendrie / Getty Images
A ship that ran aground in the Solomon islands Feb. 4 is now menacing a coral reef with an oil spill, The Guardian reported Tuesday.
The 740 foot MV Solomon Trader was stranded on a reef near Rennell Island, home to the largest raised coral atoll in the world and a United Nations Educational, Scientific and Cultural Organization (UNESCO) World Heritage site, AFP reported. The bulk carrier has not been salvaged in the two weeks since it was stranded because of Cyclone Oma, Solomon Islands National Disaster Management Office (NDMO) director Loti Yates told Radio New Zealand early Monday morning.
Visitors to the Grand Canyon may have been exposed to unsafe radiation levels, for almost two decades. George Rose / Getty Images
Grand Canyon visitors and employees who passed through the national park's museum collection building were exposed to radiation for nearly two decades, AZCentral reported Monday.
That's because, until last year, three five-gallon paint buckets filled with uranium ore were stored in the building, according to a Feb. 4 email sent out to all National Park Service employees by Grand Canyon safety, health and wellness manager Elston "Swede" Stephenson.
The Grand Canyon celebrates its 100th birthday as a national park this month, but it just earned itself a protector who is even older!
Portland alley advocates estimate there are 76 miles of alleys in their city—all potential green public spaces. This northeast Portland neighborhood is one of many projects reclaiming forgotten concrete pathways for nature and people. Derek Dauphin
By Lynn Freehill-Maye
Rachel Schutz hated watching the kids play outside, and not because she was a curmudgeon. As director of an after-school program in a Latino neighborhood near ­Portland, Oregon, she likes the outdoors, the piney tang that hangs in the damp air.
RiverNorthPhotography / E+ / Getty Images
Today, the U.S. celebrates Presidents' Day, a day to commemorate the leadership and legacy of the so-far only men who have governed the country since its founding.