Will Rupert Murdoch 'Dumb Down the Science' at National Geographic?
Nov. 06, 2015 11:50AM EST
Climate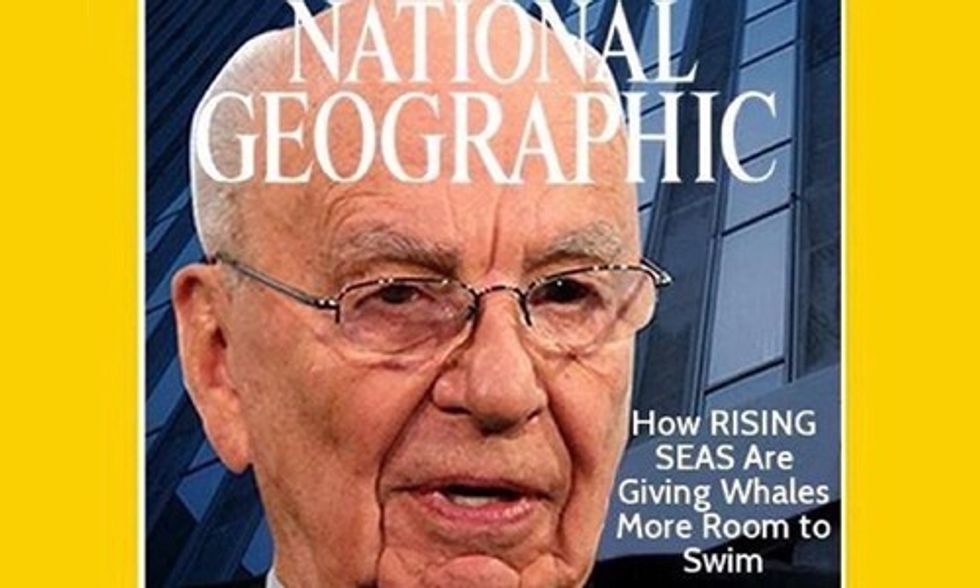 In September, National Geographic and 21st Century Fox announced the expansion of their 18-year partnership to form National Geographic Partners, a for-profit venture that 21st Century Fox bought for $725 million in exchange for effective control of the National Geographic Society's media brands. When the news of the merger broke, many were, shall we say, concerned about 21st Century Fox founder Rupert Murdoch's influence over a revered scientific publication.
Rupert Murdoch owning National Geographic is like putting Dr. Kevorkian in charge of a hospice.

— James Cooper (@James Cooper)1441855295.0
Even National Geographic's own staff members raised concerns. "I think everybody has some concerns and nobody is quite sure what it means," Brian Skerry, a wildlife photographer for National Geographic for the nearly 18 years, told the Guardian after news of the merger broke. "I can only speak for myself, but I believe we were all thinking the same thing. National Geographic has been autonomous … pretty much forever. It came as a huge surprise."
In its 127 years of publication, National Geographic has been a nonprofit organization—until now. "We now will have the scale and reach to continue to fulfill our mission long into the future," says National Geographic. And CEO Greg Knell promised that "there won't be an [editorial] turn in a direction that is different form the National Geographic heritage."
Murdoch also assuaged fears of changes to editorial content. "I also want to assure you that we will remain fully committed to maintaining the editorial autonomy and integrity of the Geographic," he said at a closed-door meeting he hosted on Sept. 9 with Knell. "We demonstrated that strong commitment and respect for what National Geographic stands for during our 18-year partnership, and nothing we are announcing today changes that."
Another longstanding contributor to the magazine, John Stanmeyer, confirmed that "little to nothing is going to change." The Guardian reported that in an hour-long conference call with heads of the magazine and colleagues in September, Stanmeyer assured the team that editorial content "will be driven by the National Geographic Society. No other entity."
Photographer Skerry was pleased with the way the leadership assuaged fears over the acquisition, but he added, "The integrity of the staff and contributors is above reproach. We aren't the kind of people to do what we don't want to do. If things went south, we wouldn't work here anymore. If we were told to dumb down the science, I don't think that's going to fly."
I give National Geographic 18 months before publishing its first piece of climate change denial.

— Greg (((Stolze))) (@Greg (((Stolze))))1441835735.0
Climate change denier Rupert Murdoch just bought National Geographic, which gives grants to scientists @BoingBoing http://t.co/FhNauqaRN9

— Barbara Weibel (@Barbara Weibel)1441874507.0
But many more questioned the partnership again this week as National Geographic announced on Tuesday they would be laying off about 180 staff members. That accounts for nine percent of its 2,000 employees.
Shortly after Murdoch buys National Geographic, he fires its award-winning journalists https://t.co/R2lBqJ57CQ https://t.co/6W7zYYbeQ8

— Cory Doctorow (@Cory Doctorow)1446730357.0
"The National Geographic Society and the National Geographic Channels are in the process of reorganizing in order to move forward strategically following the closing [of] the National Geographic Partners deal, which is expected to occur in mid-November," a spokesperson for National Geographic Society told the Guardian.
Rupert Murdoch took to Twitter to reassure people that National Geographic is doing just fine despite the layoffs. He said only four people were laid off from the actual magazine, while the remaining cuts came from the nonprofit organization, National Geographic Society.
Nat Geo 4 people let go at magazine, remainder by Society in administrative, service department. Editorial staff, leadership firmly in place

— Rupert Murdoch (@Rupert Murdoch)1446649038.0
Still, many people don't seem convinced.
In 2007, Rupert Murdoch embraced the fight to stop climate change, unveiling plans to be the "first global media company to achieve carbon neutral[ity]," according to International Business Times. "Climate change poses clear, catastrophic threats. We may not agree on the extent, but we certainly can't afford the risk of inaction," he said. "The climate will not wait for us." But in the decade or so since then, he's repeatedly made statements denying the consensus on man-made global warming.
Back in US. What happened to global warming? London, D.C, New York seem like new ice age! Rockies too.

— Rupert Murdoch (@Rupert Murdoch)1359216659.0
World growing greener with increased carbon. Thirty years of satellite evidence. Forests growing faster and thicker.

— Rupert Murdoch (@Rupert Murdoch)1357505476.0
"We should approach climate change with great skepticism. Climate change has been going on as long as the planet is here," said Murdoch in an interview last year with Sky News of Australia. "There will always be a little bit of it. We can't stop it, we've just got to stop building vast houses on seashores. The world has been changing for thousands and thousands of years, it's just a lot more complicated today because we are more advanced."
You can watch a summary of the interview here:
Murdoch is no longer the CEO of 21st Century Fox, which he founded. As of July 1, his son James became CEO while Rupert stayed on as executive co-chairman. The Guardian reported last year that Murdoch's vast media empire is among the worst on its climate reporting:
In the UK, his News Corp assets include The Times and The Sun. In the U.S., he has Fox News, The New York Post and The Wall Street Journal. In Australia, he's got The Australian and a multitude of local newspapers.
Many of Murdoch's news outlets are also among the worst when it comes to getting climate science wrong and disseminating climate myths and misinformation. Inaccurate media coverage is in turn the primary reason why the public is so misinformed about global warming.
And there's actually research to back up the claim that Murdoch has influenced the news sites that his company has taken over. After Murdoch acquired the Wall Street Journal in 2007, a study found that over the next four years coverage had, in fact, changed since the acquisition, moving away from its core mission prior to the takeover.
There is evidence to discount those who fear National Geographic's content will change, though. 21st Century Fox owns a five percent stake in Vice Media as of August 2013. Not only has Vice continued to provide in-depth reporting on pressing climate issues, but a month after the sale, Vice's Martin Robbins wrote an article ripping into Rupert Murdoch for his views on climate change.
Murdoch takes over NatGeo. The first thing that happens? 180 staff sacked, mostly fact-checkers! #CouldntMakeItUp https://t.co/vFz8cgDxp6

— Alex Andreou (@Alex Andreou)1446621915.0
Now, some will point out that five percent is far less significant of a stake than the 73 percent that 21st Century Fox will own in National Geographic Partners, but the new venture will have "a shared governance structure and equal representation on the board of directors," says National Geographic. And the board's first chairman, which will alternate annually, is the current National Geographic Society President and CEO Greg Knell.
Praise from Environmental Defense Fund's (EDF) Fred Krupp may also help to bolster Murdoch's environmental credibility. "21st Century Fox has made a serious commitment to sustainability," Krupp told the Guardian. "In 2007 the company committed to becoming carbon neutral, and in 2011 I was delighted to attend an event in London where James Murdoch announced it had reached that goal. The company also engaged EDF's Climate Corps fellows every year from 2010 to 2013 to help save energy and reduce emissions."
Ultimately, the new revenue stream generated by the venture will nearly double National Geographic's endowment, providing critical funding to research expeditions, explains the Guardian. Wildlife photographer Skerry said he is waiting to see what Murdoch will do but the "proof is in the pudding."
"I told my wife I would rather see National Geographic [magazine] die an honorable death than be swept into something it's not supposed to be," Skerry said. "But if the new 21st Century model will take the work we have always done to new people in new places and new ways, then we should be celebrating."
YOU MIGHT ALSO LIKE
3 Foods That Can Help Prevent Alzheimer's
Can 'Dragon Water' Power the Planet With Renewable Energy?
Camper You Pull With Your Bike Turns the World Into Your Backyard
EcoWatch Daily Newsletter