This website uses cookies to ensure you get the best experience while browsing it. By clicking 'Got It' you're accepting these terms.
Will Rachel Carson Be the First Woman on the $20 Bill?
Mar. 30, 2015 08:59AM EST
There's a movement afoot to put a woman on the $20 bill and retire the slavery-supporting, Trail-of-Tears-blazing President Andrew Jackson from his long-held post.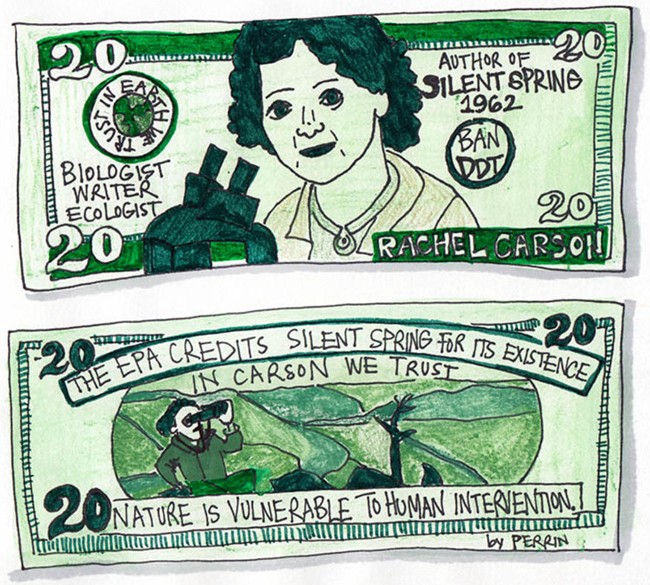 Among the top 15 nominees is marine biologist Rachel Carson. In 1962, Carson authored Silent Spring, a seminal book for the environmental movement that warned of the degradation of natural systems if pesticide use continued unchecked. Drawing from many scientific studies, she described how DDT enters the food chain by accumulating in the fatty tissues of animals (humans, too). Today DDT is classified internationally as a probable carcinogen that persists in the environment for long periods.
Silent Spring was a bestseller, in part because, as the President's Science Advisory Committee under John F. Kennedy acknowledged when it examined and later defended Carson's findings, the American public had previously been unawares that pesticides were toxic.
The scientific community also largely backed Carson up, but chemical companies and some government scientists went on the attack. Carson's gender was regularly used as a means to undermine her work; she was called "hysterical," a "nun of nature," and a "sentimental woman who loved cats."
During the several years it took to finish Silent Spring, Carson learned she had breast cancer—a diagnosis she kept secret for fear that the chemical industry would use it to discredit her. She died in 1964. Carson didn't live to see the formation of the U.S. Environmental Protection Agency six years later or the 1972 ban of the sale of DDT within the U.S.—two events she helped bring about.
Although best known for Silent Spring, Carson wrote three other bestsellers about the sea. Environmental writer and activist Bill McKibben once told the New York Times Magazine, "She was Jacques Cousteau before there was Jacques Cousteau."
That may be true, but let's remember her name was Rachel. And she'd look great on a $20.
This article was originally published by onEarth.
Editor's note: To learn more about the campaign and how to vote, watch here:
YOU MIGHT ALSO LIKE
6,000 Acres of Old Growth Forests Slated for Logging, the Largest Sale in Decades
Dumping ALEC Is Not Enough to Combat Climate Change
Episcopal Church Presiding Bishop: Climate Deniers Are 'Driven by Greed and Self-Centered Political Interests'
Plus, learn if there's one that's best for your health.
Catherine Falls Commercial / Moment / Getty Images
An invasive Amynthas worm, also known as a crazy snake worm, Asian jumping worm and Alabama jumper Tom Potterfield / Flickr
By Jason Bittel
My wife and I built a house two years ago on a few acres of woodland outside of Pittsburgh. The backyard is full of maples, poplars, briars and common spicebush. Two-lined salamanders and grumpy-looking crayfish wade among the rocks in the small stream that runs down the edge of the property. Deer, raccoon and opossum tracks appear regularly in the snow and mud. Sometimes, my trail-cam even catches a pair of gray foxes as they slink through the night.
AleksandarNakic / Getty Images
By Kate Murphy
No matter the time of year, there's always a point in each season when my skin decides to cause me issues. While these skin issues can vary, I find the most common issues to be dryness, acne and redness.

David Woodfall / The Image Bank / Getty Images
By Sam Nickerson
The U.S. Environmental Protection Agency (EPA) in April 2018 proposed relaxing standards related to how it assesses the effects of exposure to low levels of toxic chemicals on public health.
Now, correspondence obtained by the LA Times revealed just how deeply involved industry lobbyists and a controversial, industry-funded toxicologist were in drafting the federal agency's proposal to scrap its current, protective approach to regulating toxin exposure.
Steve Irwin poses with a three foot long alligator at the San Francisco Zoo on June 26, 2002. Justin Sullivan / Getty Images
February 22 is the birthday of conservationist and beloved TV personality "Crocodile Hunter" Steve Irwin, who would have been 57 years old today.
Irwin's life was tragically cut short when the barb from a stingray went through his chest while he was filming in 2006, but his legacy of loving and protecting wildlife lives on, most recently in a Google Doodle today honoring his birthday.