This website uses cookies to ensure you get the best experience while browsing it. By clicking 'Got It' you're accepting these terms.
Will President Obama Address Climate Change in the State of the Union?
Jan. 28, 2014 01:25PM EST
Climate
By Andrew Steer
When President Obama addresses the nation on Tuesday, climate change is expected to be featured. The President recently said that one of his personal passions is "leaving a planet that is as spectacular as the one we inherited from our parents and our grandparents." The next two years will determine if his administration can meet this standard.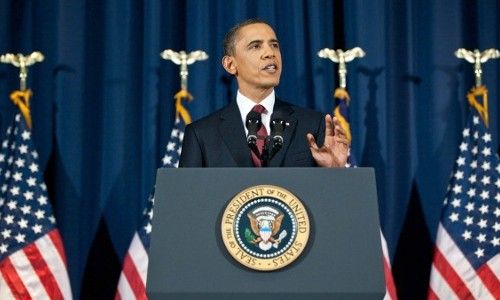 Seven months have passed since the President announced the Climate Action Plan. Now it's time to implement the plan. Simply put, this year is when the rubber hits the road.
We'll be listening to hear if the President is ready to recommit to strong actions on climate change in the coming year—and beyond. Doing so would increase the resiliency of U.S. companies and communities while affirming U.S. leadership overseas.
The warning signs are clear. Last year was tied for the fourth warmest in history worldwide. California experienced its driest year on record. Meanwhile, the U.S. suffered through $7 billion extreme weather disasters, including deadly flooding in Colorado and ongoing droughts in the Southwest.
At the same time, there are some encouraging developments. At the World Economic Forum last week, more businesses recognized the mounting risks of climate change. The New York Times reported that companies, such as Coca-Cola and Nike, are finding ways to cope with water stress and supply chain risks associated with a warming planet. Multinationals, like ExxonMobil and Walmart, are already incorporating a shadow price on carbon emissions into their strategic plans.
Much more can—and should—be done. Following are some ideas that the President could lay out in his address. These actions would show that the administration is serious about forging ahead with climate action.
The U.S. Environmental Protection Agency (EPA) is headed toward a critical June 1 deadline to introduce emissions standards for existing power plants. This is the single most significant action the administration can take. The power sector is the largest source of greenhouse emissions, representing one-third of the U.S. total. EPA standards can be both ambitious and flexible. Simply put, it's time to put limits on carbon dioxide pollution, just as we do on other harmful air pollutants.
The President can also make commitments to move forward by reducing hydrofluorocarbons (HFCs), pollutants found in refrigerants and air conditioning. The administration has been working to phase down HFCs through bilateral agreements with China and amendments to the Montreal Protocol. Beyond these international actions, the EPA can use the Clean Air Act to further ratchet down domestic HFCs.
Proliferation of natural gas has been a boon to U.S. energy security and the economy. But, harmful methane leakage threatens to undermine the climate benefits of natural gas relative to coal. A recent study by the Proceedings of the National Academy of Sciences found that methane leaked or vented during oil and gas production may be five times greater than recent EPA estimates. The World Resources Institute (WRI) has found that implementation of existing technologies could slash fugitive methane emissions and boost the bottom line for business.
The U.S. can make progress on renewable energy and energy efficiency as well. The government can provide incentives to expand clean energy production, like wind and solar, that will drive innovation and create jobs. In addition, there are at least 34 energy efficiency standards available for appliances and equipment that are currently awaiting approval by the Obama administration. These measures would lower energy use, cut emissions, and save consumers some $26 billion.
Two new studies coming this year should bolster the economic case for climate action. First, Risky Business, a study under the supervision of Michael Bloomberg, Henry Paulson and Tom Steyer, will assess the risks of climate change to the U.S. economy.
Second, the New Climate Economy, commissioned by seven countries and led by a team of top economists and research institutes (including WRI), will investigate the economic risks and benefits of addressing climate change. Both reports will be published before the UN Secretary General's summit on climate change in September—a moment when eyes around the world will be watching to see if the U.S. will step forward on this issue.
With signs that climate change is rising on the international agenda, U.S. leadership could drive momentum toward a strong, universal climate agreement, which is expected to be forged in Paris in 2015. In order to get there, countries have agreed to put their climate commitments on the table by the first quarter of 2015. Last week, Europe presented its initial offer—a goal of cutting emissions by 40 percent below 1990 levels. This is a good start, though short of what's ultimately needed. The U.S. will need to create the framework of its offer this year—setting strong climate targets beyond 2020 would raise the bar for other countries.
Some may say that this is impossible. Others will point to current political dynamics in Washington and urge caution. We would argue that the opposite is true.
Climate change is a threat that knows no political bounds. Just look to the mayors around the country, from both parties, who are coping with local climate impacts, such as rising seas that threaten coastal communities, or droughts that shrivel corn stocks. From Norfolk to Miami to Salt Lake City, mayors are forging ahead. They understand the risks. They are not waiting. Neither should the federal government.
Will President Obama send a bold message on climate change? Certainly, the administration deserves credit for the strides it has made thus far. Now, the president can ensure that his administration lives up to its responsibility to truly tackle the climate challenge.
Visit EcoWatch's CLIMATE CHANGE page for more related news on this topic.

EcoWatch Daily Newsletter
Students hold a Youth Strike for Climate Change Protest in London, UK on May 24. Dinendra Haria / SOPA Images / LightRocket via Getty Images
The 16-year-old Swede Greta Thunberg speaks during her protest action for more climate protection with a reporter. Steffen Trumpf / picture alliance / Getty Images
By Mark Hertsgaard and Kyle Pope
It's been 30 years since Bill McKibben rang the warning bells about the threat of man-made climate change — first in a piece in The New Yorker, and then in his book, The End of Nature.
Thousands of protestors marched in front of Frankfurt's International Motor Show (IAA) on Saturday to show their disgust with the auto industry's role in the climate crisis. The protestors demanded an end to combustion engines and a shift to more environmentally friendly emissions-free vehicles, as Reuters reported.
Setting and testing the line protections for Siemens SF6 gas insulated switchgear in 2007.
Xaf / Flickr /
CC BY-NC 2.0
Ella Olsson / Pexels
By Elizabeth Streit, MS, RDN, LD
Sweet and regular potatoes are both tuberous root vegetables, but they differ in appearance and taste.
They come from separate plant families, offer different nutrients, and affect your blood sugar differently.
Scientists in Saskatchewan found that consuming small amounts of neonicotinoids led white-crowned sparrows to lose significant amounts of weight and delay migration, threatening their ability to reproduce. Jen Goellnitz / Flickr
By Julia Conley
In addition to devastating effects on bee populations and the pollination needed to feed humans and other species, widely-used pesticides chemically related to nicotine may be deadly to birds and linked to some species' declines, according to a new study.

German Chancellor Angela Merkel's government is set to unveil a package of measures on Friday, Sept. 20, to ensure that the country cuts its greenhouse gas emissions 55% by 2030, compared with the 1990 levels.
Assorted plastic bottles. mali maeder / Pexels