Will Paris Agreement Save Us From Climate Chaos?
Dec. 15, 2015 01:03PM EST
Climate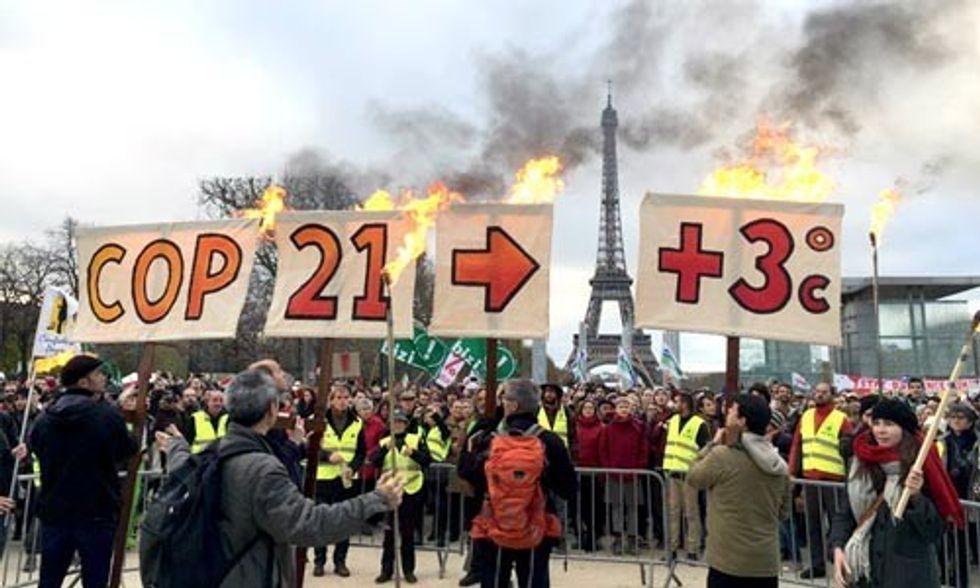 The Paris climate agreement is heartening and historic—195 countries finally concurred that we must stop warming the planet by no more than 2C by 2020 and that we should be aiming for 1.5C. Unfortunately, the actual plans submitted by each government prior to the conference would raise the world's temperature by as much as 3C.
Stated clearly: The words of the agreement say one thing, but we must monitor the actions of leaders and nations so that they actually implement the aims of the agreement. And, we cannot count on governments for all the solutions needed.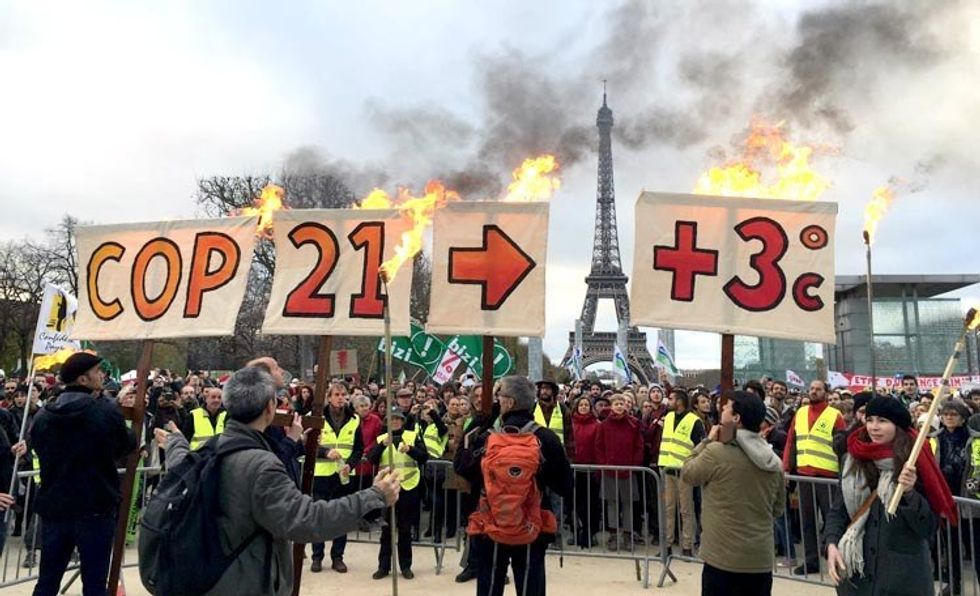 In parts of Africa the temperature is already over this limit by as much as 7 degrees. Further, for every centigrade rise in sea level, scientists predict that more than one million people will die. In my travels for Global Greengrants Fund, I have found that the best solutions are coming from the ground up, not from the top down. Communities most affected, grassroots groups and movements are adapting and showing the way for transformative system change.
That's why I participated in many events outside the COP—at the Climate Action Zone—and in the movement-based protests, both the Red Lines gathering near the Arc de Triumph on Saturday organized by the Climat21 Coalition and the Basque/French Alternatiba manifestation at the Eiffel tower later in the day. It has taken mass mobilizations over the last few years to push our elected leaders into this agreement and now it's going to take even more mass mobilizations to push them to actually meet the terms of the agreement and then farther to address issues the agreement ignored.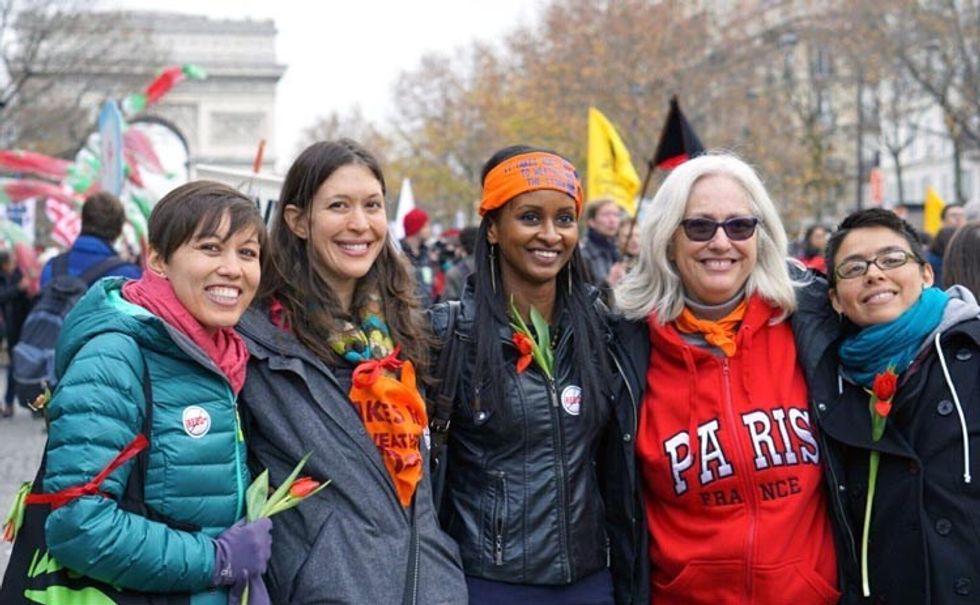 For example:
The preamble to the agreement suggests that governments "should consider their respective obligations on human rights, the right to health, the rights of indigenous peoples, local communities, migrants ... as well as gender equality, empowerment of women and intergenerational equity." But, there is nothing in the actual binding part of the agreement to ensure that any of these obligations are addressed.
There's no mention of "food security" anywhere in the preamble or the binding part of the agreement.
The agreement contains only limited acknowledgement of the responsibilities of the most highly polluting countries to those in the global south and furthest north which did not create the climate disaster.
The agreement continues to support false solutions such as carbon markets that allow polluters to pay or trade "credits" with those who are actually stewarding their farms and forests.
The agreement contains no mention of the need to stop using fossil fuels and turn to alternative energy sources. This omission is simply ridiculous greenwashing. We must immediately keep the oil in the soil and the coal in the hole or the planet will continue cooking.
A few days before the demonstrations, I attended a civil disobedience training offered by 350.org at the Climate Action Zone. Three principles agreed upon by all the groups in Climat21 were that the actions would be peaceful, there would be no property damage and police would not be provoked. Because of the state of emergency in Paris, it was illegal to gather in groups of more than two with political intent or messages. At the final hour, an accord was reached with police and the protests were allowed. Thus, my decision to get arrested, worries about not being able to return to France or even Europe, were happily moot. The march was amazing as a spirit of solidarity and continuing work to promote real solutions prevailed.
Paris was a good start, although perhaps 20 years too late. The next step will be even harder and will require even more of us stepping into the streets to push our leaders forward.
YOU MIGHT ALSO LIKE
What the Paris Climate Agreement Means for Indigenous Rights and Hydroelectric Dams
The End of Fossil Fuels is Near
Carl Pope: Paris Agreement 'Greatest Single Victory Since Emergence of Modern Environmental Movement'
Air France airplanes parked at the Charles de Gaulle/Roissy airport on March 24, 2020. SAMSON / AFP via Getty Images
France moved one step closer this weekend to banning short-haul flights in an attempt to fight the climate crisis.
A bill prohibiting regional flights that could be replaced with an existing train journey of less than two and a half hours passed the country's National Assembly late on Saturday, as Reuters reported.
"We know that aviation is a contributor of carbon dioxide and that because of climate change we must reduce emissions," Industry Minister Agnes Pannier-Runacher told Europe 1 radio, according to Reuters.
The measure now has to pass the French Senate, then return to the lower house for a final vote. It would end regional flights between Paris's Orly airport and cities like Nantes and Bordeaux, The Guardian explained. It would not, however, impact connecting flights through Paris's Charles de Gaulle/Roissy airport.
The bill is part of a legislative package which aims to reduce France's emissions by 40 percent of 1990 levels by 2030, Reuters reported. It is a watered-down version of a proposal suggested by France's Citizens' Convention on Climate, BBC News explained. This group, which was formed by President Emmanuel Macron in 2019 and included 150 ordinary citizens, had put forward a ban on flights that could be replaced with an existing train journey of under four hours.
However, the journey length was lowered after protests from KLM-Air France, which had suffered heavy losses due to the coronavirus pandemic, and regions who were concerned about being left out of national transit networks, as The Guardian explained.
"We have chosen two and a half hours because four hours risks isolating landlocked territories including the greater Massif Central, which would be iniquitous," transport minister Jean-Baptiste Djebbari said, as The Guardian reported.
However, some environmental and consumer groups objected to the changes. The organization UFC-Que Choisir compared plane routes with equivalent train journeys of under four hours and found that the plane trips emitted an average of 77 times more carbon dioxide per passenger than the train journeys. At the same time, the train alternatives were cheaper and only as much as 40 minutes longer.
"[T]he government's choice actually aims to empty the measure of its substance," the group said, according to The Guardian.
The new measure also opens the French government to charges of hypocrisy. It bailed out Air France-KLM to the tune of a seven-billion euro loan last year, though it did require the airline to drop some domestic routes as a condition. Then, days before the measure passed, it more than doubled its stake in the airline, BBC News reported. However, Pannier-Runacher insisted to Europe 1 radio that it was possible to balance fighting climate change and supporting struggling businesses.
"Equally, we must support our companies and not let them fall by the wayside," she said, as Reuters reported.
This is not the first time that climate measures and aviation bailouts have coincided in the wake of the coronavirus pandemic. Austrian Airlines replaced its Vienna-Salzburg flight with additional train service after it received government money dependent on cutting greenhouse gas emissions, BBC News reported.
The number of flights worldwide declined almost 42 percent in 2020 when compared with 2019. It is expected that global aviation may not fully recover until 2024, according to Reuters.
EcoWatch Daily Newsletter
A woman looks at a dead gray whale on the beach in the SF Bay area on May 23, 2019; a new spate of gray whales have been turning up dead near San Francisco. Justin Sullivan / Getty Images
Four gray whales have washed up dead near San Francisco within nine days, and at least one cause of death has been attributed to a ship strike.
A small tourist town has borne the brunt of a cyclone which swept across the West Australian coast.
ABC News (Australia) / YouTube
A general view shows the remains of a dam along a river in Tapovan, India, on February 10, 2021, following a flash flood caused by a glacier break on February 7. Sajjad Hussain / AFP / Getty Images
By Rishika Pardikar
Search operations are still underway to find those declared missing following the Uttarakhand disaster on 7 February 2021.
This story originally appeared in Eos and is republished here as part of Covering Climate Now, a global journalism collaboration strengthening coverage of the climate story.
Indigenous youth, organizers with the Dakota Access and Line 3 pipeline fights and climate activists march to the White House to protest against pipeline projects on April 1, 2021. Bill Clark / CQ-Roll Call, Inc via Getty Images
By Jessica Corbett
Indigenous leaders and climate campaigners on Friday blasted President Joe Biden's refusal to shut down the Dakota Access Pipeline during a court-ordered environmental review, which critics framed as a betrayal of his campaign promises to improve tribal relations and transition the country to clean energy.