Will Other Cities Follow Cincy's Lead and Encourage Federal Lawmakers to Require Labeling of GE Foods?
Nov. 20, 2012 01:33PM EST
GMO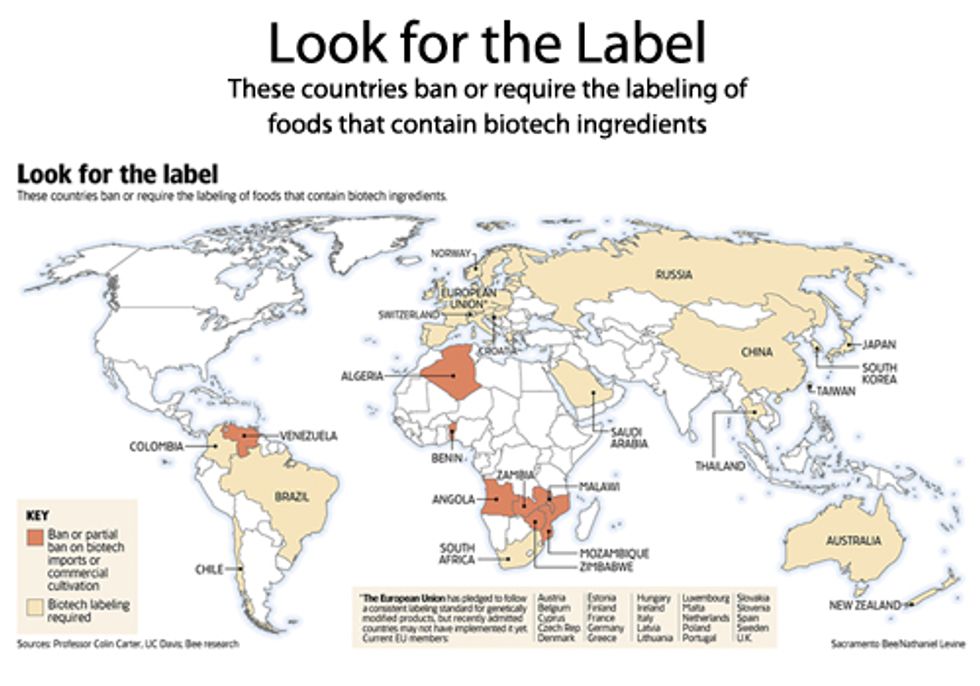 Genetically engineered foods have been quietly making their way onto grocery store shelves since Roundup Ready corn and soybeans were introduced in 1996, and now, the majority of processed foods contain genetically engineered (GE) ingredients. GE foods, made by inserting genetic material from one species into another, are unlabeled, untested and potentially unsafe. Unfortunately for consumers, regulatory agencies overseeing the approval of GE foods were not set up to address the long-term human health and environmental impacts of GE foods.
The Food and Drug Administration (FDA) conducts no independent safety testing on GE foods and instead relies on data submitted by biotechnology companies. Because foods containing GE ingredients aren't required to be labeled, consumers don't even know when they are eating them. This is because the FDA views them as no different from conventional foods. Independent research on the safety of GE foods has been limited because companies prohibit the cultivation of seeds for research purposes in the licensing agreements that control the use of patented seeds. Even so, some independent, peer-reviewed research has revealed troubling health implications including deteriorated liver and kidney function and impaired embryonic development.
The biotechnology industry spent more than a half a billion dollars in lobbying and campaign contributions between 1999 and 2009 to ensure that regulatory oversight of GE foods remain watered down and that consumers are kept in the dark. Companies like Monsanto and Syngenta secured regulatory approval and patented the seeds of GE corn, soybeans and cotton among others. Now, some biotech companies are looking to patent GE animals, which, if approved for human consumption, could open the floodgates to a whole new wave of GE foods in our stores.
Labels are the best way for consumers to make choices about the foods they want to eat, but the U.S. government has failed to require labeling for GE ingredients. Currently, the only way for consumers to ensure that they're not eating GE foods is to only buy products with an organic label. But other countries have banned or enforced labeling of GE foods (see map below).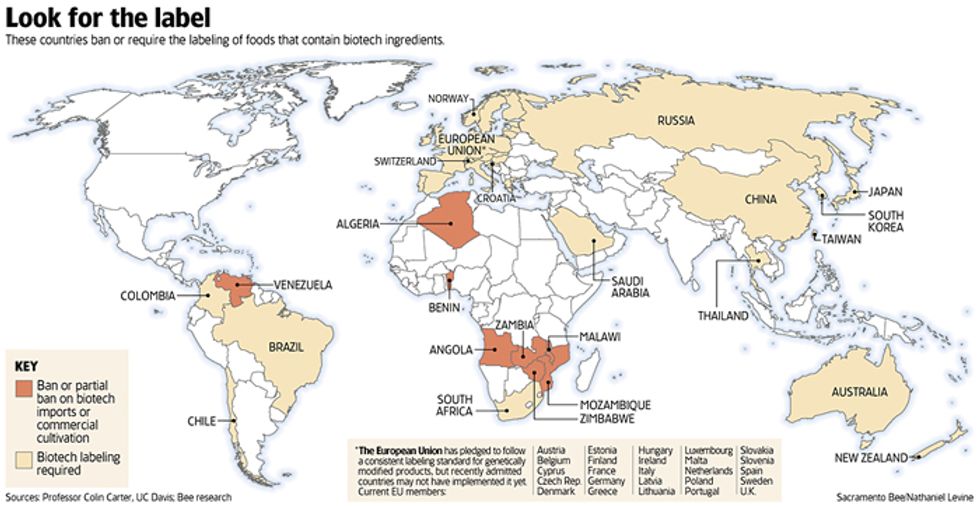 Food & Water Watch is calling on state and national lawmakers and regulators to require the labeling of foods containing GE ingredients, thereby giving consumers the right to know what is in their food through their "Let Me Decide" campaign. Across the country, we are urging local municipalities to stand with consumers and pass resolutions pressuring federal regulators and lawmakers to require labeling for genetically engineered ingredients, like the City of Cincinnati recently passed. In some states like New York, we're pushing for statewide legislation that could help spur Congress to act on GE labeling. The recent narrow defeat of California's Prop 37, which would have required GE labeling in the state, serves as a reminder to us all that biotechnology will continue to lobby hard against consumers' right to know.
President Obama could do his part to protect U.S. consumers by standing up to Big Agribusiness and directing the FDA to require labeling today. Congress could also prioritize research on the health and environmental effects of GE foods, as well as the need for labeling. Polls show that a vast majority of consumers want food containing GE ingredients to be labeled, but most large food companies will continue to ignore consumers' demands that GE foods are labeled until they are held accountable by law. 
We all deserve the right to know what's in our food and to decide whether or not to consume or purchase GE foods.
Visit EcoWatch's GENETICALLY MODIFIED ORGANISM page for more related news on this topic.
EcoWatch Daily Newsletter