This website uses cookies to ensure you get the best experience while browsing it. By clicking 'Got It' you're accepting these terms.
Will One of the World's Most Endangered Whales Be Saved Before It's Too Late?
May. 13, 2016 12:11PM EST
Animals
Conservationists took legal action this week to get protection for one of the most endangered species of whales on Earth.
The whales in question are a a genetically distinct population of Bryde's whales who were only recently discovered. Bryde's whales can be found in tropical and subtropical waters around the world, but these whales are year-round residents of the Gulf of Mexico who live mainly in the DeSoto Canyon, off the Florida panhandle.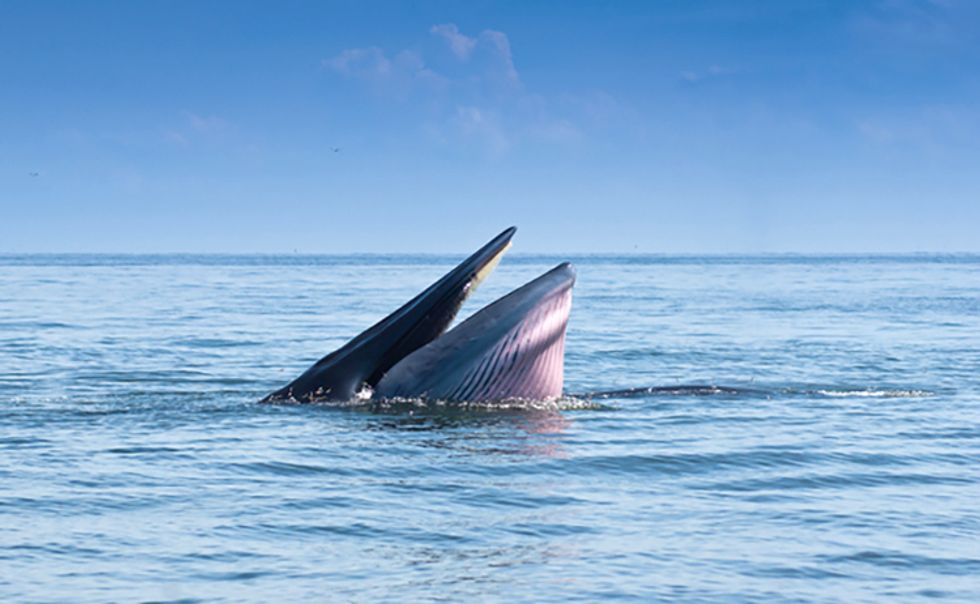 Genetic testing conducted by the National Marine Fisheries Service's Southeast Fisheries Science Center recently concluded these whales are a genetically distinct subspecies, if not an entirely new species altogether. In addition to being genetically unique, they also have a distinctive song unlike the calls of other Bryde's whales and are the only baleen whales living in the Gulf.
Unfortunately, at the time of their discovery the best estimate of their population put their number at fewer than 50 individuals, which raised concerns that they are one of the most endangered whales on earth who will likely disappear entirely without intervention.
In 2014, the Natural Resources Defense Council (NRDC) took action on their behalf and petitioned the National Marine Fisheries Service (NMFS) to have them listed under the Endangered Species Act, arguing they face a slew of threats putting them at serious risk of extinction.
"This is a unique group of whales, different from all others of its kind and it's threatened six ways to Sunday," Michael Jasny, director of NRDC's Marine Mammal Protection Project and lead author of the petition, said at the time. "An Endangered Species listing would bring a recovery plan and the resources needed to save these animals … they just can't make it in the Gulf if we don't help them out."
Not only are they isolated with little genetic diversity, but they face a host of problems from human activity that range from noise and organic pollution and being hit by ships to disturbances from energy exploration and living with the toxic aftermath of the Deepwater Horizon spill.
Last year, samples taken from a Bryde's whale in the area found a buildup of two metals, chromium and nickel, which raised yet more concerns for them because their calves are particularly vulnerable to toxic buildup that is passed on by their mothers when they're pregnant and nursing.
Things were looking up last year after the National Marine Fisheries Service finally agreed that they need endangered species protection, which would lead to the development of a recovery plan and designation of critical habitat, but the agency has yet to take action on their behalf and it's gone well beyond the timeframe legally allowed.
This week, the NRDC took legal action to speed things up, which will hopefully compel federal officials to enact protection for these whales before it's too late to save them.
YOU MIGHT ALSO LIKE
Video of Drunken Rampage + $15k Reward = 3 Men Identified as the Culprits for Killing the World's Rarest Fish
USDA: Beekeepers Lost 44% of Honey Bee Colonies Last Year
5 Incredible Species That Glow in the Dark
EcoWatch Daily Newsletter
Pro-environment demonstrators on the streets of Washington, DC during the Jan. 20, 2017 Trump inauguration.
Mobilus In Mobili
/ Flickr /
CC BY-SA 2.0
By Dr. Brian R. Shmaefsky
One year after the Flint Water Crisis I was invited to participate in a water rights session at a conference hosted by the US Human Rights Network in Austin, Texas in 2015. The reason I was at the conference was to promote efforts by the American Association for the Advancement of Science (AAAS) to encourage scientists to shine a light on how science intersects with human rights, in the U.S. as well as in the context of international development. My plan was to sit at an information booth and share my stories about water quality projects I spearheaded in communities in Bangladesh, Colombia, and the Philippines. I did not expect to be thrown into conversations that made me reexamine how scientists use their knowledge as a public good.
Mt. Rainier and Reflection Lake on Sept. 10, 2015. Crystal Geyser planned to open a bottling plant near Mt. Rainier, emails show.
louelke - on and off / Flickr
Bottled water manufacturers looking to capture cool, mountain water from Washington's Cascade Mountains may have to look elsewhere after the state senate passed a bill banning new water permits, as The Guardian reported.
Large storage tank of Ammonia at a fertilizer plant in Cubatão, Sao Paulo State, Brazil. Luis Veiga / The Image Bank / Getty Images
The shipping industry is coming to grips with its egregious carbon footprint, as it has an outsized contribution to greenhouse gas emissions and to the dumping of chemicals into open seas. Already, the global shipping industry contributes about 2 percent of global carbon emissions, about the same as Germany, as the BBC reported.
At high tide, people are forced off parts of the pathway surrounding DC's Tidal Basin. Andrew Bossi /
Wikimedia
The Jefferson Memorial in Washington, DC overlooks the Tidal Basin, a man-made body of water surrounded by cherry trees. Visitors can stroll along the water's edge, gazing up at the stately monument.
But at high tide, people are forced off parts of the path. Twice a day, the Tidal Basin floods and water spills onto the walkway.
Lioness displays teeth during light rainstorm in Kruger National Park, South Africa. johan63 / iStock / Getty Images
Ahead of government negotiations scheduled for next week on a global plan to address the biodiversity crisis, 23 former foreign ministers from various countries released a statement on Tuesday urging world leaders to act "boldly" to protect nature.