This website uses cookies to ensure you get the best experience while browsing it. By clicking 'Got It' you're accepting these terms.
Will One of the World's Most Endangered Whales Be Saved Before It's Too Late?
May. 13, 2016 12:11PM EST
Animals
Conservationists took legal action this week to get protection for one of the most endangered species of whales on Earth.
The whales in question are a a genetically distinct population of Bryde's whales who were only recently discovered. Bryde's whales can be found in tropical and subtropical waters around the world, but these whales are year-round residents of the Gulf of Mexico who live mainly in the DeSoto Canyon, off the Florida panhandle.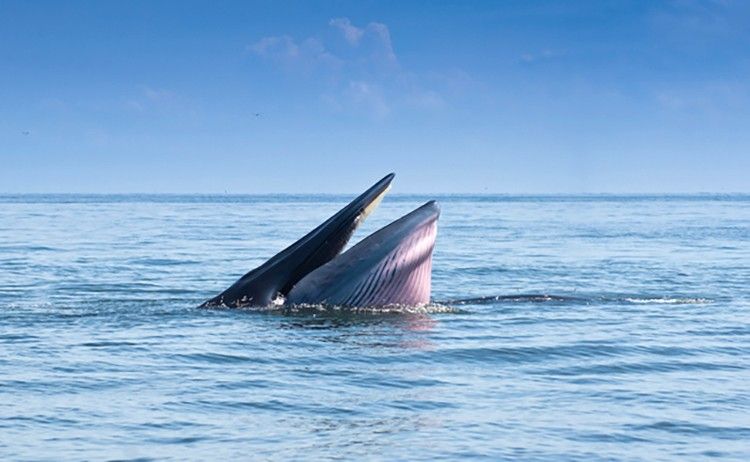 Genetic testing conducted by the National Marine Fisheries Service's Southeast Fisheries Science Center recently concluded these whales are a genetically distinct subspecies, if not an entirely new species altogether. In addition to being genetically unique, they also have a distinctive song unlike the calls of other Bryde's whales and are the only baleen whales living in the Gulf.
Unfortunately, at the time of their discovery the best estimate of their population put their number at fewer than 50 individuals, which raised concerns that they are one of the most endangered whales on earth who will likely disappear entirely without intervention.
In 2014, the Natural Resources Defense Council (NRDC) took action on their behalf and petitioned the National Marine Fisheries Service (NMFS) to have them listed under the Endangered Species Act, arguing they face a slew of threats putting them at serious risk of extinction.
"This is a unique group of whales, different from all others of its kind and it's threatened six ways to Sunday," Michael Jasny, director of NRDC's Marine Mammal Protection Project and lead author of the petition, said at the time. "An Endangered Species listing would bring a recovery plan and the resources needed to save these animals … they just can't make it in the Gulf if we don't help them out."
Not only are they isolated with little genetic diversity, but they face a host of problems from human activity that range from noise and organic pollution and being hit by ships to disturbances from energy exploration and living with the toxic aftermath of the Deepwater Horizon spill.
Last year, samples taken from a Bryde's whale in the area found a buildup of two metals, chromium and nickel, which raised yet more concerns for them because their calves are particularly vulnerable to toxic buildup that is passed on by their mothers when they're pregnant and nursing.
Things were looking up last year after the National Marine Fisheries Service finally agreed that they need endangered species protection, which would lead to the development of a recovery plan and designation of critical habitat, but the agency has yet to take action on their behalf and it's gone well beyond the timeframe legally allowed.
This week, the NRDC took legal action to speed things up, which will hopefully compel federal officials to enact protection for these whales before it's too late to save them.
YOU MIGHT ALSO LIKE
Video of Drunken Rampage + $15k Reward = 3 Men Identified as the Culprits for Killing the World's Rarest Fish
USDA: Beekeepers Lost 44% of Honey Bee Colonies Last Year
5 Incredible Species That Glow in the Dark
EcoWatch Daily Newsletter
SHEALAH CRAIGHEAD
By Elliott Negin
On July 19, President Trump hosted Apollo 11 astronauts Buzz Aldrin and Michael Collins and their families, along with the family of their deceased colleague Neil Armstrong, at a White House event to commemorate the 50th anniversary of the first manned landing on the moon.
The study looked at three groups of diverse lizards from South America. Daniel Pincheira-Donoso
Cold-climate lizards that give live birth to their offspring are more likely to be driven to extinction than their egg-laying cousins as global temperatures continue to rise, new research suggests.
Sean Gallup / Getty Images
A stock photo of fire in the Amazon; a record number of fires have burned there this year. Brasil2 / E+ / Getty Images
Tuna auctions are a tourist spectacle in Tokyo. Outside the city's most famous fish market, long queues of visitors hoping for a glimpse of the action begin to form at 5 a.m. The attraction is so popular that last October the Tsukiji fish market, in operation since 1935, moved out from the city center to the district of Toyosu to cope with the crowds.

gmnicholas / E+ / Getty Images
Kristan Porter grew up in a fishing family in the fishing community of Cutler, Maine, where he says all roads lead to one career path: fishing. (Porter's father was the family's lone exception. He suffered from terrible seasickness, and so became a carpenter.) The 49-year-old, who has been working on boats since he was a kid and fishing on his own since 1991, says that the recent warming of Maine's cool coastal waters has yielded unprecedented lobster landings.
Aerial view of lava flows from the eruption of volcano Kilauea on Hawaii, May 2018. Frizi / iStock / Getty Images
Hawaii's Kilauea volcano could be gearing up for an eruption after a pond of water was discovered inside its summit crater for the first time in recorded history, according to the AP.